Mesut Ozil is everything that's great about Arsenal, and everything that's terrible
February 16, 2017

Arsenal might as well be two teams. With the Invincible years firmly in the rearview, the Gunners still play gorgeous, flowing soccer, score hatfuls of goals, and make highlight reels with Arsene Wenger's delightful, attacking philosophy. When things are good, they're really good. The ball practically sings as it's stroked around the pitch, and the net croons with joy when it accepts the gift of Wengerball into its voluptuous embrace. When the pitches are smooth, the sun is shining, and the tackles aren't quite so fierce and desperate, we see the Arsenal ideal.

It's when the going gets tough, and it's time to slog through matches under adverse conditions, that the shiny veneer fades and we see the real Arsenal.

No Arsenal player has epitomized this more than Mesut Ozil.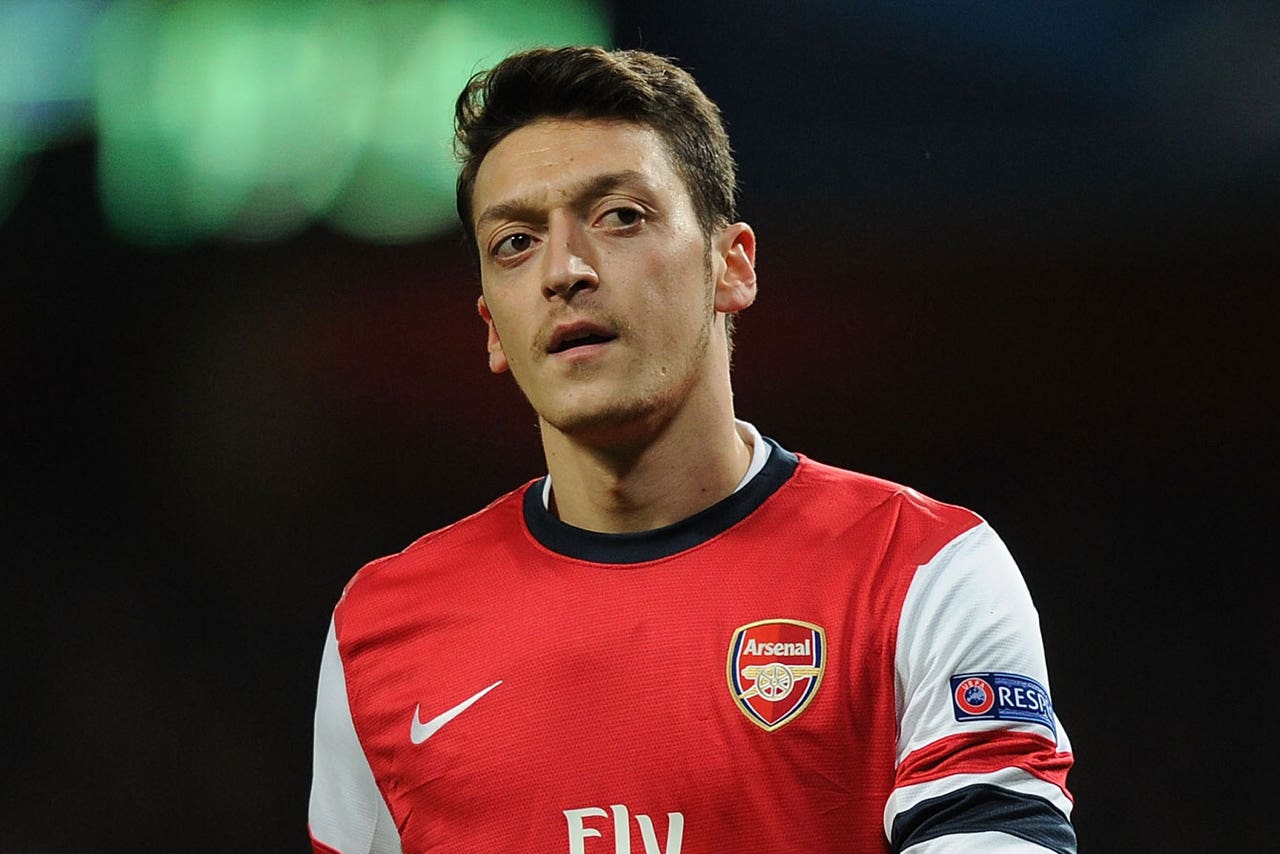 Arsenal were pummeled 5-1 by Bayern Munich on Wednesday, effectively ending their Champions League hopes in the round of 16 yet again. It was a second-half capitulation of epic standards, with a number of Arsenal players going missing on the big stage once more. No player disappointed more than Ozil, and his biggest disappearing act yet was emblematic of Arsenal's issues as a whole: when they face the best or get pushed around, the Gunners simply fall apart.

Ozil is the consummate Wenger player. He's a devilishly stylish footballer with otherworldly technical ability. He's one of the world's best passers, and on his day, there's almost no one on the planet who can truly cope with his skillset. The only real way to stop him is to get in his face, to push him around, to get nasty with him. So that's what teams do to Ozil, and that's what teams do to Arsenal. And it works.

Ozil was beyond invisible on Wednesday. In his 90 minutes, he created one solitary chance, and attempted a paltry 20 passes, a total so low only one Bayern Munich player finished with that few: Manuel Neuer.

https://twitter.com/Squawka/status/831988348529041409

Contrast that with Ozil's opposite number, Thiago Alcantara, who scored two goals, provided an assist, and completed 36 passes in the final third. That's 16 more passes than Ozil completed in the entire match.

It's been that way for Ozil all season, too. The German's scored four times against teams outside the top six in the Premier League, clocking in at an average of 331.5 minutes per goal. Against the top six, he's scored just once, averaging a goal every 450 minutes.  Ozil's never been a prolific goalscorer, but his creative statistics are even more damning. He's got four assists against teams outside the top six, but hasn't registered a single helper against any opponent nestled inside the European places.

In Champions League, Ozil's got four goals and three assists. The only two teams he's contributed against? Ludogorets and FC Basel.

There's a pattern here. Ozil, and Arsenal alongside him, go missing in the matches that matter, and it's been the case for years now.

Over the last 13 years, the Gunners have picked up just two trophies, a pair of FA Cups. While the FA Cup is a tough competition, and their two victories in the tournament are nothing to scoff at, it's greatly diminished in importance over the years, and the biggest teams in England have increasingly placed less and less stock in it, often using it to rotate their squads.



In the Premier League and Champions League where the best are really challenged, Arsenal are non-factors. They've seen Manchester City, Chelsea, Manchester United, and even Leicester City swoop in front of them to win the EPL title, with only excuses and a Champions League place to hold onto. Each of these title-winning teams have won in different and varying ways, but they all have one thing in common: they've picked up important wins against their biggest challengers, or at least scraped out a draw even when not at their best. They have no problems winning ugly, or scraping a point in the grimiest of fashions. Arsenal haven't had the ability to make that happen since the days of the Invincibles.

Ozil's only in his fourth season at Arsenal, so it's impossible to blame him for the Gunners' struggles for the last 13 years. He represents something much bigger though -- an culture where aesthetics trumps winning.

Ozil's performances in the biggest games are a symbol of Wenger and Arsenal's overall philosophy and existence: it's more important to be pretty than effective. Even if Wenger's never explicitly stated it outright, it's evident from the teams he puts out season after season. Arsenal aren't willing to get dirty when it matters. They're not willing to track back and pick up the slack when it's the difference between a Champions League exit or a few more beads of sweat. They're not willing to do what it really takes to win.

It's hard to blame Ozil for this though. He's been the same player his entire career, and he's not going to change at 28. You know what you're getting when he's in your team. Ozil's found success in squads that understand his limitations and don't put him in positions to fail, i.e. expecting him to track Arjen Robben in midfield. That he's in that position to start is a microcosm of Wenger's failure to properly steer the Gunners in the games that matter.

In a nutshell, Mesut Ozil is Arsenal. He's the positive, and he's the negative. And as long as that's the case in North London, they're not going to win anything.


---
---