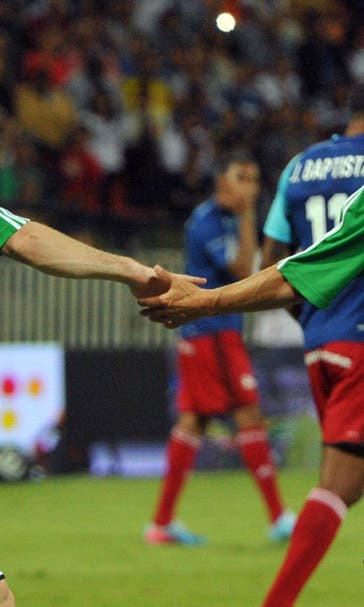 Messi on par with Jordan, Federer as sporting greats, says Aimar
May 9, 2016

Former Argentina and Valencia star Pablo Aimar has heaped praise on Lionel Messi, stating that his ability and record puts him alongside the likes of Michael Jordan and Roger Federer as one of sport's dominant figures. 
The Cordoba native retired from football in 2015 due to injury after an abortive comeback at River Plate, the club where he first shined as a youngster before moving to Europe. 
Messi has said on many occasions that 'El Payaso' is one of his heroes on the pitch, and Aimar returned the favor with a glowing evaluation of the Barcelona star's talents. 
"Imagine if tomorrow you rent out a pitch and Messi comes along. As soon as he grabs the ball you know he's going to score on you or do something great," Aimar told Goal. 
"He will make you better as well whoever plays with him. He does not play alone. 
According to the ex-playmaker, it is Messi's speed of thought and reaction that marks him out as a great. 
"I think that he thinks and acts at the same moment. Or maybe he even acts before he thinks. But the amazing thing is that, be it a final, semi-final or whatever, he plays knowing that he can decide the game," he considered. 
"I think that is what Jordan used to do, he used to say he had missed more shots than he had made, but he shot all the same in order to win. Federer is another monster. They play a match and go for the lines knowing they could miss, but knowing as well as if they win it is for them, and if they lose too. 
"Messi is like Jordan."
Looking back at his illustrious career, Aimar signalled Argentina's failure at the 2002 World Cup as the saddest moment he had to deal with as a player. 
"It all went wrong. That team had been great in the qualifiers and had great players. Football is a mystery," he recalled.
"[Roberto] Ayala got injured, and he was the best around. [Juan Sebastián] Veron was not fit, and he was the brain of the team. I still cannot offer a decent explanation. 
And he also had praise for former national team companion Diego Simeone, while comparing his Atletico team to the Valencia side with whom he lifted La Liga on two occasions, in 2001-2 and 2003-4. 
"When we were in Valencia and we had to play against Ronaldo or Rivaldo or [Luis] Figo or [Zinedine] Zidane, or against Beckham, we did exactly the same thing as Cholo's Atletico Madrid," he explained. 
"To be up there with Barcelona and Real Madrid you have to play like that. We won loads that way, but if you look back there must have been lots of 1-0 games because we used to score and fall back. I used to play the same role as Griezmann now."
---
---