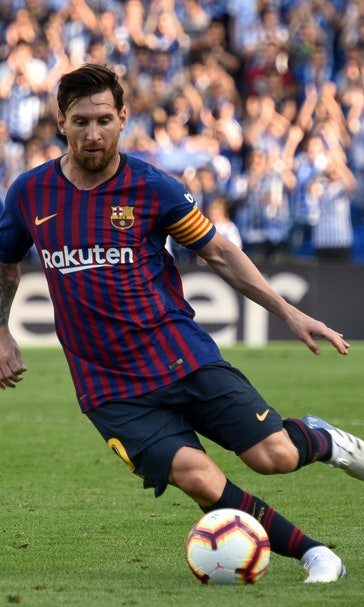 Brazil great Ronaldo watches his Valladolid team lose again
September 16, 2018
MADRID (AP) — Ronaldo could be in for a tough time as a team owner in Spain.
With the former Brazil striker watching from the VIP tribunes, promoted Valladolid conceded a stoppage-time goal in a 1-0 home loss to Alaves.
Valladolid remains winless — and scoreless — after four matches on its return to the top tier in Spain.
It was the team's first match since the Brazil great became the club's majority stakeholder and pledged to help the club succeed.
Ibai Gomez's goal came three minutes into second-half added time in a fast breakaway that immediately followed a chance by Valladolid on a corner kick at the other end.
The small club from northern Spain had opened its top-flight campaign with a 0-0 draw at Girona. It followed that with a 1-0 home loss to Barcelona and then drew 0-0 at Getafe. Valladolid's next game is at third-place Celta Vigo on Saturday.
Ronaldo, who played at Barcelona and Real Madrid and won World Cups with Brazil in 1994 and 2002, took over the small Spanish team earlier in September after purchasing 51 percent of the club's shares. He is presiding over the board of directors while Carlos Suarez remains the club president, a job he held before Ronaldo's arrival.
"A defeat is not going to make him soft," Suarez told Spanish media, adding that Ronaldo went to talk to the Valladolid players after the match. "Anything that Ronaldo tells the players is going to be positive."
Based in a city of about 300,000 people, Valladolid is playing in the first division for the first time since the 2013-14 season.
On Saturday, Barcelona won 2-1 at Real Sociedad to take sole possession of first place. The defending champions are two points in front of Real Madrid, which drew 1-1 at Athletic Bilbao.
HOME WOES
Home-field advantage hasn't meant much for Sevilla in the Spanish league this season.
Sevilla lost 2-0 to Getafe at its Ramon Sanchez-Pizjuan Stadium on Sunday, remaining winless at home. It drew against Villarreal 0-0 in its home-opener. The team's only league win this season was at promoted Valladolid in the first round. Its last match was a loss at city rival Real Betis.
Angel Rodriguez scored a goal in each half for fifth-place Getafe, which has won two of its last three matches.
HOPEFUL START
Espanyol fans are hopeful of a great season after seeing the team play well early on under new coach Joan Francesc Ferrer "Rubi."
At its RCDE Stadium in Barcelona, Espanyol defeated Levante 1-0 for its second win in three matches and is fourth in the standings. Sergio Garcia scored the winner with a shot from outside the area early in the second half.
Levante endured its second loss in three matches, remaining with four points after four matches.
WINLESS NO MORE
Villarreal has finally won.
After a disappointing start to the season, Villarreal ended its winless streak with a 1-0 win at Leganes.
Carlos Bacca scored a second-half winner for Villarreal, which finished fifth in the league last season.
---
---