D.J. Fluker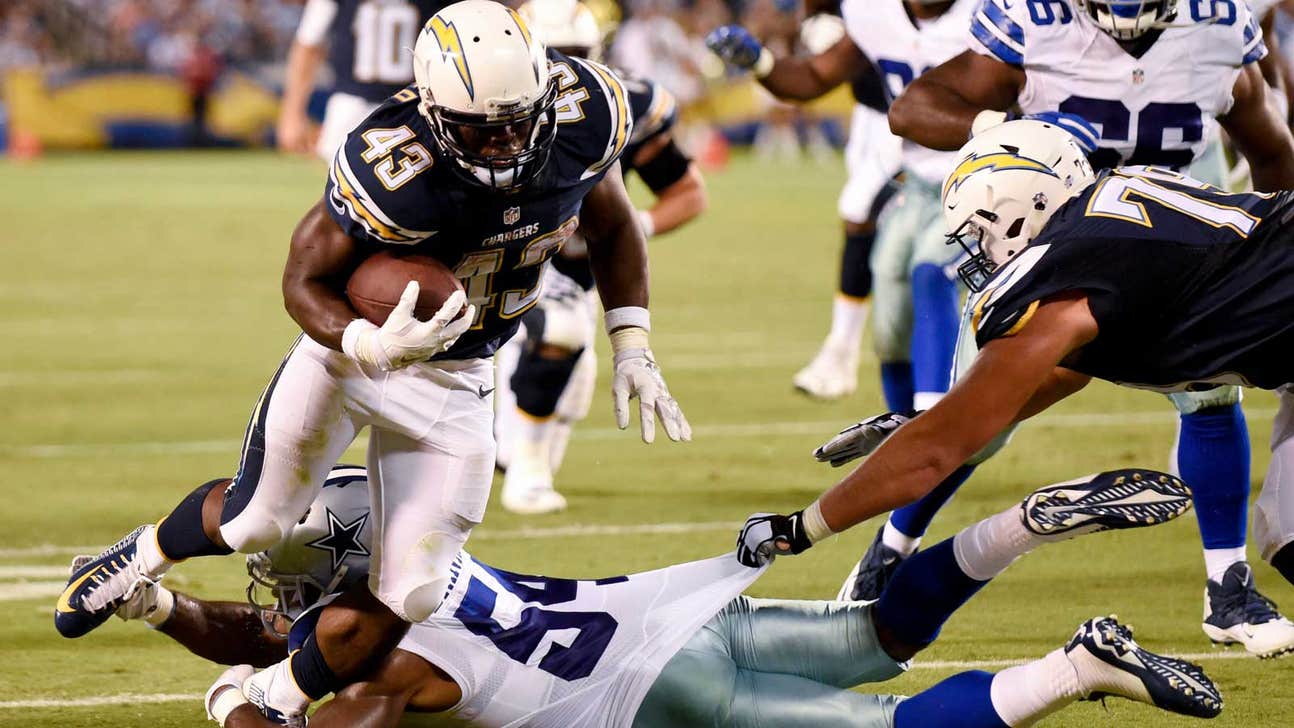 D.J. Fluker
Woodhead scores TD in return to Bolts, who beat 'Boys 17-7
Published
Aug. 14, 2015 11:41 a.m. ET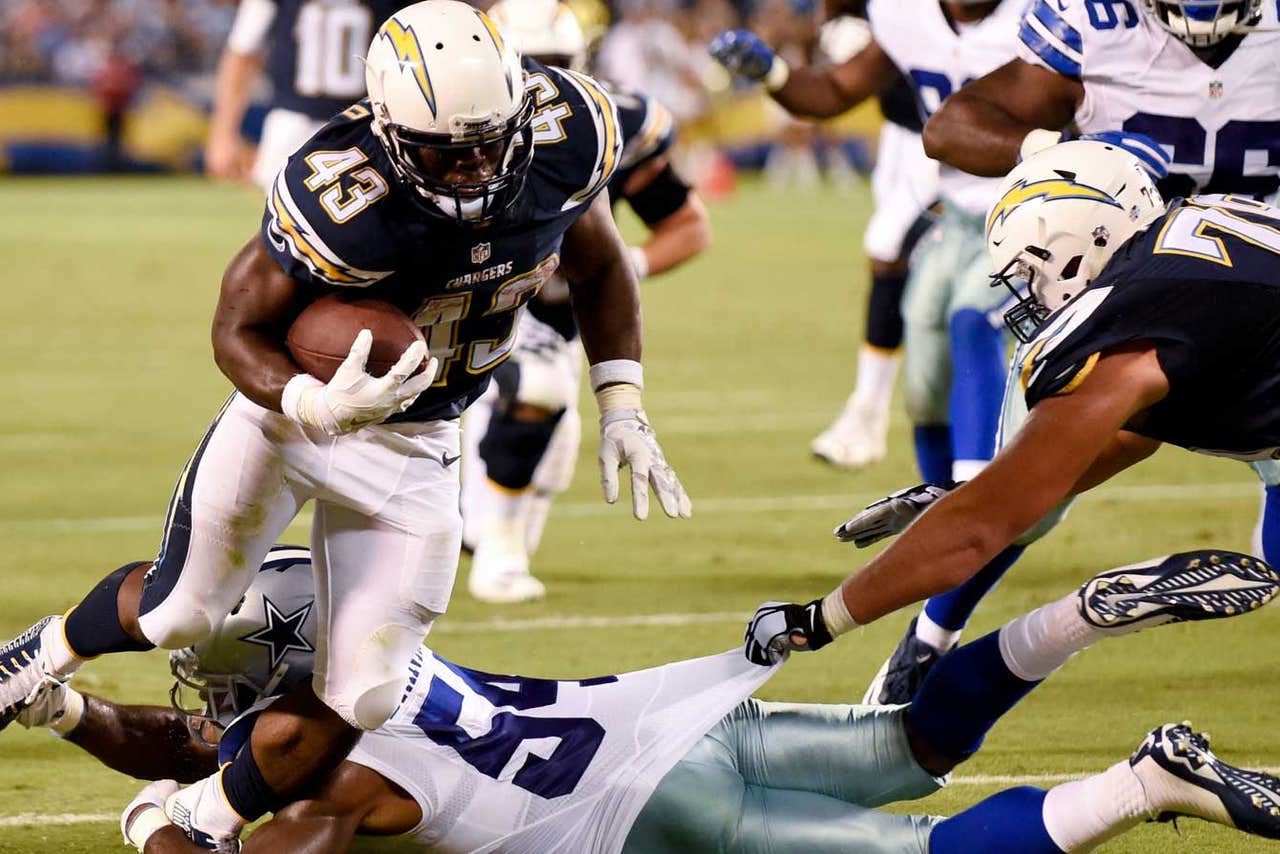 SAN DIEGO (AP) -- It didn't take long for Danny Woodhead to remind the San Diego Chargers and their fans of what they missed most of the 2014 season.
Woodhead scored on an 8-yard run in his first game since September and the Chargers, whose owner has angered fans by exploring a move to Los Angeles, beat the Dallas Cowboys 17-7 on Thursday night in an exhibition opener.
Woodhead scampered through a big hole provided by the rebuilt line to cap San Diego's first drive and give the Chargers a 7-0 lead midway through the first quarter. He suffered a season-ending broken right ankle in the third game last year.
"It felt great," he said. "It's been a long process. I feel really good. The line blocked great. It was great to get out there and get in the end zone."
Said quarterback Philip Rivers: "It was awesome. He knows how I feel about him and how the team feels about him after last year."
The game was played two days after Carmen Policy, who is spearheading stadium efforts in Carson, told NFL owners that "the Chargers and Raiders are committed to Los Angeles." The Chargers, owned by the Spanos family, walked away from negotiations for a new stadium in San Diego in mid-June and are focusing on trying to move to Carson along with the archrival Oakland Raiders.
The Cowboys had two fumbles in the first half, including one by backup quarterback Brandon Weeden that was recovered by Patrick Robinson to set up Woodhead's score.
"I think the stuff we need to work on is obvious," Cowboys coach Jason Garrett said. "It's about the ball, the ball, the ball. We didn't take care of it there."
The Cowboys tied it at 7 when undrafted rookie Gus Johnson scored on a 5-yard run early in the second quarter. Johnson, looking to prove he can make it after the top three candidates to replace NFL rushing champion DeMarco Murray were hurt, left with a shoulder injury in the third quarter.
Coach Jason Garrett said he thinks it's a separated shoulder.
"He was taking advantage of his reps," Garrett said. "That was a good opportunity for him with three other backs not playing in the ballgame."
San Diego went ahead 14-7 when Branden Oliver scored on a 10-yard run just before halftime.
San Diego's Nick Novak kicked a 52-yard field goal in the fourth quarter.
ROOKIE WATCH
Chargers: RB Melvin Gordon, the 15th pick overall in the draft, carried six times for 11 yards. LB Denzel Perryman, the second-round pick, was flagged 15 yards for unnecessary roughness for a hit on QB Dustin Vaughan.
QB COMPARISON
Cowboys: Backup Branden Weeden was 4 of 5 for 42 yards. Dustin Vaughan was 12 of 18 for 106 yards and Jameill Showers was 5 of 11 for 40 yards.
Chargers: Philip Rivers was 2 for 2 for 20 yards. Backup Kellen Clemens was 5 of 10 for 31 yards. Brad Sorensen was 4 of 8 for 24 yards.
POSITION BATTLES
Cowboys: The Cowboys should know Friday how long Johnson will be out.
Chargers: D.J. Fluker started at right guard after playing the last two seasons at right tackle.
FANTASY WATCH
Cowboys: TE Gavin Escobar was targeted a game-high seven times and had five catches for 47 yards with a long of 21.
Chargers: TE Ladarius Green played but wasn't targeted once. He is expected to replace Antonio Gates, but will be suspended without pay for the first four games after testing positive for PEDs.
INJURY UPDATE
Chargers: G Johnnie Troutman (right arm) and LB Tourek Williams (right foot) were hurt and didn't return. CB Chris Davis left with an undisclosed injury.
WHERE'S SPANOS?
Chargers chairman Dean Spanos, son of owner Alex Spanos, wasn't on the sideline watching pregame warmups as he usually is. Spanos has been kept under wraps during the contentious stadium push while others speak on his behalf.
---
---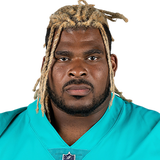 Get more from D.J. Fluker
Follow your favorites to get information about games, news and more
---