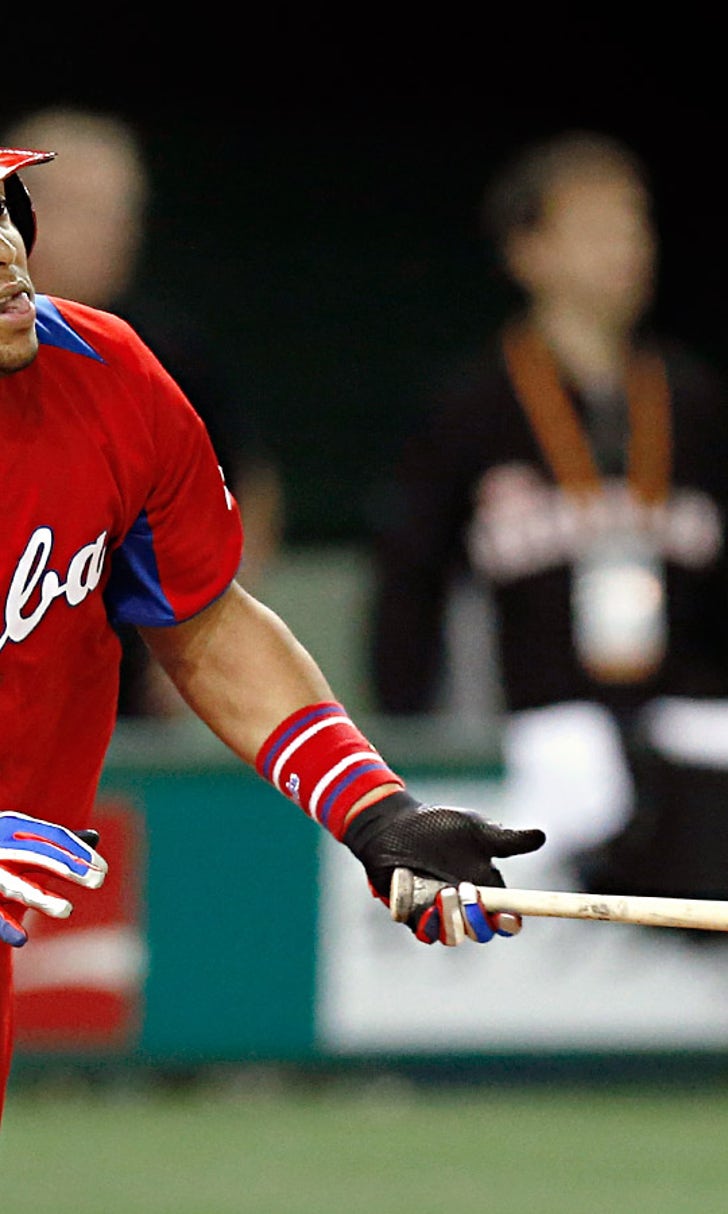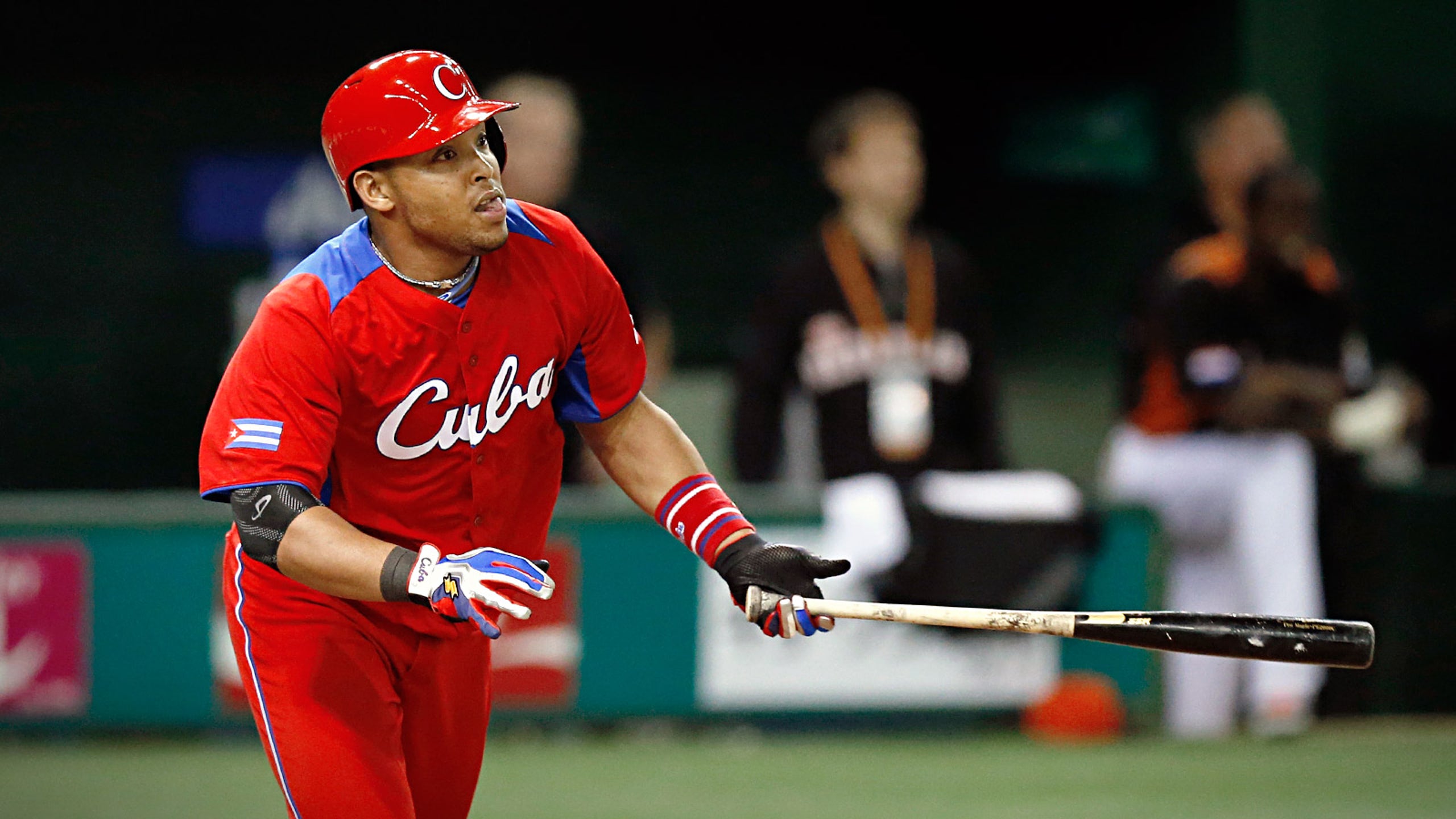 Will the Cuban market correct?
BY Chris Bahr • December 15, 2014
The largest signing bonus ever awarded to a Cuban player was just handed to Yasmany Tomas by the Arizona Diamondbacks. There are serious doubts about his game. Is the market for Cuban players out of control? 
In what could easily become a yearly tradition, the most recent Cuban signee has a showcase video on YouTube -- once again complete with jump cuts, slow mo, and a soundtrack (no Michael McDonald this time, though). Even as the video is edited to show Tomas at his best, the layman's eye might notice a "thick lower half," a long swing, and some iffy moves on defense. 
While praising Tomas -- by pointing out the scarcity of power and lauding Tomas' raw ability in that department, and calling his swing short for a power hitter -- FanGraphs' Kiley McDaniel admitted that he owned a "riskier bat" than the Cuban immigrants who have been so successful in recent years. 
Ben Badler of Baseball America mentioned that Tomas' weight ballooned in Cuba last season, and then pointed out risk factors beyond the outfielder's body type in an email. "He's a high-risk player because of his pitch recognition and swing-and-miss tendencies, both in and out of the strike zone," wrote Badler of Tomas. 
The numbers tell the same story -- Tomas is one of the riskiest big-money signings out of Cuba so far. 
Clay Davenport has publicly available translations of Cuban statistics. By looking at players who have come from Cuba before, and looking at their numbers in both countries, his system hopes to create a Major League Baseball equivalent for Cuban statistics. He adds in age information to create a peak projection to account for further growth among the youngest players.
Check out the most recent bats that have been signed out of the Serie Nacional in Cuba. Listed below are the MLB translations for their career Cuban numbers. Watch as they become less exciting as time goes on, even if we use their "peak" Davenport Translation numbers (which are traditionally the rosiest on a typical player card). 
Davenport Translation numbers
| | | | |
| --- | --- | --- | --- |
| Player | DT AVG | DT OBP | DT SLG |
| Yoenis Cespedes | 0.242 | 0.302 | 0.452 |
| Yasiel Puig | 0.263 | 0.336 | 0.482 |
| Jose Abreu | 0.283 | 0.351 | 0.537 |
| Alex Guerrero | 0.235 | 0.290 | 0.418 |
| Erisbel Arruebarrena | 0.219 | 0.264 | 0.360 |
| Rusney Castillo | 0.232 | 0.267 | 0.377 |
| Yasmany Tomas | 0.233 | 0.269 | 0.421 |
Even Dayan Viciedo's DT translations (.269/.324/.470) -- which include some American minor-league experience, and so are a little bit "easier"€ to calculate than translations of Cuban statistics -- beat Tomas' current peak numbers.
And yet Tomas got the highest signing bonus of any Cuban signee, as his $14 million surpassed the $12 million Yasiel Puig received in 2012. Even if the full value (six years, $68.5 million) didn't quite trump Rusney Castillo's (six-plus years, $72.5 million), this is a lot of money for a player who has question marks. 
As McDaniel says in his FanGraphs piece about Tomas that pegged his value around $50 million for six years, "The recent Cuban hitter hot streak pushing some teams to be a little more aggressive than usual." The number of free agents from Cuba is climbing, their talent level is dropping, the contract numbers are rising, and it seems probable that one will be a bust. A high-profile bust. 
Could that bust change the market? Will the market shift completely the other way if there is a high-profile, big-money bust? A few team officials thought that could happen, and soon. You could say that the same has happened to the Japanese position-player market after a few high-profile misses. 
It's easy to see why teams have spent the money so far. Even with about a half-billion spent on initial contracts to Cuban players since 2000, the return has been better than the free-agent market. While a win above replacement costs about six to seven million among Major League Baseball's free agents, Cuban players on rookie contracts have produced a win for every $2.8 million dollars in this century. 
Maybe that's an unfair comparison. There's obviously risk inherent in signing these guys, and that's why the players don't get full free-agent contracts. But if you total them all up, you're adding in players who have been less than expected so far like Alex Guerrero in Los Angeles or Viciedo in Chicago. And you're still getting your wins at half-price or better. (If you hit it big with a Jose Abreu or Yasiel Puig, you can buy your wins at nearly a million per.) 
While pointing out that teams make mistakes in the free-agent market in America, Badler felt that "Major league teams pay for players based on how good they believe the players are and their confidence in that projection, regardless of where the players come from." So are we not giving baseball's front offices enough credit? "Whether another Cuban player turns out to be a bad investment shouldn'€™t suddenly change how teams operate," Badler continued. 
Nestled in those statements, though, is a nuance to this that is important. Any projection or translation is based on the experience of players with certain stats once they get to America. We're not dealing with a huge sample when we talk about recent Cuban immigrants. Fewer than 30 have come over since 2000, so a few busts can actually move the needle. 
If Guerrero fails to put up a win over the life of his contract, or Erisbel Arruebarrena, or Tomas (and especially if all three fail), suddenly the dollars-per-win total will shift. Suddenly the future translations will be altered by the inclusion of their information. Suddenly teams will be less willing to spend as much money, and Cuban players' limited history is going to catch up to them.
Cuban second baseman Jose Fernandez is still in Cuba, still trying to defect. Last year he hit .365/.500/.510 in Cuba. And yet his career peak Davenport Translations (.236/.293/.327) are worse than any on the list above. If he gets big money, he might be pushing the exuberance of American teams to a tipping point, if it's not already there. 
Or you could say that the next bust won't elicit a sea change. He'll just change the math.
---
---