Arizona Wildcats
Arizona Wildcats
Wildcats soak in heat as camp reaches midpoint
Published
Aug. 15, 2015 4:49 p.m. ET

TUCSON, Ariz. -- The Arizona football team took advantage of the state's heat wave to better itself.
In temperatures that reached as high as 96 degrees Saturday morning, the Wildcats wrapped up the second week of their fall camp as they inch closer to the Sept. 3 season opener against Texas-San Antonio.
"It's hot but it's good for us because most teams don't have this weather so that's an added element to have in our training camp," wide receiver Nate Phillips said. "You need to have mental toughness and it is a true grind in the heat."
Overall, coach Rich Rodriguez liked what he saw amid the conditions.
"It wasn't bad today. We wanted to have some heat because it has been so cool for us," Rodriguez said. "At the end of practice it got a little uncomfortable which is good. We didn't go live but we pushed them a little bit. I thought we made some steps today. They have a nice afternoon and evening planned with a visit to Fort Huachuca. There is going to be a big team meeting tonight as well and tomorrow will be a meeting day and I think we may even do a little bit of yoga. I don't think I'm going to make them put on yoga pants, that won't be a good look. This will help loosen them up and help their flexibility. They've been doing a good job getting in the cold tubs for recovery and I think stretching will help them even more."
For many, the season opener cannon come soon enough. For Rodriguez, it will be here before he knows it.
"It has been fast for me," Rodriguez said of the first two weeks of camp. "I think camp has gone a little bit quicker than I've wanted it to go. I wanted to test them a little bit more but I don't think they have really been tested, but we have a good week coming up. A lot of our guys just finished summer school this past Wednesday so we are able to focus on football a little bit more before the fall semester starts."
ON THE O-LINE
Rodriguez: "Things are going pretty well. There are times we just let guys go free which bothers me, particularly with the second group. Coach (Jim) Michalczik will get them right. I would say their performance has been uneven."
Michalczik: "I think we're starting to see the schemes and the defense a little better. We need to be more fundamentally sound and I'd like for them to have more of a take charge attitude. We aren't where we want to be but we are making progress and we are going to put some hard work in."
PLAY OF THE DAY
In live red zone play, Anu Solomon hit Samajie Grant on a slant pattern. The junior receiver hauled it in over the middle and then out-raced the defense across the goal line for a touchdown.
UP NEXT
The Wildcats headed to Ft. Huachuca on Saturday night to have dinner with the troops. "The best thing we have up there is the dinner with the soldiers and the officers," Rodriguez said. Arizona next practices on Monday, with another two-a-day starting at 8:30 a.m. and finishing at 6 p.m.
---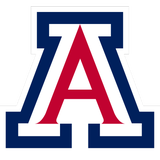 Get more from Arizona Wildcats
Follow your favorites to get information about games, news and more