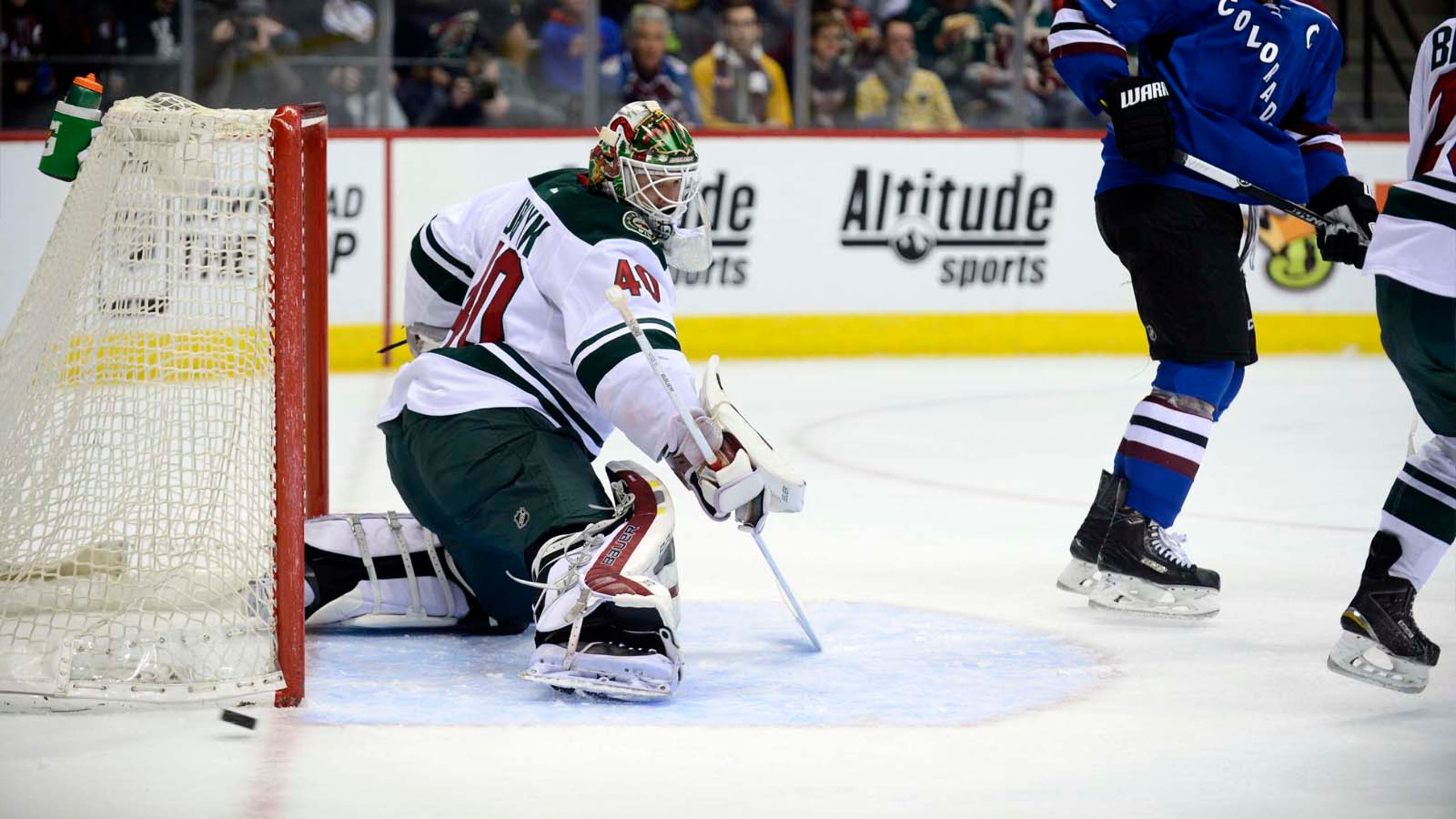 Wild beat Avalanche in Dubnyk's 20th straight start
BY foxsports • March 1, 2015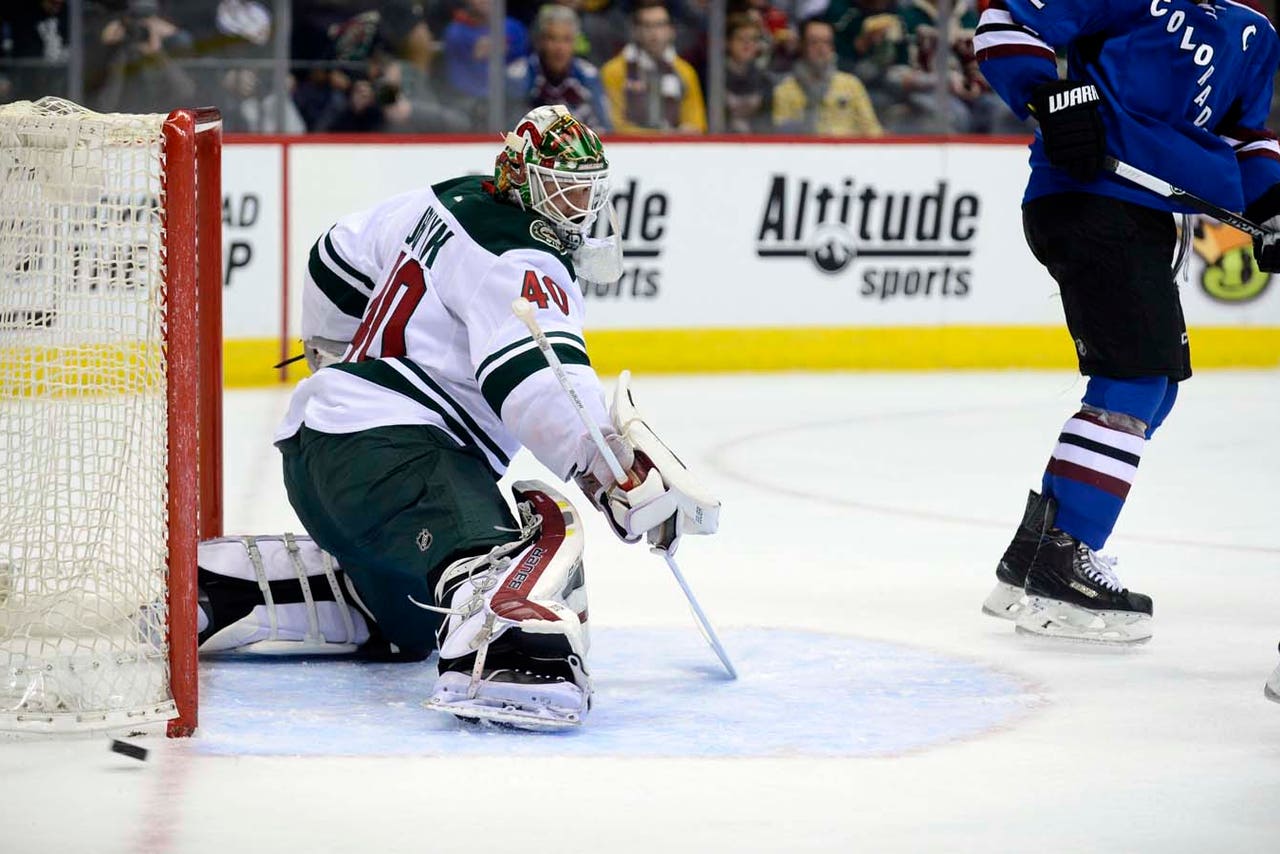 DENVER (AP) -- A night off? Devan Dubnyk doesn't need one.
Not anytime soon, the Minnesota Wild goalie insisted. Dubnyk keeps on starting, and his team keeps right on rolling.
Justin Fontaine broke a second-period tie, and Dubnyk stopped 33 shots, leading Minnesota to a 3-1 win over the Colorado Avalanche on Saturday night.
Erik Haula and Jason Pominville also scored for the Wild, who improved to 4-0 against Colorado this season. They have outscored the Avalanche 12-1.
As for that one goal the Wild surrendered, well, it didn't exactly sit too well with them.
Maxime Talbot was credited with the goal when he shot the puck and it lodged under Dubnyk's skate as the goalie fell to the ice. As Cody McLeod slid into him, Dubnyk put his skate across the goal line.
The officials didn't immediately rule a goal, but counted it after a video review. It was Colorado's first goal on the Wild this season in 201 minutes, 32 seconds.
"The ruling, I guess, was that McLeod had nothing to do with me going into the net, which is somewhat mind-boggling," Dubnyk said of the tying goal in the second period. "It didn't seem to matter in the end. For us to respond like that after a goal that probably shouldn't have counted, that's a sign of a great hockey team."
Dubnyk started his 20th straight game since joining the Wild in a trade with Arizona on Jan. 15 and improved to 15-3-1. The consecutive starts match the Wild goalie record set by Niklas Backstrom in 2009.
Instead of being exhausted by all the work, Dubnyk is actually energized.
"The more chances I get (to start), the happier I am," Dubnyk said.
This was a big win for the Wild's postseason chances -- and a crushing loss for the Avalanche, especially after beating Dallas on Friday in a shootout.
"No one's quitting in here," forward Jarome Iginla said. "This was a step back but the intensity and what we're trying to do, we'll keep pushing. This one tonight hurts."
Even more so for teenager Nathan MacKinnon, who broke his nose late in the game.
"I looked at it, and to me it's clearly a head shot," Colorado coach Patrick Roy said. "I don't understand why there's no call."
Minnesota coach Mike Yeo was a little agitated at the Avalanche for sending McLeod onto the ice in the closing seconds to pick a fight. He and Charlie Coyle dropped the gloves with the game already decided.
"That's garbage is what it is," Yeo said. "You could feel it was going that way all game long. They were obviously very emotional all game long. I thought in an emotional type game, we did a good job of keeping our focus. I really think that was the difference at the end."
Semyon Varlamov made 29 saves as he started his 19th straight game. He fell to 9-8-2 during the stretch.
Pominville gave the Wild a 3-1 lead some breathing room by launching a liner over Varlamov's glove 5:50 into the third period. It was his 13th goal of the season.
Varlamov was pulled with just over four minutes remaining for an extra skater. Nate Prosser drew a high-sticking penalty with 3:17 remaining, giving the Avs a 6-on-4 advantage, but they couldn't get anything by Dubnyk.
After Talbot's goal in the second period, Minnesota quickly responded, with Fontaine taking a cross-ice pass from Haula and beating Varlamov with a wrist shot.
The Avalanche had their chances later in the second with a 5-on-3 power play, but Dubnyk turned back everything sent his way. Colorado finished 0-for-7 on the power play.
Haula scored the first goal of the game when he banked a shot off the pads of Varlamov from behind the net. It was Haula's second straight game with a goal.
Before the game, Avalanche general manager Joe Sakic said he doesn't expect to be all that active before Monday's NHL trade deadline. He wants to keep his young core of players together.
"We're not going to go out and try to acquire somebody for our run," Sakic said.
Notes: Haula and Fontaine each had an assist.  . . . Asked if he was thinking about possibly dealing F Ryan O'Reilly, Sakic responded: "I don't want to trade Ryan. The plan right now? No. Never say never. I don't believe anybody is untouchable." Sakic hopes to work out a long-term deal with O'Reilly in the offseason.
---