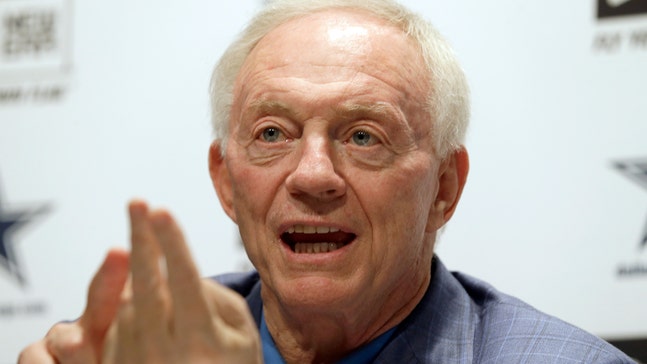 What the Cowboys accidentally did wrong in the draft
Updated
Mar. 4, 2020 4:22 p.m. ET

It is one of the most futile endeavors in professional sports. Handing out letter grades at the end of the NFL draft might be the one thing more foolish than publishing seven different editions of a mock draft.
I've been struck by how supportive a lot of folks have been of the Dallas Cowboys' draft. Passing on Johnny Manziel to take Notre Dame offensive tackle/guard Zack Martin was certainly a reasonable move by the Cowboys. Team owner Jerry Jones/general manager Jerry Jones was praised for making the proper football decision instead of going for the most fascinating prospect in the past 20 years. Elvis, as Jones referred to Manziel, has left the building. He'll try to reverse 20 years of ineptitude at his position in Cleveland.
What happened next with the Cowboys draft is why the grade should come somewhere in the "C" range. Knowing his team needed to identify and draft three walk-in starters, Jones decided to forfeit two premium picks in exchange for Boise State defensive end Demarcus Lawrence. This is a man who had some character concerns, although one Cowboys official told me that Lawrence had good "football character." When I find out exactly what that means, I'll be happy to pass it along.
As I tend to do in the 48 hours after a draft, I've been on the phone with scouts across the league. Two of them are extremely familiar with Jones' strategy from past years. Here's what one of them had to say of Lawrence:
"He's an edge tweener 4-3, defensive end/3-4 outside linebacker," said the longtime scout. "More right end than left end. Upside as rusher and the potential to develop in the run game. He has the tools to mature into a possible starter."
If you're going to move up 13 spots in the second round of the draft while forfeiting your only third-round pick, getting a developmental player really isn't an option. Lawrence won't be an every-down type player in his first season. That doesn't mean he won't be valuable as a pass-rushing specialist, but the Cowboys needed more.
In the fourth round, the Cowboys took Iowa linebacker Anthony Hitchens. Some evaluators gave Hitchens a sixth-round grade, but I don't get bogged down by those things. If a team has a great feeling about a certain player, it's OK to have him higher than other teams. The downside to this pick is that Hitchens is basically viewed as insurance for the oft-injured Sean Lee. So now you've spent your third pick of the draft on an inside linebacker because your starting middle linebacker plays about 10 games per year. When you go 8-8 every season, there's really no room to make luxury picks.
"We saw a guy who could run with size, and we saw one of them few inside linebackers that we thought could come in here and help us if we lost Sean Lee," Jones told reporters Saturday. "So we saw a guy who could definitely improve us from where we were last year when we lost Sean Lee. Probably, for me, the most important thing is how much of a hitter he is. He blows them up. So we sat there with him and used a fourth-rounder."
The Cowboys recovered a bit with the selection of Pittsburgh wide receiver Devin Street in the fifth round. If he can become the team's third receiver in the next two seasons, that's a good hit. I talked to a scout who spent a lot of time on Street leading up to the draft.
"Street should be solid and dependable," he said. "Good size/possession receiver that runs good routes that gives you some size inside where I think ultimately iss where he belongs. He might be a poor man's Nate Burleson-type. He's best served from the slot as a third receiver."
The Cowboys added some nice depth in the seventh round, but you rarely find starters at that point. This organization was in no position to focus on special teams in this draft, but I'm afraid that's accidentally what happened.
---