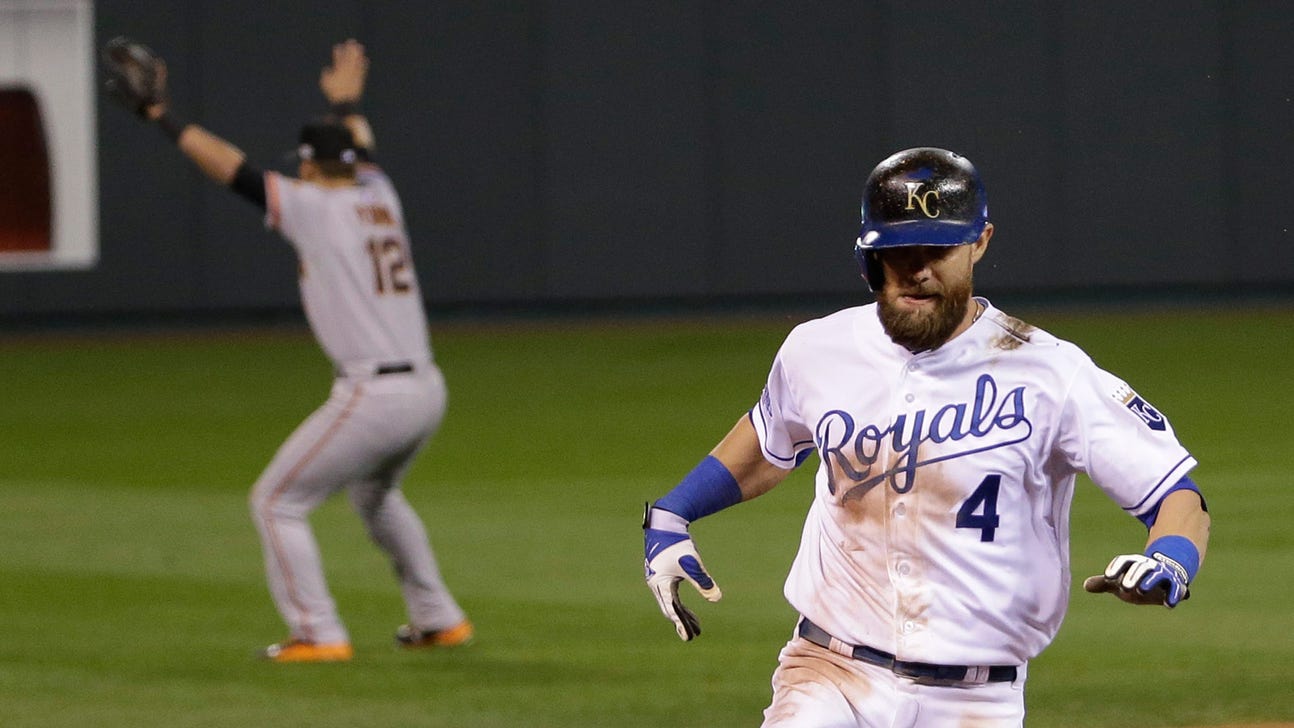 What if Alex Gordon had hustled?
Updated
Mar. 4, 2020 9:26 p.m. ET

I'll lead with this: For all the talk about their gritty hustling never-say-die determination, the Royals' failure to hustle might well have cost them dearly in Game 7.
Everybody's already written about Madison Bumgarner. Earlier today, I wrote about that tremendous double play turned in the third inning of Game 7 by Joe Panik and Brandon Crawford (and especially Brandon Crawford's strong right arm). But I haven't written yet about Alex Gordon staying on third base, where he had a great view of Salvador Perez's World Series-ending foul pop.
Of course, others have written about Gordon a-hugging third, and written well. Jeff Sullivan ran through the numbers and concluded, with some authority I think, that Gordon would likely have been a dead duck if he'd tried to score. Joe Posnanski (bless him) referenced the Monty Hall Problem on his way to pointing out that yes, now it's obvious that Gordon should have tried to score, because the Royals' chance of winning in that case are infinitely higher than their actual incidence of winning (zero percent). Joe:
In this case, we know how the World Series ended. It ended with Giants pitcher Madison Bumgarner entirely overmatching Royals catcher Salvador Perez, who hit a foul pop-up to end the game. That's what happened, and it is unchangeable and, so, in the end, unjustifiable. If given the option to go back in time, the one thing you KNOW WILL NOT WORK is to let Perez hit.
One thing that Joe doesn't mention, so I will: While Pérez certainly looked entirely overmatched, that doesn't mean he couldn't have actually succeeded. As you might recall, Pérez had homered in Game 1, accounting for the only run Bumgarner gave up in the entire Serious. As you might have looked up (but probably haven't), Pérez has tremendous numbers against left-handed pitchers in his career, with a .307/.349/.503 line and 15 homers in just 384 at-bats. Yes, we have to regress his splits for a good projection. But even then, I think we can say he's a "pretty good" hitter against left-handed pitching, generally.
Of course, Bumgarner's a lot better than your general left-hander. I'm just saying Pérez had a significantly better than zero chance of driving home Gordon from third base.
All of the above explains, in so many words, why I haven't for a moment second-guessed Mike Jirschele's decision to stop Gordon at third base.
But something did bother me about the whole thing. I've seen a lot of baseball games. I don't know how many, but I've been pretty obsessive about baseball for about 35 years, and we had two super-stations on our cable package in 1977 or '78. My very rough estimate is that I've seen at least 45,000 innings of baseball. When Gordon's liner got past Gregor Blanco, I thought triple. When Gordon's liner then got kicked along the warning track by Juan Perez, I thought holy shit he's going to score.
Okay, I actually yelled that. Sue me. The dog slept through the whole thing anyway.
So when the camera brought us back to Gordon stopping at third base, I was surprised. When the replays showed just how mad a dash home would have been, I just assumed that my 45,000 innings had misled me; that those two misadventures in the outfield hadn't taken as long as I'd thought.
But that's not what happened. As AZCentral Sports' Andrew Joseph points out, Gordon wasn't hustling his way around the bases:
It took Gordon an uncharacteristically slow 4.66 seconds to reach first base after making contact. According to the major-league scouting system, a 4.6 home-to-first time from a left-handed batter would place Gordon with the lowest possible score of 2.

Gordon is not a slow runner, so it's clear that he wasn't running out of the box at full speed. He was able to recover some, hitting a top speed of 18.7 mph according to MLB.com.

But that late jump was crucial.

In his triple on April 5, 2013 against the Phillies, Gordon reached third base in 11.03 seconds. That's a full second faster than what it took him to reach third on Wednesday.
Eric Hosmer and Alex Gordon have played more innings than I've seen. Hosmer wasn't prepared for Joe Panik to grab his liner up the middle, and it cost him first base. Gordon wasn't prepared for Blanco to misplay his routine single into a Little League triple, and it might have cost him a Little League home run.
This isn't a knock on Gordon and Hosmer. But for all the talk about the Royals' gritty hustling never-say-die ways, the truth is there just aren't many Pete Roses out there. Not now, not ever. Most players hustle when their experience tells them to hustle, and don't hustle when their experience tells them it's not worth the bother. Usually we don't notice, because usually it doesn't matter.
In Game 7, it mattered. In Game 7, it mattered quite a lot.
---