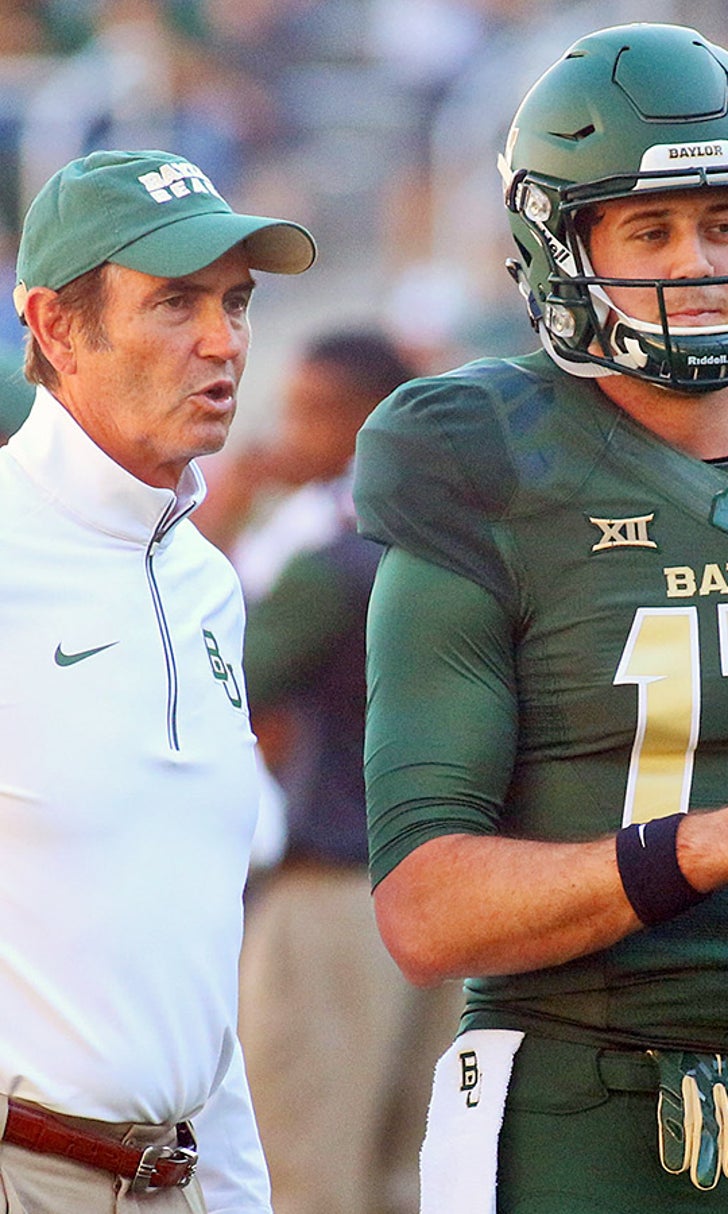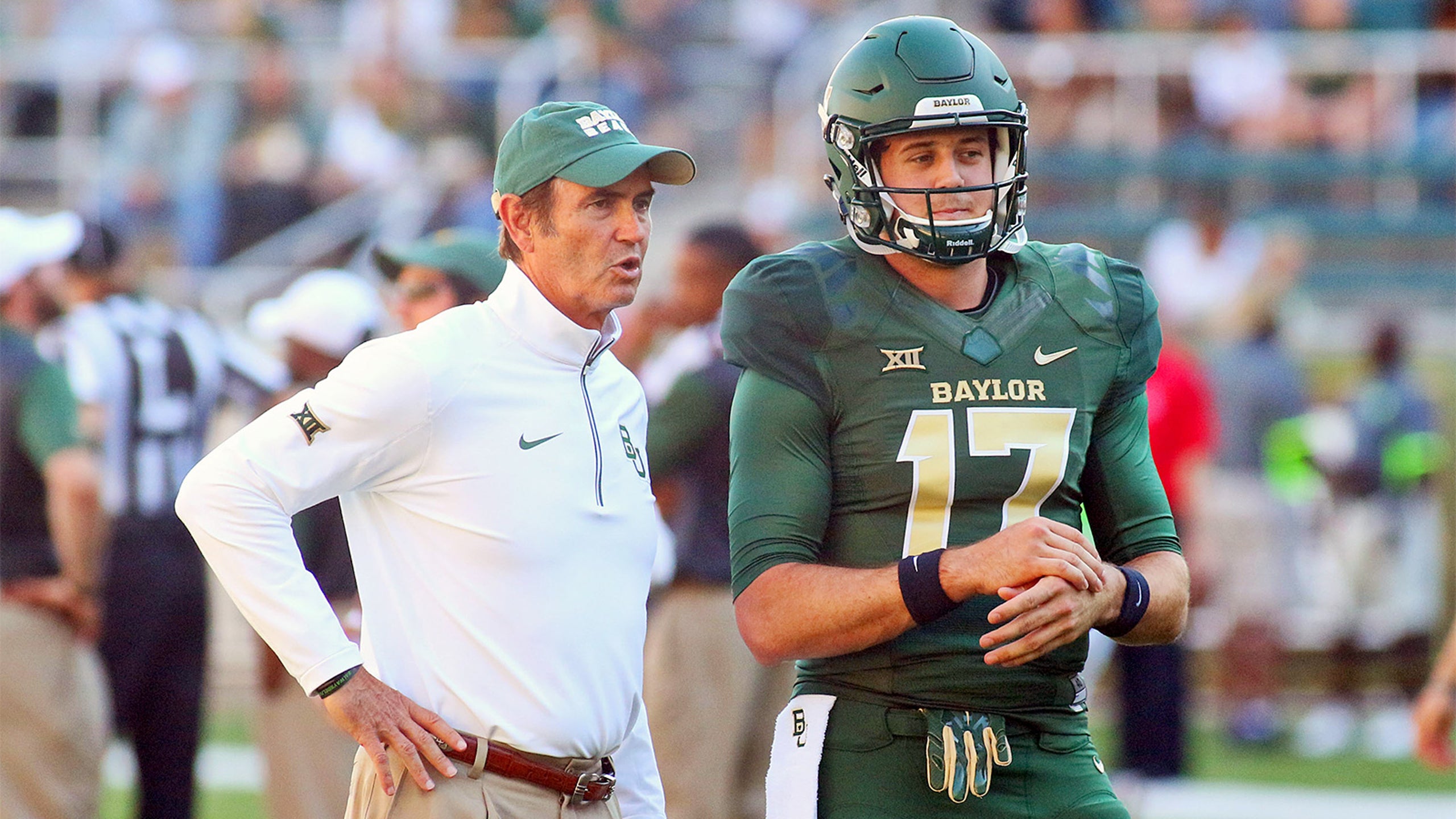 Week 6 DraftKings College Football Preview
BY Aaron Torres • October 8, 2015
It's time for the Week 6 Draft Kings college football preview here on Outkick the Coverage, the only daily fantasy preview on the 'net that guarantees you that we don't have any inside information because... I mean, did you see our picks last week?
Ok, they honestly weren't that bad. If it weren't for like six Trevone Boykin touchdown passes, and roughly 97 missed tackles by the Texas defense, we would've easily finished in the money. No doubt.
Still, much like Mark McGwire, we're not here to talk about the past. What we are here to do is give you winning picks!
As always, here are our own picks, with our own real money on the line. For those of you who are new to DraftKings, here are the details:
- Private contest for Outkick The Coverage readers
- Free for new users or $3 to enter
- Only 150 spots so join quickly!
- $450 in prizes
- Top 46 scores win money guaranteed
- Starts Sunday, October 4th at 1:00 PM EST
- Salary Cap Style Drafting. $50,000 to select 9 spots. 8 players and 1 defense.
- Roster Format: 1 QB, 2 RB, 3 WR, 1 TE, 1 Flex and 1 Defense
And here's who we're starting this week:
Quarterback:
Seth Russell, Baylor ($9,300)
Some things in life are so obvious they don't need explaining. For example, don't pee into a strong wind. Don't agree to take a road trip with Bret Bielema right after he hits an all-you-can-eat Mexican buffet for lunch. Don't disagree with your girlfriend when she insists you need a new set of bathroom towels... even though you already have seven separate sets of bathroom towels.
And most importantly: Always play a Baylor quarterback in Daily Fantasy when they're facing Kansas.
Look, I could throw out a million different stats to explain why you should play Russell this week. I could tell you that Baylor has college football's best offense, and is averaging over 100 yards per game more than any other team in the country. I could tell you that Kansas has college football's 122nd ranked defense... and they haven't even gotten into the meat of Big XII play yet. I could tell you that Russell has thrown for at least four touchdowns in every game this season, and might be the single hottest college quarterback in Daily Fantasy right now.
But while I could tell you all that (which I guess I technically just did), let me instead put things in a different way: A Baylor quarterback is facing Kansas' defense this week. No, you don't have to start him. But how dumb will you feel if you pick someone else, and Russell ends up throwing for 500 yards and six touchdowns Saturday afternoon (which is a distinct possibility, by the way).
Sometimes the obvious decision is the smart one.
Start Seth Russell this week.
Pat Maholmes, Texas Tech ($8,400)
Look, I'm just going to say it: I love Pat Maholmes about as much as a grown adult can platonically love a college kid, without anybody being creeped out and calling the police on me. Maholmes is crazy talented, and has crazy heart. Did you see him limping around on one leg last week, even when the Red Raiders were down by 30 to Baylor? Sure the stats weren't great, but how could you not love what he was out there doing? And how can you not think he's going to come into this week with a major chip on his shoulder?
After a heartbreaking loss to TCU and a beat down from Baylor, Maholmes is going to be fired up, and I'm guessing he takes it out on Iowa State in a big way.
Look for a big game from Maholmes, and a big game from your team if you start him.
Running back:
Travis Greene, Bowling Green ($5,100)
Admit it, you've never heard of Travis Greene. It's ok, I hadn't either until about an hour ago.
So since neither of us know anything about him, let's play a game I just made up called "Getting to Know to Travis Greene." Here, I'll throw out a bunch of facts about the Bowling Green running back. Two are true, and one is false, and you've got to guess which.  
1. Greene is the leading rusher (351 yards and three rushing TD's) on one of college football's most explosive offenses (Bowling Green is ranked sixth in the country in total offense).
2. That explosive offense is facing a UMass club which allows opposing running backs to go for nearly six yards a carry this season.
3. Greene is a direct descendant of Thomas Bowling Green IV, the man that the school is named after. He is also the cousin of A.C. Green, the former basketball player. Like A.C., he's also waiting until marriage, to... ya know.
Ok, so which Travis Greene fact did I make up?
The answer is No. 3! I totally made that up! Did you guess right? How fun is this game?  
What's that? It's not fun at all? You're going to click out of this window and e-mail Outkick to stop letting me write these previews?
Ok, let's wrap up then.
The point I'm trying to make is that Greene is totally flying under the radar, and is going against a defense that will have no answer for him.
Sure, neither of us had heard of him before an hour ago.
But the guy is a beast and is going to have a big game Saturday.
Alvin Kamara, Tennessee ($3,200)
Speaking of steals, how about Alvin Kamara at Tennessee!!!
(//Ducks for cover, as a random Tennessee fan throws a vase full of flowers at me//)
Woah, woah, slow down random Tennessee fan. Hear me out on this!
Ok, so I know that the Vols are a total grease fire right now. I also know that with the way UT's staff calls plays on offense, you'd think it's against university bylaw to throw a downfield pass at any point, in any game this season.
But while that's awful news if you're a Tennessee wide receiver, it's great news if you're interested in adding one of the Vols running backs to your Draft Kings lineups.
The truth is that Kamara has become a nice little weapon out of the backfield, and a secretly nice utility player in Daily Fantasy. That's because beyond just being a really good runner, Kamara has evolved into a pass catcher as well. Can you believe that as things stand, he actually has more catches this season than Von Pearson?
Yes, Tennessee's backup running back, has more catches than their star receiver.
I don't know if that says more about UT's play-calling, or how well Kamara has been playing.
But at this price, you're not going to get a better value.
Wide receivers:
Jay Lee, Baylor ($5,900)
I said it before and I cannot emphasize this enough: Baylor is playing Kansas! In football! This is the Daily Fantasy equivalent of Santa coming down your chimney, taking out wads of cash and making it rain like Pac-Man Jones in a strip club.
What's better than that?
Absolutely nothing.
So take full advantage while you can. For the love of God... TAKE ADVANTAGE!
(In analysis that doesn't include me typing in all caps, Lee has quietly morphed into Baylor's No. 2 wide receiver over the last few weeks. He's not quite at Corey Coleman's "my God, that guy isn't even the same species as I am" level, but he's one step below, and has averaged over 100 yards receiving each of the last three games.
Basically, he's a great pick at the price you're getting him.)
Simmie Cobbs, Indiana ($3,900)
If you've been reading these articles every week (and if you haven't, shame on you) then you know that earlier this season, Indiana wide receiver Ricky Jones quickly became my DraftKings man-crush, the guy who snuck into my lineup, and quietly went out and got me seven or eight catches, 100+ yards and three touchdowns a few weeks in a row.
He really was the best.
Unfortunately for Jones he's been a little banged up the last few weeks, meaning I had no choice but to move on.
So with Ricky Jones on the backburner, meet Simmie Cobbs. His numbers don't jump off the page, but he did have seven catches with a touchdown two weeks ago, and had four grabs last week too. That second number might not seem like much... until you realize that he was playing against arguably the most talented defensive backfield in the country last week against Ohio State.
With the Hoosiers facing a much more manageable test against Penn State this week, Cobbs has a big day.
And he officially takes over Ricky Jones' spot as my "Indiana, Daily Fantasy Heartthrob" Du Jour.  
Allen Lazard, Iowa State ($5,400)
Speaking of "big days" keep an eye on Lazard this weekend against Texas Tech.
Look, I know I spent a few hundred words gushing over Pat Maholmes and the Tech offense at the beginning of this preview, but as good as Maholmes and the Tech offense have been, their defense has been equally as bad. And by bad, I mean "unwatchable and incapable of making a tackle."
That's why Lazard is such a smart play here.
For everyone focusing on Tech's offense, what no one realizes is that Iowa State might just put up some points as well. Not enough to actually compete, but just enough to force the Cyclones to keep passing late into the game.
Lazard puts up big stats Saturday and will be a relative bargain at $5,400.
FLEX:
Chris Brown, Notre Dame ($3,900)
Sure Notre Dame fans look at Brown as the guy who fumbled a potential game-winning touchdown on the goal line, which ultimately, indirectly cost the Irish a game against Clemson.
But I look at him as a solid No. 2 receiver, who has clearly emerged into DeShone Kizer's security blanket, and who's a straight steal at $3,900.
Durron Neal, Oklahoma ($3,900)
I told you to play Neal last week and he responded by making a touchdown grab. Frankly, he probably should have had another one or two with the amount he was targeted.
Point being that Oklahoma is going to not only throw the ball, but keep throwing the ball against Texas Saturday.
Given how that UT defense looked last week, it could be a big day for Oklahoma's passing game, and Neal in specific.
Aaron Torres is a contributor to Outkick the Coverage and FOXSports.com. Follow him on Twitter @Aaron_Torres, Facebook or e-mail at ATorres00@gmail.com.
---
---