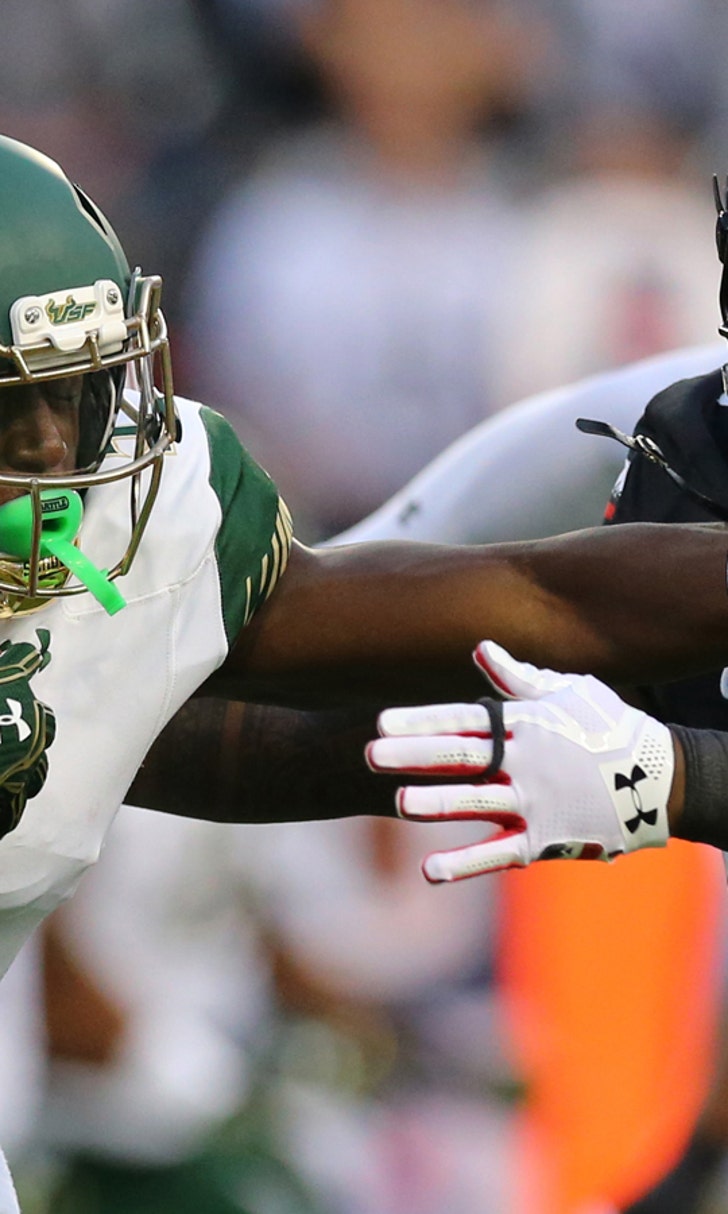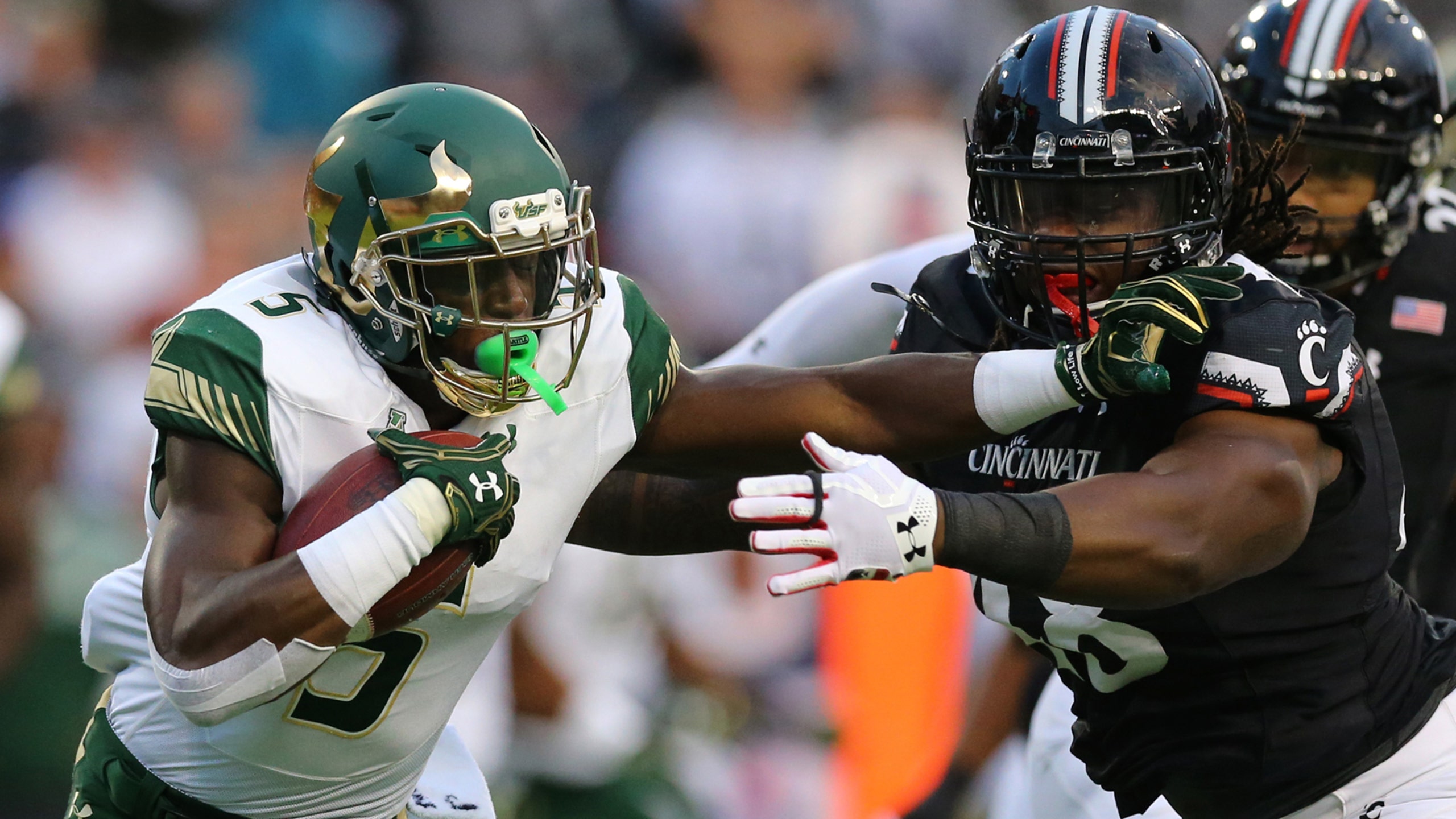 USF reels off final 28 points to best Cincinnati
BY foxsports • October 1, 2016
CINCINNATI (AP) -- Quentin Flowers and Marlon Mack ran for two touchdowns apiece and Mack became South Florida's career rushing leader as the Bulls scored the final 28 points to beat Cincinnati 45-20 on Saturday night.
Mack finished 118 yards on 20 carries, including a 49-yard touchdown run in the fourth quarter that moved him past Andre Hall into first on South Florida's career rushing list. Mack, a junior, has 2,755 yards rushing in 28 career games.
"That was a big hole," Mack said. "I had to make a move on the linebacker and I did it. I just had to make him miss.
"The record feels great. I thank my O-Line for the last three years. It is a good feeling. It is very nice to get our first conference win on the road."
The Bulls rushed for five touchdowns and 226 yards.
"Mack's run was pretty impressive," USF coach Willie Taggart said. "He pushed the L1 button like on the video game to make the move on that linebacker. He deserves everything he gets."
There were six lead changes in the first half and South Florida led 24-20
"We did a good job of taking what we learned at halftime and took it to the field," Taggart said.
Flowers completed 16 of 26 passes for 196 yards and added 74 yards rushing.
"We just take what the defense gives us," said Flowers, who had his first child on Monday. "We can run the ball. We have guys that can turn a six yard run into 60 like Marlon Mack did."
Mack's first touchdown, a 4-yard run, gave USF (4-1, 1-0 American Athletic Conference) a 24-20 lead with 1:40 left in the first half.
Flowers scored on a 19-yard run with 4:29 to play in the third quarter and, fewer than 3 minutes later, Johnny Ward returned an interception 11 yards for a touchdown to make it 38-20.
Bearcats' freshman Ross Trail threw for one touchdown and ran for another but threw three interceptions before being replaced by Gunner Kiel after Ward's pick-six. Tion Greene had 98 yards rushing and a touchdown on 12 carries for Cincinnati (3-2, 0-1).
Cincinnati had been looking forward to this game since taking a 65-27 beating in Tampa last November.
"We had been preparing for this ballgame since last year," Cincinnati coach Tommy Tuberville said. "Playing at home, we played with a lot of grit in that first half.
"Both sides, I thought we played the ballgame pretty much how we wanted to play it," Tuberville added. "We knew we were gonna have a tough time with No. 9 (Flowers) running the ball, scrambling around and running quarterback draws. We pretty much contained it for the first half, more than most people have done. Second half, It was totally different defense."
THE TAKEAWAY
South Florida - The Bulls came into the game ranked 24th in the FBS with eight takeaways. They had four more against the Bearcats: three interceptions and a fumble recovery.
Cincinnati - Kiel, who threw 40 combined touchdown passes in 2014 and 2015, completed his first three passes before finishing 3-of-11 passing for 47 yards. Sophomore Hayden Moore started the first three games of the season, throwing for 785 yards with seven TDs and three interceptions, before injuring his ankle in a 40-16 loss to Houston on Sept. 15.
UP NEXT
South Florida - The Bulls host East Carolina in its second conference game October 8 at noon. USF edged East Carolina 22-17 in 2015.
Cincinnati - The Bearcats travel to Connecticut on October 8 for an 11:30 am game. Cincinnati was a 37-13 winner in their last meeting.
---
---