UCLA retires Jackie Robinson's No. 42 across all sports
BY foxsports • November 22, 2014
Late in the first quarter of the rivalry game between No. 9 UCLA and No. 19 USC, UCLA athletics made an announcement that they would honor Jackie Robinson by retiring No. 42 across all varsity sports.
The announcement comes just one day after UCLA celebrated the 75th anniversary of Robinson's arrival on campus. The celebration at Drake Stadium culminated with the naming of a series of athletic facilities in his honor. The No. 42, worn by the football team on their helmets during Saturday's game, will be a prominent focal point in each venue.
"Jackie Robinson established a standard of excellence to which people the world over should aspire," athletic director Dan Guerrero said in a statement. "On the 75th anniversary of Jackie's arrival at UCLA, we want to ensure that his is a legacy to be upheld and carried forward by Bruins for generations to come. While he wore several numbers at UCLA, Jackie Robinson made the No. 42 as iconic as the man himself. For that very reason, no Bruin will be issued the No. 42 --€" in any sport --€" ever again."
There are currently three athletes wearing the No. 42 and all will be allowed to play out the rest of their UCLA careers wearing the number. 
From 1939 to 1941, Robinson, a Pasadena native, competed in four sports at UCLA. A decorated athlete, he won an NCAA title in broad jump, was an honorable mention All-American football player and led the Pacific Coast Conference in scoring as a basketball player.
Robinson was a shortstop on the baseball team, using UCLA as a launching pad to his storied career. The baseball facility is currently named Jackie Robinson Stadium and displays a prominent statue of the Bruin legend at its entrance.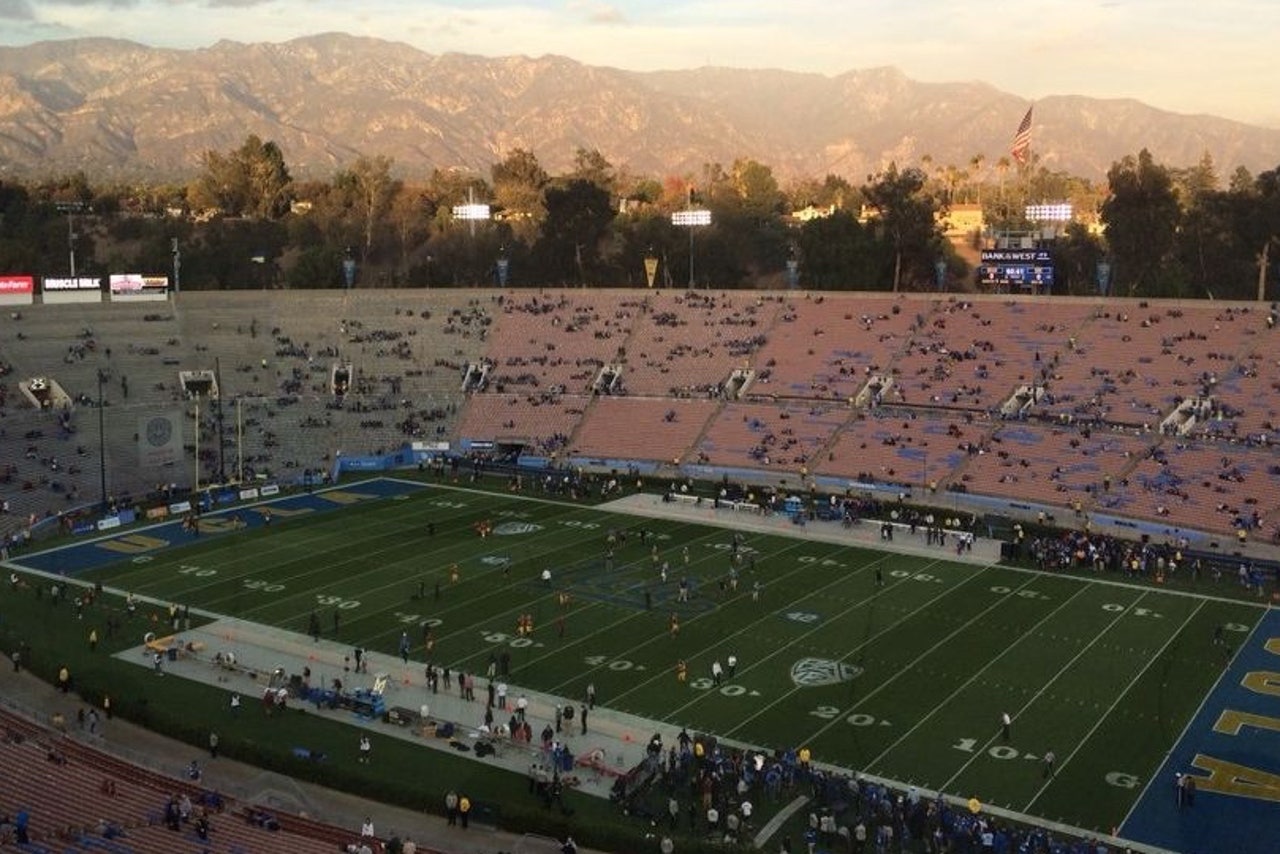 BURST: USC Trojans vs. UCLA Bruins
The decision to retire the No. 42, which Robinson wore on the Dodgers and not at UCLA, over another number was met with some controversy. Yes, he wore three different numbers in three different sports at UCLA, but 42 is synonymous with the legendary athlete.
Robinson once said, "A life is not important except in the impact it has on other lives." Through the retirement of the No. 42, UCLA is ensuring that Robinson and his brave actions will continue to impact future Bruins. 
"Jackie Robinson's name and his legacy are an honor to this university, and to all the students and student-athletes who will continue to be inspired by his courage, dignity and grace," UCLA Chancellor Gene Block said. "Jackie detested injustice, fought for civil rights and his spirit of breaking barriers has been and always will be a guiding force of UCLA past, present and future."
---