Top 10 fantasy football lessons learned from the 2016 season
BY Fox Sports and Adam Meyer • January 27, 2017
With the regular season coming to a close, it's time to put a bow on the fantasy season. Here is my list of 10 fantasy football lessons learned from the 2016 season.

1. Don't be afraid to suggest tweaks to your league(s)
When the fantasy season comes to a close, look back at your league and think of any changes your friends might want to correct for 2017. Did your defense not get the punt return for a touchdown you were expecting? Did you score the most fantasy points but miss the playoffs? Are you tired of having to look at kickers? All of these things, and more, can be put to a vote. I would suggest getting the ball rolling on these things now so you don't forget before next season and so other people have a chance to think about it and aren't surprised come draft time next year.

2. Put more emphasis on o-line injuries and transactions

Remember in the beginning of August when Chicago Bears center Hroniss Grasu tore his ACL? Of course you don't, liars. Quarterback Jay Cutler would get injured after Week 2 and Week 11. I'm not saying the Bears' season completely unraveled after Grasu's injury. In fact, they've allowed only 26 sacks all year. However, you can't dispute the fact that losing a starting center before the season impacted Chicago's offense. Another example is Joel Bitonio for the Browns. Again, I'm not saying that having Bitonio would give Cleveland more than one win, but the Browns do lead the NFL with 62 sacks allowed and have gone through through five quarterbacks (and I'm not counting Terrelle Pryor).

3. Make a list of buy low candidates for 2017

It was a rough season for a few players who were drafted high in fantasy football leagues this year: Todd Gurley, Cam Newton, DeAndre Hopkins, etc. Take advantage of their potential value and make sure to claim one or two for your 2017 roster.

4. Don't forget to submit waiver wire picks

As much as I hate to admit it, I forgot a time or two to make my waiver wire claims on Tuesday night and woke up to make a mad dash to the free agent pool on Wednesday morning. My suggestion is make your claims on Monday night, or even Sunday night, while football is still on the brain. When Tuesday rolls around, you aren't thinking about your lineup until the lone Thursday night game. Which brings me to my next point...

5. Set your lineup a week in advance

The old adage is "take things one week at a time." Well, the early bird also gets the worm. If you notice a bye week might impact your lineup the following week, start building your bench the week prior (or sooner!). Waiting until the week of is the equivalent of doing your Christmas shopping at the last minute. By that time, people are looking for the same things and you might miss out on great deals.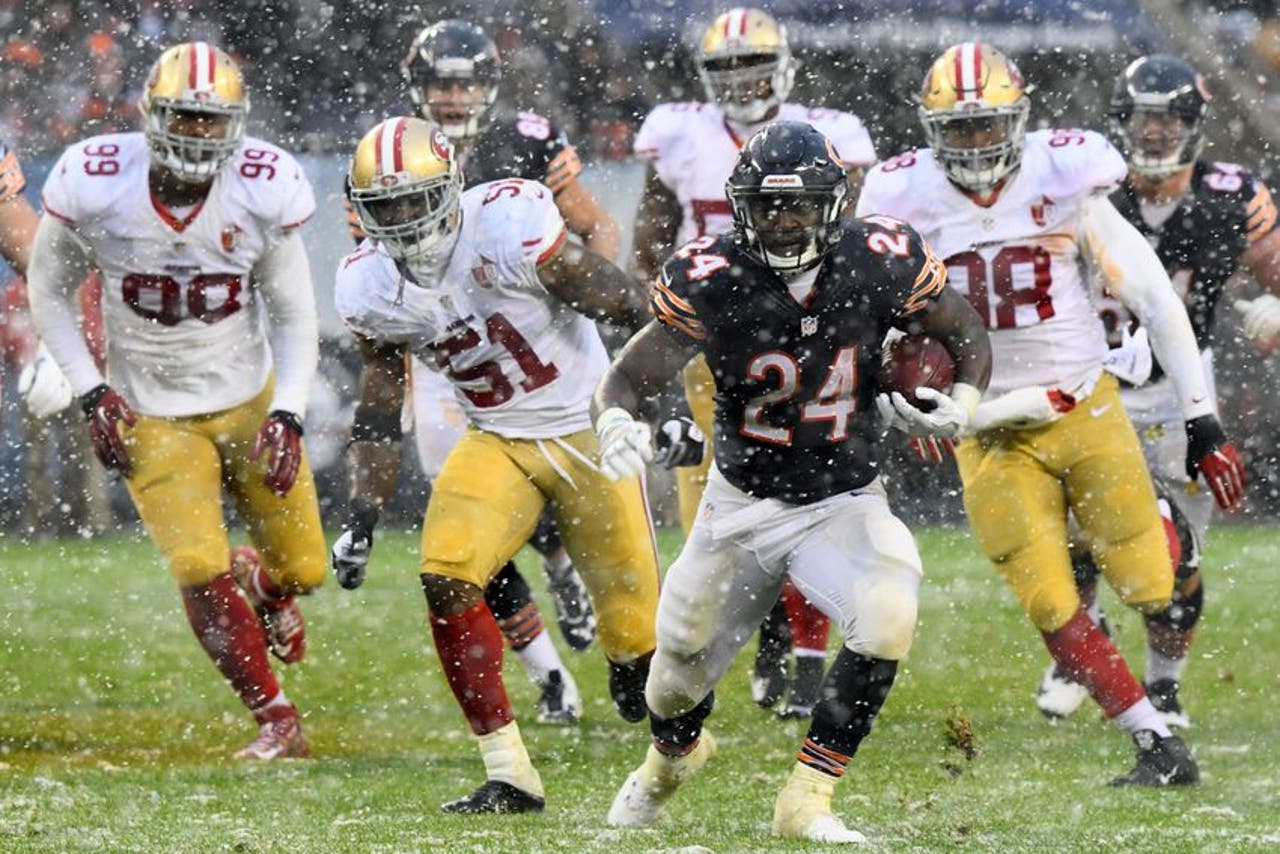 If you drafted Jordan Howard, and were patient, he paid off in a big way. I cut him too soon and now it's a new member of the fantasy football lessons list.

6. Don't drop backup running backs too soon

We are halfway through the list of fantasy football lessons learned and this one had a big impact to me. In one of my leagues I dropped Jordan Howard in Week 1. Sure, at that time, Howard was considered the No. 3 running back in Chicago, but I didn't even give him a week before letting him go. Two weeks later, Howard was earning some major playing time and I was unable to snag him from free agency. Look at the list of running backs who surprised us this season (in a good way): Howard, Spencer Ware, Isaiah Crowell, Bilal Powell, Terrance West, etc. Be patient with your backup backs. They just might surprise you and help you win a few games.

7. It's never too early to start planning your playoff lineup

It's nearly impossible to know which defenses will struggle in Weeks 14, 15, and 16 when you are drafting your team. So, as the season progresses, keep a printout with those fantasy playoff matchups handy. That way, you don't need to worry about starting Tom Brady against the Broncos or Jeremy Hill against the Texans. Instead, you can have Dak Prescott face the Lions or Devonta Freeman face the 49ers (or any running back against San Francisco).

8. Make an "end of season report" for yourself

Much like what I'm doing here, make a list of what worked and what you need to improve upon for next season. Consider it closure for a long season that ultimately flies by. If you are in a keeper league, take inventory of who you would want to hang on to for the following season and who might represent trade value. Also, take note of which experts helped you and which did not. Hopefully, the guys at FOX Sports were on the good side of that list.

9. Know your limits

There is no shame in setting a fantasy football team limit. I myself made the cut down from 10 leagues in 2015 to eight in 2016. That still may seem like a lot to others, but it was just the right amount for me. You are able to save some time, and possibly some money, in the process. Plus, you can allocate that time on your smaller batch of teams and make them even better. Don't forget, DFS is still an option, too.

10. Go with your gut

Did you have a feeling Adam Thielen would have a monster game in Week 16, but the rankings didn't recommend it? Go with your instincts! This is always the most important advice I give people when they ask me for help constructing their lineup. My goal is to always provide you with the right choices. But, unfortunately, that doesn't always happen. At the end of the day, you are the one who is responsible for clicking "submit lineup." The credit should go to you for making the right choices, and the blame rests in your hands, as well.


---
---