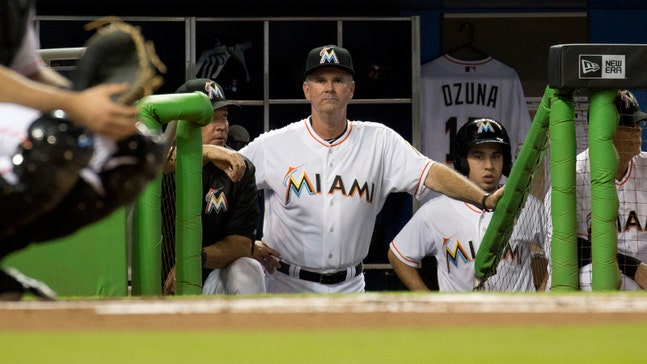 Tommy Hutton Q&A: Explaining Marlins' hitting, bullpen struggles
Published
May. 28, 2015 12:30 p.m. ET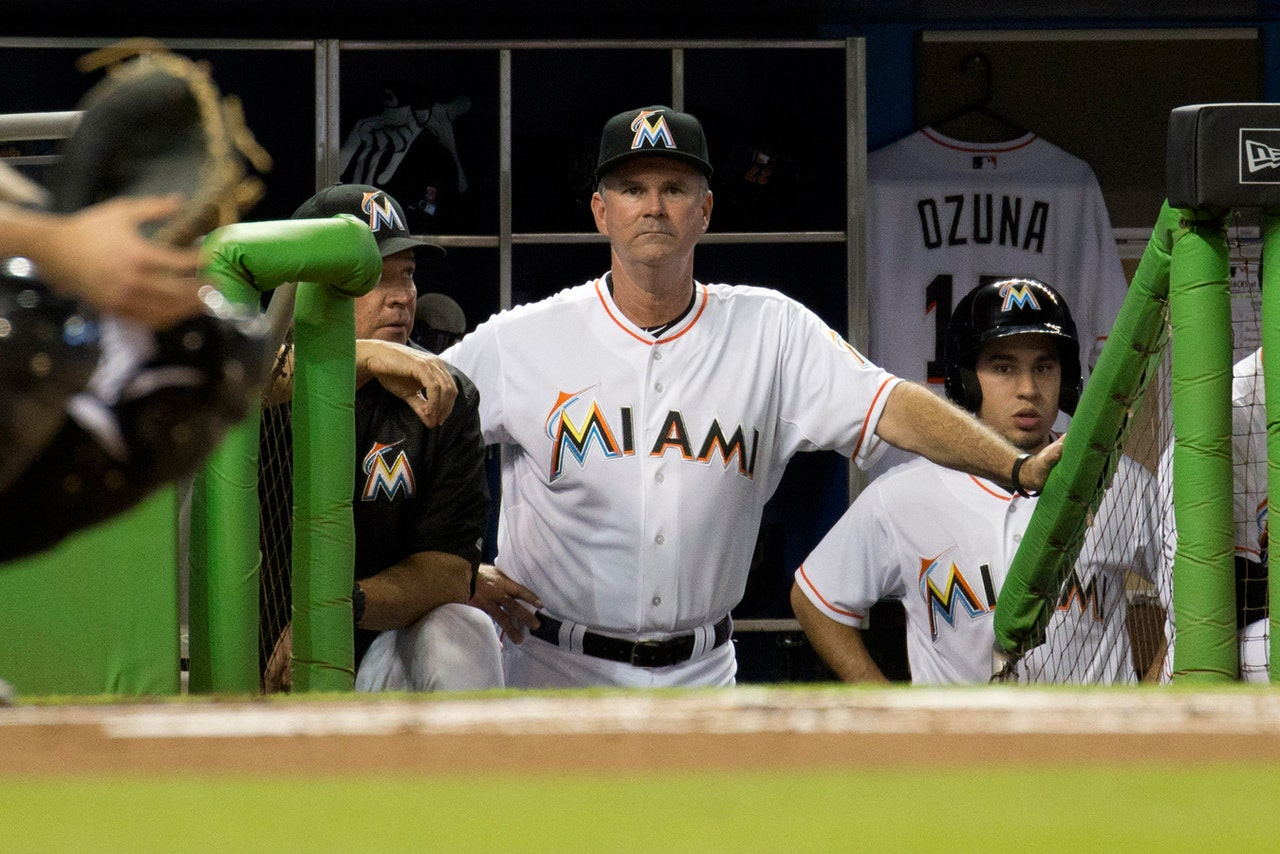 The Miami Marlins welcome a much-needed day off -- their first in two weeks -- Thursday before opening a three-game weekend series against the Mets in New York.
Miami is 8-18 in May, dropping 12 games below .500 to 18-30 and last in the National League East standings. The Marlins have captured just two series this month. There has been turnover, with the organization switching managers, bench coaches and third-base coaches.
Four starting pitchers are on the disabled list, including the rotation's top three arms (Henderson Alvarez, Mat Latos and Jarred Cosart) to begin the 2015 season. Miami's offense ranks 24th in runs (178) and 27th in homers (31).
FOX Sports Florida's Christina De Nicola (@CDeNicola13) spoke with Marlins analyst Tom Hutton, whom you can follow on Twitter (@THUT14), about Miami's struggles and change in coaching staff. She'll catch up with Hutton and other members of the broadcast team throughout the 2015 season for insight on the club.
FOX SPORTS FLORIDA: Could there have been a more worse-case scenario to what has happened so far this season? From bad breaks to injuries and everything?
TOMMY HUTTON: The thing about entering the season, the team came in with such great expectations. And then all of a sudden with the managerial change, with three of your five starting pitchers -- four if you count Jose (Fernandez) -- but you knew he was going to be on the DL. Three of the five all of a sudden go on the DL, and it just compounds everything. I think I mentioned (Tuesday night), I'm surprised amongst all of those things the offense isn't performing the way everyone expected it would. You put all those things together. The one constant? The defense. The defense has been great.
FSF: With the hitting, it's been very inconsistent. You enter the season, you don't expect almost everyone to play below their career averages. I think you guys mentioned it. Is it part player, part not being able to make the adjustments?
HUTTON: It's not because of lack of hard work. Guys work on it. (Hitting coach) Frank (Menechino) and (assistant hitting coach) Lenny (Harris) work with the guys. I honestly think a lot of it is routine and mental stuff. And when everything's thrown up in the air kind of like it has been, it throws off a lot of stuff. It's hard to explain. I think guys are in that flux right now. I don't think it's too late to come out of that flux. As a hitter, you certainly want to. You just have to grind it out and realize it's a long season. Go for it. I think there's just a period with the managerial change, all that stuff going on, I honestly think it's affected guys mentally.
FSF: With someone like Christian Yelich, he had that back problem early on, so I'm assuming that bothered him before he even went on the DL. And then you have to get back into the swing of things. It seems like maybe of late his bat has started to wake up? We're seeing more of the old Yelich.
HUTTON: I think Yelich is going to be fine. You talk to other people who follow the club who are not with the club -- scouts and stuff -- and they love Christian Yelich as a hitter. And you know he's going to be fine just the way his approach is and the way he swings the bat. He's been good. He didn't make any excuses about the back, but I think that was the case. I think it bothered him a little bit. It takes you off just a little, and then it's harder to get back on track. He's been swinging the bat well lately.
FSF: With the pitching, obviously there are different starters hurt. But with the bullpen, you have a lot of guys that were around last year, and they had one of the better bullpen ERAs in baseball. Is there any way to explain how drastically different things have been?
HUTTON: I think it's just hard to repeat. For a bullpen, it's hard for four or five guys -- let's say -- to all come back and all do the same things if not better, even. I think that's hard to do, and you don't see it. And it's not just the Marlins. You don't see that around baseball. You don't see bullpens that stay together, No. 1, because they have four or five guys that consistently have put together three or four or five years. You just don't see it. It's a hard thing to figure. You go into the season hoping to do that, and it doesn't work out. You see flashes of it, it's just inconsistent right now.
FSF: Carter Capps' outings so far since being called up have been promising. If he can get going, if he can pitch this way, how huge could that be for the bullpen?
HUTTON: It would be huge because when you lose (Steve) Cishek from his role, then you can have a Capps take over the A.J. Ramos role. For him to have that three innings the other night against Baltimore was great. He hit a guy (on Tuesday), which I don't have a problem with. If he's throwing that fast, the next few right-handed hitters I guarantee weren't digging in.
FSF: Let's close things out on a somewhat humorous note. You played. We've mentioned there's been a lot of things going on with the club. Bad breaks, hard-hit balls over the last two weeks...
HUTTON: There were about five or six outs (on Tuesday night) that were line-drive outs.
FSF: If you were one of those players in the clubhouse, how would you -- not necessarily change up your routine -- but get some of that fortune in your favor?
HUTTON: Oh, shoot I don't know. They should do what they did in Atlanta when Ichiro (Suzuki) had all the bats. I don't know if he was responsible (for it). The bats all on the floor. The bats all around the floor on the clubhouse.
You can follow Christina De Nicola on Twitter @CDeNicola13 or email her at cdenicola13@gmail.com.
---
---