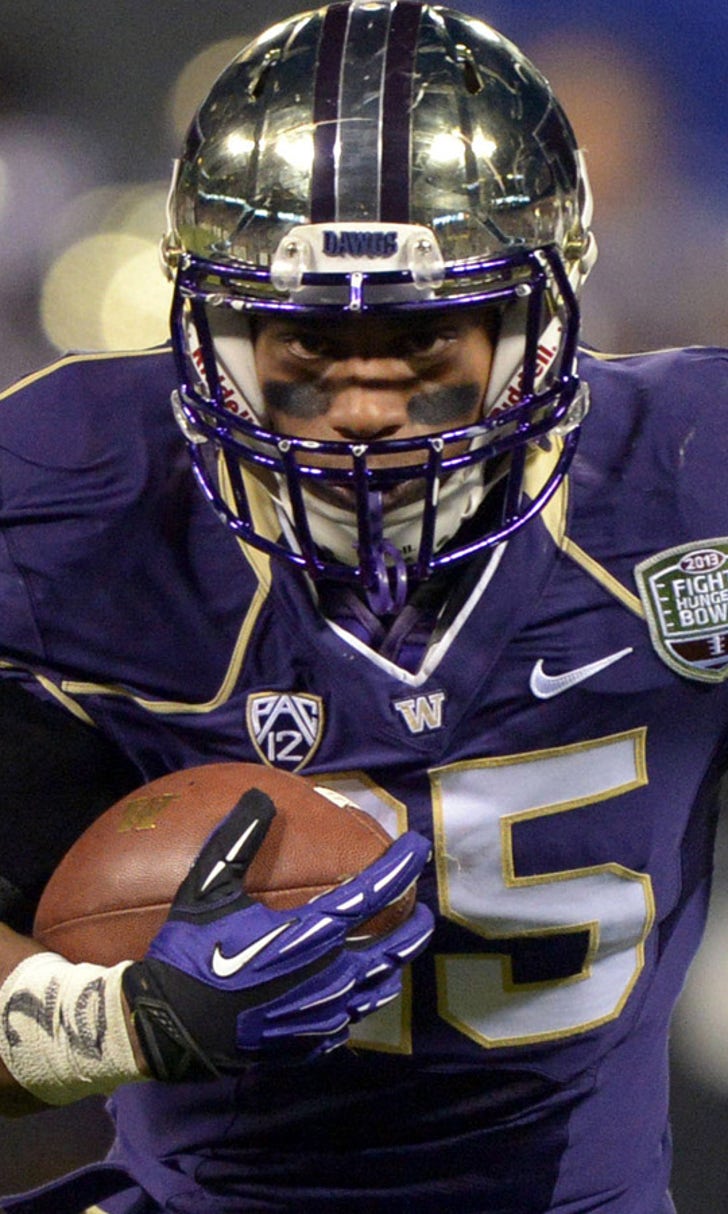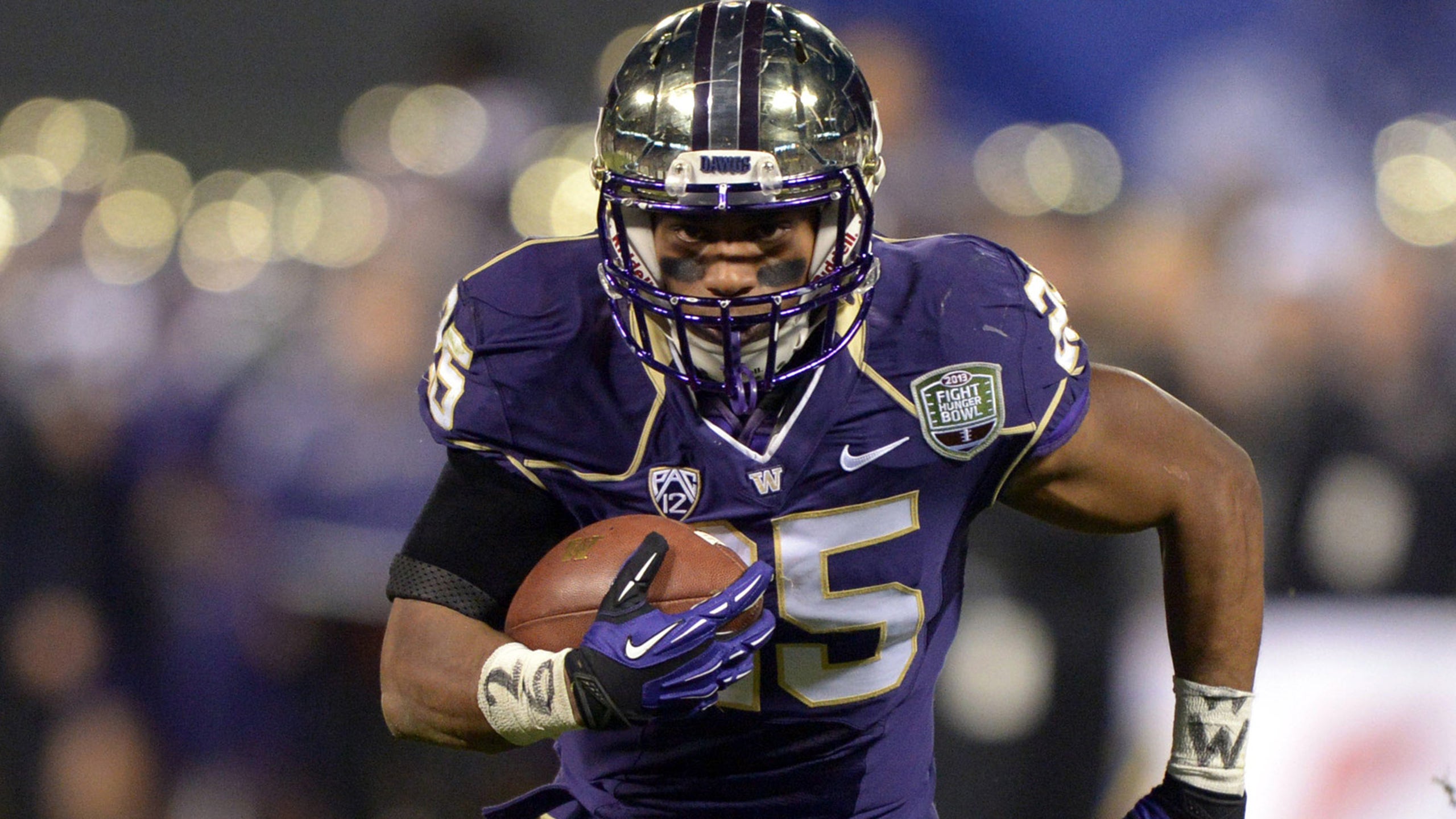 Titans grab draft's first running back in Sankey
BY foxsports • May 9, 2014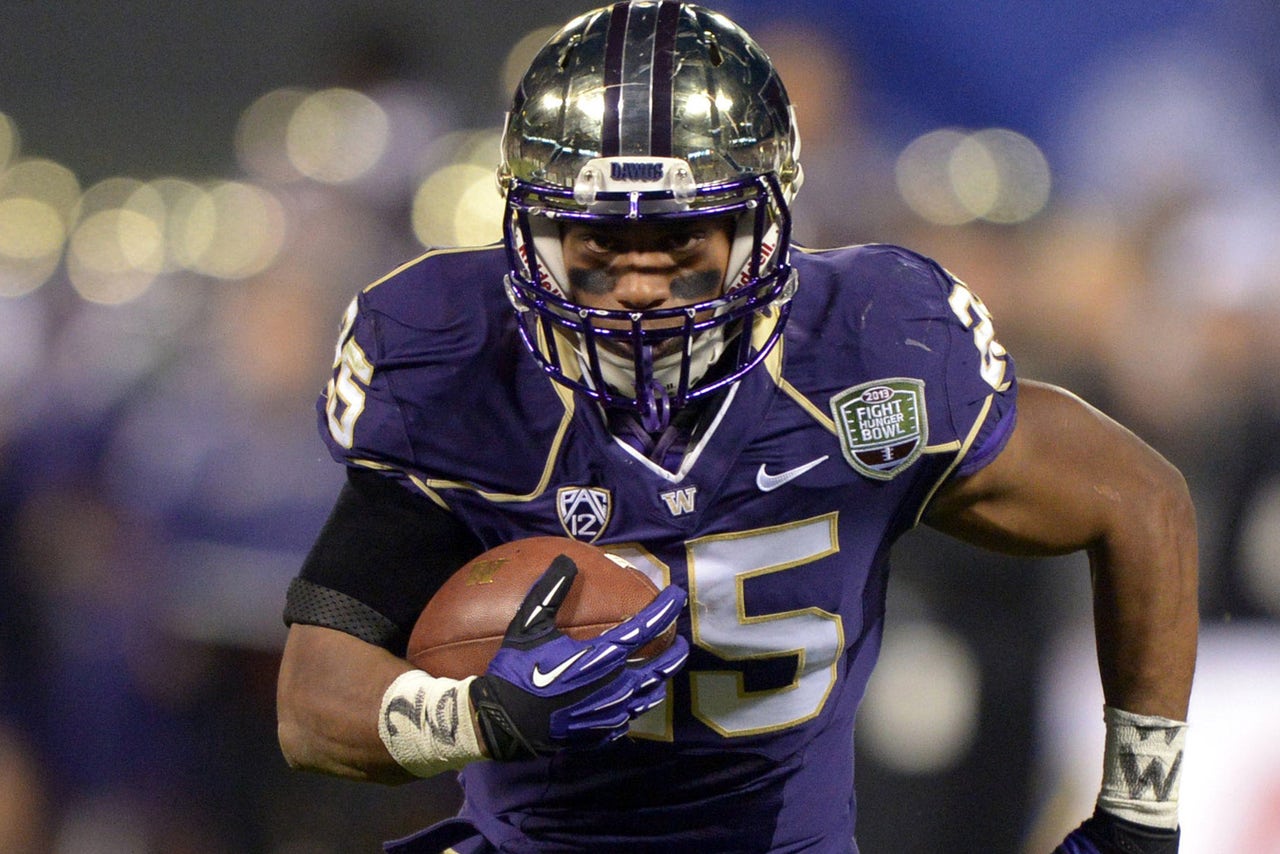 NASHVILLE, Tenn. -- He might be known as the running back who'll replace Chris Johnson, but the Titans don't view Bishop Sankey that way.
Instead, they were lured by the versatility the Washington running back provides to a new offense being implemented by first-year coach Ken Whisenhunt.
"What he brings to us is a great deal of versatility -- vision, feet, ability to catch the football – which is what we were looking for," said Titans general manager Ruston Webster of the team's second-round pick in the NFL Draft on Friday. 
"The important thing for us in picking one of these backs was to get the right fit for coach's offense," he added. "And versatility -- the ability to play on (all) three downs -- was really one of the main criteria."
In being the 54th overall pick, Sankey also carries the distinction of being the latest running back ever selected first in the NFL Draft. The previous mark was set last year when the Bengals drafted Giovani Bernard with the 37th overall pick.
"I like being at the head of the line because we get our guy," said Webster of the Titans starting a run on drafting running backs. " … It was nice to trigger it."
One pick after the Titans took Sankey, the Bengals picked LSU running back Jeremy Hill. Two picks later, Ohio State's Carlos Hyde went to the 49ers. Early in the third round, West Virginia's Charles Sims went to the Bucs, followed by the Rams taking Auburn's Tre Mason.
All of those running backs were on the Titans' draft radar.
"We liked that group that was there," said Whisenhunt. "They were all good players. It really just came down to having the opportunity to pick the guy that we just felt was the best overall match for what we are trying to do."
Last season, Sankey rushed for a school-record 1,870 yards on 327 carries for 5.7 yards per carry and 20 touchdowns. For his career, he gained 3,496 yards and 37 touchdowns, while adding 567 receiving yards and a score.
"I think I am an all-around back," said Sankey soon after being drafted. "I've proven I can move the ball on the ground, catch it through the air and help in pass protection. I'm a guy that likes to use his eyes when I'm running. 
"I feel like I'm patient enough to press the line of scrimmage and make the correct read and cut. That does work to my advantage as far as being a running back and running down the field and making guys miss in the second level."
The Titans released Johnson last month after he declined to renegotiate a contract that would have paid him $8 million the next two seasons and $6 million in 2016. In six seasons, the 2008 first-round draft pick gained 7,965 yards to rank third-best in franchise history. That includes gaining 2,006 yards in 2009.
"I definitely figure it will be a tough act to follow," said Sankey of replacing Johnson on the roster. "We'll see, and only time will tell. Nobody really knows what tomorrow is going to bring. But it's up to us to prepare for whatever situation we are put in."
The Titans didn't view Sankey's skill set similar to that of Johnson, so it isn't totally accurate to say Sankey is replacing Johnson except for the running back roster spot.
"He's a different type of player than C.J.," said Webster of Sankey, a Doak Walker Award finalist for the nation's top running back. "So, we were looking for a guy like this, a guy with some versatility, not exactly trying to replace C.J. We will have multiple backs at play."
Sankey figures to split carries in the backfield with veteran Shonn Greene, who struggled with injuries last season to gain only 295 yards after consecutive 1,000-yard seasons with the Jets. The Titans signed versatile Dexter McCluster through free agency and also has veteran running back Jackie Battle in the fold.
"One thing that we really liked about Bishop was, whether we are in a sub-offense or we're in a base offense, we felt like he can contribute in either one of those," said Whisenhunt. "And that was important for us, because we feel like we have guys that can do a little bit of either."
Sankey said the only team that flew him in for a pre-draft visit was the Titans, who had stated publicly their desire to draft a running back. 
"I got a great feel when I went down on my visit," said the 5-foot-9, 203-pound Sankey. "All the coaches, they were great. It's a place that I definitely wanted to be. 
"It's really a true blessing to be just the first running back taken off the board. I'm just ready to get to work." 
The Titans entered the NFL Draft this year with only six picks. By early in the second round, though, they had added another selection for Saturday's fourth round. Before taking Sankey with the 54th overall pick, the Titans traded their original second-round pick (No. 42 overall) to the Eagles for their second-round pick (54) and Saturday's fourth-round pick (122). 
The lack of a third-round draft pick for the Titans this year came about when they traded it last year to move up to the second round to select Tennessee wide receiver Justin Hunter. 
"You never know when you are moving back (in the draft) what's going to really happen," said Webster, who Thursday night in the first round selected Michigan offensive tackle Taylor Lewan with the 11th overall pick.
"There were a lot of players on the board," said Webster. "We felt like we had a chance to get a running back, if we moved back, and we were able to do so. It was nice to move back and pick up the back also get a pick with it."
---