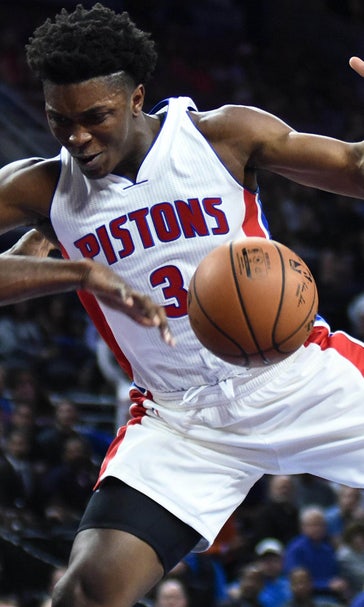 TIP-INS: Bench plagues Pistons in loss to Pacers
November 3, 2015

Indiana Pacers (1-3) -- 94
Detroit Pistons (3-1) -- 83
BENCH PLAGUES PISTONS
On a night when Andre Drummond recorded his second straight 20/20 game, the Pistons' bench couldn't buy a basked to help Detroit extend its three-game winning streak.
Spencer Dinwiddie was the lone non-starter to score a basket as the Pistons' second unit was outscored 43-2 by the Pacers' bench.
"We're going to have to rethink the whole thing," coach Stan Van Gundy said of the team's rotation. "It's only been four games but we've had some guys have some good individual games but that unit is not playing well."
GAME OF RUNS
But Detroit's struggles off the bench weren't the only reason the Pistons fell to the Pacers. Indiana went on a 22-0 run that spanned from the end of the first quarter to the beginning of the second, which Detroit was never able to overcome.

"Once they went on that run and got some confidence we just couldn't get over that hump," Van Gundy said.
DOUBLE UP
Drummond ranks first in the NBA for most double-doubles since the 2013-14 season, and he continued that trend Tuesday. Drummond recorded his second straight 20/20 game and 109th career double-double with a season-high 25 points and a career-high 29 rebounds.
STREAK SNAPPED
The Pistons' loss snapped their three-game winning streak, which was the program's best start since the 2008-09 season.
NEXT UP
The Pistons will travel to the west coast for a six-game road trip beginning Friday at Phoenix. Detroit will return to the Palace of Auburn Hills on Nov. 17 for a matchup against the Cleveland Cavaliers.
---
---