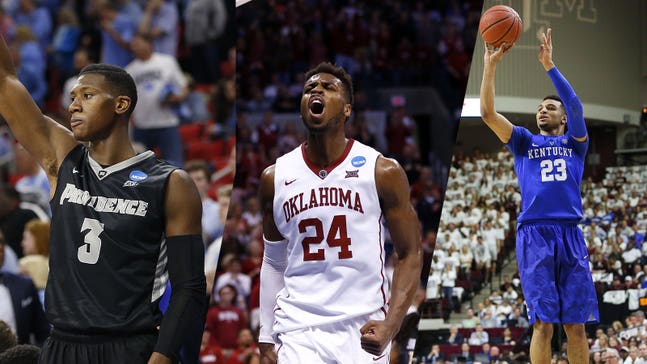 Timberwolves mock drafts: post-lottery edition
Published
May. 18, 2016 9:00 p.m. ET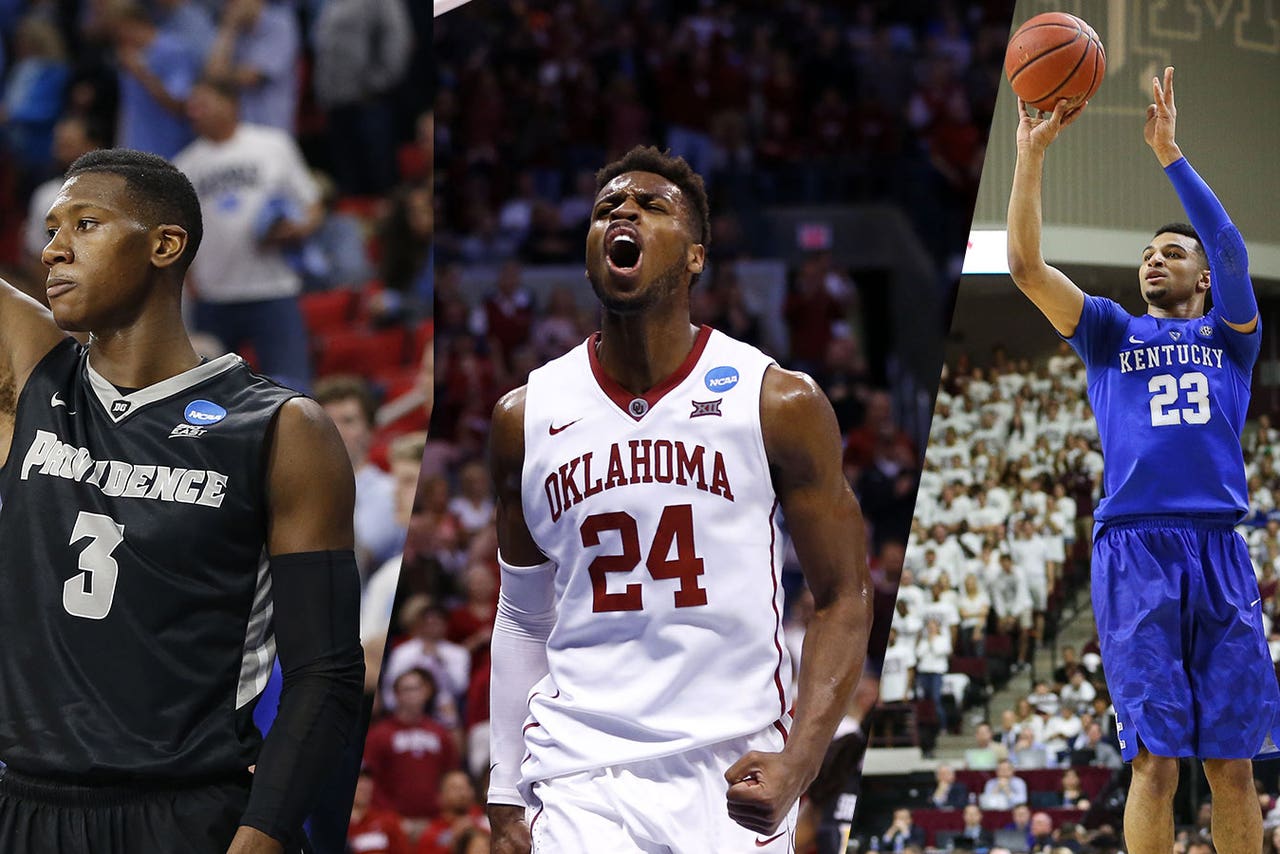 With the most anti-climactic NBA Draft Lottery behind us, we can now really look at the mock drafts being presented. Well, I guess we could have looked before, too, as the Minnesota Timberwolves remained at the No. 5 spot in the draft.
Anyway, with the lottery over, many took to the web to put out their latest mock. Most think the Wolves will go with a guard in the first round -- but which one? And a shooting guard or point guard? And, yes, there are a couple of projections with Minnesota taking a big man.
We'll update the mocks as warranted heading up to the June 23 draft. For now, here's our initial look at who the prognosticators are thinking the Wolves will select.
Aaron Torres of FOXSports.com: Jamal Murray,  G, Kentucky, FR. "At this point Minnesota doesn't need another superstar, but instead a piece it can slide in next to Karl-Anthony Towns and Andrew Wiggins. Murray is exactly that, a dead-eye shooter who will space the floor and complement Towns and Wiggins perfectly. This team could be really good ... as soon as next year"
Andrew Sharp of SI.com: Henry Ellenson, F/C, Marquette, FR. "The Wolves could go a lot of different directions here. If they want immediate shooting help, Buddy Hield is the choice. If they want insurance in the backcourt, then Kris Dunn makes a lot of sense, or Jamal Murray could be the choice if he's still on the board. But Henry Ellenson's got the range and skills to be a perfect four next to Karl-Anthony Towns going forward, and as we've all seen the Wolves slowly assemble the 2019 Dream Team, power forward is the one hole that hasn't been filled. Ellenson's biggest question mark is defense, but for a player who may struggle on defense, it's hard to imagine a better security blanket than Towns and Andrew Wiggins playing in a Thibs system."
Gary Parrish of CBSSports.com: Dragan Bender, BF, Israel, n/a. "Bender is widely regarded as the top draft-eligible prospect who didn't play college basketball this season, and there's little doubt he'll be selected in the top half of the lottery. He's an 18-year-old forward who would fit nicely between Karl-Anthony Towns and Andrew Wiggins. And, man, how good is Minnesota going to be in a few years?"
Chad Ford of ESPN Insider: Kris Dunn, G, Providence, JR. "The Wolves' biggest need is shooting, both at the 2 and the 4 positions. If Buddy Hield and Henry Ellenson are on the board, they'll be very tempted. But Tom Thibodeau, the new president and coach, believes in defense first, and Dunn is an elite defender. Taking him would give them flexibility, should they choose to trade Ricky Rubio. It's a tough call. But from what I could gather at the combine and the lottery, they might be leaning toward Dunn."
Scott Howard-Cooper of NBA.com: Buddy Hield, SG, Oklahoma, SR. "The first pick by new head of basketball operations Tom Thibodeau could be a potential defensive standout like Kris Dunn to fit the style of new coach Tom Thibodeau. But upgrading the 3-point game is a Minnesota priority, and that's Hield. Think he'd get some open looks playing with Karl-Anthony Towns and Andrew Wiggins? One of the stars of the college game in 2015-16, Hield is a versatile and explosive threat who can score in transition or as a catch-and-shoot guy in half-court sets. He gets to the rim and creates on the perimeter, with the added benefit of four seasons in a major program and being 22 years old. In short, Hield will be one of the most NBA-ready players in the draft."
Kevin O'Connor of SBNation: Jamal Murray,  G, Kentucky, FR. "Murray entered college touted as a combo guard, but the season showed he's more of a two than a one because of his lack of foot speed and ideal vision. He has a flamethrower jumper, but he'll need to make huge strides on defense before he earns minutes for the Wolves."
Sam Vecenie of CBSSports.com: Jamal Murray,  G, Kentucky, FR. "The Wolves failed to move up in the draft, but that's no matter given how lucky they got last year to select first overall and get a franchise-altering talent like Karl-Anthony Towns. I've been stating for about a month now in this space that Murray to the Timberwolves is about as perfect a fit as you'll find for a player and situation. The Wolves could use shooting between Ricky Rubio and Andrew Wiggins, and Murray could use some length and defensive prowess around him as he continues to develop and mature on that end. He'll give Tom Thibodeau's offense some punch in the first season."
Jonathan Givony of The Vertical: Kris Dunn, PG, Providence, JR.
Derek Bodner of USAToday.com: Jamal Murray, SG, Kentucky, FR. "Shooting will be at a premium for Minnesota as they look to center their offense around Karl-Anthony Towns, and Murray's off-the-ball game would open things up quite a bit for Towns down the line."
Sam Smith of ChicagoBulls.com: Kris Dunn, PG, Providence, JR.
NBADraft.net: Jamal Murray, SG/PG, Kentucky, FR.
DraftExpress.com: Kris Dunn, PG, Providence, JR.
Basketball Insiders: Alex Kennedy -- Buddy Hield, SG, Oklahoma, SR; Joel Brigham -- Hield; Moke Hamilton -- Kris Dunn, PG, Providence, JR; Steve Kyler -- Hield.
Sean Deveney of The Sporting News: Kris Dunn, PG, Providence, JR. "Dragan Bender might be a better fit, roster-wise, but the bet here is that new coach Tom Thibodeau will develop a quick affinity for Dunn's gritty, hard-working style and his natural leadership. The T-wolves have Ricky Rubio and Tyus Jones at the point, and it is entirely possible that they'll move this pick — or work out some other draft-night deal — rather than add another youngster to their stockpile. But Dunn would bring some toughness to the Timberwolves' youth movement."
Jason McIntyre of The Big Lead: Kris Dunn, PG, Providence, JR. "Will fit defensively into what new coach Tom Thibodeau wants to do defensively. Ricky Rubio was 2nd in the NBA in steals. Wiggins and Towns should be All-Stars next year. The Timberwolves have a lot of young talent and should exceed expectations next year."
Paul Banks of the Washington Times and David Kay of The Sports Bank via WalterFootball.com: Buddy Hield, SG, Oklahoma, SR. "Besides the Simmons/Ingram debate, the Hield/Murray discussion is also very intriguing. The Timberwolves need to add a shooter to their young roster, and so they would be in a great situation here. It would come down to a case of preference for Minnesota and for now, I am giving Hield the edge."
DraftTek: Buddy Hield, SG, Oklahoma, SO.
Tab Bamford of Chicago Now: Kris Dunn, PG, Providence, JR.
Follow Dave Heller on Twitter
---
---