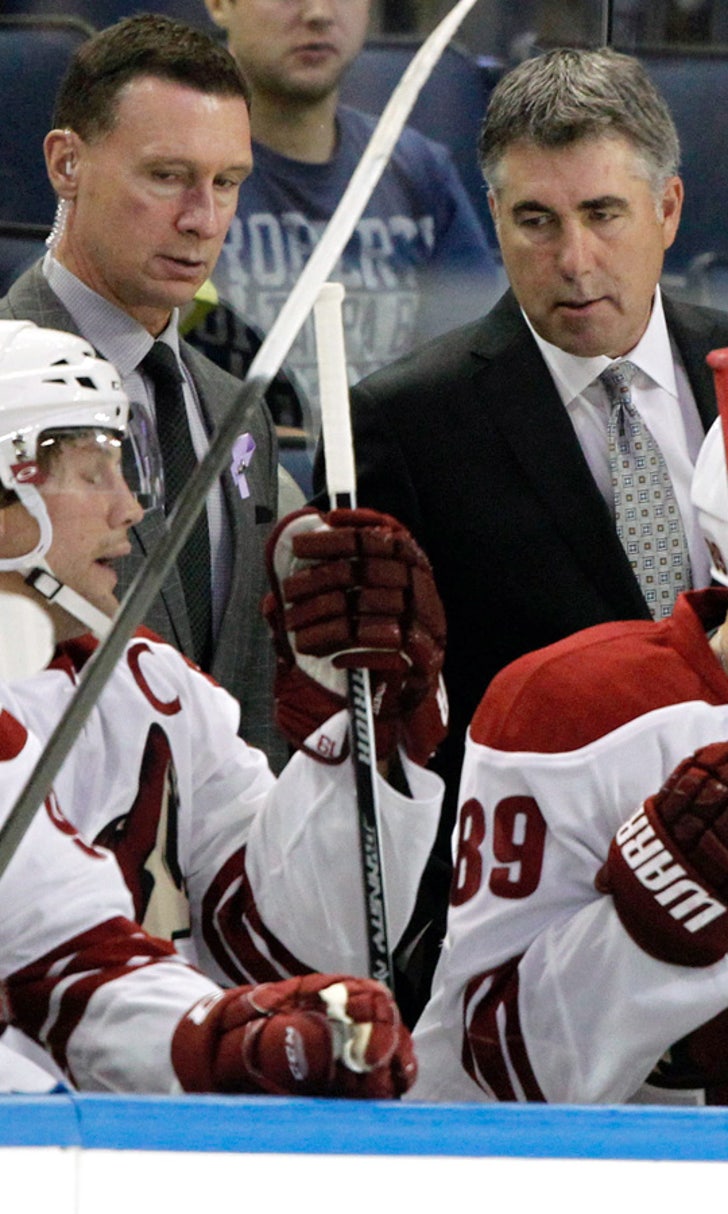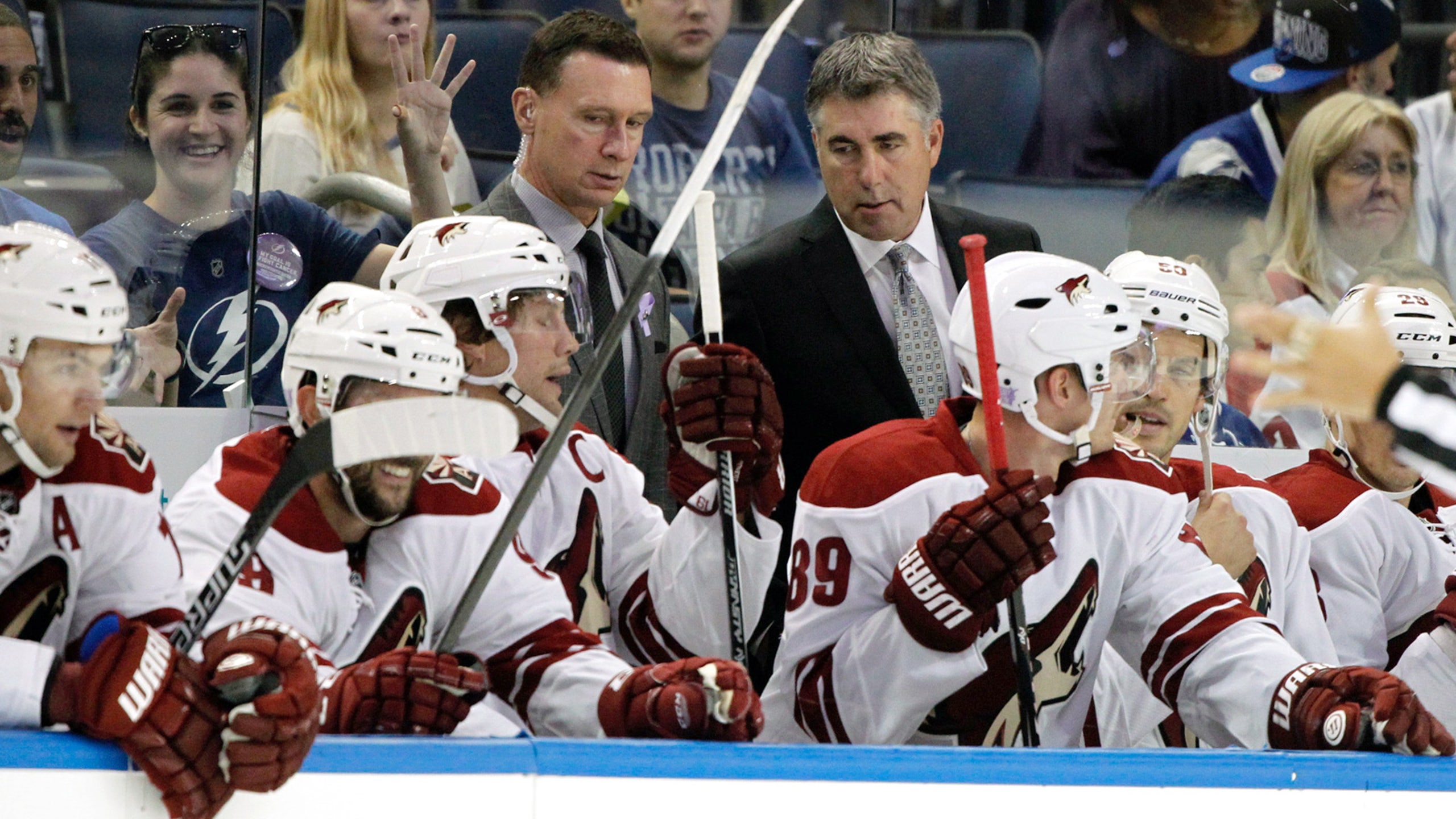 The trouble with tanking, Part II
BY foxsports • February 4, 2015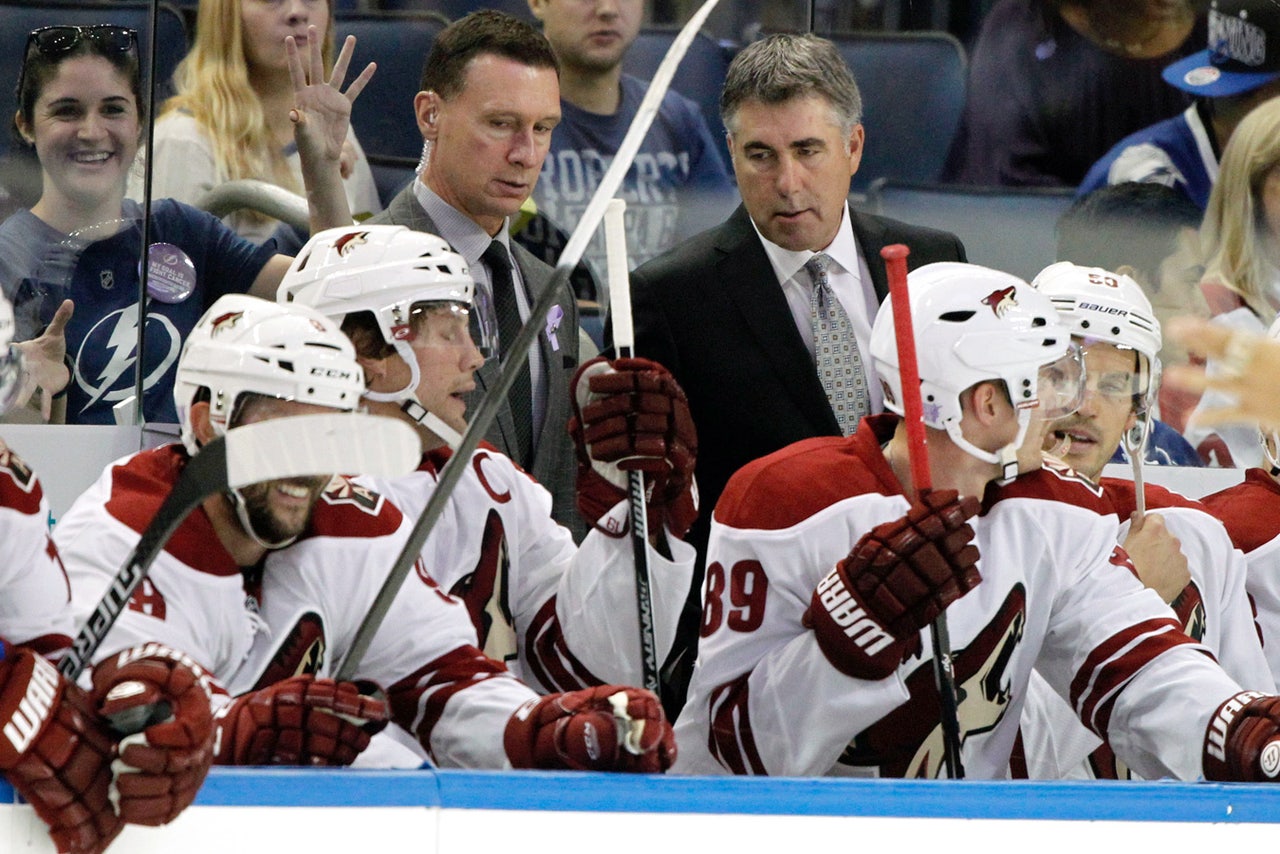 Back in late November -- when it became clear the Coyotes were not going to challenge for an playoff spot -- we ran a story detailing the trouble with tanking in order to draft one of the two projected franchise centers available in this year's NHL draft. 
With 31 games left in the regular season and lottery-bound Carolina in town for a Thursday game at Gila River Arena, a refresher course may be in order. 
Let's start with the odds of drafting one of those aforementioned centers, Connor McDavid or Jack Eichel, while acknowledging Eichel's stock may have dropped a bit after a lackluster performance (one goal, four points, minus-3) at the recent World Junior Championship.
In order to guarantee drafting one of those two players, a team has to finish dead last in the standings because of the lottery system now in place. Buffalo currently holds that spot, 11 points behind (or ahead, depending on how you look at it) the Coyotes. 
Buffalo has 33 points in 51 games. If we assume the Sabres will play at about the same level the rest of the season, they project to finish with 53 points. That means the Coyotes, who currently have 44 points, could earn just eight more points in their remaining 31 games, nine and lose the tiebreaker to the Sabres, a team they play twice in March. For argument's sake, that would mean Arizona must finish something like 3-25-3. 
We looked back through the Coyotes entire history in the Valley and could not find a 31-game stretch where they earned so few points. It's safe to say that isn't going to happen this season, either.
So, short of finishing 30th, let's look at the difference between finishing 29th or as high as 23rd. If a team finishes 29th, the only way it gets one of those two centers is if it wins the lottery or if the team that finishes 30th (for argument's sake we'll use Buffalo) wins the draft lottery and drafts first, slotting all other teams in place behind it by order of finish. There is a 20 percent chance of the 30th team winning the lottery and a 13.5 percent chance of the 29th team winning, giving the 29th team a 33.5 percent chance of winning one of the top two spots.
If Buffalo or the 29th team do not win the lottery, someone else jumps them both and Buffalo is automatically slotted into the 29th spot, meaning the Sabres get the right to draft Eichel.
If the Coyotes finish as high as 23rd, they have a 6 percent chance of winning the lottery. That means there is only a 7.5 percent difference in the odds of drafting McDavid between 29th place (13.5 percent) and 23rd place. It's not insignificant, but it's not a wide margin either, and with each successive drop in the standings, the margin increases only a tiny percent.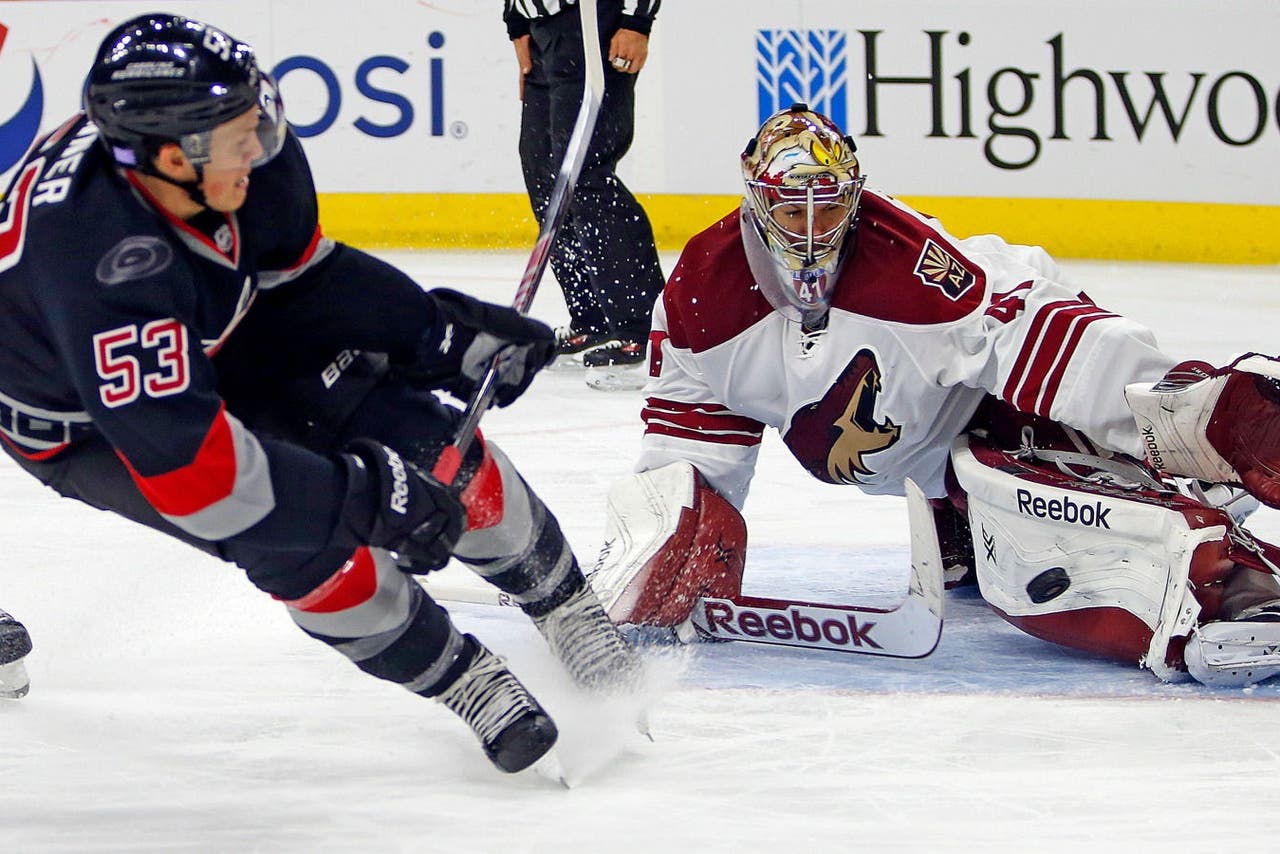 COYOTES vs. HURRICANES
When: 7 p.m. Thursday
Where: Gila River Arena, Glendale
TV: FOX Sports Arizona
Season series: Carolina leads 1-0
Injuries: Arizona F Mikkel Boedker (splenectomy) is out indefinitely. F Martin Hanzal (upper body) and F Joe Vitale (upper body) are day to day but will not play in this game. Carolina: None.
Quick facts: Carolina F Brad Malone has four goals and five points in his last six games. ... The Hurricanes blew a 4-2 leads with 14:50 to play in regulation and lost in overtime in Anaheim on Tuesday. ... Carolina is 5-2-3 in its past 10 games but has lost three straight.
Maybe you think that margin isn't fair to teams with worse records but a major impetus behind the lottery system is to protect the integrity of the game by discouraging teams from tanking -- the integrity of the game that some fans are so willing to abandon for the slim hope of getting McDavid or Eichel.
There is an argument floating around that even if the Coyotes can't finish 30th or 29th, they should finish as low as possible to get as talented a forward as possible to add to this group. The problem with that is twofold. There is no consensus on the players who come after McDavid and Eichel with the possible exception of Noah Hanifin. He's a defenseman. Many Coyotes fans cringe at the idea of drafting another defenseman, but GM Don Maloney made it abundantly clear he is willing to draft a defenseman if the team does not finish No. 1 or No. 2 and that position could certainly use improvements given the way the Coyotes have defended this season. 
If there is no consensus on forwards beyond McDavid and Eichel, that means the projections on those forwards are in doubt so how can anyone say with any certainty that drafting 27th vs. drafting 23rd matters?
Here's another problem with tanking. Coach Dave Tippett would rather peel his skin back with an X-Acto blade than accept that route, and the same goes for a number of players on the team.
Just listen to Tippett's comments to FOX Sports Arizona's Todd Walsh after Tuesday's 4-1 win in Columbus that completed a 3-1-1 road trip.
"They're a fun group to be around right now and in our situation, sometimes that's not the case," Tippett said. "I give the leadership in that room a lot of credit. They've made sure people are accountable to work and working for each other and we're getting some wins. You've got to make sure you leave it on the ice every night for your teammates and that's what we're doing."
What Tippett, captain Shane Doan and others will tell you is a team must have a culture that doesn't accept losing. Sure, the Coyotes will miss the playoffs for a third straight year but that is not tied to culture in the locker room; that is tied to a lack of talent on the roster. Anyone who was around the team the past two seasons knows there was no problem with the locker-room culture with the exception of Mike Ribeiro's off-ice issues. At times, culture has been a struggle this season, but for the time being, the leaders appear to have rectified the problem.
Some have suggested that management take the issue out of the players' and coaches' hands. That may come in time through trades, but no management team is going to get a coach or players to willingly lose. Anyone who thinks otherwise has zero understanding of team culture and zero understanding of the long-term damage it can have on a group or the reputation of a franchise when word of that edict inevitably leaks out to free agents and other teams. Then there's the potential impact it might have on season ticket sales.
When Maloney does trade some of the team's impending free agents, it will be because he is getting what he deems the best possible return. You don't start dealing players immediately to lose in the short term. Those assets you're dealing are part of the rebuilding plan so you have to maximize their return. Any GM that dealt players with the short-term goal of losing in mind would be fired quickly for gross incompetence.
One final note on tanking. There is no question the Coyotes, a small-market team, need to build through the draft in all areas of their roster. There are myriad examples of teams that have done this successfully. But drafting high, year-after-year, doesn't guarantee success, as the Edmonton Oilers know far too well. 
Follow Craig Morgan on Twitter
---
---