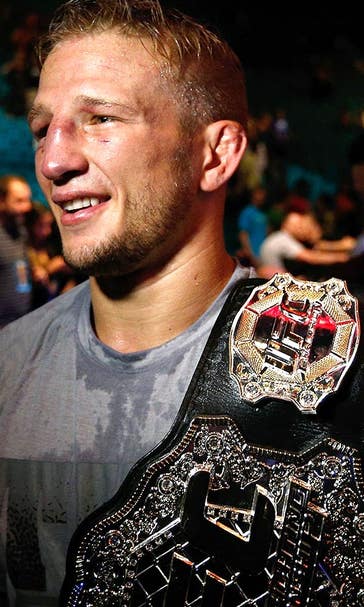 The Soundtrack to UFC 177: Dillashaw vs. Soto - the walkout songs
August 31, 2014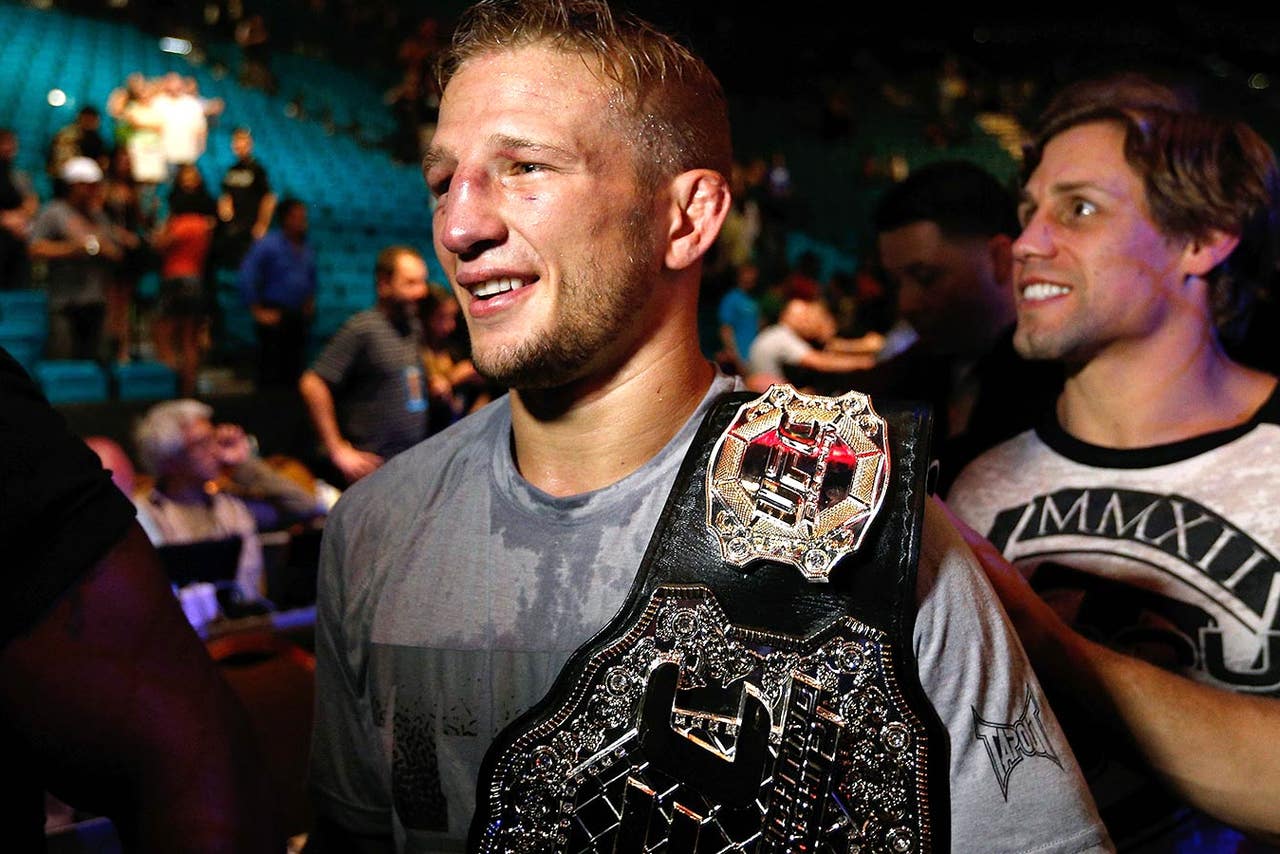 With only eight fights on the entire UFC 177 fight card, the music selection used by the fighters on Saturday night in Sacramento wasn't as varied as a normal show, but there were still some interesting choices.
At the top of the list was UFC bantamweight champion T.J. Dillashaw, who used the Red Hot Chili Peppers song 'Can't Stop' again for his first title defense. That was also the song he used when he defeated Renan Barao to win the title back in May.
It's probably safe to say as long as Dillashaw remains champion and he's winning, the Chili Peppers will stay his good luck music choice.  The last time he fought, Dillashaw even got a message from Chili Peppers' bass player Flea, who also happens to be a big UFC fan.
Wonder if he'll get a thumbs up again from the band for using their song for a second time?
Key fight lyric: Can't stop, addicted to the shindig. Chop top, he says I'm gonna win big
Dillashaw's opponent Joe Soto decided to stick to something a little more hip-hop as he chose 'All the Above' by Maino and T-Pain.  The 2009 track also serves as a featured song for the Auburn Tigers football team and was actually used at a previous UFC event when Danillo Villefort walked out to the track at UFC 101 in Philadelphia.
Key fight lyric: On a mission to be what I'm destined to be.
Shayna Baszler didn't win her fight on Saturday night, but she did manage to use one of the best 'theme' songs for her walkout when she chose 'The Four Horsemen' from Metallica's debut album 'Kill Em All'.  Baszler is famously known as one of the pieces of 'The Four Horsewomen' along with Ronda Rousey, Jessamyn Duke and Marina Shafir.
The original version of the song was actually written by Dave Mustaine, who was an original member of Metallica, before being booted from the band. Once he left, lead singer James Hetfield rewrote the lyrics and the song was changed around for the recording that's now heard on 'Kill Em All'.  
Key fight lyric: The Horsemen are drawing nearer, on the leather steeds they ride. They have come to take your life
It has to be noted that debuting UFC fighter Chris Wade managed to buck the dreaded 'Eminem Curse' when he walked out the track 'Rap God' for his fight at UFC 177. He dispatched of his opponent in quick order with a slick guillotine choke and got a win in the first round.
The 'Eminem Curse' for those not in the know represents a startling trend (first discovered when former UFC light heavyweight champion Tito Ortiz was using his music) that every time someone used rapper Eminem for their walkout music, they lost.  A few fighters have turned that around, most notably Robbie Lawler who walks out to his track 'Beautiful', but by in large the curse still exists in at least some form.
Wade is the latest to go against the odds and he still managed to come out on top.
Key fight lyric: Well, to be truthful the blueprint's. Simply rage and youthful exuberance. Everybody loves to root for a nuisance
Here are the full list of walkout songs for UFC 177: Dillashaw vs. Soto
T.J. Dillashaw to "Can't Stop" by the Red Hot Chili Peppers
Joe Soto out to "All the Above" by Maino feat. T-Pain
Danny Castillo out to "30 Something" by Jay-Z
Tony Ferguson to "The Party Has Begun" by Freestyle
Shayna Baszler out to "The Four Horsemen" by Metallica
Bethe Correia to "Titanium" by David Guetta
Diego Ferreira out to "Strong Enough" by Matthew West
Ramsey Nijem to "TKO" by Justin Timberlake
Damon Jackson out to "Eyes on Fire" by Blue Foundation
Yancy Medeiros to "Check Yo Self" by Ice Cube
Derek Brunson out to "Go Harder" by Future
Lorenz Larkin to "Super Bad" by James Brown.
Anthony Hamilton out to "In My Mind" by Ivan Gough, Feenixpawl, Georgi Kay
Ruan Potts to "Can't Be Touched" by Body Head Bangerz
Cain Carrizosa out to "Bad Company" by Bad Company
Chris Wade to "Rap God" by Eminem 
---
---