Suns hope to turn solid effort into first win for new coach
BY foxsports • February 4, 2016
The only two Western Conference teams to make coaching changes during the season meet Thursday night when the Houston Rockets visit the Phoenix Suns. While that designation signifies both have been disappointments -- and potential sellers at the trade deadline -- each enters with some positive vibes.
James Harden will surely feel some back in the area where he starred collegiately. He'll try to prevent fellow former Pac-12 standout Earl Watson from feeling even better than he did following a losing debut as Suns coach.
The game can be seen live on FOX Sports Arizona Plus and FOX Sports GO, starting at 6:30 p.m.
A day after being promoted to replace the fired Jeff Hornacek, Watson was pleased with the Suns' effort in Tuesday's 104-97 home loss to Atlantic Division leader Toronto. Phoenix (14-36) got 30 points and 13 rebounds from Markieff Morris, promising rookie Devin Booker scored 27, and Archie Goodwin had a career-high 12 assists.
"The energy was positive. I think we have another step to go," said Watson, a former UCLA star whose NBA playing career ended in 2014. His team has lost five straight and 20 of 22.
"It's not really physical with our team, it's more mental."
The other West coach to be let go this season was Houston's Kevin McHale. J.B. Bickerstaff has gone 22-18 since taking over the Rockets (26-25), who reached last year's conference finals but are currently seventh in the West.
It's hard to blame Harden. He's second in the league with 27.9 points per game and up to eighth with 7.1 assists after totaling at least 10 in four of the last eight games.
"It means the defense has pressure on them," Harden said of getting others involved offensively. "Guys are making shots, guys are getting into a rhythm, getting comfortable and it's easier for me."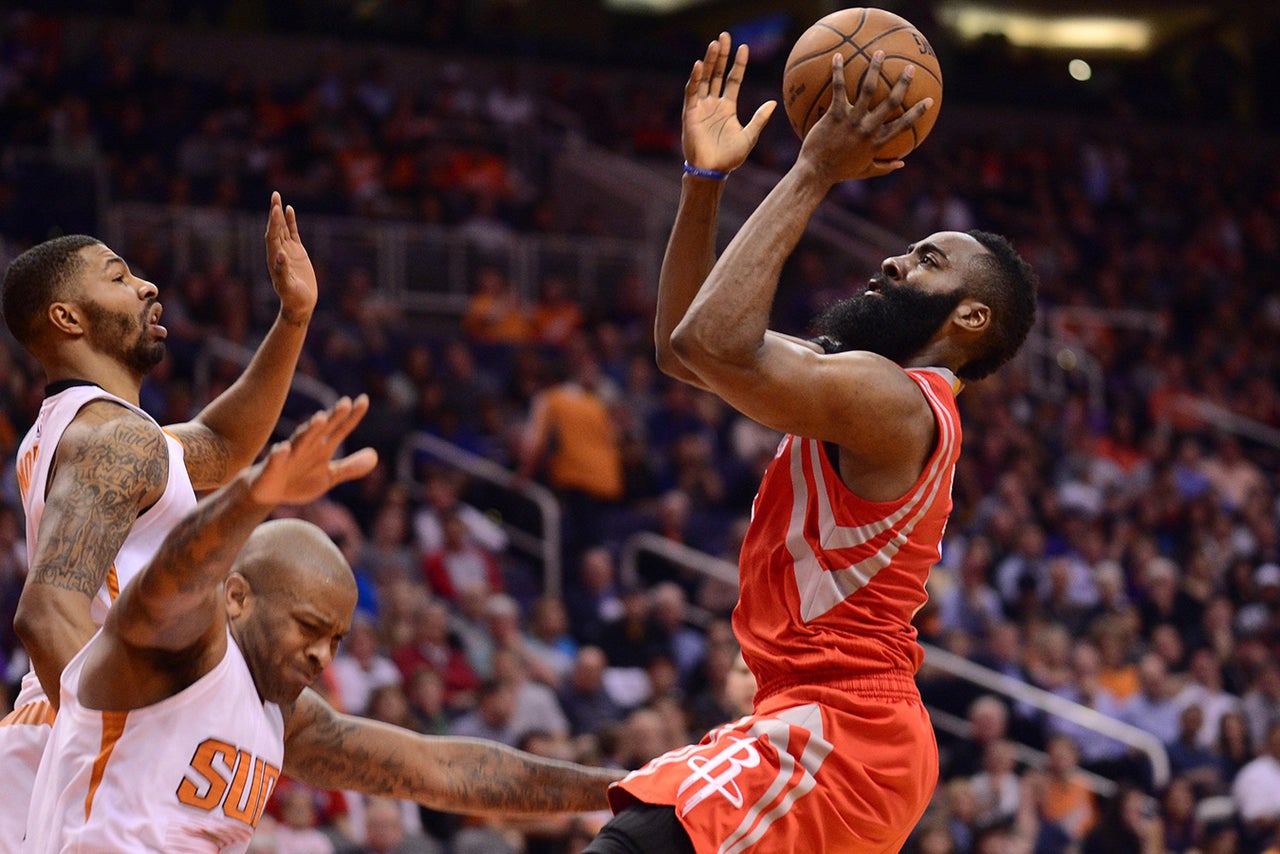 Former Arizona State All-American James Harden averages 26.6 points in games played in Phoenix.
Harden tied a career high with 14 assists in Tuesday's 115-102 win over Miami.
"People see the scoring, scoring, scoring, but they don't see that he makes plays for his teammates," Bickerstaff said. "They don't see the passes he makes time and time again."
The former All-American at Arizona State has flourished when returning to the desert. His 26.6 career scoring average in Phoenix is his highest in any city, including 73 points, 19 assists and 18 rebounds in the last two visits.
Houston has won three straight in Phoenix.
With two weeks until the league's trade deadline, several players in Thursday's game could be among those with new addresses before long.
That list includes Houston center Dwight Howard. The 30-year-old can become a free agent after the season, and a report surfaced Wednesday that Boston is interested in acquiring him before the deadline.
Howard's 14.4 scoring average is his lowest since his 2004-05 rookie season, and his 12 technical fouls lead the NBA. He had two ejections over the weekend, and the last one got him a one-game suspension for contact with an official.
As he served that ban Tuesday, the Rockets improved to 4-0 this month when he sits out. The Rockets have lost the last five games the three-time Defensive Player of the Year has played, giving up 126.4 points per game.
For Phoenix, veterans Tyson Chandler and P.J.Tucker are among the possible trade targets, but Morris is the players who bears watching. His best game of the season came Tuesday as he returned to the starting lineup after often seeing limited minutes or none at all under Hornacek.
"I had a feeling if I gave him positive encouragement and let him know that no matter what, we love him no matter what happened beyond basketball," Watson said, "and give him an opportunity to play and let him know he is going to play, he is going to get big minutes."
---
---