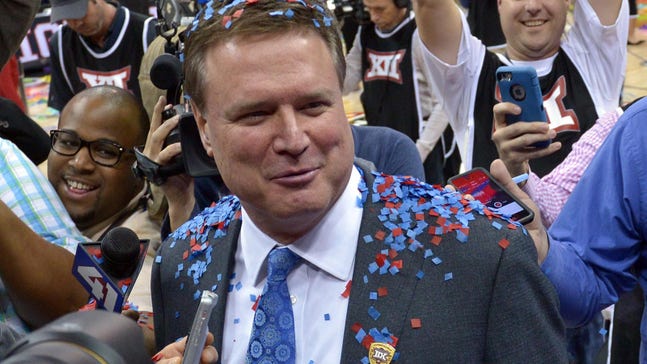 South Region: KU is No. 1 overall tourney seed; Shox in First Four
Published
Mar. 13, 2016 6:34 p.m. ET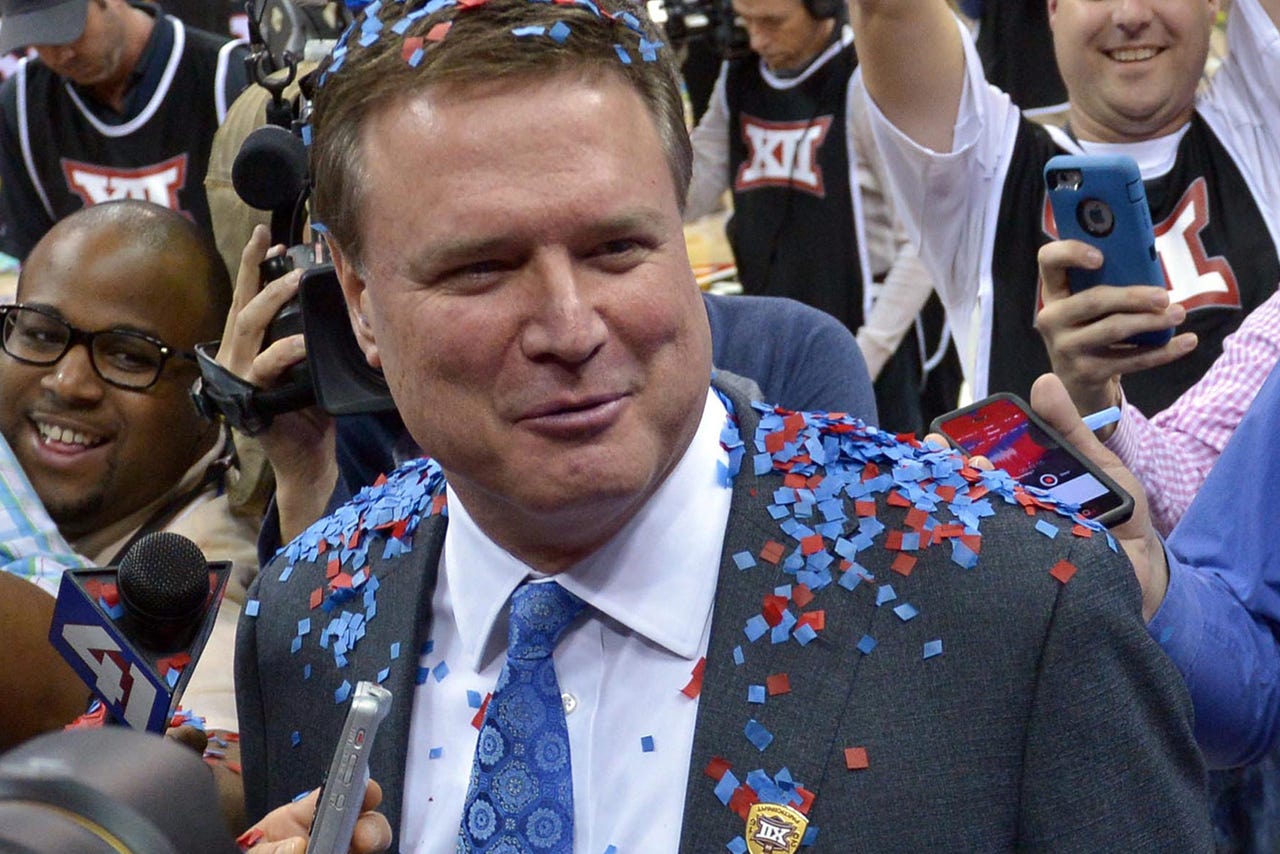 Kansas closed the regular season with momentum and yet another conference championship in a dominating Big 12 run. Now the Jayhawks head into the NCAA Tournament as the top overall seed.
Kansas headlines the South Region, earning a No. 1 seed for the sixth time in 10 seasons and 12th time overall. The Jayhawks open play against 16-seed Austin Peay on Thursday in Des Moines, Iowa, as they chase a second championship under coach Bill Self and first since 2008.
The regional semifinals and finals will be held in Louisville, Kentucky, with the Jayhawks topping a field that includes Villanova, Miami, California and Maryland.
"It's kind of like having a stellar high school career, and when you get to college you have to start all over and go compete," Self said Sunday. "It's a fresh start and this is a fresh start."
Kansas (30-4) has won 14 straight games and followed a 12th straight Big 12 regular-season title with a tournament title to reach 30 wins for the fifth time in seven seasons. Kansas has been a No. 1 or No. 2 seed for seven straight tournaments.
"We're just playing so well as a team, sharing he ball, defending well," senior Perry Ellis said. "If we keep doing that, we'll be fine."
Behind Kansas is No. 2 seed Villanova, one of six teams to hold the top spot in the Top 25 this year. The Wildcats (29-5) appeared poised for a top seed before losing to Seton Hall in Saturday's Big East Tournament final, and that might have bumped Villanova out of the East -- where the Wildcats would've had a chance to play Sweet 16 and Elite Eight games in Philadelphia about 30 miles from campus.
They open play Friday in Brooklyn, New York, against 15-seed UNC Asheville as they try to reverse their trend of early exits. The Wildcats haven't made it out of the opening weekend since reaching the Final Four in 2009 with three losses as a No. 1 or 2 seed.
"We have heard that all year," Villanova coach Jay Wright said Sunday. "It's really been a challenge for our players during the regular season when people say, 'Well, this doesn't matter anyway, you've got to get past the second round.' I love the way they handled that."
Some things to watch in the South Region:
MIAMI'S VETERANS: Third-seeded Miami (25-7) brought back a lot of experience from a run to last year's NIT final. Now the Hurricanes are preparing for their first NCAA game since reaching the Sweet 16 in 2013, opening against 14th-seeded Buffalo on Thursday in Providence, Rhode Island. Senior center Tonye Jekiri is the only player left from that 2013 team, through top scorers Sheldon McClellan and Angel Rodriguez, as well as junior Kamari Murphy, played in the NCAAs before transferring to Miami.
SECOND-ROUND THROWDOWN? No. 5 seed Maryland (25-8) started the year ranked in the top five and reached No. 2 in February before stumbling into the NCAAs with five losses in eight games. If they can get through Friday's opener against 12-seed South Dakota State in Spokane, Washington, the Terrapins could find themselves matched up with fourth-seeded California (23-10) -- which features two of the nation's top freshmen in Jaylen Brown and Ivan Rabb, along with a defense that led the Pac-12 by holding opponents to 39 percent shooting. Cal, which opens against 13-seed Hawaii, has the highest seed in its history.
IOWA'S FADE: Iowa (21-10) has slid from a top 10 ranking to a No. 7 seed with six losses in eight games. The Hawkeyes, who went one-and-done in the Big Ten Tournament, are down to their last chance to stop that slide when they face 10th-seeded Temple (21-11) on Friday in Brooklyn.
UCONN'S SHOT: Connecticut (24-10) survived in a memorable game against Cincinnati in the American Athletic Conference Tournament with a shot from beyond halfcourt to force a fourth and final overtime, part of a run to the league title. Now the ninth-seeded Huskies look to keep things rolling -- and maybe pull another low-seeded title run as they did two years ago -- when they face No. 8 seed Colorado (22-11) on Thursday in Des Moines.
BUBBLE-TEAM BATTLE: Vanderbilt (19-13) and Wichita State (24-8) squeezed into the field of 68, though they'll start with Tuesday's First Four matchup in Dayton, Ohio, for the right to claim the No. 11 seed. The winner meets sixth-seeded Arizona (25-8) on Thursday in Providence.
---
---