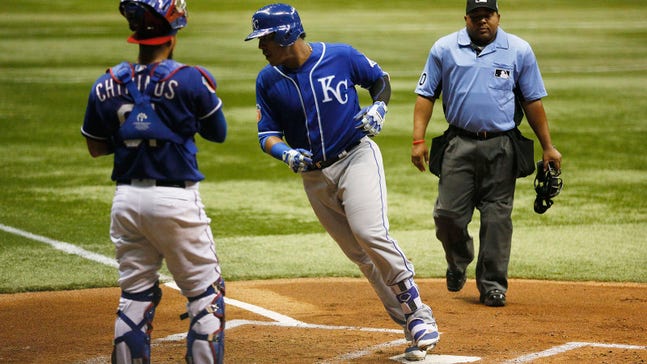 Royals split squad goes deep three times in 7-5 loss to Rangers
Published
Mar. 18, 2016 11:05 p.m. ET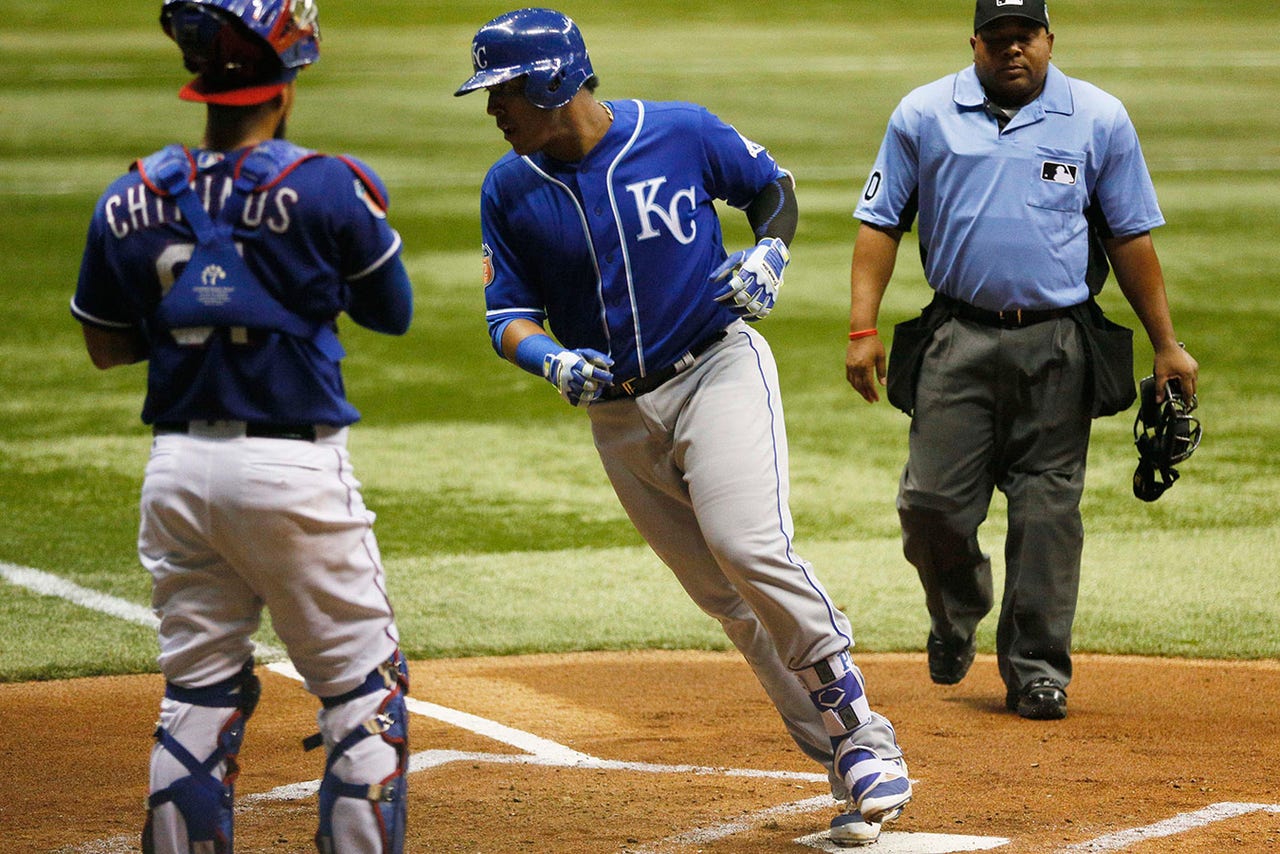 SAN ANTONIO -- Lewis Brinson hit a three-run walkoff homer over the Alamodome's short porch in right field and the Texas Rangers beat the Kansas City Royals 7-5 on Friday night in a split-squad game.
With right field 272 feet away at the reconfigured football stadium, Brinson smashed his first homer of spring training to right center to give Texas its first lead against defending champion Kansas City.
"I was trying to hit something to the right side," Brinson said. "Not trying to hit a home run, just trying to hit something hard."
Brinson homered off left-hander John Lannan, who was Kansas City's third pitcher. Texas used five pitchers, with Sam Dyson picking up the victory after allowing a home run in one inning of relief.
Kansas City's Salvador Perez homered to right for his first home run of spring training. Perez was hitting .148 in nine previous games, but fouled off four pitches against Texas starter Derek Holland before looping a 1-2 pitch into the seats.
Rangers prospect Jared Hoying also homered to right, as did the Royals' Paulo Orlando. Whit Merrifield homered for Kansas City in the ninth.

STARTING TIME
Royals: Right-hander Dillon Gee allowed two earned runs in five innings, successfully fielding four outs and knocking down another on the hard turf of the Alamodome.
Gee cleanly fielded a shot from Jurickson Profar for an out in the first inning. He also gathered a bouncer that tipped off his glove in the second inning that Ryan Rua beat out for an infield single.
Rangers: Holland allowed seven hits and four earned runs in 3 1/3 innings after surrendering just one earned run in 8 2/3 innings in his previous three starts. Holland gave up consecutive homers to right field in the second inning and allowed another run in the third following three straight singles.
"I'm happy with everything," Holland said. "I worked inside. I knew their approach was just like ours, everybody wants to try to hit that ball over the little league side. I'm not going to take anything negative from that. You've got to work with what you're provided and I thought I did a good job handling most of that stuff going in there and working on the hitters. I thought all my off-speed was really good."
TRAINER'S ROOM
Rangers: Second baseman Rougned Odor was scheduled to play against the Royals in San Antonio, but remained at the team's spring training complex with a tight right oblique muscle on March 6. Odor went 0 for 2 on Friday in a 7-1 loss to the Seattle Mariners in Peoria, Arizona ... Shortstop Elvis Andrus was 1 for 2 in Friday's loss to Seattle after missing Thursday's game due to an illness.
CHANGE OF PACE
The Rangers and Royals share a spring training complex in Surprise, Arizona, but traveled 1,000 miles south to play a pair of split-squad games in San Antonio.
"It's fun, it definitely spices up spring training," said Kansas City first baseman Eric Hosmer, who went 1 for 3. "The spring training schedule can get extremely repetitive with practices and games and early mornings and stuff. To kind of break it up with this trip in between and get to come and play in a different setting, a different stadium, is always fun for our guys. It's a fun little twist for most of us."
LITTLE HELP
Kansas City added 18 players from its minor league camp to ensure it had enough players for its split-squad games this weekend in San Antonio and Surprise.
Among those added was outfielder Luke Farrell, who is the son of Boston Red Sox manager John Farrell. The younger Farrell did not play in Friday's game against the Rangers.
STILL FIGHTING
Brinson is still hopeful of making the Rangers' opening day roster despite a crowded outfield.
Brinson is hitting .353 with four RBIs in 17 at-bats this spring.
"I thought it was going to be this year that I would get up there," Brinson said. "I really believe in myself and really believe in my abilities. Just ready to get up there and start pitching in."
CROWNED WITH GOLD
The Royals announced that they'll wear specially designed jerseys and hats commemorating their World Series title when they face the Mets for their opening series on April 3 and 5. The jerseys will feature a gold script "Royals" across the front, and the numbers on the back will be embossed in gold. The "KC" on Kansas City's blue caps will also be gold, and both the jerseys and hats will include a World Champions logo.
Kansas City plans to unveil a banner at Kauffman Stadium before first pitch.
UP NEXT
Royals: Kansas City and Chien-Ming Wang play Texas in the finale of the split-squad games in San Antonio.
---
---