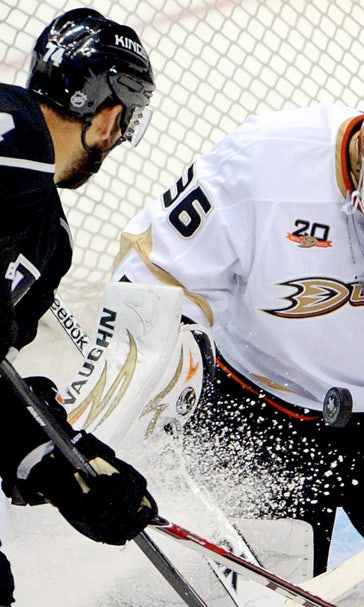 Rookie John Gibson dazzles in playoff debut as Ducks even series
May 11, 2014

LOS ANGELES -- If you thought two teams playing hockey in an area where frozen ponds don't even exist was strange, Saturday night's Freeway Faceoff game really turned the hockey world upside down.
A 20-year-old rookie goaltender started his fourth NHL game and won - a crucial postseason game, at that. The goalie that gave up the least amount of goals in the regular season was removed for yet another rookie on the other end of the ice and both teams effectively killed the concept of home-ice advantage.
Behind goalie 20-year-old John Gibson, the Ducks won their second straight game at the Staples Center with a 2-0 effort over the Kings. The win evened the Western Conference semifinal series to 2-2.
Gibson became the youngest goaltender in NHL history to record a shutout in his postseason debut.
"He was outstanding. He stayed composed throughout the entire game," said Ducks captain Ryan Getzlaf. "When they had their huge push in the second there, he stayed outside and played great for us."
It was about as bizarre as a game can get.
It started when Gibson led the Ducks out on to the ice. Since the series began, head coach Bruce Boudreau has declined to name a starting goaltender before each game, instead forcing the Kings to guess.
They guessed wrong.
With No. 2 goalie Frederik Andersen - also a rookie - day-to-day with an injury, the Kings prepared for No. 1 goalie Jonas Hiller.
"Whether it's unorthodox or orthodox or whatever, that's just the way my head works," Boudreau said. "When we call up guys and put them in into the lineup, you've seen how (Sami) Vatanen has done, and anybody, their adrenaline is so high that you know that they're going to be really good.
"In two weeks you might come back down to earth, but I knew he would be good tonight."
Gibson backstopped the Ducks to a win in San Jose last month to clinch the Pacific Division. Other than that game, the biggest stage he had played on previously was in the gold medal games at the U20 and U18 World Championships.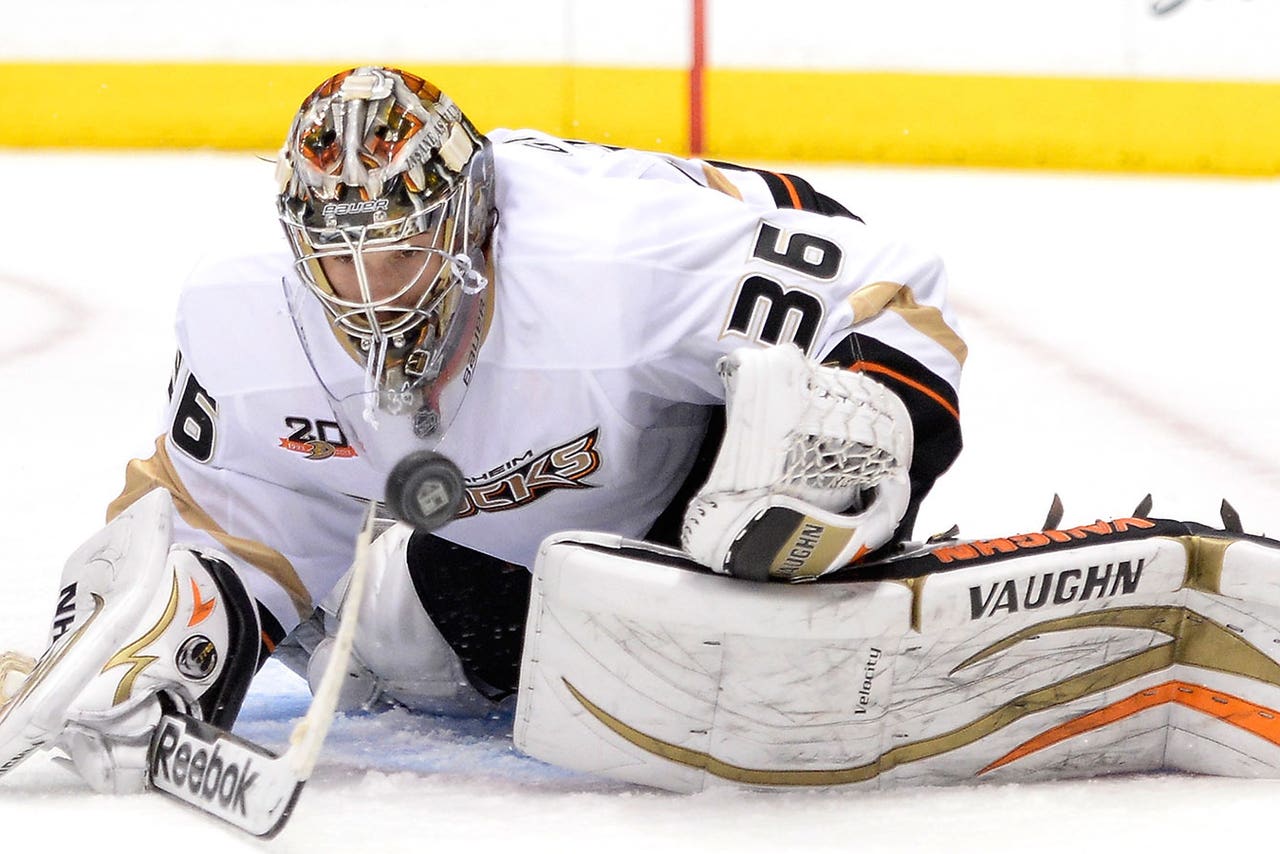 Ducks' 20-year-old goalie shuts out Kings in debut to tie series
"There's nothing like playoff hockey in the NHL," Gibson said. "It was my first game so I didn't really know what to expect. The team did a really good in front of me and helped me out a lot."
The defense in front of him helped out to the tune of 25 blocked shots. They took away lanes and controlled the gaps.
Devante Smith-Pelly scored his third career playoff goal 16 minutes in to give Gibson a slim lead to play behind and Ryan Getzlaf was credited with a goal that deflected off a pair of Kings in the crease less minutes later.
But things didn't get any smoother from there.
Kings head coach Darryl Sutter pulled goaltender Jonathan Quick after the first period in favor of his own rookie netminder, Martin Jones. It went for naught - Jones didn't even face a shot until the third period as the Ducks went 25:34 without a shot on goal.
"We should have done it sooner," Sutter said. "They were scared to shoot."
The energy Sutter was trying to find with a new goalie was there - the Kings outshot the Ducks 12-0 in the second. But the defense forced them outside on to the perimeter and killed off all four power plays.
"I think our power play is just being too cute right now," Kings captain Dustin Brown said. "Our power play needs to be better, if our power play is better and we get a goal, we still lose 2-1. But the rest of our game needs to be better too."
The series moves back to Anaheim Monday night, but the notion of any sort of home-ice advantage is dead. The home team has started three different goalies and no one knows who is next up on the carousel.
"Geez, I don't know," Boudreau said. "We've still got (Igor) Bobkov we haven't used."
At this point, another new goalie doesn't make much of a difference for the rest of the team.
"We don't even talk about it when we put in a different goalie," Getzlaf said. "This is a big story that in this locker room, it isn't anything because these guys, they've all played great."
---
---