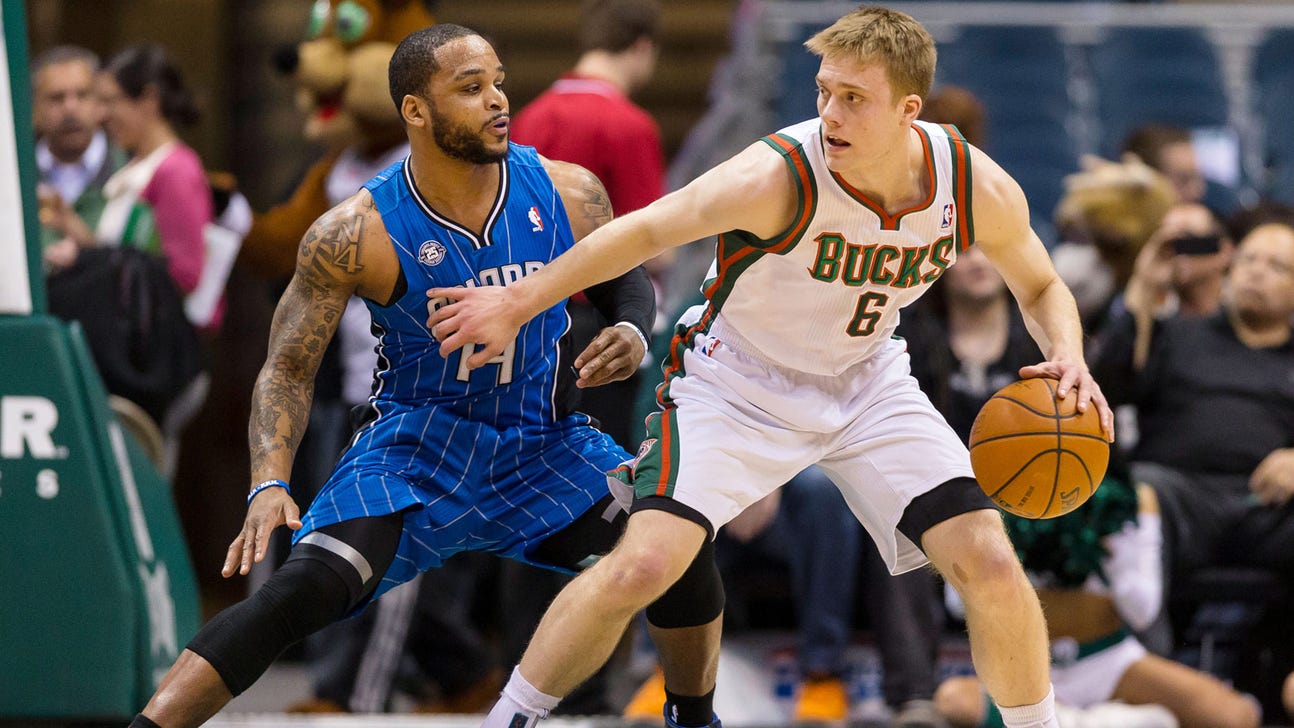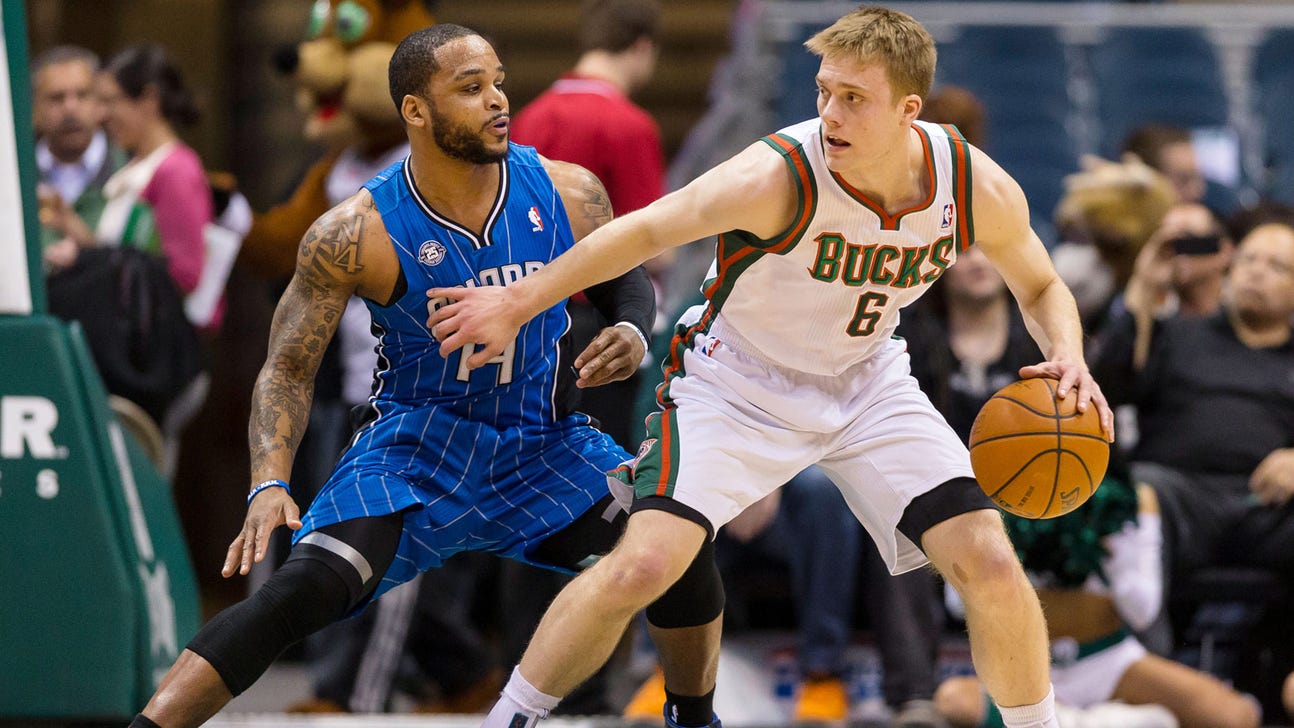 Red-hot rookies lead Bucks past Magic
Published
Feb. 19, 2014 12:25 a.m. ET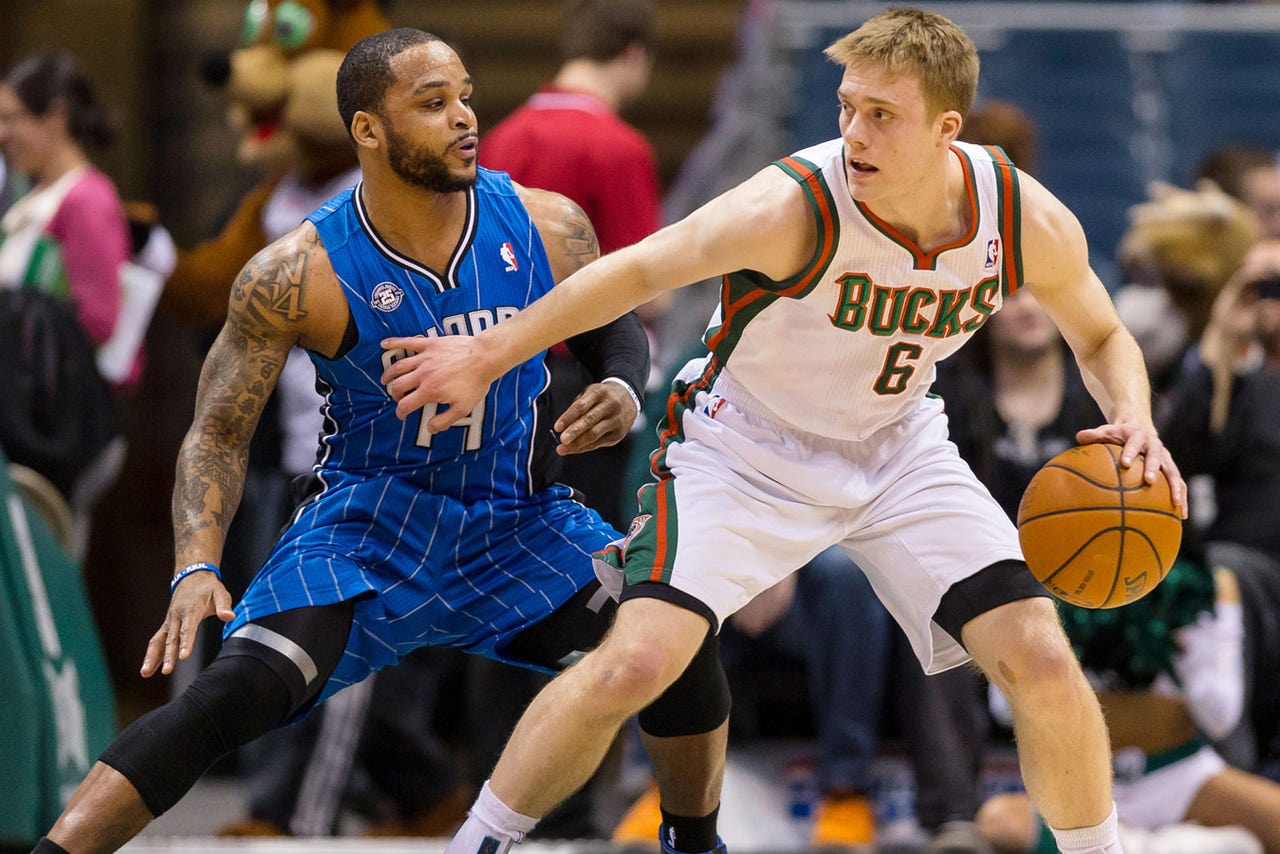 MILWAUKEE -- While a veteran got the Milwaukee Bucks going on Tuesday night, a pair of rookies sealed the deal.
Caron Butler hit six first-half 3-pointers, but Giannis Antetokounmpo and Nate Wolters hit crucial triples and each made a big defensive play late in Milwaukee's 104-100 victory over the Orlando Magic at the BMO Harris Bradley Center.
Wolters' put the Bucks in front for good, at 99-97, by hitting a 27-footer with 29.5 seconds to play. Needing a defensive stop, Antetokounmpo came away with a steal and was fouled with 17.3 seconds on the clock.
But it wasn't just the final seconds the rookies controlled, as Wolters and Antetokounmpo were the difference in the fourth quarter. Wolters had seven points in the final period, while Antetokounmpo had six points, four rebounds, three assists and two steals.
"Going down the stretch, I was focused," Antetokounmpo said. "For a rookie that means a lot to be focused down the stretch. Of course you are going to be a little bit panicked. But Nate made the three and I tried to play defense -- get a steal, make a block or just get a stop. I just played defense."
After Orlando rattled off a 10-2 run to tie the game at 91-all with 6:09 left, Antetokounmpo drilled a 3-pointer to put the Bucks back in front. The Greek forward followed with a steal and found Wolters cutting to the basket in transition for a layup.
The Bucks then went scoreless for 4 minutes, 11 seconds, allowing Orlando to take a 97-96 lead on a Nikola Vucevic jumper with 50.1 to play.
Another broken play in a late-game situation seemed to be developing with the shot clock about to expire during Milwaukee's ensuing possession, but Wolters bailed the Bucks out with a shot he said he probably wouldn't have shot as confidently just a few weeks ago.
"I didn't have much time, so I just decided to pull up and shoot it," Wolters said. "Sometimes those are the easiest ones when you know you have to shoot it."
Bucks coach Larry Drew also felt Wolters wouldn't have shot the ball in that situation earlier in the season, but the rookie said his confidence is growing as he continues to play big minutes. The second-round pick hit just three of his first 29 attempts from beyond the arc but has made five of his last 11 over the last four games.
Wolters finished with 15 points to go along with seven rebounds, eight assists and two steals. He now has 38 assists to just six turnovers since being put back into the starting lineup eight games ago.
"I'm always talking to Nate saying, 'Shoot the ball because you are a good shooter,'" Butler said. "I think in one of his college games he scored 50 points. If you can score 50 points at the 'Y,' you don't pass open looks. That's a turnover if you pass up open looks when you can shoot the ball like that."
Tasked with guarding Afflalo on the final possession, Wolters decided to crowd the player who has 82 points in three games against the Bucks this season. The goal was to make him put the ball on the floor, which he did, only to watch as Antetokounmpo scooped it up.
"I saw Nate crowding Afflalo and he was coming to my direction," Antetokounmpo said. "I've got length, so I saw (Nelson) outside ready to get the reversal. He was stopping. When you are stopping, I'm going. I got the steal and tipped the ball."
Nelson caught up to Antetokounmpo and fouled him, sending him to the line. The 19-year-old missed the first but hit the second, putting the Bucks up 100-97. Afflalo got a good look at a tying 3-pointer but came up short.
"I was thinking just to make the free throw so we can get the win," Antetokounmpo said. "I missed the first and I thought to myself, 'Oh my god, I have to make one.' So I focused and made the second one."
Freak injury: Bucks guard Brandon Knight was unsure if he'd be able to play Tuesday after suffering a cut on his right heel while stepping out of the shower. The wooden baseboard on his shower was the source of the slice, but Knight decided to give it a go. He scored 18 points in 35 minutes, setting a career high in free throws made and attempted by going 12-of-12 from the line.
"I saw him grimacing a few times when he was out on the floor," Bucks coach Larry Drew said. "I'm sure that has to be some discomfort as far as having a cut on your foot with the pounding it takes during the game. Hopefully he's OK."
Receiving reinforcements: The Bucks got a few healthy bodies back Tuesday, as Butler and John Henson were able to play. O.J. Mayo was also available against the Magic, but he didn't play for the tenth consecutive game.
"O.J. was available tonight and I had every intention of getting him some minutes," Drew said. "Unfortunately, I wasn't able to."
Mayo has missed most of the last month with an illness and then conditioning issues. He practiced Monday and was listed as probable coming into Tuesday's game.
"We have tried to bring him along slowly from a conditioning standpoint, but we are going to have to anticipate that the minutes he is out there that he is going to be pretty winded," Drew said prior to the game. "I think right now it is just one of those situations where we are just going to have to allow him to play his way into shape."
Butler came out on fire after missing the four games before the All-Star break with a sprained left ankle. He hit six of nine from beyond the arc in the first half and finished with seven 3-pointers, two off of his career high set in 2012 with the Clippers.
"I thought my teammates did a great job finding me in flow," Butler said. "I wasn't going to force the issue. Once they made the adjustment I started playing off that and sucking in the defense."
Follow Andrew Gruman on Twitter
---