RECAP: Kessel, Bernier help surging Leafs stop Ducks 6-2
BY foxsports • December 16, 2014
Phil Kessel scored two of Toronto's four third-period goals and the Maple Leafs beat Anaheim 6-2 for their sixth straight victory Tuesday night, snapping the Ducks' eight-game winning streak.
David Booth scored his first of the season unassisted at 4:37 of the third before Nazem Kadri got his ninth at 5:28 to put Toronto ahead 4-1. Anaheim starter Frederik Andersen was replaced by backup Ilya Bryzgalov following Kadri's goal.
Maple Leafs goalie Jonathan Bernier was instrumental as Toronto handed the Ducks their first loss in eight games this month. Anaheim outshot the Maple Leafs 42-27.
Ryan Kesler pulled Anaheim to 4-2 with his 11th of the season at 8:35. Kessel cemented the win on the power play at 15:23 before scoring his 17th goal at 18:17.
Tyler Bozak and Joffrey Lupul also scored for Toronto, which improved to 14-7 at home and 10-1-1 since being manhandled 9-2 by visiting Nashville almost a month ago.
Sami Vatanen had the other goal for Anaheim, which fell to 11-4-2 on the road.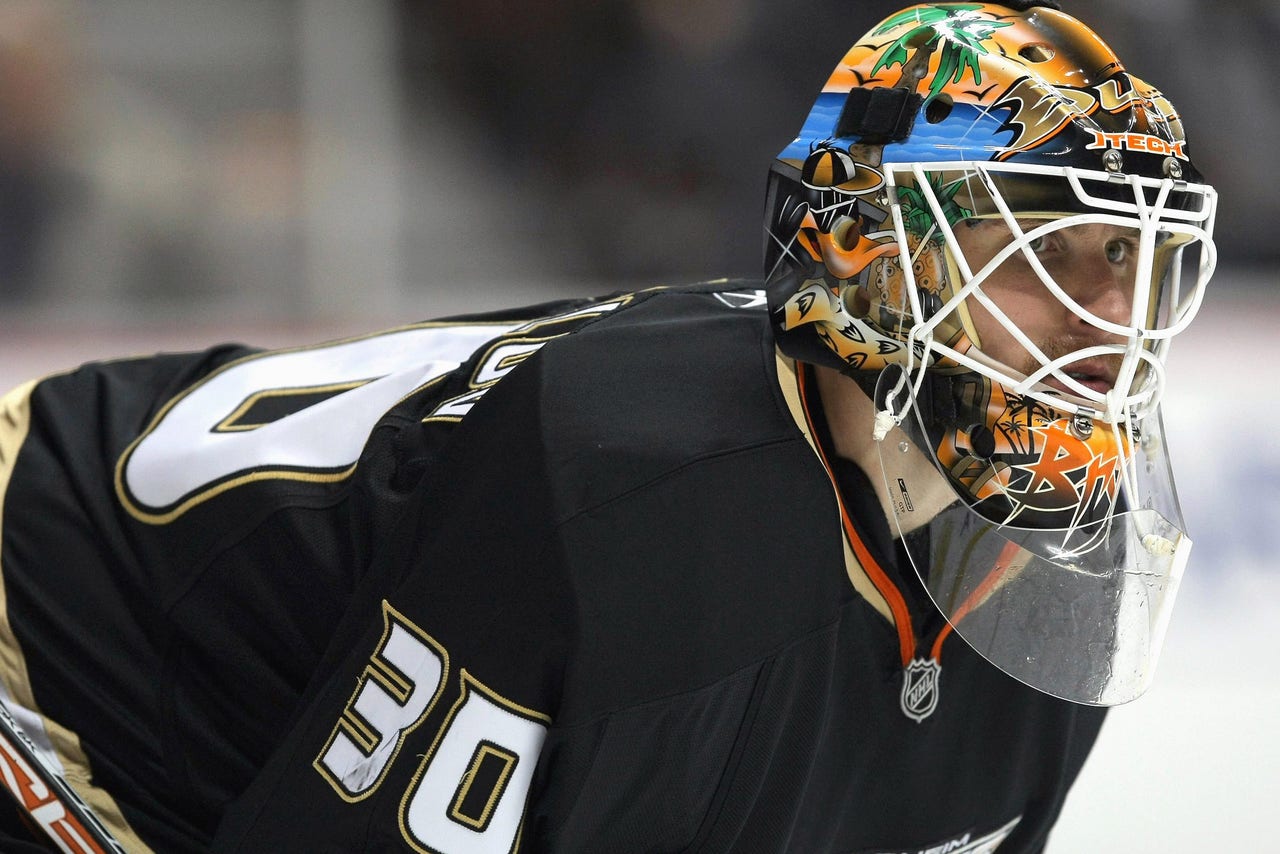 Ducks sign G Bryzgalov to one-year deal: 'I'm not hoping for anything'
Anaheim outshot Toronto 17-11 in the first and had the only two power-play chances in the period but the Leafs got the lone goal. Bozak scored his 12th of the season at 15:12, poking a loose puck in front past Andersen.
Anaheim held a 14-5 advantage in shots on goal in the second, but still trailed 2-1. Lupul put Toronto ahead 2-0 at 1:31 with his seventh of the season, his innocent-looking one-timer from near the boards eluding Andersen.
Vatanen's short-handed goal at 13:13 cut Toronto's lead to 2-1. Vatanen scored his ninth of the season when his wrist shot from the faceoff circle beat Bernier.
Toronto improved to 14-0 when scoring first and 13-0 after leading through two periods. The Leafs also haven't lost to Anaheim since Oct. 21, 2008, a 3-2 shootout decision.
Both teams are on the road Thursday. Toronto visits the Carolina Hurricanes while Anaheim is in Montreal for the fourth game of its five-game road trip.
NOTES: James van Riemsdyk and Kessel both got assists on Bozak's first-period goal, extending their point streaks to five games. ... Maple Leafs players Lupul, Peter Holland, Daniel Winnik and Stephane Robidas are all former Ducks. Toronto coach Randy Carlyle was behind Anaheim's bench for seven seasons, guiding the club to a Stanley Cup title in 2006-07. ... Toronto defenseman Jake Gardiner was a first-round draft pick by Anaheim (No. 17) in 2008 but never played a regular-season game before being dealt to the Leafs. ... Toronto came in averaging an NHL-best 3.37 goals per game. ... It was the 550th career NHL game for Anaheim coach Bruce Boudreau.
---
---