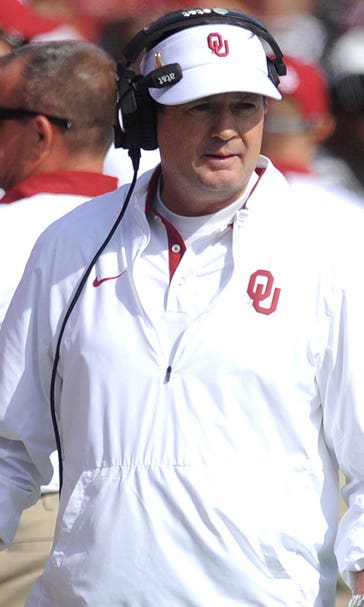 Read if you want, or you can just take this week off
October 30, 2015

If you've ever wondered when teams keep score during a be week, this game's for you.
Oklahoma at Kansas, such is life in the Big 12 where the real games begin in November and everything else is just a controlled, officiated dress rehearsal.
Practice starts at 2:30 p.m.
Kansas is winless, hapless and generally any other "less" you'd like to attach to the Jayhawks. They are 0-7 and giving a bad name to the term winless.
Meanwhile, Oklahoma is playing its best ball of the season after routs of Texas Tech and Kansas State. Losing to Texas earlier this month is certainly not excusable, but OU has rallied back in the past two weeks and Kansas, well, not exactly.
If you want to skip this game, you're allowed. Get some yard work done. Hang with the kids, just promise to come back in a few weeks.
In case you don't want to watch, or in case you just hate spending time with your family, here's 25 predictions about Saturday's game against Kansas ...
Last week, Samaje Perine had his best game of the season. Last season, against Kansas, he had the best rushing game in NCAA history. Now, Perine gets another shot at Kansas. He says he hasn't been thinking about last year's 427 yards against Kansas. 1. But you will. A lot.2. That's because Perine is going to get the ball a lot. 3. Like at least enough to get another 200 yards. Make it two games in a row for Perine over the 200-yard mark and 4. make it two years in a row Perine doesn't play the last 10 minutes of the game. 5. And the only thing that runs faster than Perine is the clock.
The best way to beat Baylor is to play Kansas (Saturday) and Iowa State (next Saturday) as quickly and painlessly as possible. So that means ...
6. This isn't the week quarterback Baker Mayfield shines.
7. The Sooner passing game won't get to the 300 yards.
8. There will be less than 28 passing attempts in the game for Oklahoma.
9. Trevor Knight will play the entire fourth quarter.
The Oklahoma defense has been good of late. Best it's been all season. Kansas won't exactly be the best barometer to see if the Sooners continue their improvement, but you will see ...
10. At least three KU turnovers. 
11. In the first half.
12. A defensive touchdown by the Sooners.
13. Less than 250 total yards by Kansas including
14. Less than 100 rushing yards
Oh, 15. KU will score, but not before the Sooners get at least the first 20 points of the game.
16. It's one of those, "Well, that was a good game right up until kickoff," kind of games. 
Don't expect to be wowed. 17. Expect to be worried about injuries. 18. Expect to hold your breath when Mayfield gets tackled and 19. worry if Perine doesn't get up quick enough.
20. OU won't be looking ahead to Iowa State. Or Baylor, for that matter. The Sooners will be getting ready for those games. 21. The Sooners will be score twice in the first quarter and have 28 or more points by halftime. 22. OU coaches and players will answer questions – not about Kansas – about Baylor when the game is over. 23. They'll say all the right things and suggest all the attention was on KU. 24. You won't be believe it. That's OK. No one will.
25. Take the Sooners. Give the points. Oklahoma 56-14.
Last week's record: 16-9
Overall record this season: 100-76
Follow Andrew Gilman on Twitter: @andrewgilmanOK
---
---