Dante Fowler Jr.
Dante Fowler Jr.
Rams bolster pass rush, acquire Dante Fowler from Jags for picks
Published
Oct. 30, 2018 5:57 p.m. ET
JACKSONVILLE, Fla. (AP) — Dante Fowler is headed to an actual Super Bowl contender.

The slumping Jacksonville Jaguars traded the fourth-year pro and 2015 first-round pick to the undefeated Los Angeles Rams just before the NFL trading deadline Tuesday.

https://twitter.com/dantefowler/status/1057364006640455681

The move gives the Rams an even more formidable front, which already had Aaron Donald, Ndamukong Suh and Michael Brockers.

https://www.foxsports.com/west/story/los-angeles-rams-arent-even-the-best-team-in-nfc-according-to-colin-cowherd-103018

The Jaguars (3-5) received a third-round draft pick in 2019 and a fifth-rounder in 2020, decent compensation for a backup who would have become a free agent at the end of the season.

The rise of Yannick Ngakoue made Fowler expendable in Jacksonville. The team opted last year to not pick up the fifth-year option on his rookie deal. Fowler was the third overall selection in 2015.

https://twitter.com/TG3II/status/1057362484816834560

Fowler has two sacks in seven games this season while playing limited snaps behind Ngakoue. Fowler was suspended for the regular-season opener because of an arrest in 2017.

Fowler and Ngakoue also were involved in a post-practice fight in training camp, which resulted in Fowler and cornerback Jalen Ramsey getting suspended from the team for a week.

He has been a model citizen since. The Rams (8-0) are more concerned with his pass-rushing skills in the second half of the season.

https://www.instagram.com/p/Bpkf2KHA1PF/?hl=en&taken-by=aarondonald99

The Rams are tied for eighth in the NFL with 22 sacks, but 10 of those came from Donald, who has been perhaps even more disruptive in his first season since winning The AP's Defensive Player of the Year award in 2017. Donald sacked Aaron Rodgers twice and delivered four quarterback hits during Los Angeles' 29-27 win over Green Bay on Sunday.

To make room for Fowler, the Rams surprisingly waived guard Jamon Brown. He started all 16 games at right guard last season for the NFC West champions. Brown missed the first two games of this season, suspended for violating the NFL's substance abuse policy, and Austin Blythe never relinquished the starting job.

Fowler's past has been well documented.

He was arrested twice in as many years, including in 2017 for hitting a 55-year-old man. Fowler eventually pleaded no contest to misdemeanor charges. The case was closed in March, with Fowler sentenced to a year of probation and 75 hours of community service.

https://twitter.com/DominiqueEasley/status/1057386280953282562

The NFL suspended him without pay for the opener, a one-game penalty that cost him $214,000.

Fowler also was arrested in 2016, although those charges were eventually dropped.

Fowler insists he's matured through it all, ready to focus on football and his future. He calls himself "a teddy bear off the field but a monster on the field."

"Just want to show people that the past, them three years, my rookie year coming in and all that, that learning experience is, that chapter is over with and it's just about being a professional, being a grown man and just being the player that I want to be," he said in September. "How I want my legacy to be? That's honestly what it is. That's honestly what I want my goals to be this year."

https://twitter.com/AndrewSiciliano/status/1057357709421363200

Fowler notched a career-high eight sacks last season, plus two more in the AFC championship game at New England. He averaged one sack for every 46.6 snaps played, better than Jaguars All-Pro defensive end Calais Campbell (55.2) and Ngakoue (59.4).

"When you watch me on film, even though I might be coming off the bench, they'll be like, 'That guy, he has a future,'" Fowler said. "That's all I want to do. I want to go out there and put great tape out there, being fundamentally sound, playing fast and physical, getting to the quarterback, being stout in the run game.

"I don't want to just be known as a pass-rusher. I want to be known as a guy that's going to get sacks and get 6-10 tackles a game. That's just the type of player I am. So, I just want people to know that I'm known as a complete player on the field and I'm a professional and I'm a guy that cleaned up his act and left that past in the past. I'm ready to move on from that."
---
---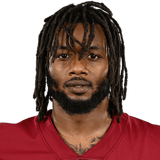 Get more from Dante Fowler Jr.
Follow your favorites to get information about games, news and more
---