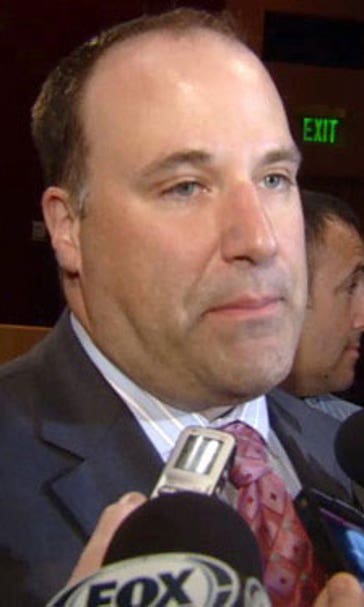 Q & A: Coyotes' CEO Anthony LeBlanc weighs in on trying season
April 14, 2015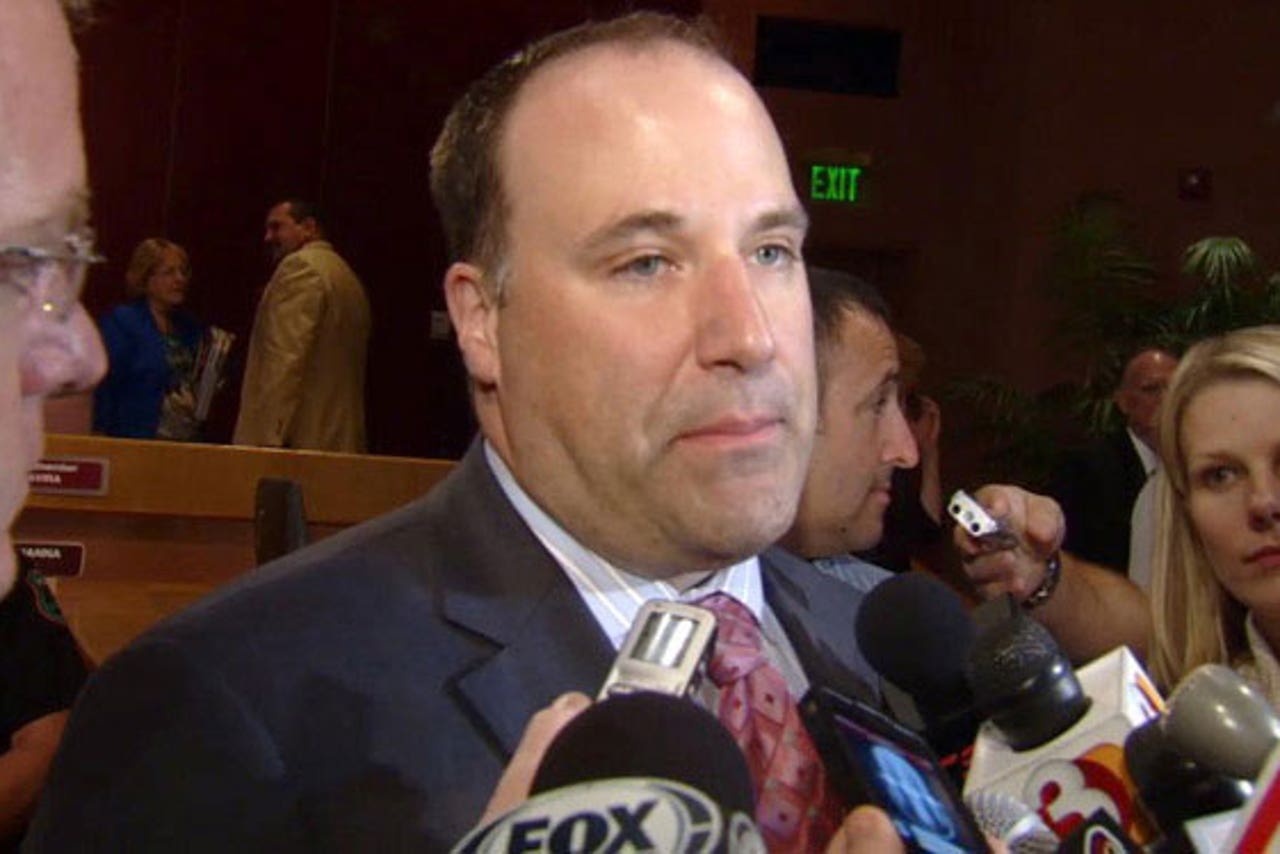 Coyotes general manager, coach Dave Tippett, captain Shane Doan and the players weighed in Monday on the team's forgettable 2014-15 season and the future of the franchise. On Tuesday, it was ownership's turn.
FOX Sports Arizona caught up with Coyotes president, CEO and co-owner Anthony LeBlanc to get his thoughts and updates on variety of topics in this wide-ranging Q & A.
We've rehashed this season a lot, but in your opinion, were the disappointing results more a case of players underperforming or a flawed roster?
LeBlanc: "From the perspective of ownership, I hate to say it, but it sucked. This was just a really bad year. Maybe we were being a little bit Pollyanna when we started the season, but I think if you look back and as I reflect back to the summer, we knew everything had to go right, but I didn't expect everything to go wrong. That's the way I look at this past season: It's like everything went wrong.
"We knew coming into a lot of the games toward the end that it was going to be pretty difficult to win with what we were going on the ice with. We don't want that next year, and our fans certainly don't want that next year. When the season ends and players are cleaning out their lockers, pardon my language, it pisses you off."
"Everybody's dwelling on Tip's emotions or Doaner's emotions or mine or the players, but at the end of the day, all we can really care about are the fans and secondary to that are our sponsors. Having that said, it's over. Mercifully, it's over. Now we can focus on what we are fairly certain is going to be a much better year and series of years ahead of us. We're very enthusiastic about how the prospect pool is forming, how it's coming together, but we know that we've got work to do this summer.
We've heard a couple of timeframes floated. What is your timeline for this rebuild, and what would you consider the mile markers along the way (i.e. qualifying for the playoffs and contending for a Cup)?
LeBlanc: "I agree with Tip's assessment (that the Coyotes need to compete for the playoffs every year). I don't have to look too (much further) than my second favorite team, the Ottawa Senators, for the example and the enthusiasm that we should all have -- not just us involved with the team but our fan base. 
"I do think we are going to have a team that will be significantly better than we had this year. Of course, we missed the playoffs by 40 points, so we have to be significantly better if we're even going to be sniffing at a playoff spot. 
"Because of the enthusiasm we had and I think possibly over-selling the ability that we had this season, I think we all need to take a step back and make sure that when we make predictions about time frames that we don't sell our fan base something that we ultimately don't believe in.
"Regardless of the No. 1, No. 2 or No. 3 pick, we know we're adding another exceptional hockey player into the pool, so I think next year's going to be better. We're definitely going to be doing what we can this offseason to put together a team that we think can be a playoff contending team, so I would agree with both Tip and Donnie. 
"We're hoping this will be a team that will be playoff caliber next season, but when you look at the prospects list and you look at the players we already have on the roster, I agree with Don that two, three years from now this is a Stanley Cup contending franchise if we do things right."
How active do you envision the Coyotes being in free agency and in the trade market?
LeBlanc: "I think we're going to be relatively active. Right now, I think it's fair to say that guys like Don and Tip and (assistant GM) Darcy (Regier) are spending their time looking for who's available coming out of free agency and who could help this franchise. Then obviously, Don will get fairly busy once the Stanley Cup is awarded, at the end of June as we lead into the Draft, with regards to potential trades and that will take us through the summer. 
"What's happening right now is that Don and Dave and their staffs are putting together what a winning team looks like; what are the pieces we need to go after. Don was fairly articulate about this yesterday. We need some help at center ice. We need help on the blue line, we need help pretty much everywhere. We need to shore up our backup goaltending. We have no choice but to be active in free agency, and if trades come about that make sense for this franchise, I'm sure Don will be fairly active.
"Ownership getting involved in decisions, to me, is the wrong thing to do, but we need to listen to what their plan is, what they need from us and endorse what we need to endorse so Don and his staff and Tip can go about the exercise of building this team with the required pieces that we're going to need this offseason."
How active will Dave Tippett be in that process?
LeBlanc: "Don is a very smart guy, and he knows that he has a wealth of knowledge in Dave Tippett. He wants Dave's input, and I think it's fair to say that you will see that evolving over time."
Is ownership confident in both coach Dave Tippett and Don Maloney moving forward? Are there any changes expected to your hockey operations staff outside of likely losing Sean Burke?
LeBlanc: "With our hockey operations department, I think we need to keep adding to it, rather than subtracting from it. Last year, for example, we did spend a fair amount of money in things that people didn't see, on the scouting side, on the technology side and simple things in the locker room. It would be foolish of us and naive of us to try to point to an individual in the hockey (operations) department as the reason for the season we just had.  
"This team over-performed a few seasons ago, which was great for the franchise; great for the market, but at the end of the day it wasn't a sustainable, long-term plan that was being executed. No disrespect to my good friend, the commissioner, but while he was the owner of the team, they didn't provide. It was the bare minimum and these guys were able to come out and really defy the odds, but you're not going to defy the odds on a regular basis using that model. It takes time to build up the organization in the way that you need to. We started the process last year. It was naive of us to expect immediate change by bringing in new scouting staff and beefing up the new scouting staff and new technology. It's a process. It takes time."
What are your thoughts on the futures of Dave Tippett and Shane Doan?
LeBlanc: "I've spoken to both of them in the last couple of days, and nothing has come up that would give me any indication that they are looking to leave. These guys are competitors, and I think the emotion that they had as the season came to an end on Saturday and over the last couple days... we're all embarrassed. We didn't expect the year to go the way it did, and to finish off 29th out of 30 teams is embarrassing and it is not what we set out to do, so I understand their frustration. 
"But at the end of the day, these guys are professionals, they're both under contract, and I don't expect anything to change. Quite frankly, I'd be pretty surprised if there were to be any changes. It's not something that I'm planning for; it's not something I'm speculating about. I think everybody needs to go through the process they need to get over this past season, but at some point I'm also going to lose patience if people dwell too much on last year. It's over; let's move on."
When will Don's budget be finalized? 
LeBlanc: "Last year, we were way too late in the process. We didn't give Don a budget really until we were coming into the draft weekend in June. That will not be the case this year. We are finalizing a board meeting for the ownership group. We need Don to first come back (from the World Championships) and sit down with the members of our hockey committee and provide the blueprint. Then they will come to us with an overview of what Don needs and we will bless it. I expect that we will finalize the budget no later than the end of this month."
Do you have a sense of where budget will be relative to other teams?
LeBlanc: "I honestly don't because we haven't seen what the plan is. I think the second thing we did wrong last year is we came in, we went to Don and said 'here are three numbers, tell us what things would look like.' That's not how we're doing it this year. We're saying 'Don, come to us and tell us what you need to be competitive, to be a playoff-contending team this coming season and at the same time make sure we're still doing the right things to build a Stanley-Cup contending team down the road.'
"We've always said we're not a cap team. Maybe some day we'll get there. We're certainly not going to be there any time soon. We'll put together a budget that makes sense to make us a playoff-contending team. I don't have any idea what the ballpark of that is going to be right now."
What has ownership learned about what it takes to win?
LeBlanc: "How I would answer it from our perspective as an ownership group is last year was kind of the honeymoon period. We came very close to the playoffs. We all know what happened at the end of the year with (Mike Smith) and his injury. That one really stung, but we were on a high throughout most of the year just because it was new and we were winning more than we were losing and we had hope. 
"This year, as I said, I hate to use the phrase, but it sucked. None of us enjoyed this year. It started on Opening Night. We got shellacked by Winnipeg, and it went downhill from there. I read a quote of Tip's he doesn't want to go through again what we just went through. The ownership group 100 percent concurs. This was not a fun year. So we learned the pain of losing, and it certainly is intensified when you have a financial commitment to an organization. 
"I've been a sports fan since I was a kid. It's intensified when you're an owner and an operator, but that's not to take away from our fans either. This year, it was equally painful to have to face our fan base. I still tried to walk the concourse every single game to talk to fans. The only glimmer of hope came at the trade deadline. That's when I think people accepted this year was for naught and that it was time to look forward, and it continues up to now that people are enthusiastic. Fans that I've talked to are enthusiastic. 
"Have we had some fans that are upset? Of course,  we're not going to please everybody and some, quite frankly if you lose any year, they're going to be very upset. And look, that's someone's right as a fan of a team to have those emotions. But from our perspective, we don't want to go through this again, and we don't want to put our fans through it again, so we learned that losing really, really stinks."
What are your thoughts on the NHL Draft Lottery this Saturday?
LeBlanc: "We know one thing is going to come out of Saturday and that is at the end of June, we're going to be drafting an exceptional talent, be it the No. 1, the No. 2 or the No. 3 pick. 
"It would be silly of me to deny the exceptional top-two talents that are available. So are we on pins and needles as we get to Saturday? Of course we are. We know what the impact is on the ice and of course the impact would be to the franchise from a business perspective if we are lucky enough to get a chance to draft either in the position we currently are or are able to move up to No. 1. But I can't reinforce enough: Even if the worst case for Saturday happens and we drop to No. 3, we know that we're going to have an exceptional talent added to our roster or our prospect pool come the end of June."
Are you bringing anything for good luck?
LeBlanc: "Nothing I'm at liberty to say. It's funny, I had a call with some staff this morning. I said 'if anyone has any really good luck charms or any suggestions of anything I can do to increase our chances, please let me know.' We'll be in Toronto. A couple of the partners will be there with me, and we're hoping for the best." 
Are there any off-ice projects planned for this this summer?
LeBlanc:  "Last year, we increased the ability for cell-phone usage in the building. This summer, we're going to put Wi-Fi throughout the entire building, and with that will come some pretty aggressive changes to our wireless app and the ability fans will have to interact with the team and interact with the food and beverage side of the house through their app. So that's going to be very exciting for us. 
"We are looking at making some changes to a couple of our clubs and hopefully enhancing the smaller premium product. We're looking at enhancing those products as well as making some upgrades to our BMWi lounge. But some of the other projects we're working on that we're pretty excited about that don't have to do with the arena are more in regards to growing the sport here in Arizona." 
What is the state of your bid for the 2018 IIHF World Championship?
LeBlanc: "USA Hockey sent out the bid packages this week, so I assume that probably every US-based NHL team received them. But there's a few of us that have been very vocal that it is something that we are going to look to do, and I was joking with one of my staff members this morning that I guess in a way it was good we didn't make the playoffs because it gives us the next two and a half months, which is the required period to get a bid together, to focus on that. 
"We'll put a bid together over the next couple of months. The initial bids are due I believe the end of June. I don't want to take any of USA Hockey's thunder, so I shouldn't speculate on the timing, but I think it's a fall decision they're looking to make of who will be hosting when the U.S. hosts that tournament next, which is 2018.
What about your bid to host an NCAA Frozen Four?
LeBlanc: "We had representation last week at the NCAA Frozen Four in Boston. The Frozen Four has been awarded up to and including 2018, so I'm pretty sure the next available is 2019. So in that process, it will actually be led by our friends and partners at ASU, but we will be supporting them aggressively on that. 
"Obviously, the athletic department was quite busy last week with their basketball program and hiring a new coach, but we have been working with Ray (Anderson) and his staff on a number of things, and we have both mutually said we feel this, and that's I think Tampa has already hosted a Frozen Four, and I think they're hosting another one upcoming in the next couple of years. We like that. It shows a non-traditional hockey market is a solid choice. I can tell you people in Boston last week, when it was 30 degrees and raining, really were enthusiastic about the idea of Arizona hosting a Frozen Four in the future."
Have you finalized a plan for ASU hockey to play games at Gila River Arena next season? 
LeBlanc: "We have not finalized anything. It's fair to say that there are a couple of games we are looking at in conjunction with ASU that we think make the most sense. We're already deep in the throes of finalizing our hockey schedule for the Coyotes for next year. We already have concerts booked in the building. We already have AIA ball already booked. There's a fair amount of logistics that go into it. 
"A couple of games that I think both us and ASU would like to see here may not happen because of the fact of scheduling conflicts. But I think it's fair we should see some clarity in the next couple of weeks."
Has the team finalized plans for its AHL affiliate next season?
LeBlanc: "The one thing I can confirm is we will not be in the Pacific Division of the AHL, nor do I expect the season afterward. But now we're focused on what is the best location in regards to the development of our players in the American Hockey League and quite frankly, while many of the teams are quite far away from Arizona geographically, they are actually clustered very close to the other teams in the AHL, which is a really strong positive for the players. 
"The only real time it's a real significant downside is when we need to call players up. But when you look at the amount of times that happens in a year -- mind you, I guess this year it happened a hell of a lot more than it usually does -- but on average it's not something that's a daily occurrence. So while we'd love to have our players in the AHL closer to us, I'm not all that concerned about the concept of us staying in the East for another year or two because of the clustering that occurs in the AHL in the East."
Follow Craig Morgan on Twitter
---
---