Kirk Cousins
Kirk Cousins
Preview: Vikings' Cousins preps to take down home-state Lions
Published
Nov. 2, 2018 1:15 p.m. ET
MINNEAPOLIS — When Kirk Cousins and his family moved from Illinois to Michigan, his allegiance to the Bears was well-established.

Leaving Chicagoland, Cousins wondered aloud to his dad whether they'd be required to become fans of the Lions and the other Detroit-area teams.



"He said, 'Kirk, you can take the boy out of Chicago. You can't take Chicago out of the boy,'" Cousins recalled this week.

Loyal to the Bears they remained, but inside Michigan's borders the Lions always received top TV billing. So Cousins moved through his teenage years and on to college at Michigan State with more than adequate coverage of the Lions, a clear familiarity that has only deepened now that Cousins has joined a different team in the NFC North in Minnesota.

The Vikings (4-3-1) will host the Lions (3-4) on Sunday, the first time Cousins, who's second in the NFL with 2,521 passing yards, will face his home state's squad as a division rival.

"I think with every game we play, I can point to something about the team or an opponent on the team or a coach or whatever it might be that makes you feel like you're living a dream," Cousins said, "and certainly going against the Detroit Lions is no different being that I grew up in that state."

With the Bears (4-3) and Green Bay Packers (3-3-1) bunched in, too, this game will be the first of several in the second half of the season to shape a tight race.

"Division games count for two," Lions quarterback Matthew Stafford said. "You get the win, and they get the loss. They're big games, and the more you can go and win those, whether on the road or at your place, the better. We have a big stretch of them coming up."

Here are some other key angles to follow with the game:

MATCHING MEGATRON

Adam Thielen leads the NFL with 74 receptions and 925 yards for the Vikings. With at least 100 yards in each of the first eight games, Thielen has tied Lions legend Calvin Johnson for the longest streak in league history. Johnson's run was in 2012, when he set the all-time NFL record with 1,964 yards.

As a football-loving kid living in Minnesota, Thielen naturally tried to emulate Cris Carter and Randy Moss. But Johnson was another star wide receiver he closely watched. Johnson, who retired after the 2015 season, wore No. 21 in college at Georgia Tech. So did Thielen at Detroit Lakes High School, not coincidentally.

"He could block, he could run short routes, he could run deep routes, and he'd catch everything," Thielen said. "When people were draped all over him, he'd still make the plays. I just remember a lot of games where Stafford would just throw the ball up, and there'd be three guys on him and he'd still come down with the ball."

With Stefon Diggs another dangerous option for Cousins, limiting Thielen has been even more of a challenge for opponents.

"We're going to have a hard time trying to handle him," coach Matt Patricia said. "He runs really good routes. He has great change of direction. He can get vertically very quick. He understands zone coverage — he can sit down and find the open space — and he has great hands. So definitely will be a big issue for us."



GOLDEN'S GONE

Though Johnson caused the Vikings secondary plenty of problems over his nine years in the league, Golden Tate did his share of damage, too.

In the first four wins by the Lions over the Vikings since Zimmer was hired in 2014, twice in his first year and twice in 2016, Tate totaled 228 yards and two touchdowns on 30 catches while being targeted 38 times. That included his game-winning somersault into the end zone in overtime in Minnesota in 2016, after Vikings standouts Xavier Rhodes and Harrison Smith missed their attempts to tackle him.

Last season, the Vikings limited Tate to just seven receptions for 36 yards over their two matchups. Now he's gone, having been traded to Philadelphia .

"I was surprised about that. He was their main guy on third downs. He was great with yards after the catch," Rhodes said, adding: "It was one of those situations where you were like, 'Oh, let me check MY phone.'"

GRIFFEN GETTING GOING

Vikings defensive end Everson Griffen, who has 7½ sacks in eight games against the Lions since becoming a starter in 2014, made his season debut last week after missing five games to seek mental health treatment. Griffen played 37 of 53 snaps against New Orleans.

"My No. 1 goal is just to keep on going out there and knocking the rust off more and more each day, but I'm feeling good," Griffen said.

GAME ON THE GROUND

After finishing last, third-to-last and last in the NFL in rushing over the previous three years, the Lions have revived their long-languishing ground game with the arrival of rookie Kerryon Johnson. With an average of nearly 110 yards per game, they're 16th in the league this week.

"It's mostly what the offensive line's doing. No matter how good a running back is, he needs the offensive line, period," Vikings defensive tackle Sheldon Richardson said. "Ain't too many Barry Sanders in the league."

--

DETROIT (3-4) at MINNESOTA (4-3-1)

Sunday, 1 p.m. EDT, FOX

OPENING LINE — Vikings by 7

RECORD VS. SPREAD — Detroit 4-3, Minnesota 4-3-1

SERIES RECORD — Vikings lead 72-39-2

LAST MEETING — Vikings beat Lions 30-23 on Nov. 23, 2017

LAST WEEK — Lions lost to Seahawks 28-14; Vikings lost to Saints 30-20

AP PRO32 RANKING — Lions No. 19, Vikings No. 9

LIONS OFFENSE — OVERALL (8), RUSH (8), PASS (8).

LIONS DEFENSE — OVERALL (12), RUSH (16), PASS (4).

VIKINGS OFFENSE — OVERALL (6), RUSH (13), PASS (4).

VIKINGS DEFENSE — OVERALL (6), RUSH (5), PASS (9).

STREAKS, STATS AND NOTES — Lions have won first two visits to U.S. Bank Stadium and four of last seven on road vs. Vikings, following streak of 13 straight losses in Minnesota. ... This is first division road game for Lions under coach Matt Patricia. Lions are 21-10 vs. NFC North foes since start of 2013 season, best such record in division. ... Lions QB Matthew Stafford has posted 95.0 passer rating in six consecutive games, longest run in Lions history. Since start of 2016 season, Stafford has 23 such games, trailing only Saints QB Drew Brees (29) and Falcons QB Matt Ryan (27). ... Lions RB Kerryon Johnson has 466 rushing yards, most through seven games by rookie in team history since Barry Sanders (597 in 1989). ... Lions DE Romeo Okwara has sack in each of last four games, tied for longest in team history. ... Lions tied for third in NFL in sacks per game. ... Vikings WR Adam Thielen tied with former Lions WR Calvin Johnson (2012) with eight straight 100-yard games, all-time longest streak in league history. ... Vikings QB Kirk Cousins, is second in NFL in passing yards with 2,521, most through eight games in team history. ... Vikings WR Stefon Diggs has 29 catches for 352 yards in four career games vs. Lions. ... Vikings DE Everson Griffen has 11½ sacks and 21 QB hits in 14 career games vs. Lions. ... Vikings FS Harrison Smith has three sacks and three interceptions. No player in NFL hit both marks last season. ... Fantasy Tip: After trade of Lions WR Golden Tate to Eagles, WR Kenny Golladay should have greater involvement. Had only three targets over last two games, after averaging nine over first five.


---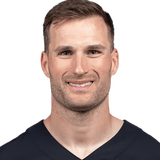 Get more from Kirk Cousins
Follow your favorites to get information about games, news and more
---