Preview: Coyotes at Rangers, 3:30 p.m., FOX Sports Arizona
October 26, 2017

Streaming live on FOX Sports GO

NEW YORK -- There probably won't be a matchup during the first month of the season featuring two teams more desperate for a victory than the one that will take place Thursday night at Madison Square Garden.

The Arizona Coyotes (0-8-1) look for their first win of the season against the New York Rangers (2-6-2), who have lost six of seven (1-4-2) and are tied for the second-fewest points in the Eastern Conference.

The teams had visions of playoff appearances this season but are already fighting to remain relevant before the season is a month old.

"Everybody here, from management to coaches to players, we're not happy with our record," Rangers coach Alain Vigneault said. "And at the end of the day, I could say we're playing a lot better than our record, but our record is 2-6-2, and that's not good enough. So we need to be better, we need to work on getting better, and that's what this group is focused on right now."

New York goalie Henrik Lundqvist will get the night off with Ondrej Pavelec scheduled to make his second start of the season. Lundqvist is off to a rough start with a 3.12 goals-against average and .900 save percentage, and he appeared to injure his left leg late in the second period of the Rangers' 4-1 loss to the San Jose Sharks on Monday.

Lundqvist remained in the game. He already was expected to get the night off Thursday before sustaining what he termed as a "tweak." He isn't expected to miss time.

The only roster change expected for Thursday is a tweak as the Rangers sent rookie defenseman Tony DeAngelo to AHL Hartford after he had a disappointing to start the season. Despite receiving regular power-play time, he had only one assist in eight games.

"I'm not focusing on any changes, I'm focused on getting this team to play better," Vigneault said. "We're 10 games in right now. I've tried to work players into finding their rhythm, finding their game. There's no doubt in my mind that their will and their effort is there, but at the end of the day, it's not good enough.

"So I've given them the ice time -- without naming any names, I've given the ice time out to guys that have performed very well in the past, and not getting the results right now. I've got to find solutions. These solutions are (found) internally."

One solution no longer available to the Rangers is center Derek Stepan, who was traded to the Coyotes in the offseason along with goaltender Antti Raanta in a deal that brought DeAngelo to the Rangers.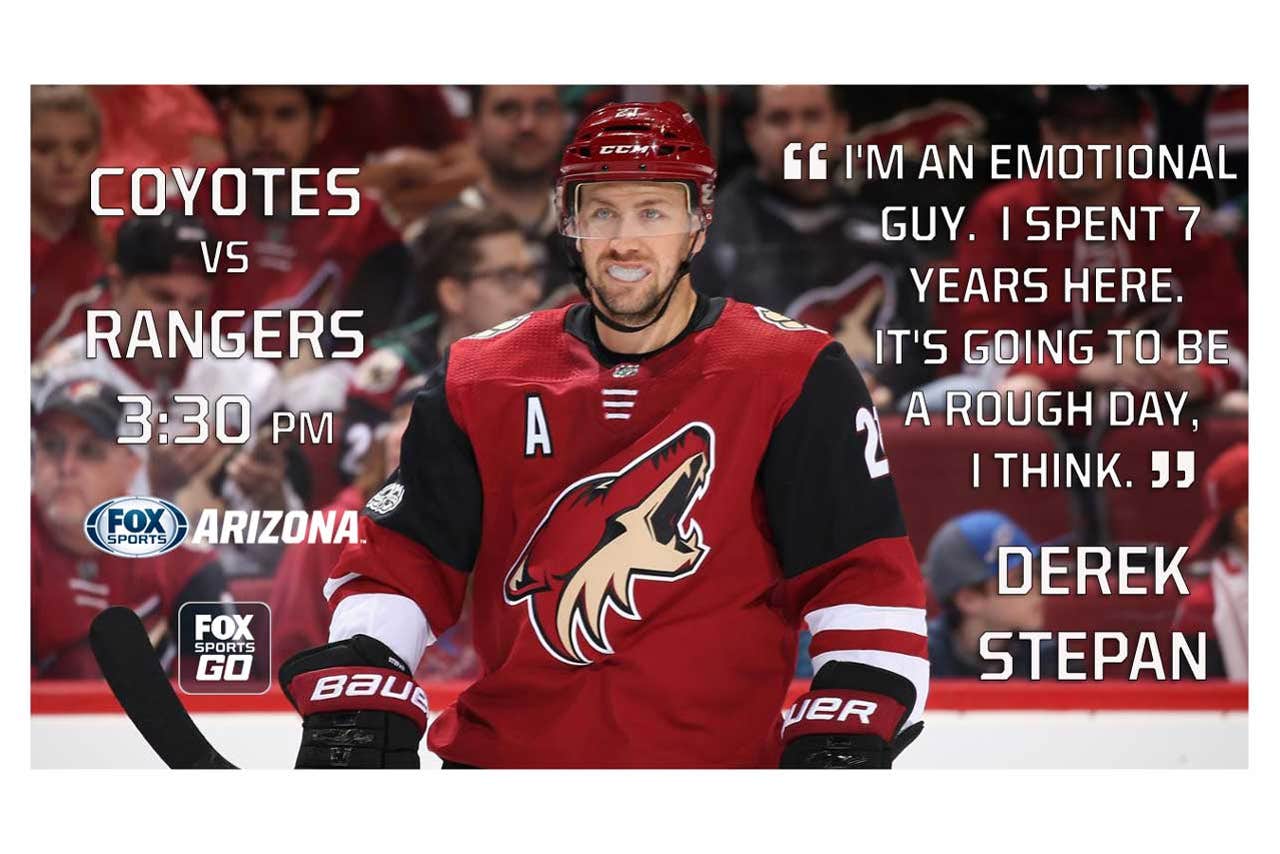 Stepan said he thinks the Rangers have what it takes to turn their season around.

"If I'm being honest, I think they've got the pieces there. It takes some time, though," Stepan told the New York Daily News. "I think some of their young guys will step up. Just give them time. It's not easy to step into a big role. I think they've got the pieces. I played with those guys for a long time. I'm confident that they've got the pieces."

Stepan has put up points in his first season with the Coyotes, registering two goals and five assists in nine games, but said he feels he can better.

"I think we've built good chemistry," Stepan said. "My game is still coming. I think I can be even better than I have. I think there's moments where me and my linemates are maybe not as sharp because we haven't played together long enough. But we've built some great chemistry, and the two guys that I'm playing with are super skilled. So my job is just to kind of get them in spots to get an opportunity with the puck on their sticks."

While Stepan will make his return to MSG, Raanta is out with a lower-body injury. No matter which goaltender -- Louis Domingue or Adin Hill -- Arizona coach Rick Tocchet uses against the Rangers, the play in front of the net will need to better for the Coyotes to get their first win.

"It's like a broken record," Tocchet said. "We're playing competitive. All the analytics stuff, people in that stuff say, 'It's going good.' But obviously, we're not winning. You're looking for that one play. You're looking for that one defensive play, something whether it's a big block or boxing out, something in the last couple minutes to win a game. We gotta try to find that play."
---
---