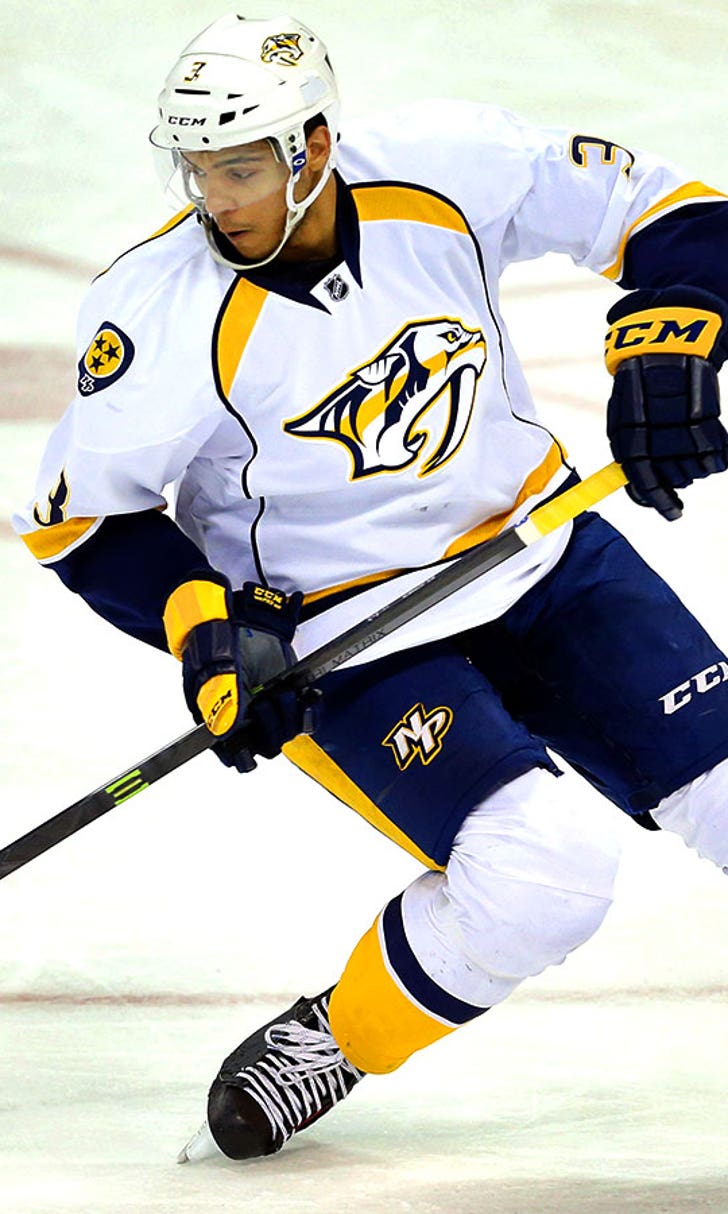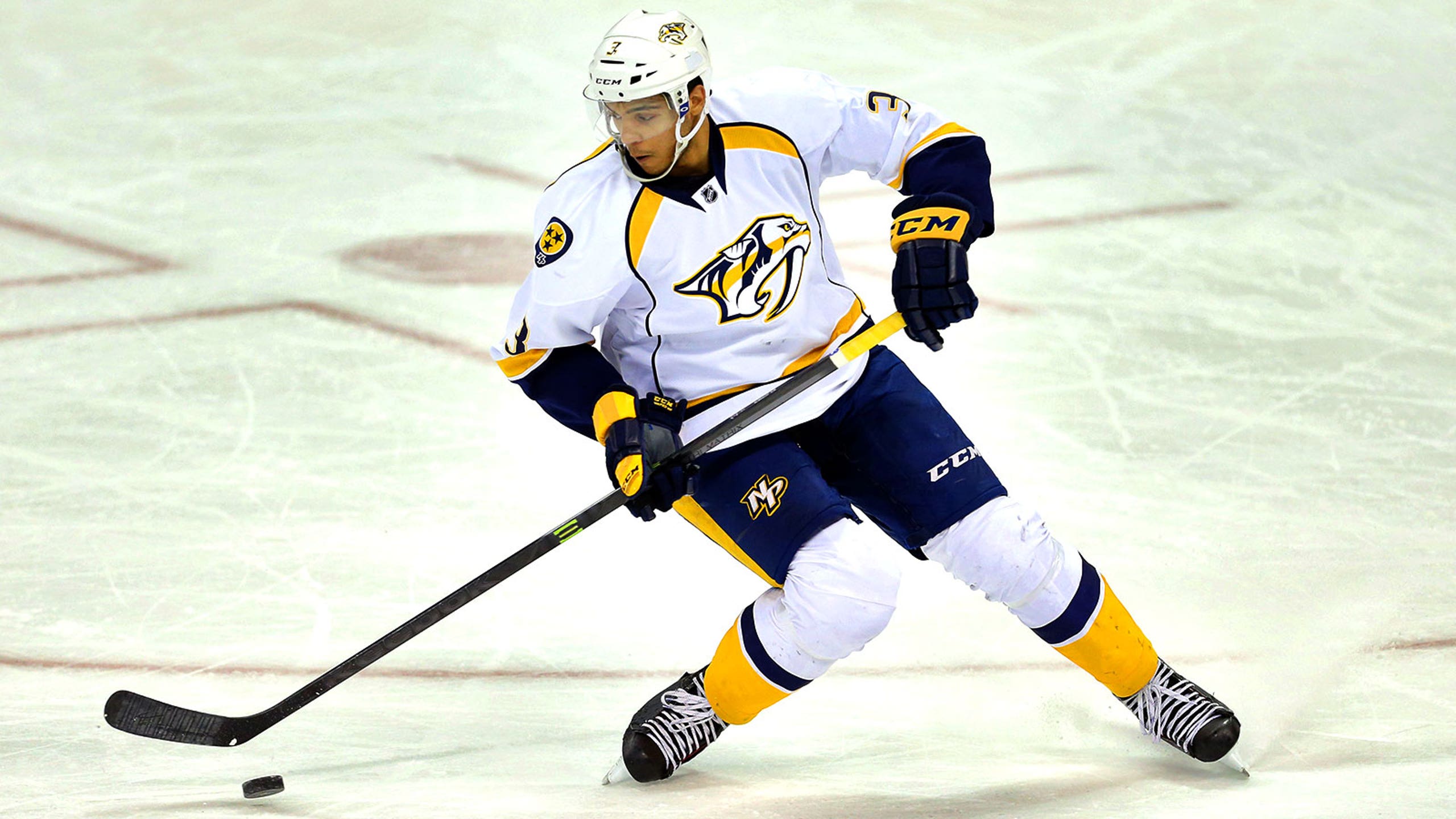 Predators rookie Jones, 19, living up to high expectations
BY foxsports • February 27, 2014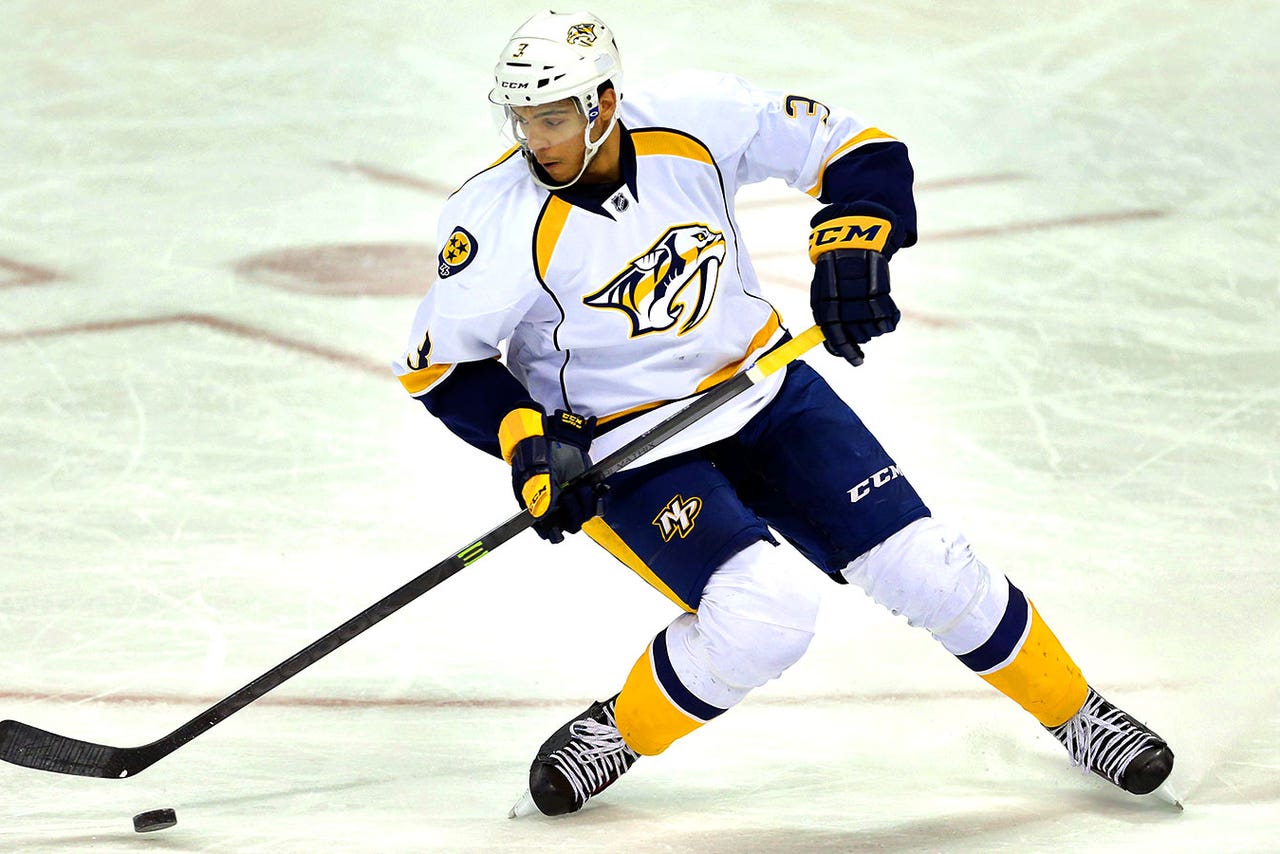 NASHVILLE, Tenn. -- Ronald "Popeye" Jones played 11 seasons in the NBA, his first coming at the age of 23.
He can't imagine how difficult it must be to turn professional at 19 years old.
His son Seth, whose chosen sport is hockey, is living that reality this season. In fact, when training camp began, Seth was still 18.
To put himself in his son's shoes, Popeye Jones, now an assistant coach with the Indiana Pacers, has had to recall what it was like for some of his younger teammates during his playing days. Tracy McGrady was an 18-year-old teammate in 1997-98 with Toronto, and Kwame Brown was 19 when Jones played with Washington in 2001-02.
Being around those players has helped Popeye Jones help Seth understand the kinds of advice he needs to impart -- especially when things aren't going well.
"I'm just an encouraging father," says the elder Jones. "Just keep learning and the biggest thing is don't get too high, don't get too low and some nights it's not going to be good, and some nights, it's going to be better; and you're going to think you're the best player in the world -- but you'€™re not . . . It's a huge learning curve."
Seth said the conversations and texts with his father -- they're in touch frequently despite the frenetic schedule each keeps with his own team -- have aided in his rookie season.
"You can't get too high or too low (if) you have a stretch of good games or a stretch of bad games," Seth said. "It's normal but like I said it's a long season, it's 82 games. You've got to stay as consistent as possible."
In many ways, Seth's learning curve -- those ups and downs -- have characterized his season with the Nashville Predators.
If Seth, a defenseman, had been selected first overall in the 2013 NHL Draft, he would have been the first African-American to go No. 1. Instead, he wound up as the No. 4 overall choice for the Predators -- a franchise known for developing defensemen. (Jones and Evander Kane are tied for the highest African-American draftees in NHL history.)
Seth has played well at times, producing some highlight-reel plays. He has also shown signs that he ultimately should evolve into the franchise player the Predators him to become. Jones has played in every game for Nashville and leads all NHL rookies in ice time (1,235 minutes, 21 seconds), although he ranks third in average ice time among rookies.
Earlier this season, Predators coach Barry Trotz described the pattern of a promising rookie: His play follows an ascending arc until he hits a wall and it drops off. Then, it begins to ascend again and the next time it hits a wall, the drop isn't as far. The pattern continues until the player reaches the desired result: consistency.
Informed of Trotz's thesis, Popeye Jones likened it as the same pattern of a stock -- a growth stock, perhaps. He recalled banging heads with the likes of Karl Malone one night, Charles Barkley the next and Buck Williams after that. His son faces the same challenges in the form of Western Conference stars Jonathan Toews and Patrick Kane of Chicago one night, Anaheim's Ryan Getzlaf and Corey Perry the next and the Dallas Stars' Tyler Seguin and Jamie Benn soon after that.
"It happens with young kids in the NBA, too," Popeye Jones said of rookie progression. "As you know, it's the best leagues in the world. You're playing against the best athletes. What people forget sometimes is when you're young and you're talented, some nights talent might not be as good as the next night. As we know in professional sports, there'€™s somebody every night, so that's where your consistency and your focus has to come in . . .
"I think that part I told (Seth) and he understands that. There's somebody every night, another pro that you're going to see that's really good."
Predators assistant coach Phil Housley, who played 21 NHL seasons and ranks as the fourth-highest scoring defenseman in league history, said many of Seth's challenges revolve around his age.
"Just being a 19-year-old in the NHL, getting accustomed to who you're playing against day-in-and-day out, learning new players on the other teams -- that takes a while," said Housley, who coached Seth and the United States to a gold medal at the 2012 World Junior Championships. "It takes experience, just the grind of it. How much mentally focused you have to be and ready for every game. That in itself doesn't happen every night. Just making the small mistakes, coverage-wise or reading the play, those types of things I think he's got to be better and he knows he's got to be sharp every game because we can't afford any mistakes right now at this point in the season."
At this point in the season, the Predators are four points out of the final playoff spot in the Western Conference. To truly judge Seth's season, his considerable challenges must be taken into account. For one, Nashville has played all but the first three weeks of the season without star goalie Pekka Rinne -- a player who often erases the mistakes of defensemen and others.
Secondly, for the first half of the season, the Predators asked Seth, a right-handed shot, to play on his left side because of their overabundance of right-handed shooting defensemen (this imbalance was corrected in January after righty blueliner Kevin Klein was traded to the New York Rangers).
The situation was akin to a Major League Baseball team asking a rookie switch hitter to bat only on his weaker side without much knowledge of the opposing pitchers. Housley said it's a tribute to Jones'€™ skating ability that he was able to do that.
Seth is a lanky, but athletic, 6-foot-5, 210 pounds. On the ice, he is nimble and fast, pirouetting with the puck to deliver it from trouble the same way that his 6-foot-8 father might have used some delicate footwork in the low post to fake out an opponent.
"You have to be a good skater to play on both sides," Housley said. "In today's game, you see a lot of defensemen who can pivot very well. Some pivot well better to one side than to the other. It was good to see him be able to throw that rope because we needed somebody to play left who was a right-handed shot . . .
"His escapability, to be able to spin and get away and create some space for himself is an asset to the way he skates."
The third challenge that Seth faced was a quick battlefield promotion to the Predators' top defense pair with captain Shea Weber, a gold-medal winner for Canada at the Sochi Olympics. The Predators initially wanted to break in Seth slowly, playing him against the opposition's third- and fourth-line assets, essentially forwards with limited offensive skill.
After the second game of the season, the Predators' No. 2 defenseman, Roman Josi, went down with a concussion and missed almost four weeks. Based on his early success, the Predators threw Jones into the breach. For a while, he flourished. General manager David Poile, who also served as GM of the U.S. Olympic team, touted Jones as a possible candidate for Team USA -- almost unheard of for a 19-year-old defenseman.
Then, Jones hit the proverbial wall. On Nov. 30, he topped 30 minutes -- the kind of number that would lead the league if he averaged it for the entire season -- and then on Dec. 3, he logged 29:40.
Those were two games that Weber missed after getting hit in the face with a puck. In four of the five outings between Nov. 28 and Dec. 7, Jones was a minus -- meaning he was on the ice for more even-strength goals scored against his team than even-strength goals his team scored.
From there, for a time, the Predators began to scale back Jones' minutes. His Olympic dreams -- at least for 2014 -- were over.
"I know he's a little disappointed that he didn't make the Olympic team," said Popeye, about a week before the tournament began. "But at the same time, he understands that he's 19 years old and there will be other opportunities and other Olympic teams. As a father, I actually think he needs a break."
Said Seth: "I obviously wanted to make it . . . I know that Mr. Poile and everyone who's picking that team is picking that team to win. I completely respect that."
In many ways, Seth's Olympic disappointment illustrates his own high bar of expectations. He agreed with that notion.
"I think it was definitely possible, though," he said. "I started the season out very well, and then I dipped and I think that's where that decision was made from. I think I just kind of got back into my game a little too late, and I think there are a bunch of great defensemen that deserved to make the team."
Here's more evidence of Seth not sugarcoating his own play: In November, he was a minus for five straight games as the team went 1-4, with almost no Predator playing well during that stretch.
"That's unacceptable," he said of his own play, "and not to my standards."
Instead of going to the Olympics, he went to Ann Arbor, Mich., with his mother, who has moved to Nashville for this season and with whom he lives. They visited his younger brother Caleb, who's part of the U.S. National Team Development Program, the same hockey system that produced Seth Jones.
It's a commentary on Seth's personality and seriousness that during the NHL Olympic break he turned down an offer to join his father at the NBA All-Star Game in balmy New Orleans, a famed party city. Instead, he elected to spend family time in snowy, suburban Michigan.
"It was good," Seth said of the trip. "It was cold, I'll say that much. A lot of snow. Good to see my little brother there at the development program. He had a few games there, some good games. Played well. It was nice to see him play. I haven't seen him play in a while."
Seth also said the Olympic break was "much needed" for him, both physically and mentally.
On Thursday, after the Predators' morning skate on the day of their first post-break game (against Tampa Bay), Trotz announced a new urgency of the Predators attempting to make the playoffs: Casual mistakes would not be tolerated.
This came at the same time Trotz addressed a question about Jones dropping from the second to the third defense pair. Trotz likes the way Ryan Ellis managed the puck during the last 10 games, and so he would be moved up into Jones' spot. In previous years, other Nashville high draft picks, such as Ellis and U.S. Olympian Ryan Suter, have received similar treatment.
"Down the stretch here, it's sort of like playoffs here and everybody's going to have to be held accountable," he said. "If you fall off a little bit, you may not be in the next night. It's plain and simple. We don't have any margin for error."
For Nashville's final 23 games, if Seth can hit one last, continuous peak, the effect could be twofold: It could help the franchise qualify for the playoffs; and it might help Jones garner more attention for the Calder Trophy, bestowed to the NHL's rookie of the year.
In an informal poll for this story, citing six veteran Professional Hockey Writers Association voters who will help select the Calder Trophy, a variety of opinions emerged:
Jones garnered one second-place vote. Two voters said they would not include him in their top three, but two others said they would likely have him in their top five. The last said a clear-cut favorite has yet to emerge.
And yet, Colorado forward Nathan MacKinnon, last year's No. 1 overall pick who leads all rookies in points, appears to be the favorite.
Pittsburgh defenseman Olli Maata, who also is 19 but was drafted one year before Jones and recently had a strong showing at the Olympics for Finland, appears to be ahead of Jones. Maata plays on a more established team. Some also say that other defensemen such as Boston's Torey Krug, a No. 6 situational defenseman who has scored 12 goals, fifth among all NHL blueliners, and Winnipeg's Jacob Trouba (who has played 16 fewer games than Jones because of injury) might be ahead of the Predators rookie.
Arguably, none of the above players have had to shoulder Jones' responsibilities this season. Jones says he doesn't think about the Calder award often.
"No, not really," he said. "It would be a pretty cool achievement, but there are a lot of great rookies this year having fantastic seasons."
Earlier this season, in one of those father-son talks, Popeye told Seth that he would always be in search of the perfect game -- one of the beauties of competitive sports. While Seth's quest for that has seen its peaks and valleys, the journey has proved both educational and productive.
"There's not many 19-year-olds who are getting put -- especially on defense -- getting put head-to-head against the best in the business every night," Trotz said earlier this season, "without us even thinking twice about it."
---
---