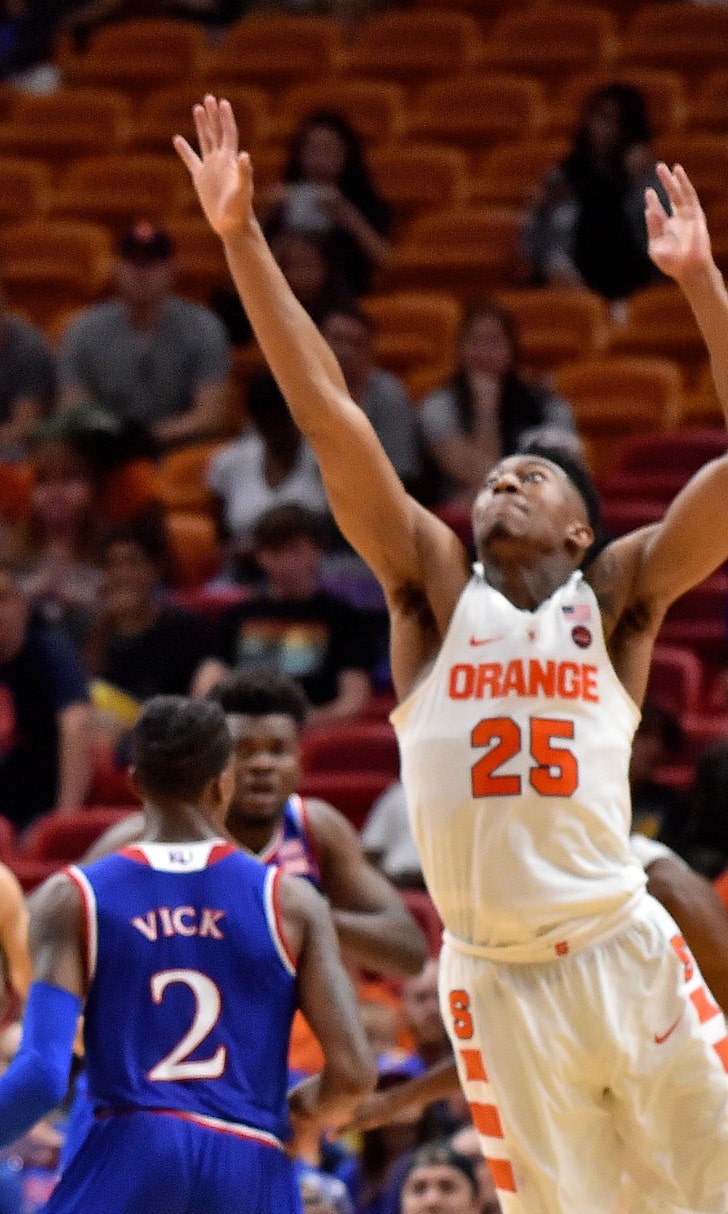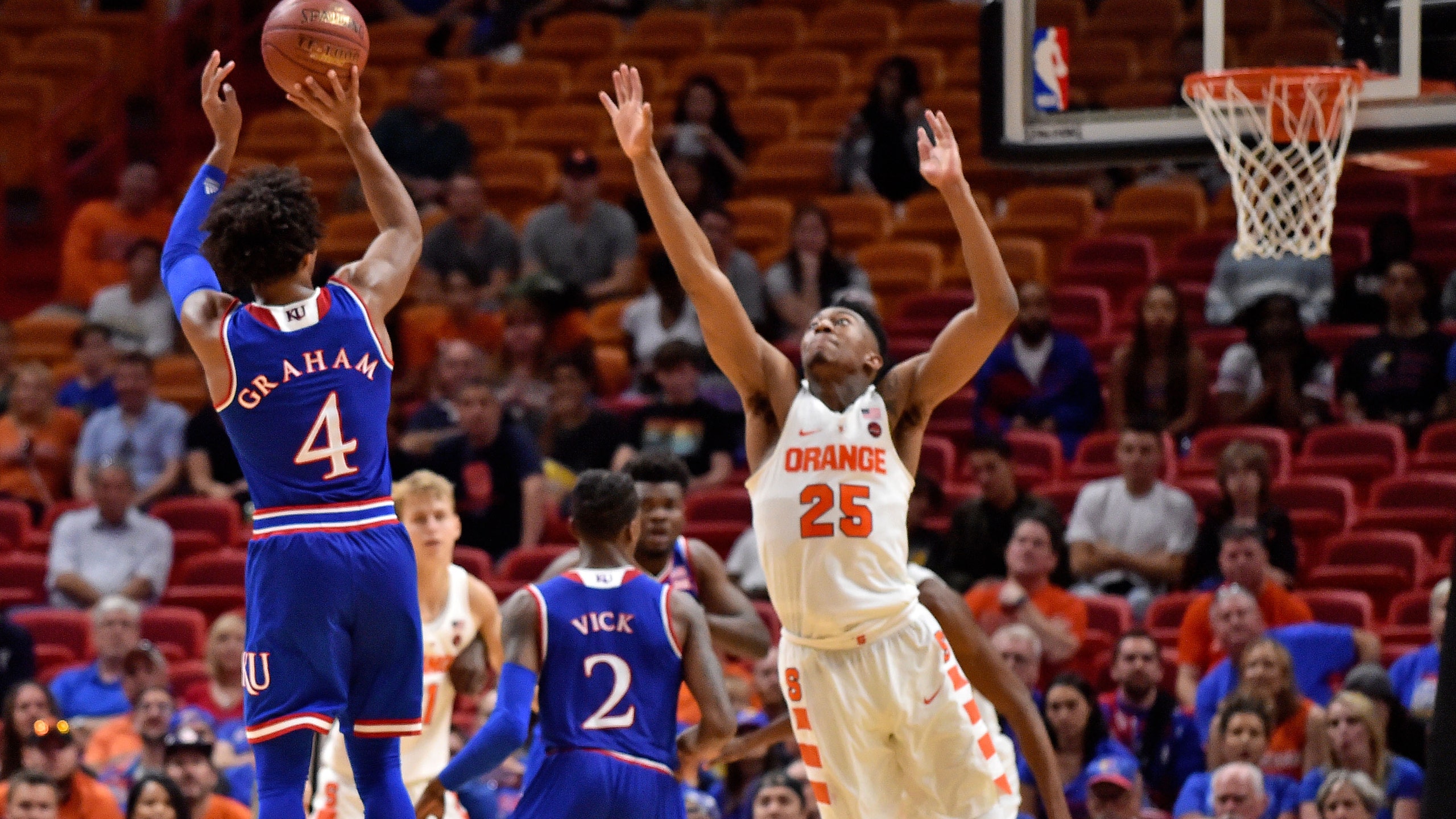 Passing, shooting or both, Graham leads KU against Washington
December 5, 2017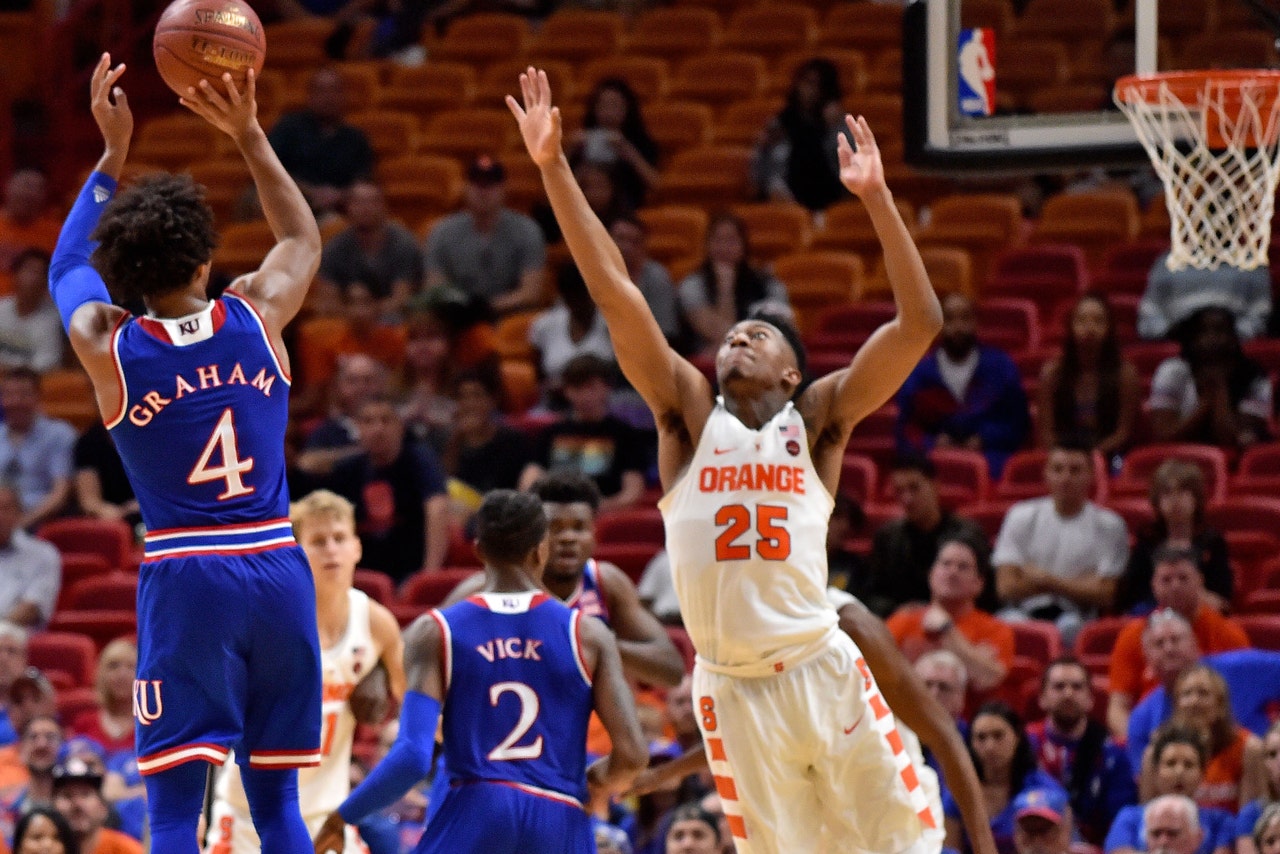 KANSAS CITY, Mo. -- Concerns regarding Devonte' Graham's offensive capacity, in particular his shooting, were greatly exaggerated.

The senior guard has done a lot to keep Kansas undefeated as the No. 2 Jayhawks carry a 7-0 record into a game Wednesday against Washington (6-2) at Sprint Center.

After Graham's percentage from 3-point range sagged below the 30 percent mark, two consecutive 35-point performances against Toledo and Syracuse changed all that. Graham raised his 3-point percentage to 40.8 and quickly rose to become the Jayhawks' leading scorer with an 18.6-point average while also leading the team in minutes (33.6), assists (8.0) and steals (2.3).

In setting and then matching his career high for scoring, Graham went 24 of 36, including a 12-for-21 mark from 3, as well as 10-for-10 on free throws. He added 10 assists, four steals and eight rebounds against five turnovers.

"It's just whatever the flow of the game is. It's just trying to be aggressive," Graham said. "If it's getting into the paint and making plays for others, I'm going to do that every time. My shot just was falling the last two games. The previous games I wasn't shooting really well, so it's just good to see the ball go in the hoop."



As Graham fidgeted with his jumper and sometimes got in more shooting after practice, coach Bill Self rarely expressed any doubts. He often said Graham was not seeing the ball go in the hole, yet praised his point guard for his ball distribution and defense.

Graham set a career high for assists (12) in the season opener and also had 11 assists in two other games.

"The thing with Devonte' is he is a point guard," said Self, "but he's also a scoring point guard. He's a guy who can score or can make a pass to finish a play. I don't think him taking that many shots is a negative at all, but I don't think it's something that will be a nightly thing. I think we're better when we have balance."

Typically, the Jayhawks have created such problems for defenses with multiple scoring options. Kansas is the only team in the nation with five scorers averaging 11.9 or more points. Senior guard Svi Mykhailiuk and junior guard Lagerald Vick are averaging 17.1 and 16.4 points, respectively.



Against the Syracuse zone, however, it was Graham who caught fire and bombed over the top, often draining clutch baskets late in the shot clock.

Washington is on a four-game winning streak under first-year coach Mike Hopkins. The Huskies are led by freshman guard Jaylen Nowell with a 17.9-point average. Junior forward Noah Dickerson averages 16.4 points and a team-high 8.0 rebounds.

All of Washington's wins have been at home. It tumbled against the only high-majors it has faced, Providence and Virginia Tech, after going 9-22 last season.

Like Syracuse, the Huskies apply a 2-3 zone but have had problems covering outside shooters. That could become a prickly issue if Graham remains hot for Kansas, which ranks third nationally with a 53.5 shooting percentage on 3-point attempts.

"You can't hope that they miss," Hopkins said. "You got to force them to miss."
---
---