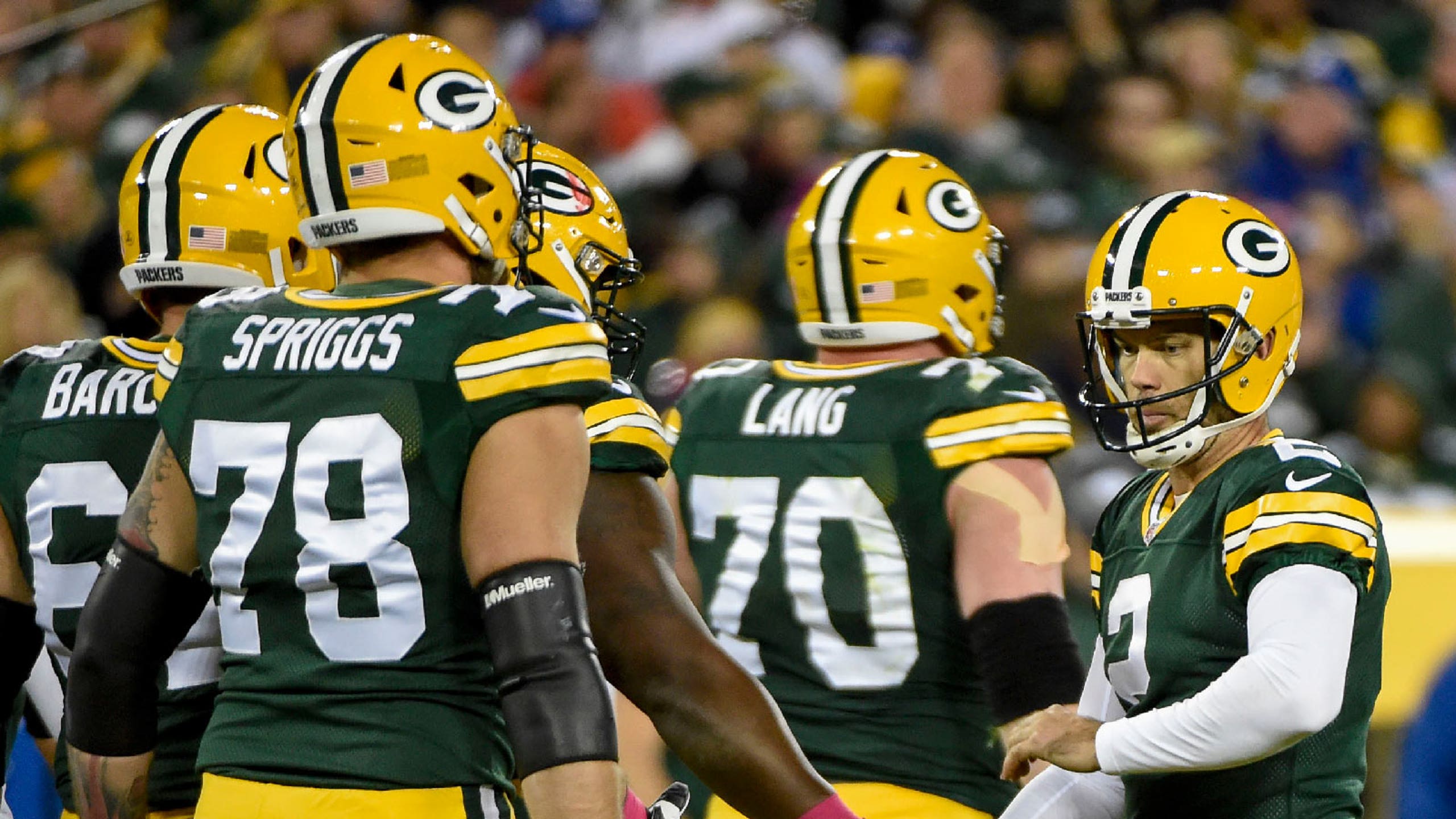 Packers' O-line playing well after offseason changes
BY foxsports • October 10, 2016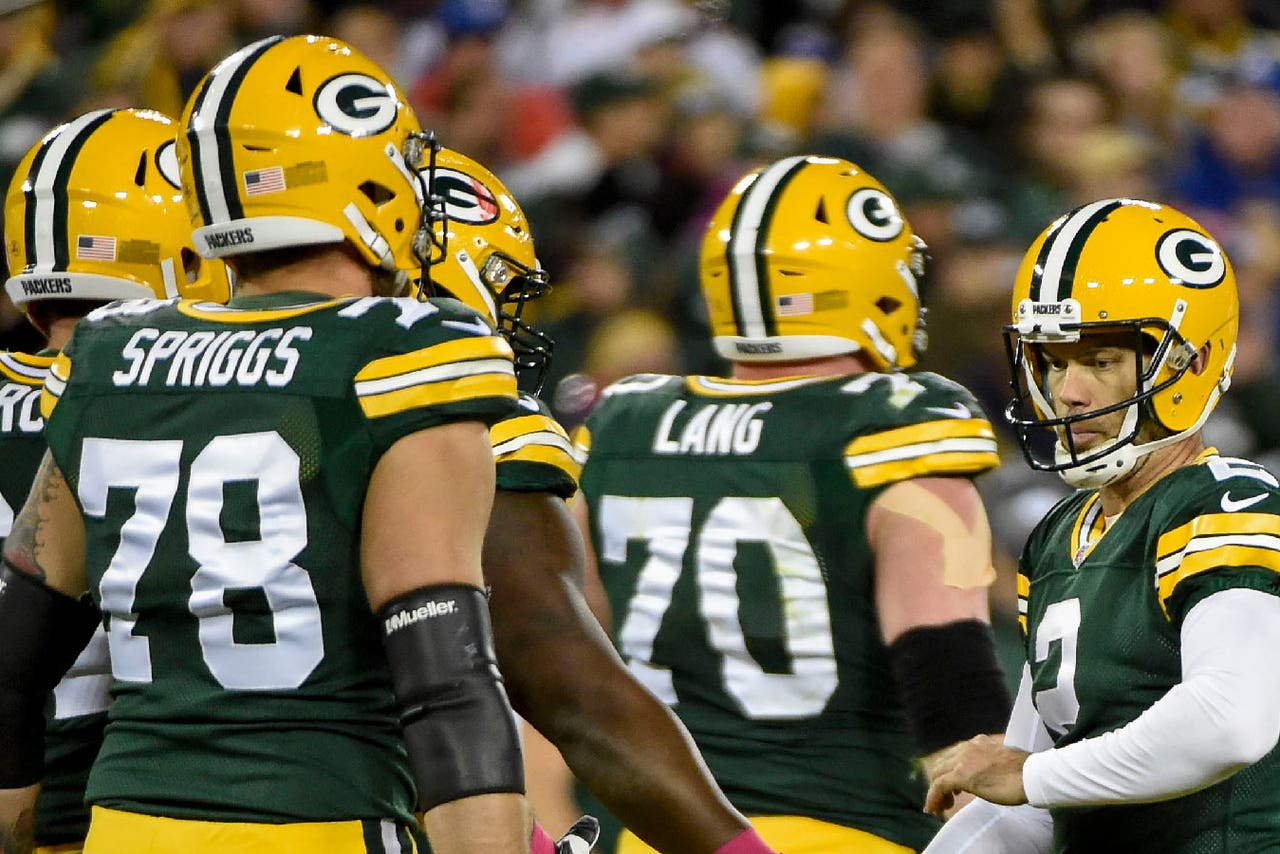 GREEN BAY, Wis. -- For a group thrown for a loss by the unexpected release of its most recognizable member, the Green Bay Packers offensive line has come together nicely during the first four games.
The unit was especially impressive during Sunday night's 23-16 victory over the New York Giants, paving the way for 147 rushing yards and giving quarterback Aaron Rodgers all kinds of time to throw. Rodgers dropped back to pass 50 times and was not sacked, despite facing top-flight edge rushers Olivier Vernon and Jason Pierre-Paul, while running back Eddie Lacy found running lanes despite the presence of hulking run-stuffing defensive tackle Johnathan Hankins.
"Our offensive line played extremely well," coach Mike McCarthy said Monday. "I think like anything, it starts in the running game. Eddie ran hard, broke a lot of tackles, (and the) pass protection was excellent, particularly in the action passing game - a number of opportunities to hold the ball (and) throw the ball downfield. Our offensive line had a very good night."
Three-time Pro Bowl guard Josh Sitton was released on Sept. 1, an unexpected cut on the final preseason roster reduction. Players - especially veteran guard T.J. Lang and tackles David Bakhtiari and Bryan Bulaga - publicly questioned the wisdom of the move, especially when Sitton quickly signed with NFC North rival Chicago.
Fourth-year guard Lane Taylor has stepped in and played well, despite having started just two career games before this season.
"I knew people would be worried. I've only started two games before," Taylor said. "Obviously no one wanted to see Josh leave, but when I became the starter, everyone was behind me and supported me. And we just went on about our business. I have to just keep it rolling."
The unit also underwent a change at center, where JC Tretter has been starting with Corey Linsley, the No. 1 center the past two seasons, on the physically unable to perform list with a hamstring injury. Tretter has been solid in the middle, and he was vital to the Packers' success against the Giants.
"We knew it was going to be a big challenge," Lang said. "Obviously their D-ends are very, very good. Then you watch Hankins on film and he abuses a lot of guys. We knew it was going to be a challenge."
According to Lang, the line rose to that challenge so impressively that it had Rodgers praising them in the huddle between plays.
"Aaron was saying some stuff in the huddle (about how) he thought the protection was pretty good. That's something there that we can keep building off of," Lang said.
Running back Eddie Lacy, who carried 11 times for 81 yards before leaving the game with a sprained left ankle, praised the group, too.
"What they did (Sunday))night, you can't ask for much more than that," he said. "I really think we have the momentum going as far as running the ball. We just have to keep it up. We want to tire out defenses and take it through the rest of the season."
Rodgers, meanwhile, was amazed by how much time his line afforded him on a night when he made several great throws but also had multiple misfires that contributed to an uneven performance.
"We had a good night running the football. Against two premier pass rushers who are getting paid a lot of money, we did a good job," he said. "I thought I moved well enough but didn't have to a lot of times. I could stay in the pocket and that's a big credit to those guys up front."
Rodgers said the offense's challenge now is to make sure other aspects - including his own play - measure up to the quality the offensive line is providing, starting with next Sunday's game against the Dallas Cowboys at Lambeau Field.
"We're our biggest critic, myself included. I've got to play a lot better," Rodgers said. "We've got to execute in the passing game as well as we're doing up front and in the run game."
NOTES: McCarthy said Lacy underwent tests Monday on his ankle. "I would say it's not serious," McCarthy said, although he stopped short of saying Lacy would be OK to play against Dallas. . McCarthy said wide receiver Randall Cobb, who was hit in the neck and head on a late reception, was "fine" on Monday. . Both McCarthy and special teams coordinator Ron Zook acknowledged that punter Jake Schum is struggling, but McCarhty indicated that the team plans to stick with the second-year man.
---
---