Victor Oladipo
Victor Oladipo
Oladipo's clutch 3-pointer propels Pacers past Celtics 102-101
Published
Nov. 3, 2018 11:00 p.m. ET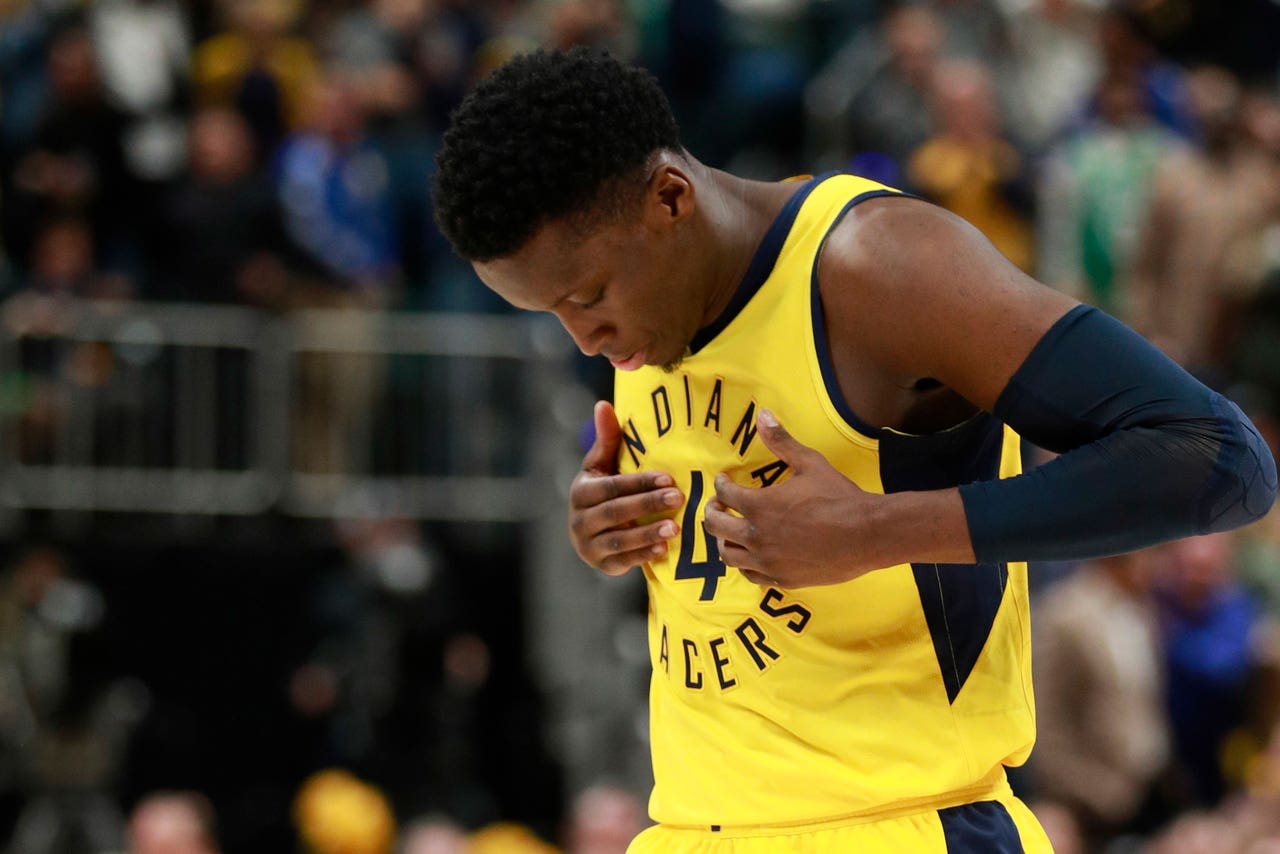 INDIANAPOLIS — Victor Oladipo heard the final buzzer and pranced to the sideline, pointing both index fingers to the floor, and mouthing, "My city."

Oladipo's 3-pointer with 3.4 seconds remaining Saturday night gave Indiana a 102-101 comeback victory over the Boston Celtics and was yet another example of his increasingly routine heroics at Bankers Life Fieldhouse.

The All-Star guard, who was battling bronchitis, finished with 24 points and 12 rebounds and said he envisions his heroics.

"Moments like this, yeah," Oladipo said, "and moments like this down the line."

The game was a tense affair with 10 ties and 18 lead changes and a compelling matchup between Indiana and Boston.




The Celtics led 101-97 when Kyrie Irving hit a 3 with 37.2 seconds to go, but Jaylen Brown fouled Oladipo at 29.2 seconds, and he made both free throws to set up the dramatic finish.

With 11 seconds left, Oladipo rebounded Irving's miss, dribbled across midcourt and pulled up from the right wing, launching over the outstretched arms of Boston center Al Horford. As the ball dropped through the net, Oladipo skipped toward the bench.

"We were really calm," Oladipo said. "The crowd was excited, but we were calm. We knew we needed one more stop."

After the Celtics used a timeout to advance the ball and draw up a final play, Gordon Hayward inbounded but had his pass deflected and stolen by Oladipo, snapping a four-game win streak for Boston, which reached the Eastern Conference finals last spring.

The Pacers, coming off a first-round playoff exit, passed an early-season test in large part by repeatedly earning free throws. While Boston attempted only nine, and made six, Indiana shot 19 of 25 from the line.

That came in handy on a night Boston shot 43 percent (38 for 88) and the Pacers 41 percent (36 for 87).

"We're living on the edge a little too much," said Horford, who had 14 points and six rebounds. "Maybe this will wake us up."

Tyreke Evans had 17 points for the Pacers, Bojan Bogdanovic scored 16, and Domantas Sabonis added 12 points, nine rebounds and five assists.

Indiana trailed 28-18 after the first quarter, and by as many as 13 in the first half, but forged a tie at 45 at halftime and knotted the score at 72 on Evans' last-second 3 to close the third period.

"It was huge moving forward, just to get a good spirit and energy for our season," Indiana guard Darren Collison said. "We all came together. Everybody had their moments. In those situations when you're playing a good team you can't lose focus. You just never know when the game is going to change."

Marcus Morris had a team-high 23 points and six rebounds for the Celtics.

"We got beat by a good team," Boston coach Brad Stevens said. "Oladipo made a big shot."

TIP-INS

Celtics: Irving finished with 18 points and six boards, and Hayward was the only starter not to score in double figures, finishing with four points and seven rebounds. . Marcus Smart contributed three points and nine assists. . The loss also snapped Boston's three-game win streak in Indianapolis.

Pacers: TJ Leaf, a second-year forward out of UCLA, entered with only two points all season but scored five Saturday in his customary second-quarter stint. Leaf played the first five minutes of the fourth quarter and added a dunk to finish with seven points. . The team waived forward Ben Moore and recalled center Ike Anigbogu from the G League.

WORKING HIS WAY BACK

Stevens said Hayward, coming back from leg surgery, would remain restricted to fewer than 30 minutes per game for the foreseeable future.

"He's in the 'increase by a tick' phase," Stevens said. "We'll just keep evaluating him week to week. It's a long-term plan based on getting him back to not only playing one game but 82 games. He's probably pretty frustrated by it at times, but does a good job not showing it."

DÉJÀ VU

Oladipo's shot came just more than one year after his first signature finger-pointing, "My city" celebration. On Oct. 29, 2017, three months after being traded to Indiana from Oklahoma City, Oladipo's 3-pointer gave the Pacers a 97-94 win over San Antonio.

UP NEXT:

Celtics: Play the second-game of a five-game road trip against Denver on Monday.

Pacers: Host Houston on Monday night.




---
---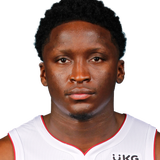 Get more from Victor Oladipo
Follow your favorites to get information about games, news and more
---