Josh Okogie
Josh Okogie
Okogie not having typical Wolves rookie experience
Published
Nov. 7, 2018 3:58 p.m. ET

PORTLAND -- Whether it's his suffocating defense, explosive jumping ability or his veteran-like focused pregame routine, every ingredient of Minnesota rookie Josh Okogie's game is intense.

Even picking his jersey number was a concentrated process; he ended up with the number 20, representing the significance of being drafted by the Timberwolves with the No. 20 overall selection in the first round of the NBA draft.

So far this season, his active hands are sticking out above everything else.



Swipe, swipe, swipe, shuffle feet, slide, fight over the screen, and swipe some more -- that's the attack mode of Okogie on defense. It's apparent on every play; you can even see it in his eyes that he wants to torment every ball handler. You can almost hear the opposing dribbler make a gulp noise when they cross the half-court line and see Okogie in a defensive stance, locked-in and ready to close in.

Watching Okogie on defense is like playing NBA 2K19 with the steal/swipe button stuck the entire time. At 6-foot-4 and with a 7-foot wingspan, Okogie's versatility allows him to match up against both guards and forwards, while poking the ball away from all. He is leading all rookies with 1.22 steals per a game.

"Yeah, always steals, I just have good instincts defensively. I just always try to get out and get a steal here and there and make plays," Okogie said. "I mean, I'm learning now still, work through my mistakes, learning through others, but I know if I keep working I can be who I'm supposed to be."

Head coach Tom Thibodeau is notorious for having rookies on a short leash and not trusting them with significant minutes, but Okogie broke that barrier by impressing Thibodeau early on in the season. His aggressive defense and advanced grasp on the Wolves' system has earned Okogie a regular spot in the rotation, and he has started six of the nine games he's played this season.

"I don't really know per se," said Okogie on how he gained Thibodeau's trust. "Every time I'm on that court I give it my all. I'm going to take advantage of my minutes and try getting more to stay on the court and produce."

The NBA players Okogie emulated and tried to mold his game after while in college may help paint the picture of why he is playing at such a high defensive level early in his career. They have all been members of an NBA all-defensive team in recent years, and one of them is a current teammate.



"Back in college I wanted to be like Jrue Holiday, Paul George, Jimmy Butler. … It's funny because being able to play with him (Butler) and learn from him now," Okogie said. "I just wanted to be like the guys that are 'that man' on both sides of the ball."

The Wolves rookie is averaging 9.7 points per a game, ninth amongst NBA rookies, but he is still strong-minded about improving his offensive output. In pregame shootaround, he doesn't just go through the motions or use it as simply a warmup, Okogie goes all-out at game speed to fine-tune his shot, particularly his 3-point shooting.

"I work on it every day … It's not falling right now like I want it to, but I'm just going to keep on shooting it and when it does fall … I'm just going to keep shooting and shooting and shooting," Okogie said about his long-range game. "My confidence is there."

Before entering the NBA, Okogie was grooming his game at Georgia Tech, a member of the Atlantic Coast Conference, which has been a darling for NBA talent for decades. Okogie alluded to it being like an "NBA-junior." Facing elite college players night after night gave Okogie a jump start towards his preparation for the NBA.

"I think the ACC is one of the better competitive conferences in the country," he said. "It's funny because me and Tyus (Jones, who went to Duke) started and the other teams have ACC guys. All these guys you've played with in college or guys you've seen come through the ACC [are in the NBA]. The ACC is really deep in the league, so it's nice to be a part of it."



There's a good chance Okogie will be invited to Charlotte this year for All-Star weekend to participate in the 2019 Rising Stars Challenge. If that were to happen, he would be back in the heart of ACC country.

With his wingspan and 42-inch vertical, and with already being the owner of a handful of posterizing dunks so early in the season, it brings to wonder if Okogie will get a nod to be in the dunk contest as well.

"It hasn't really crossed my mind to be honest," Okogie said. "If it happens it happens, but for right now I'm focused on being the best that I can be and just trying to win."

With such a young roster, the Timberwolves aren't that harsh with rookie hazing according to Okogie. Instead, the veterans spend their time and efforts helping and mentoring him. If anything, Okogie is the one hazing himself by always offering to do a rookie errand/chore.

"I think these guys are really cool.  I take it upon myself sometimes to help them out, and ask them if they need anything done," Okogie said, as an unseen and eavesdropping teammate around the locker-room corner interrupted and jokingly yelled "yo rook, grab my bag!"

"Sometimes it gets a little crazy," Okogie continued with a laugh. "But for the most part they do a good job of teaching me and helping me become a better player."


---
---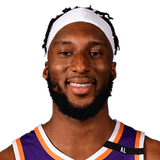 Get more from Josh Okogie
Follow your favorites to get information about games, news and more
---