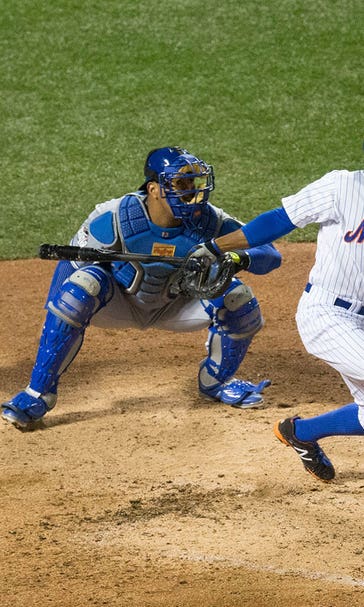 October Moment: Granderson exploits Ventura's diminished velocity
October 31, 2015

Already down 2-0 in the World Series, the Mets entered the bottom of the third inning of Friday's night game trailing 3-2, as the Kansas City offense had characteristically singled itself to an early lead. Noah Syndergaard led off the inning with a sharp single to right field, and with the top of the Mets order coming to the plate, this appeared to be a crucial spot early on; with the Royals offense racking up hits, the Mets couldn't afford to waste opportunities to score runs off Yordano Ventura, since the Royals bullpen has proven that it holds leads if given the opportunity.
With Syndergaard on first, Curtis Granderson came to the plate representing the go-ahead run, but with David Wright, Daniel Murphy and Yoenis Cespedes behind him, his primary job in that at-bat was to not make an out. If the Mets could get another baserunner, they'd set themselves up for a potential big inning, and give themselves some breathing room against a Royals offense that seemed unlikely to stop putting the pressure on their young pitching staff.
Ventura, struggling with his command, quickly fell behind Granderson with a changeup outside. His second pitch, a fastball, wasn't close either, as he buried it down in the dirt. Ventura didn't want to walk Granderson, so he came over with a 2-0 fastball in the middle of the plate, and he probably got a little lucky that Granderson took it for a strike; it was the kind of elevated middle-of-the-plate fastball that could have been hit a very long way. But Granderson is a patient hitter and was willing to force Ventura to prove he could throw a strike before he swung, so Ventura got a free strike off a pretty mediocre pitch. And then, inexplicably, he threw a 2-1 fastball that was just as elevated and even more centered.
Look at pitch #4 on that graph from BrooksBaseball; that is about as middle-middle as a pitch can be. It would have been excellent location if Ventura was trying to win some kind of stuffed animal at a county fair, but in terms of sneaking a 2-1 fastball by a good hitter in the World Series, you probably can't put a ball in a worse spot. So Granderson did with this pitch what he probably could have also done with the one right before it.
Interestingly, right before the pitch was delivered, Harold Reynolds was finishing a sentence about Ventura pitching with diminished stuff, and he ended the thought with "not the same velocity" a split-second before Granderson launched the go-ahead home run on a 94.6-mph fastball. In this instance, Reynolds is exactly right, as Ventura's fastball was noticeably slower tonight.
According to the PITCHF/x data assembled by Brooks Baseball, Ventura's fastball sat around 95 mph tonight, the slowest that pitch has been registered since a start against the Tigers back in August. In his first postseason start against the Astros a few weeks ago, he sat around 98, and was 97 in his next two appearances as well. He showed some diminished velocity in his last start against the Blue Jays, with the two-seam fastball dropping below 96 for the first time in the playoffs.
In that last start against Toronto, Ventura was able to get the Royals 16 outs even without his good sinker, but tonight, the stuff ticked down even further and he wasn't commanding it well. Poorly located 95-mph fastballs aren't going to fool many hitters, and this one certainly didn't fool Granderson, as he deposited it down the right-field line for a 4-3 Mets lead.
The Royals still have a 2-1 lead in the series, so their 9-3 loss in Game 3 doesn't create any kind of need for panic. But the downturn in Ventura's velocity and effectiveness does call into question whether he's the guy they'll want to throw in a potential deciding game if this thing goes the distance. Even with good velocity in the early rounds, Ventura has been hittable this postseason -- opponents came into the game batting .278/.358/.500 against him, and the Mets raised those numbers tonight -- and he's now shown declining stuff in both of his last two trips to the mound.
A potential seventh game is still a ways away, and the Royals very well could win two of the next three, ending the series before Ventura has to take the mound again. Given what he was throwing tonight, and where he was throwing it, that should probably be what Ned Yost is rooting for, because if this thing goes to a seventh game, I'm not sure how confident the Royals should be in Ventura right about now.
---
---