'Miracle on Ice' team doctor mugged at wife's Minnesota gravesite
April 21, 2015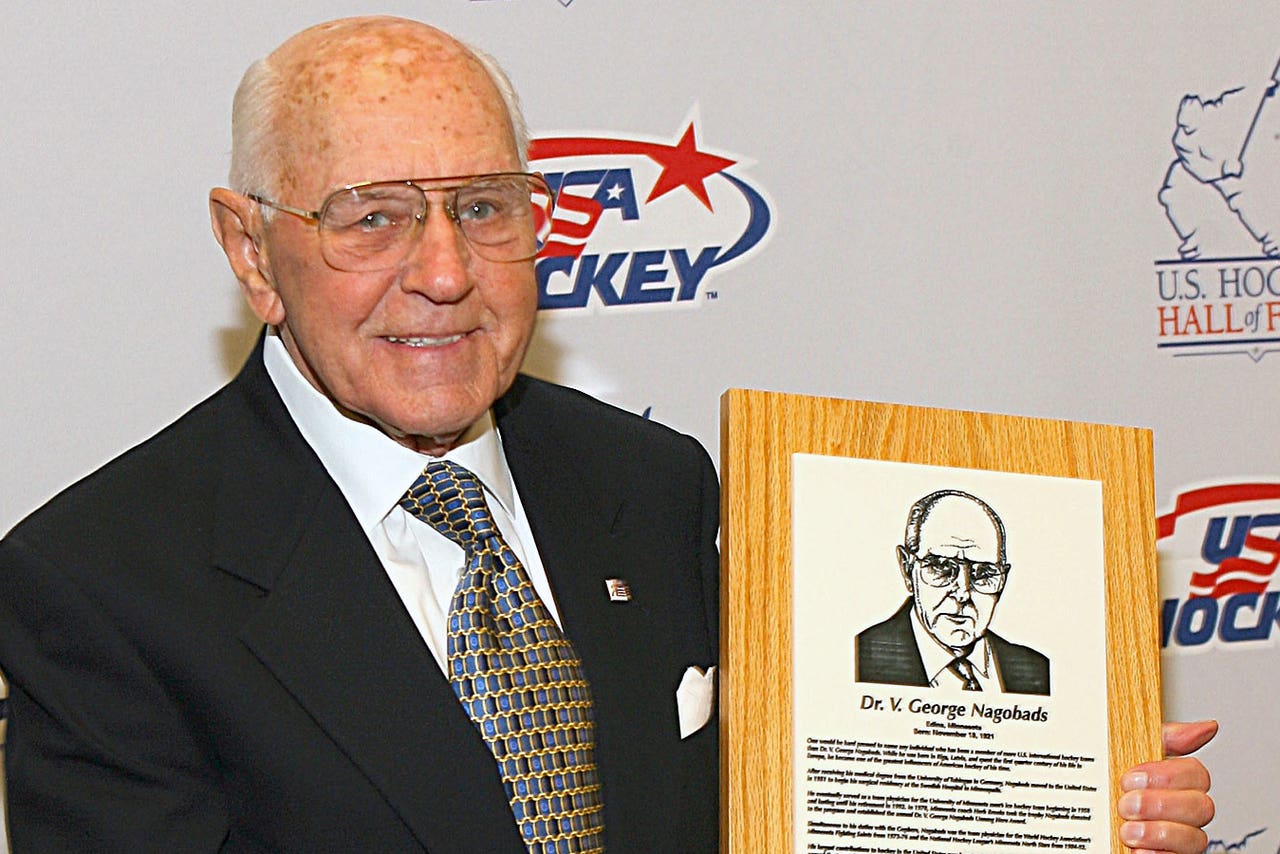 The team doctor for the United States' 1980 "Miracle on Ice" gold medal-winning men's hockey team was mugged Sunday while visiting his wife's grave in Minneapolis.
According to the Minneapolis Star Tribune, George Nagobads had a concussion and needed 18 stitches after a teenager attacked the 93-year-old with a windshield snow brush around 3:30 p.m. at Crystal Lake Cemetery, where Nagobads had gone to pay respects to his late wife, Velta, who died in 2005.
Nagobads told the Star Tribune that he was crouching to put flowers by Velta's grave when the assailant struck him with the plastic brush. Nagobads then threw his wallet to distract the attacker and was able to get to his car -- which he used to drive himself to the hospital -- while the boy went to retrieve the wallet.
"I was running . . . really fast," Nagobads told the paper. "I was surprised how I could run like this."
A witness, 52-year-old Justin McCarthy, estimated that Nagboads' attacker was 14 or 15 years old and said the boy rode away on a bicycle. Nagobads' wallet was later recovered and taken into evidence, according to the Star Tribune.
The owner of Crystal Lake Cemetery, Bill McReavy, told FOX affiliate KMSP that the attack on Nagobads was an "isolated incident" and added that the cemetery "(is) looking at it very closely." The incident was not caught on security video, however.
Said the witness, McCarthy: "(Nagobads told me), 'I gave him my wallet, and he still tried to kill me.'"
Though the Latvian-born Nagobads rose to fame as the doctor for the 1980 "Miracle on Ice" team -- one of 30 U.S. teams he worked with over the years -- he also served as the team physician for the University of Minnesota men's hockey team from 1958 until 1992. Herb Brooks, the coach of the 1980 U.S. team, guided the Golden Gophers to three national titles during a seven-year stint in the 1970s before leading the U.S. to gold in Lake Placid, N.Y.
Afterward, Brooks became the coach of the New York Rangers but would later be reconnected with Nagobads during his brief stint as the coach of the Minnesota North Stars, where Nagobads worked as the team doctor from 1984-92.
"All those years, we had glory, and we had defeats," Nagobads told the Star Tribune in 2010. "But we also managed to have many days of fun and laughter. Those things, you always remember."
---
---