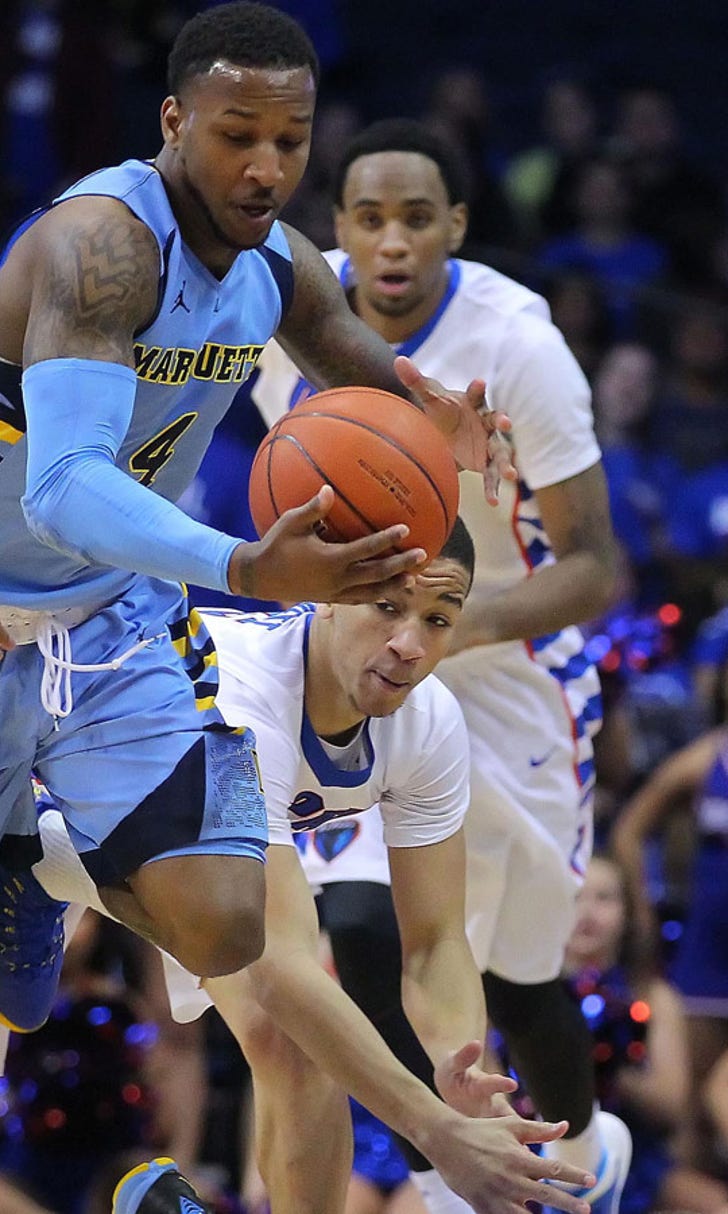 Marquette holds on for 96-94 victory over DePaul
BY foxsports • February 22, 2014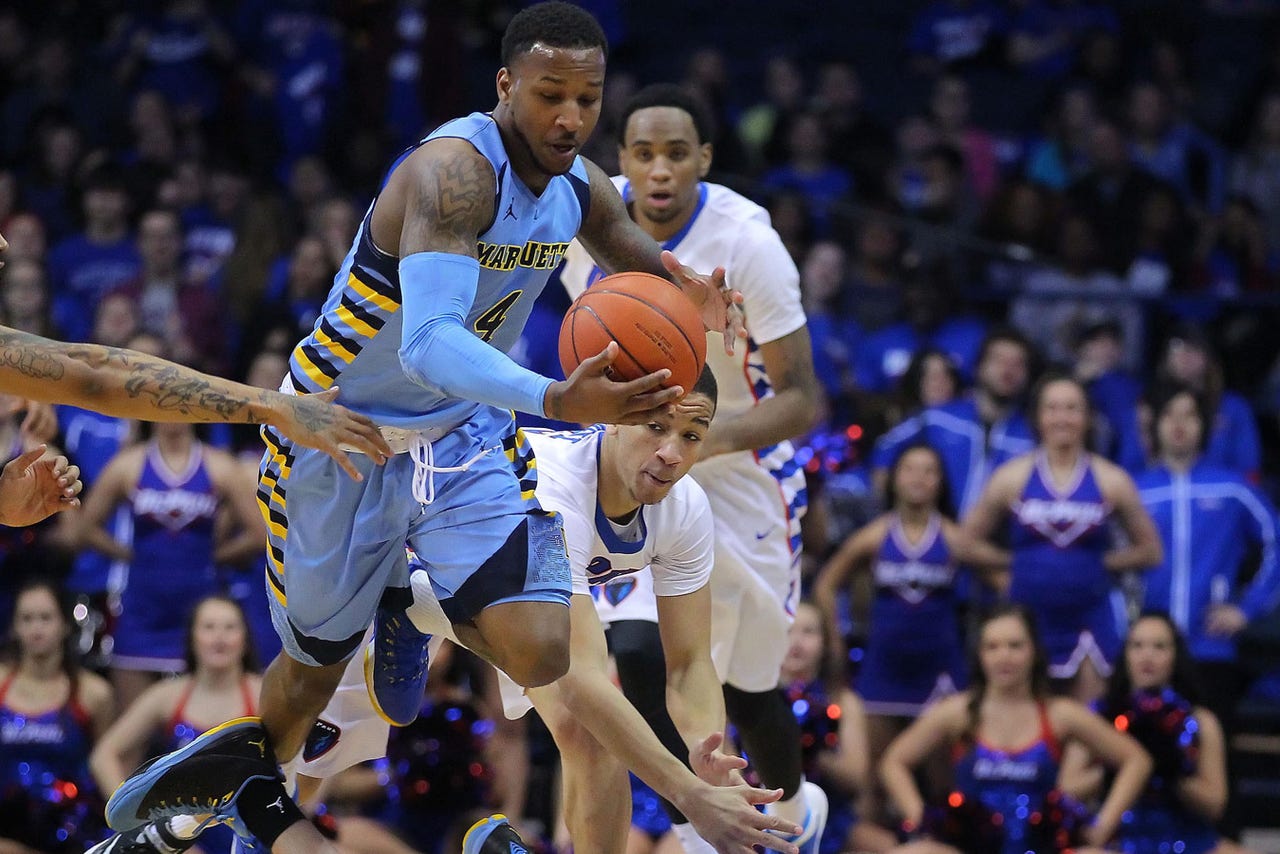 ROSEMONT, Ill. -- Davante Gardner scored seven of his 22 points in overtime, including a key three-point play, and Marquette held on for a 96-94 victory over DePaul on Saturday.
Gardner made a strong move inside and drew a foul on Greg Sequele with 1:44 left, then made the resulting foul shot to give the Golden Eagles a 91-89 lead. Derrick Wilson added a layup and Gardner made two more free throws to make it a six-point game with 32 seconds left.
DePaul closed to 96-94 when Brandon Young made a layup with 6 seconds to go and Gardner then threw the ball away. Durrell McDonald tried one last 3-pointer for DePaul, but it was short.
Todd Mayo scored 19 points and Jamil Wilson had 18 for Marquette (16-11, 8-6 Big East), which has won four of five. Chris Otule scored 12 points after he was scoreless at halftime.
Young had 29 points for the Blue Demons (10-18, 2-13), who have lost 10 straight. Billy Garrett Jr. scored a career-high 26 and McDonald had 13 points.
Gardner made a tiebreaking free throw with 30 seconds left in regulation, lifting Marquette to an 80-79 lead. After Garrett missed a tough layup inside, Jamil Wilson made two more foul shots to make it a three-point game with 8 seconds to go.
Plenty of time for the freshman Garrett, who calmly drilled a tying 3-pointer from the wing with 2.6 seconds remaining. Garrett then pounded on his chest while the crowd cheered and Derrick Wilson made a 75-footer for Marquette that was waived off because coach Buzz Williams had called for a timeout, just adding to the bedlam.
The Golden Eagles tried for a long pass down the court that was broken up, sending the game to overtime.
It looked as if Marquette was going to put DePaul away when it opened the second half with a 12-1 run, grabbing a 56-42 lead on Juan Anderson's layup with 15:21 to go. Otule had a backboard-shaking dunk and a pair of layups in the spurt.
But the Blue Demons turned up the pressure on defense and slowly chipped away at the deficit. Garrett's 3-pointer at the end of the shot clock capped an 8-0 run and tied it at 68 with 6:23 remaining, setting the stage for the dramatic finish.
DePaul missed its first 10 shots and was scoreless before DeJuan Marrero made his second free-throw attempt with 13:47 left, trimming Marquette's lead to 7-1 and drawing a round of sarcastic cheers from the crowd. Garrett then hit a 3-pointer for DePaul's first field goal, and the Blue Demons began to find some holes in the Golden Eagles' stout defense.
Forrest Robinson made a 3-pointer and Garrett hit two foul shots to give DePaul a 28-27 lead with 5:11 to go. But Thomas responded with consecutive 3-pointers and Mayo made two foul shots to restore the Golden Eagles' seven-point advantage.
Jamil Wilson and Young exchanged three-point plays in the final seconds of the half, leaving the Golden Eagles with a 44-41 lead at the break. Marquette shot 56 percent in the first half, making 4 of 5 3-point attempts.
---