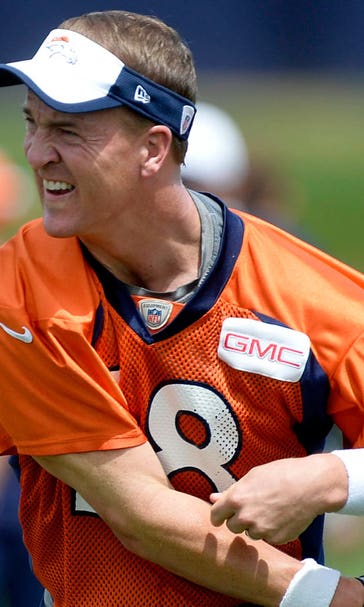 Manning passing academy celebrates 20 years of success
July 10, 2015

The Manning family football dynasty is all once again assembled in Thibodaux, Louisiana this weekend, standing at the helm of the largest football camp in the country, as it celebrates its 20th anniversary.
The Manning Passing Academy started in New Orleans at Tulane University with 185 participants, moved to Southeastern Louisiana University and then eventually settled in Thibodaux at Nicholls State University a decade ago.
Since then, the Academy estimates half of all starting NFL quarterbacks have passed through its doors as either campers or counselors, even though the intended goal is simply to enhance the prep experience.
"We have accomplished our mission, which was to enhance the high school experience for young quarterbacks and wide receivers," former NFL quarterback Archie Manning said. "This camp is not an all-star camp, it's not to make them into college players and certainly not pro players, but it is to help them with their skills, their leadership qualities, character, their knowledge of nutrition and hydration, character, work habits and the cerebral part of the game. The kids who come to our camp want to play high school football, and we want their experience to be a good one."
The Manning Passing Academy experience certainly seems to be worthwhile, considering campers come from all 50 states, Canada and Guam to participate in 4-days of instruction, headlined by Archie Manning and his sons: Denver Broncos quarterback Peyton Manning, New York Giants quarterback Eli Manning and Cooper Manning. This year, 1,167 young athletes are attending the Academy.
The camp is the brainchild of Peyton Manning, who pitched it to his dad after observing the Bowden family camp at Samford University in Birmingham, Alabama.  
"I had no idea when I first spoke to my dad about it that we would have some impact on the prep game," Peyton Manning said. "It's what I wanted to bring to the high school game. While the running game down South is always something you will see, the development of young quarterbacks is also important. Just roughly looking at the numbers, we have had more than 20,000 kids attend these camps. I'm overwhelmed by how this has been received. We aren't a 7-on-7 camp, but with my dad, Eli, Cooper and the counselors we want to give these guys some technical and also some focus ideas to take back to them when they head back to high school. I think we have done a pretty good job. "
Part of the draw of the Manning Academy is that top college quarterbacks come from all over the country to serve as counselors. This year's top players/college athletes are:
Christian Hackenberg- Penn State
Jared Goff- California
Cody Kessler- USC
Trevor Knight- Oklahoma
Dak Prescott- Mississippi State
Brandon Doughty- Western Kentucky
Trevone Boykin- TCU
The star-studded roster of former camp counselors includes:
Andrew Luck-Stanford
Ryan Tannehill- Texas A&M
Jameis Winston- Florida State
Marcus Mariota- Oregon
Sam Bradford- Oklahoma
Colt McCoy- Texas
Nick Foles- Arizona
Russell Wilson- Wisconsin
Tim Tebow- Florida
Zach Mettenberger-LSU
Matt Stafford- Georgia
Kirk Cousins- Michigan State
Colin Kaepernick- Nevada
Christian Ponder- Florida State
Andy Dalton- TCU
A.J. McCarron- Alabama
One never knows who they'll find at the Academy. This year, Saints head coach Sean Payton and Packers head coach Mike McCarthy are both in attendance, as their sons are both campers. 
---