National Football League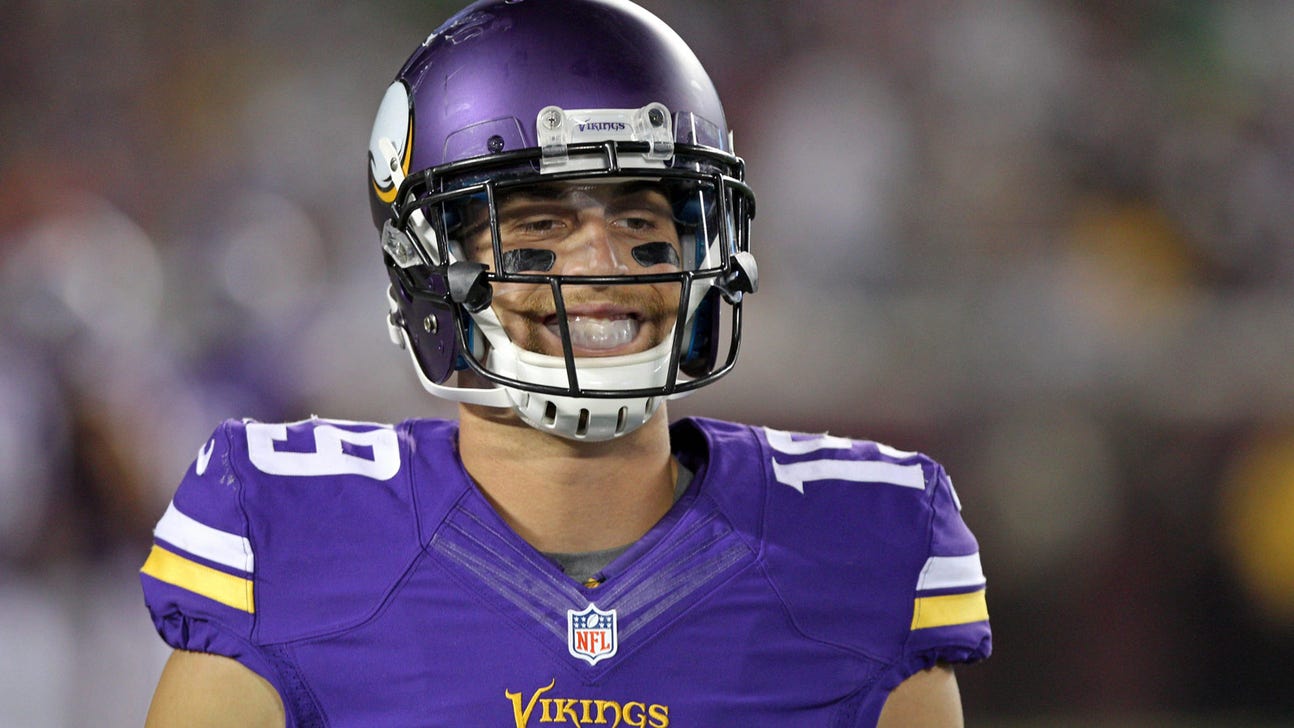 National Football League
'Mankato Flash' Thielen making case to make Vikings
Published
Aug. 11, 2014 2:50 p.m. ET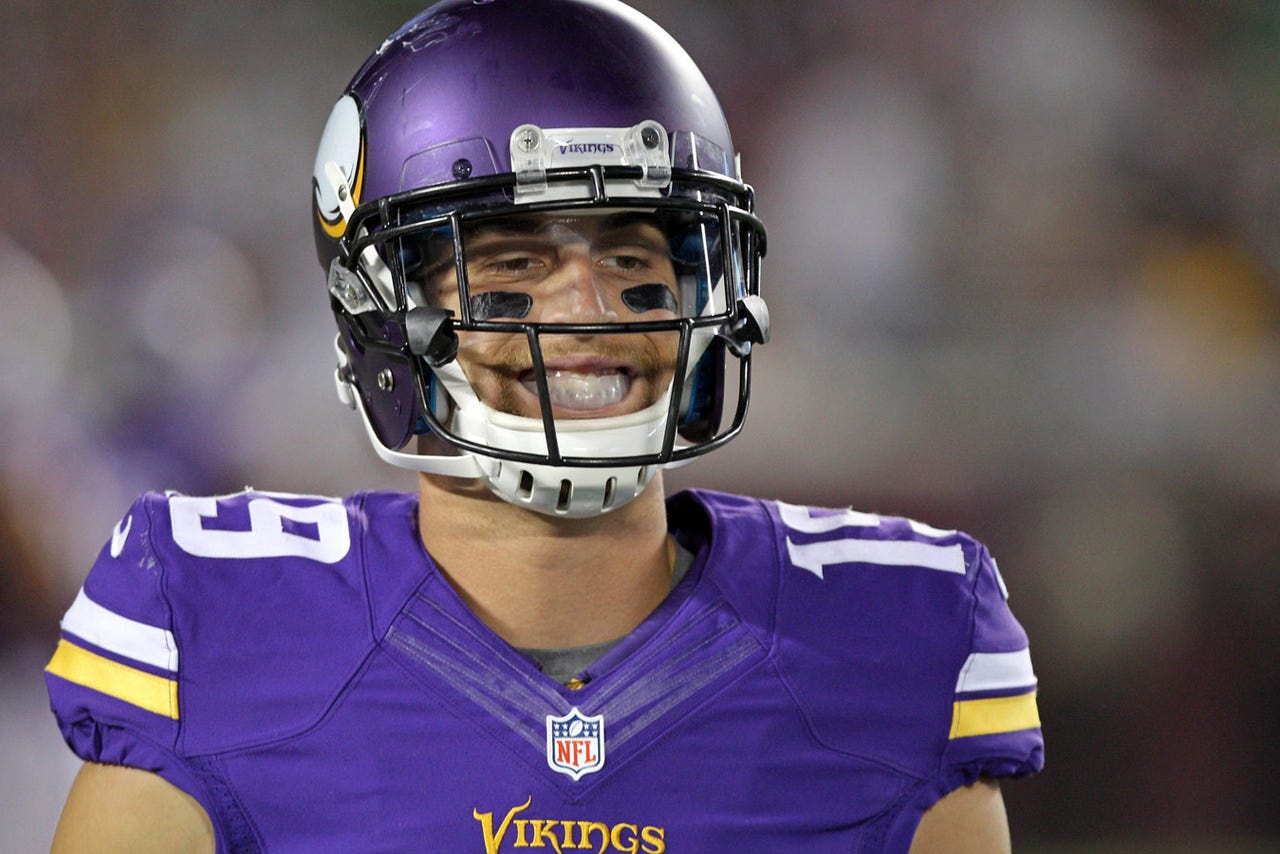 MANKATO, Minn. -- Walking around the Minnesota State campus, Adam Thielen doesn't feel much different from when he was a student at the rural Minnesota university and a football player for the school.
His teammates and coaches have noted how far Thielen has come these days as he makes his way around Minnesota Vikings' training camp and tries to make an NFL active roster for the first time.
Thielen might still be pulling on a purple and gold jersey like he did for the Division II Mavericks of Minnesota State, but this time the front of the jersey says "Vikings" and the throng of fans cheering for the local product -- Thielen is from Detroit Lakes, Minn. -- is much larger in scale.
The fanfare led Vikings' coach Mike Zimmer to tease Thielen that he's a superstar around Minnesota State, where the Vikings hold their training camp. Cordarrelle Patterson, a fan favorite himself and Thielen's roommate, agrees with Minnesota's new coach.
"He is a superstar, man," Patterson said. "He's a superstar to me, too. He tries to call himself 'Mankato Flash.' He's trying to steal my name and stuff, you know. But he's a great guy, man. At the end of the day, man, hats off to Adam. I know he's going to make this team. I don't care what anybody else says, man. He's a part of this team."
Thielen is growing more comfortable in his second training camp with the Vikings. But he still believes he's competing for a spot on Minnesota's active roster after spending all of last season on the practice squad.
"I think he's just playing with you guys," Thielen said of Patterson's recommendation. "He's a good dude. I'm not trying to think about that. I'm just trying to come out here and get better and see what happens."
This year is different for Thielen, no matter how much another late summer in Mankato feels similar.
He's provided some of the highlights of training camp practices with diving catches, drawing applause from the crowd. None of the occurrences surprise Patterson, who believes Thielen has already made the team.
"I've been trying to give him confidence, but he just feels like he's not part of this team," Patterson said. "I tell him every day, 'Man, you're a part of this team,' and he's still saying, 'I'm not. I'm not, man. I've still got to go in and prove myself.' But you need that out of a guy, man, feeling like you're not a part of this team. It's just making him work harder."
Thielen is getting closer to earning a spot in a deep group of receivers that includes Patterson, Greg Jennings, Jarius Wright and Jerome Simpson. The 6-foot-2, 195-pound Thielen is also getting work as a punt returner and on punt coverage.
He displayed his work in each phase in Minnesota's preseason opener Friday. Thielen's lone catch, a 15-yard reception, was on a third down to extend a drive. He had three punt returns for 52 yards and made one tackle on punt coverage, stopping Oakland's returner in his tracks for a 4-yard loss.
"He's a guy that has a lot of toughness, a lot of heart," Zimmer said. "He wants to make the football team and he's giving his best effort to do it. Guys like him, you can win a lot of football games with guys like him."
Thielen felt he missed opportunities in Friday's game, particularly on punt returns where he averaged 17.3 yards per return. Special teams coach Mike Priefer is beginning to appreciate Thielen's work.
"The more I see from the other night, the more comfortable I'll become," Priefer said. "Because I expected him to play that well and he did for the most part, so I was excited about his performance."
Thielen left Minnesota State as the school's second-leading receiver all-time with 198 catches. He was third in receiving yards (2,802 yards), third in receiving touchdowns (20), third in punt returns (57) and punt return yards (582) in school history.
Returning to the university only helps Thielen's fight for a roster spot.
"It's kind of crazy," Thielen said. "It's a real comfortable feeling for me. I feel like I never left. So, it's a good thing. It's a good thing. It's comfortable for me and it makes it easier just to focus on football."
He's got an NFL season under his belt, too, adding to the comfort level and adjustment in his training camp.
"Everything happens for a reason and I wouldn't trade anything for last year," Thielen said. "I learned a lot of stuff from those guys and was able to watch how they prepare and the way they play, and I'm taking a lot of that stuff with me this year."
Of course, being back on campus leads to ribbing from teammates. Thielen's growing confidence shows in his ability to return the favor like stealing the "Flash" nickname from his roommate Patterson.
"That's what I said, 'I'm the real Flash now,'" Thielen said. "I just mess with him."
If Thielen can keep up his strong camp, the banter could continue on the field in the regular season.
Follow Brian Hall on Twitter
---
---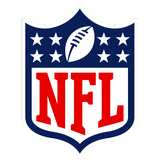 Get more from National Football League
Follow your favorites to get information about games, news and more
---