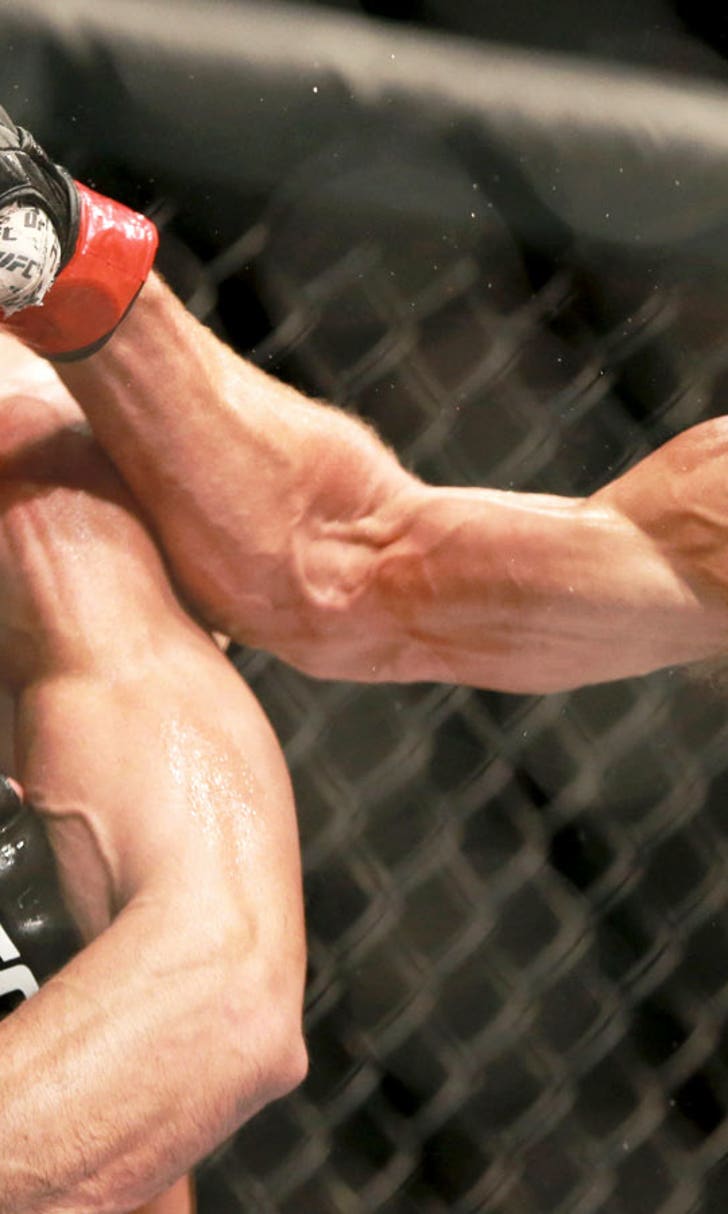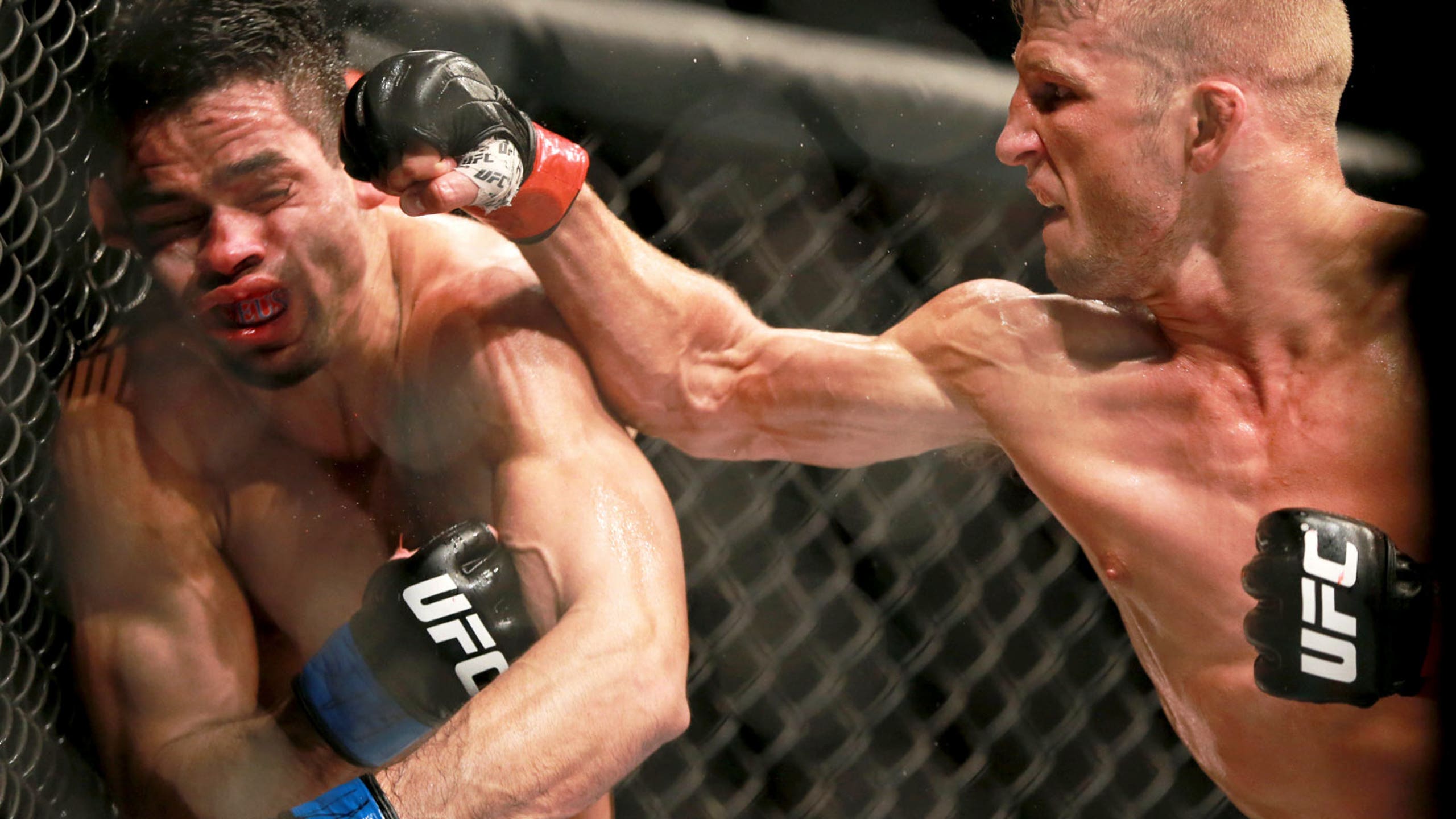 Making the Grade: Passes/Fails for UFC Fight Night: Dillashaw vs. Barao 2
BY Damon Martin • July 26, 2015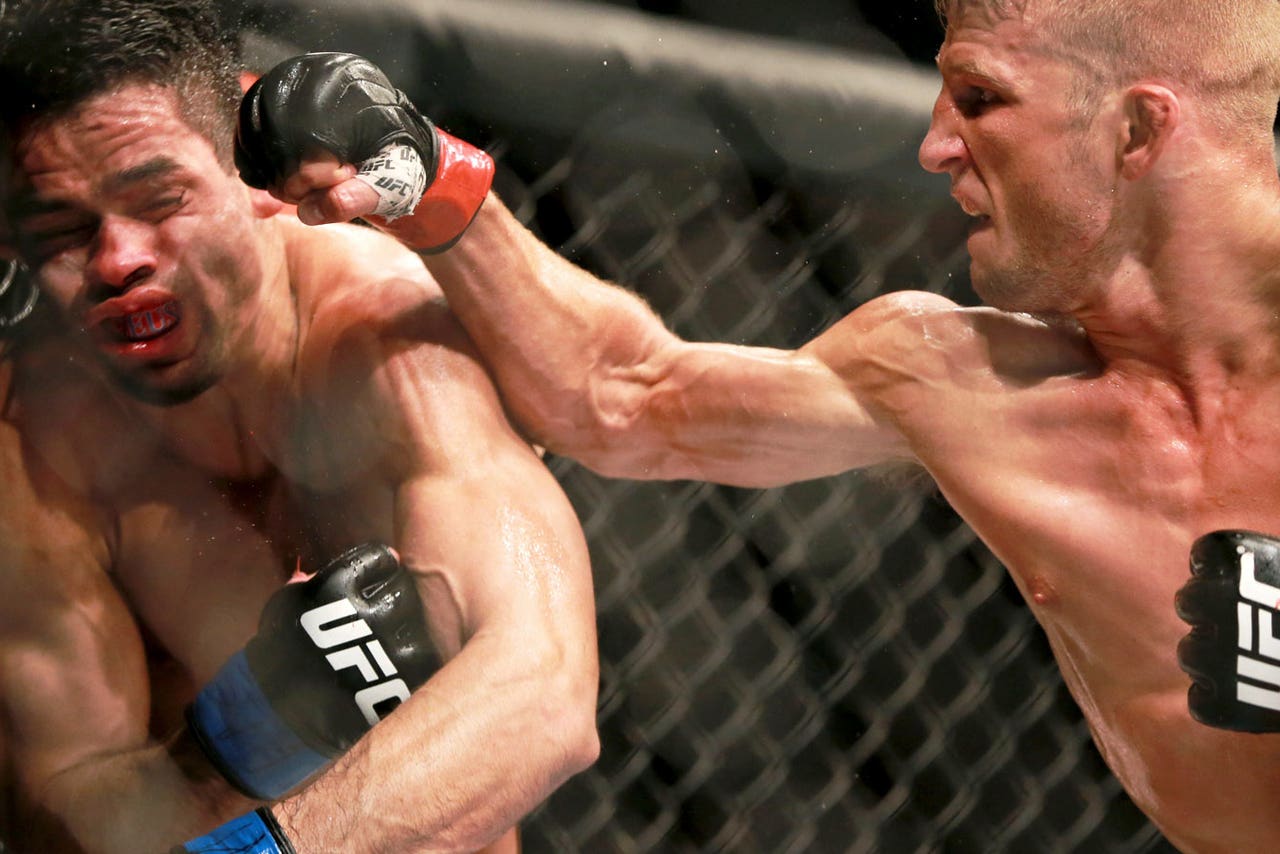 On Saturday night, T.J. Dillashaw reaffirmed his spot atop the bantamweight division with a one-sided beatdown of former champion Renan Barao in the main event of FOX UFC Fight Night in Chicago.
The first time Dillashaw beat Barao, it was called one of the biggest upsets in UFC history.
There was no mistake this time around, however, as Dillashaw orchestrated a masterful strategy and execution while pummeling Barao over the course of three rounds before putting him away just seconds into the fourth.
Meanwhile, Miesha Tate established herself as the top contender at 135 pounds yet again with a win over Ohio native Jessica Eye. Tate struggled with Eye's hand speed early, but once she got a knockdown late in the first round, the momentum shifted and never left her side again.
But we already know the results from the card, so let's dig a little deeper and see who gets a passing grade and what failed on Saturday night. This is Making the Grade for FOX UFC Fight Night: Dillashaw vs. Barao 2.
PASSES
And Still
It's understandable on some level why T.J. Dillashaw's title reign still had a few questions surrounding it. He came in as an upstart and unlikely contender and took out Renan Barao just days after UFC president Dana White praised him as the best pound-for-pound fighter in the sport.
In the year that followed, Dillashaw only fought one time, a win over Joe Soto in a short-notice fight that took place on 24 hours notice after Barao suffered a weight-cutting mishap that took him out of their originally scheduled rematch. 
So as Dillashaw approached the second fight on Saturday night, many wondered if the first fight was a fluke or if he could even come close to duplicating the performance a second time around.
Well consider everyone's questions answered because Dillashaw not only won -- he destroyed Barao in even more impressive fashion than the first time.
Dillashaw beat Barao to the punch on virtually every exchange they had during the fight and the only thing that got better for the former champion in the rematch was his chin held up to endure more punishment that he did the first time. Dillashaw out-landed Barao 168-65 in total strikes while landing with a ridiculous 54.2-percent accuracy. It was as complete a performance as you could have in a title fight and Dillashaw executed flawlessly.
Now Dillashaw can move onto new challenges and establish his reign as champion while putting Barao in the rearview mirror for good. If you thought the first win was an upset, then the second victory should prove that Dillashaw is one of the best fighters on the planet and clearly the top 135-pound fighter in the world.
Tate is Hakeem Olajuwon to Rousey's Michael Jordan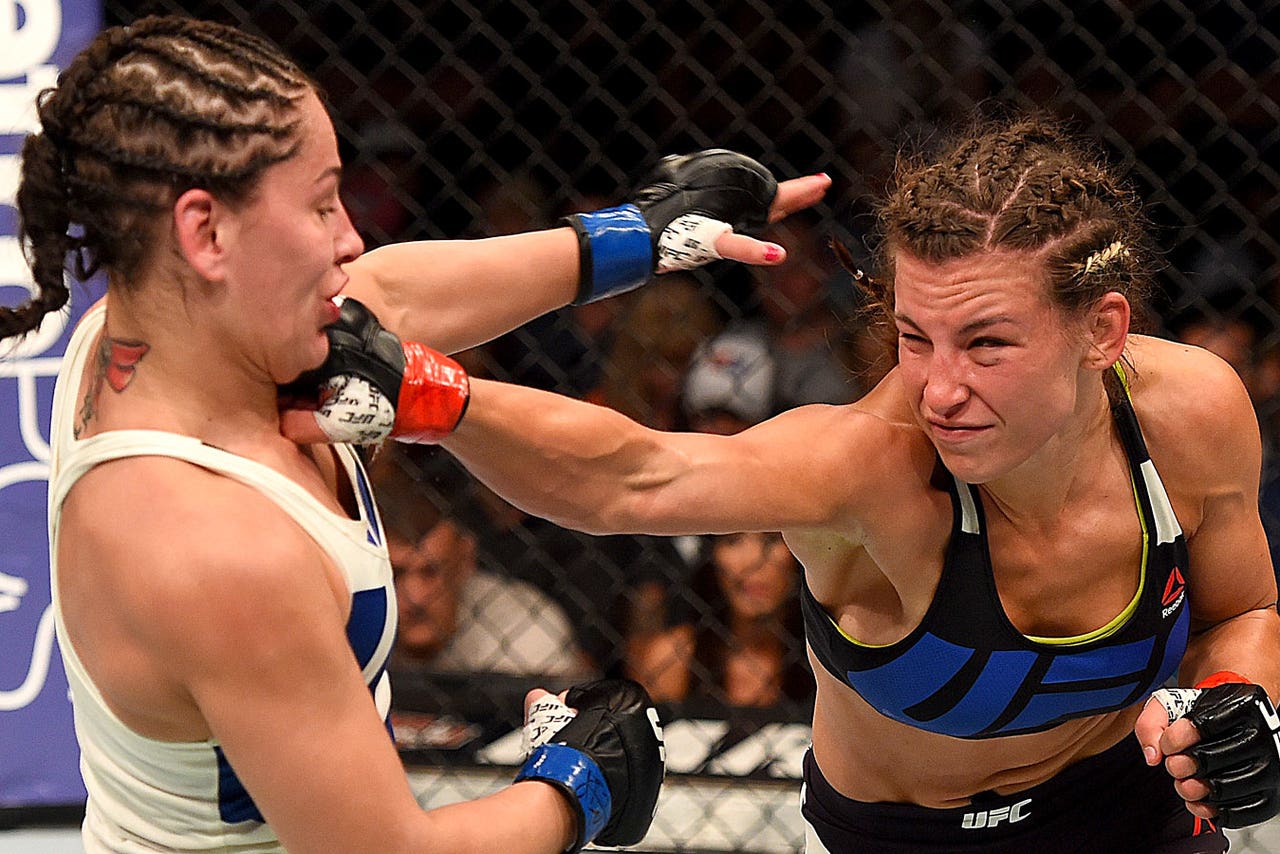 Back in the 1990s, while the Chicago Bulls were running roughshod over every other team in the NBA, only Hakeem Olajuwon's Houston Rockets were able to wrangle away a couple of championships while Michael Jordan was off living his fantasy of becoming a professional baseball player. The Rockets' championships in 1994 and 1995 were an impressive feat, but are often lost in the mix of history when surrounded by a trio of Bulls titles both before and after those back-to-back victories.
While Jordan is routinely mentioned as the best basketball player of all time, Olajuwon's accomplishments still earned him a place in the Hall of Fame and among the 50 greatest players in history.
When it comes to the UFC, Miesha Tate might just be the Hakeem Olajuwon to Ronda Rousey's Michael Jordan and that should be seen as a compliment and not a detriment.
Tate defeated Jessica Eye on Saturday night to win her fourth straight fight and likely a third chance to dethrone Rousey later this year. Tate has only lost three times in the past five years, twice to Rousey and the third to Cat Zingano in a fight she was winning until falling in the final round during a miraculous comeback from her opponent.
Tate is a former Strikeforce champion and quite possibly the best women's bantamweight fighter of the past decade outside of Rousey's gaudy accomplishments. In her last four fights, Tate has toppled a top five fighter in Eye and two former title challengers in Liz Carmouche and Sara McMann. 
Now Tate will certainly not settle for second place and if she gets a third fight with Rousey as expected, there's little doubt she'll do everything in her power to erase those two previous losses and become the first person in MMA to hand the former Olympic bronze medalist a loss.
But when the history books are written and somebody looks back at this era of the UFC in say 20 years, Tate should hold her head up high that she was among the best of the best and realize there's no shame in losing to the greatest of all time.  
So We're Throwing Spinning Stuff Now?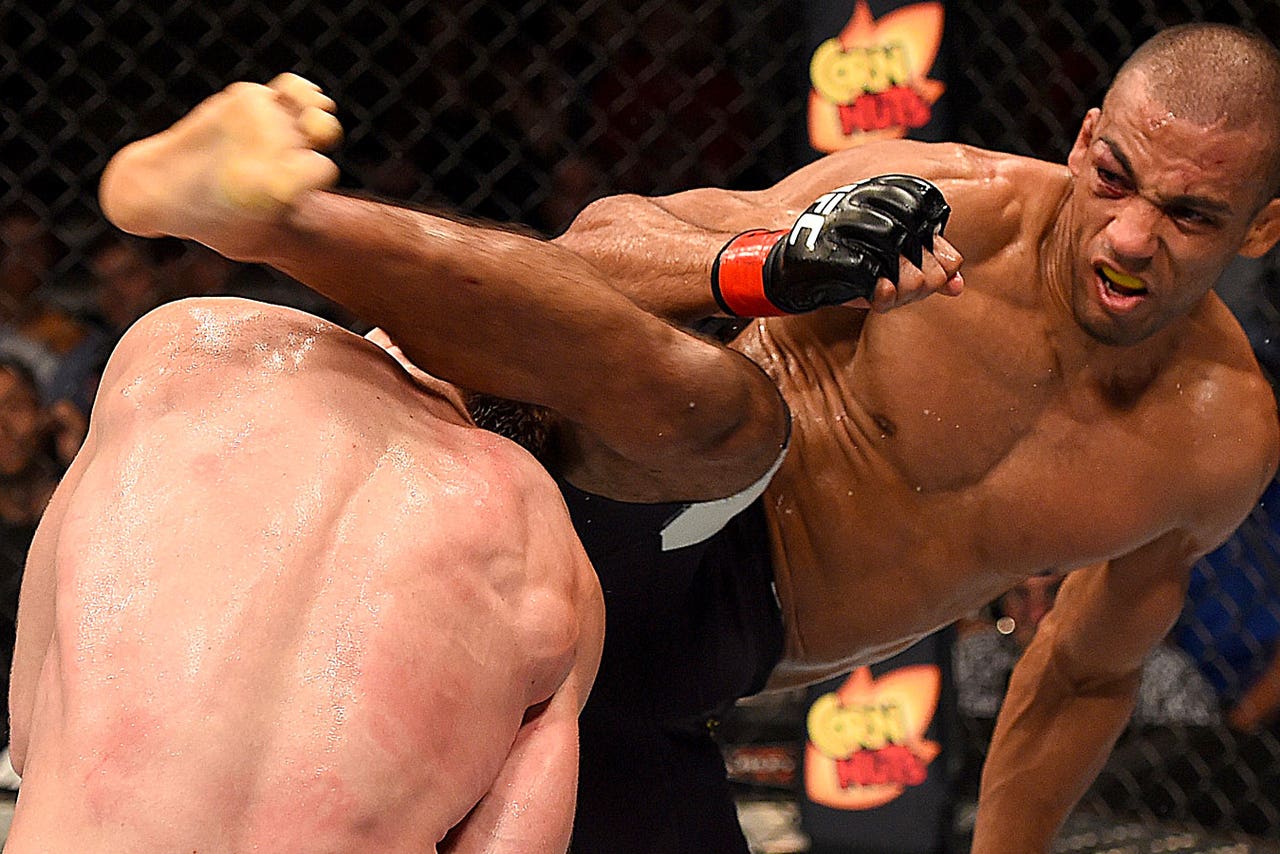 Most expected the lightweight fight between Edson Barboza and Paul Felder to be a potential show stealer and these two strikers did not disappoint one bit.
Barboza is well known for having some of the most brutal kicks in the UFC and he unleashed them at will as he targeted Felder's midsection and legs throughout all 15 minutes they spent in the Octagon together. Felder countered with a series of hard punches and a warrior mentality that saw him march forward and constantly put pressure on the former Muay Thai fighter out of Brazil.
Throughout the three-round bout, Barboza and Felder constantly threw spinning moves at each other like they were fighting inside "The Matrix." Barboza will launch a spinning kick and Felder would counter with a spinning back fist.
While it's no secret that Hollywood fight scenes are rarely realistic and often times an over-exaggerated display of flashy kicks, Barboza and Felder did their part to make every martial arts movie star of the past 50 years proud. The crowd in Chicago gasped and screamed over and over again as Barboza and Felder put on a three-round war with neither fighter backing down and throwing nearly 300 strikes between the two of them over 15 minutes.
Barboza ultimately won a close decision, but here's hoping matchmaker Joe Silva finds away to put these two fighters together again in the future because what we witnessed on Saturday night was something awfully special.
FAILS
Fireball Kid Extinguished
There's a famous line in the 1979 song "Hey Hey, My My" by Neil Young that says "it's better to burn out than fade away" and maybe that's true when it comes to rock stars, but it's certainly the reverse when applying that logic to combat sports and it was never clearer than watching former PRIDE legend Takanori Gomi fall by TKO for the second straight fight.
During his prime, Gomi was recognized as the best lightweight in the sport as he routinely punched a hole through his opponents with such vicious force that he barely needed a glancing blow to win by knockout. Gomi went on a 10-fight win streak between 2004 and 2005 that saw him either knock out or submit eight opponents while winning the PRIDE lightweight championship.
But age catches up to everyone and as Gomi started creeping into his 30s, the knockouts started to get fewer and fewer and the losses on his record began to mount. Every now and again, Gomi would pull out a classic finish -- like the time he face planted Tyson Griffin in the UFC -- but largely his best days were clearly behind him.
So it's been particularly hard to watch Gomi in his last two fights as he's been knocked out both times after never being knocked out previously in his career. He got blasted in just 92 seconds by Myles Jury last year in Japan and made it only a minute longer on Saturday night, this time being TKO'd by Joe Lauzon.
Gomi is now just 1-3 in his last four fights and 3-5 over his last eight. It's not easy to watch a legendary fighter settle into the latter stages of his career, but the worst possible ending for Gomi would be suffering more knockouts as he closes in on 40.  Hopefully somebody close to him will make sure he gets his head checked out thoroughly before opting to take another fight or discuss the possibility that maybe he shouldn't fight again.
The End of the Four Horsewomen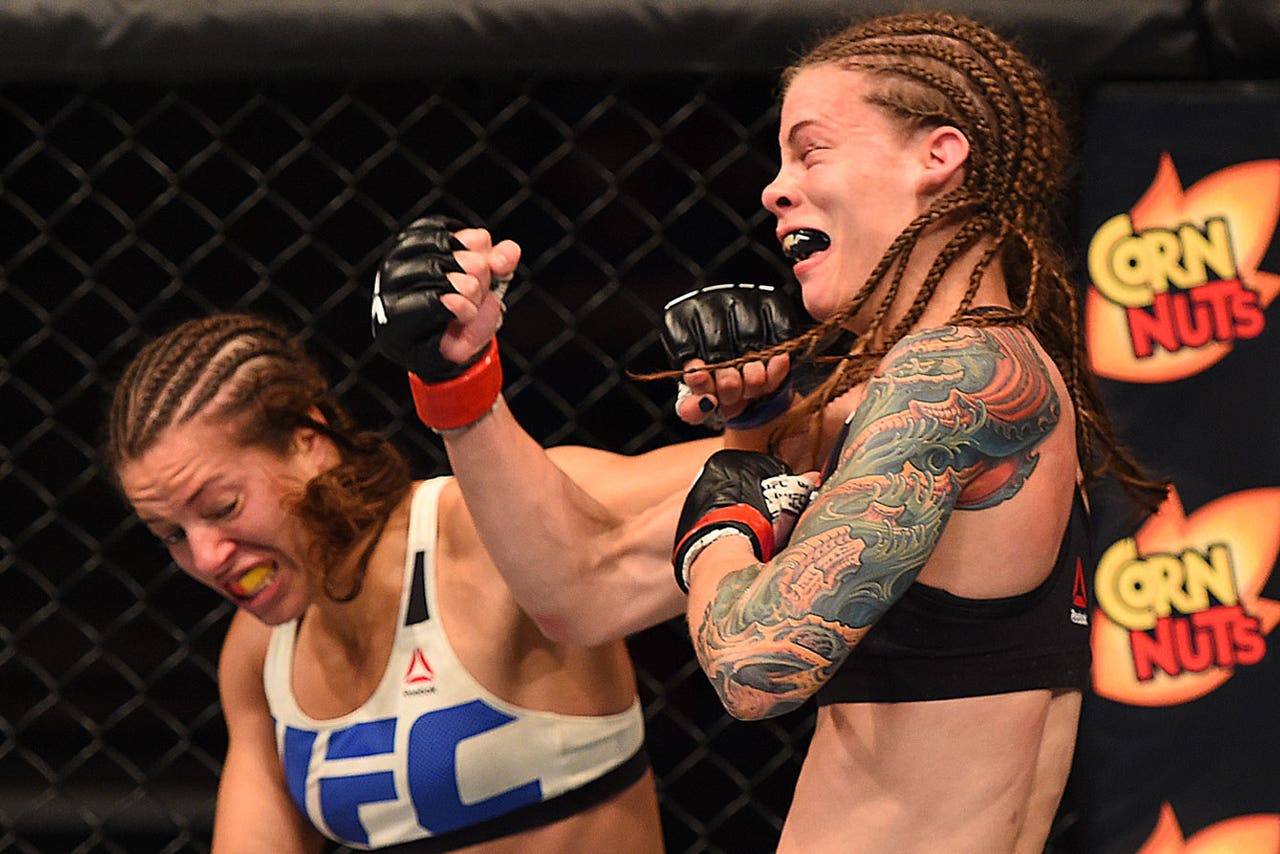 When Ronda Rousey stormed into the UFC in 2013, no one could have predicted at the time that she would eventually become the most recognized fighter on the entire roster and an international superstar who would appear at Wrestlemania and land acting roles in billion dollar franchises. Rousey even brought her friends along for the ride and christened the group consisting of Shayna Baszler, Jessamyn Duke and Marina Shafir as 'The Four Horsewomen'. 
It was a concept borrowed from the most famous professional wrestling faction of all time, the Four Horsemen. During their biggest days in sports entertainment, the Ric Flair-led Four Horsemen ruled the ring, with every combination of the group winning multiple titles and almost every member eventually being recognized as one of the greatest wrestlers of all time.
Unfortunately that's not been the case with the Four Horsewomen.
Outside of Rousey dismantling the competition in the bantamweight division, her three friends haven't had nearly as much luck. Baszler went 0-2 in the UFC after teaming up with Rousey and got bounced from the promotion following her last loss. Shafir, who fights at 145 pounds outside the UFC, has been knocked out in her two previous bouts in a combined 74 seconds. And then there's Duke, who might have been the best prospect of the entire bunch and she just dropped her third straight fight after winning in her Octagon debut in 2013.
None of this can be attributed to the fact that the four women became friends and formed a group together with a fun nickname, but the pressure that went along with that moniker certainly didn't help much. Actually, Rousey's next opponent, Bethe Correia, made it a point to target members of the Four Horsewomen just to earn her shot at the title despite never actually facing a top 10 opponent in the UFC.
It was a novel concept and for a pro wrestling enthusiast like myself, something quite fun as well, but facts are facts -- the Four Horsewomen are no more.
EPIC FAIL
Judges and Referees Have a Rough Night
So let's talk about all the gaffes made by the referees and judges at FOX UFC Fight Night: Dillashaw vs. Barao 2 because they were plentiful.
It started off with the prelims as Ramsey Nijem was absolutely robbed of a victory after the judges scored the fight in favor of his opponent Andrew Holbrook after three rounds. Nijem was the more active striker, out-landing Holbrook 29-20 in significant shots landed. He was six-for-six on takedowns and managed five guard passes during the fight as well. Certainly, Holbrook threatened with submissions but it appeared the damage he took from Nijem's punching power outweighed or at worst equaled those attempts. Still two judges saw the fight going the other way and Nijem left with a loss.
The referees didn't get away from bad judgments on this card either.
Herb Dean, who is the gold standard when it comes to referees in MMA, failed to notice that Takanori Gomi had been knocked clean out and Joe Lauzon actually got up from the ground, stood and began to celebrate while he was still staring down at the Japanese fighter passed out on the canvas. Only after Gomi barely picked his head up off the mat did Dean finally call a stop to the fight.
Then there was the bizarre standup in the co-main event when referee Yves Lavigne told Miesha Tate to get up off the ground while maintaining back control on Jessica Eye. Stand ups should never happen in my humble opinion, but in this case it was downright egregious because Tate was in full control and doing damage, but apparently not enough for Lavigne's liking.
I say the same thing all the time -- referees and judges have the most thankless jobs in the entire MMA industry -- but it's hard not to call them out on mistakes like these because in these cases one guy is going home with half his paycheck and another loss on his record while another might be dealing with a second straight concussion and maybe even worse if not for his opponent actually saying enough is enough and stopping the carnage. 
---
---