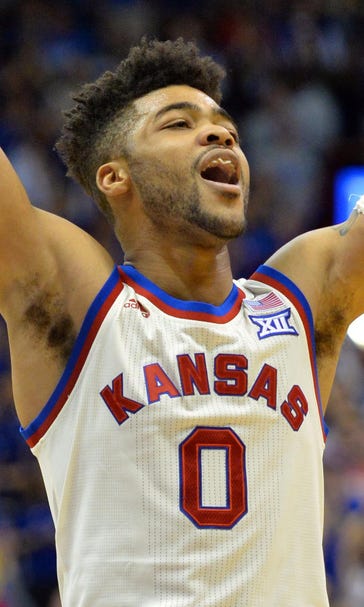 Kansas visits Texas in search of outright Big 12 title
February 24, 2017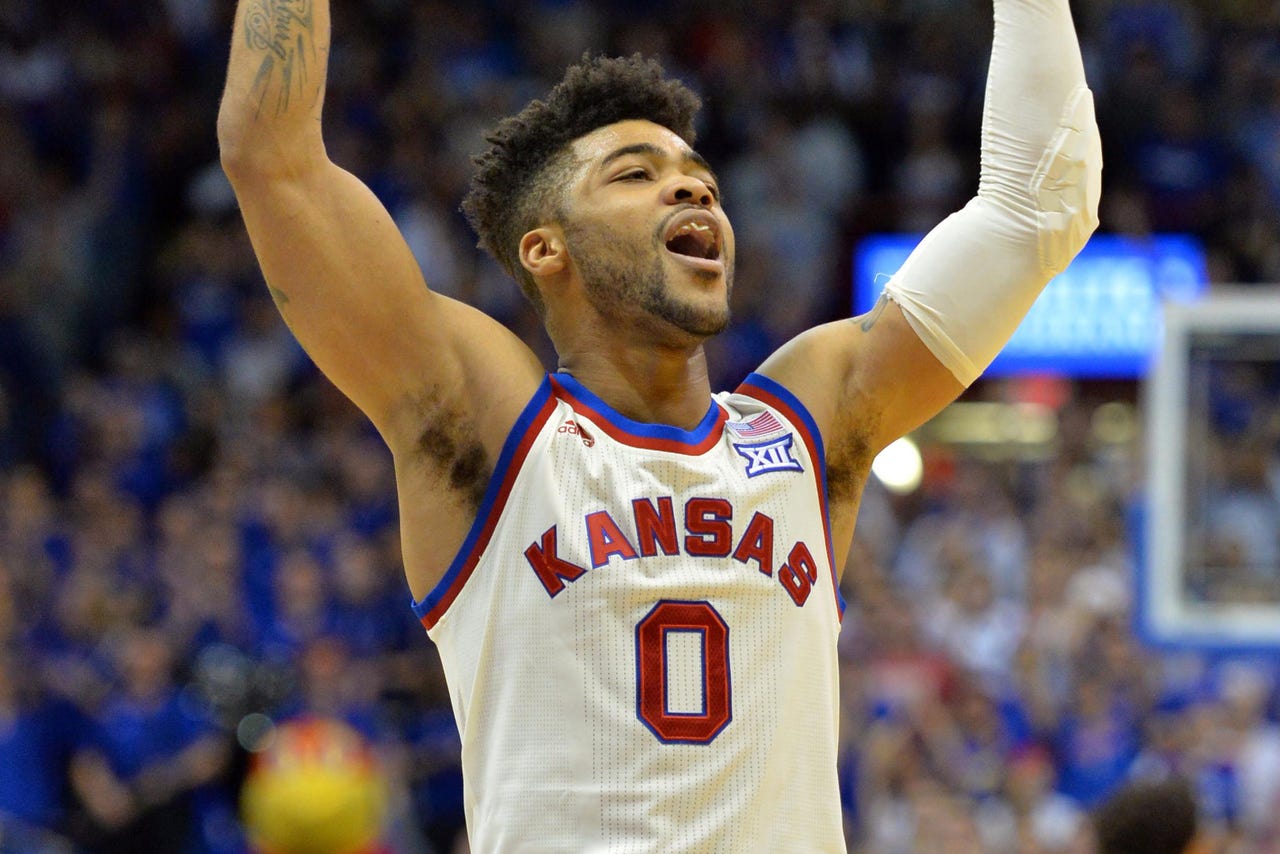 Frank Mason is the only Big 12 player averaging 20 or more points per game this season.
On paper, Saturday afternoon's Big 12 showdown in Austin between third-ranked Kansas and reeling Texas has to be considered a mismatch, a near-walkover for the surging Jayhawks on their way to clinching another outright conference championship.

But the Longhorns nearly always play their best when Kansas comes to town, and the Jayhawks would be wise to keep their guard up against Texas.

Kansas (25-3, 13-2 in Big 12 play) heads to Austin off an 87-68 victory over TCU on Wednesday that garnered the Jayhawks at least a share of its 13th straight Big 12 title.

The Jayhawks have a three-game lead on Baylor, West Virginia and Iowa State in the league standings with three games to play, meaning that a Kansas win Saturday would guarantee it a solo regular-season crown. Only one of the other three schools could potentially tie Kansas because the teams in pursuit all play each other down the stretch.

Kansas coach Bill Self, whose team has won five games in a row since a stunning home overtime loss to Iowa State on Feb. 4, said he has no plan to rest players in the Jayhawks' final three regular-season games.

"No -- after Texas, we play next Monday and then we can take Tuesday and Wednesday off," Self said. "We've got the Big 12 tournament coming up so I don't see any reason why we need to back off and do anything different than what we've been doing."

Guard Frank Mason III leads Kansas and the conference in scoring with a 20.3 points-per-game average while his 20.8 ppg in league play are also tops in the Big 12. Mason has 16 games of 20 points or more, including his last three and five of his last six contests. He is the only conference player averaging 20 points or more this season.

Mason, the Jayhawks' erstwhile Player of Year candidate, has been a key cog in winning four straight Big 12 titles.

"It's a great feeling -- this is what we worked for," Mason said. "Coach Self has done a great job of preparing us every day for this, and we do a great job of bringing energy to practice and locking in to whatever our goal is. Every year is special and I'm just glad I was able to be part of all four years. I'm just proud of my teammates, coaching staff and the fans for the unbelievable energy they bring every night."

Texas is looking to end a four-game losing streak, the latest setback a 77-62 defeat at No. 12 West Virginia on Monday. The Longhorns (10-18, 4-11 in Big 12), who have lost six out of their past eight outings, are winless on the road this season and have just two home games remaining -- Saturday's showdown versus Baylor and a March 4 showdown against No. 9 Baylor.

All seven of Texas' home league contests have been decided by four points or less (4-3 record). Fourteen of the Longhorns' first 28 contests have been decided by five points or less; Texas is 5-9 this year in games decided by five points or less and 3-7 in games decided by three points or less.



Texas guard Kendal Yancy said the Longhorns' string of losses in close games have had an effect on the team.

"It's really hard, especially for the seniors," Yancy said. "We have to be able to respond after losses and be able to win the next game because there's still hope. Any hope we can find we'll take it and run with it.

"Some of our younger guys are a little tired," Yancy said. "They are responding very well and are fighting through it. They have a big role. They really don't have any other choice but to respond, and I think they understand that."

One of those young players for Texas, freshman center Jarrett Allen, has elevated his game as the season has progressed. In Monday's loss at West Virginia, Allen reached double figures in scoring (17 points) for the 21st time this season (28 games) and 14th time in Texas' 15 Big 12 games.

Allen had a remarkable performance the only other time he played against Kansas, when he had a career-high 22 points, a career-high 19 rebounds (seven offensive) and tied a career high with three blocks in 34 minutes at Allen Fieldhouse on Jan. 21.

The Jayhawks hold a 28-8 lead in the all-time series, which dates back to a 36-34 Texas win in Austin on Dec. 16, 1938. Kansas has won the last six meetings in the series, with Texas' most recent victory against the Jayhawks an 81-69 win in Austin on Feb. 1, 2014.
---
---