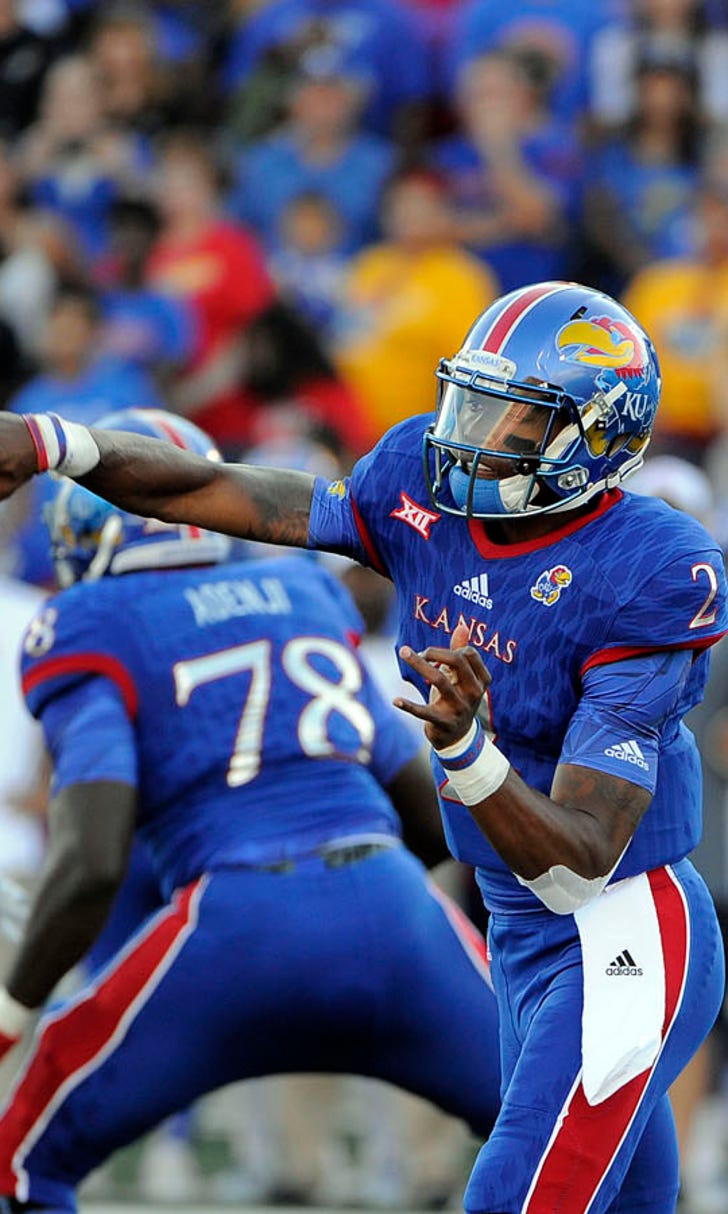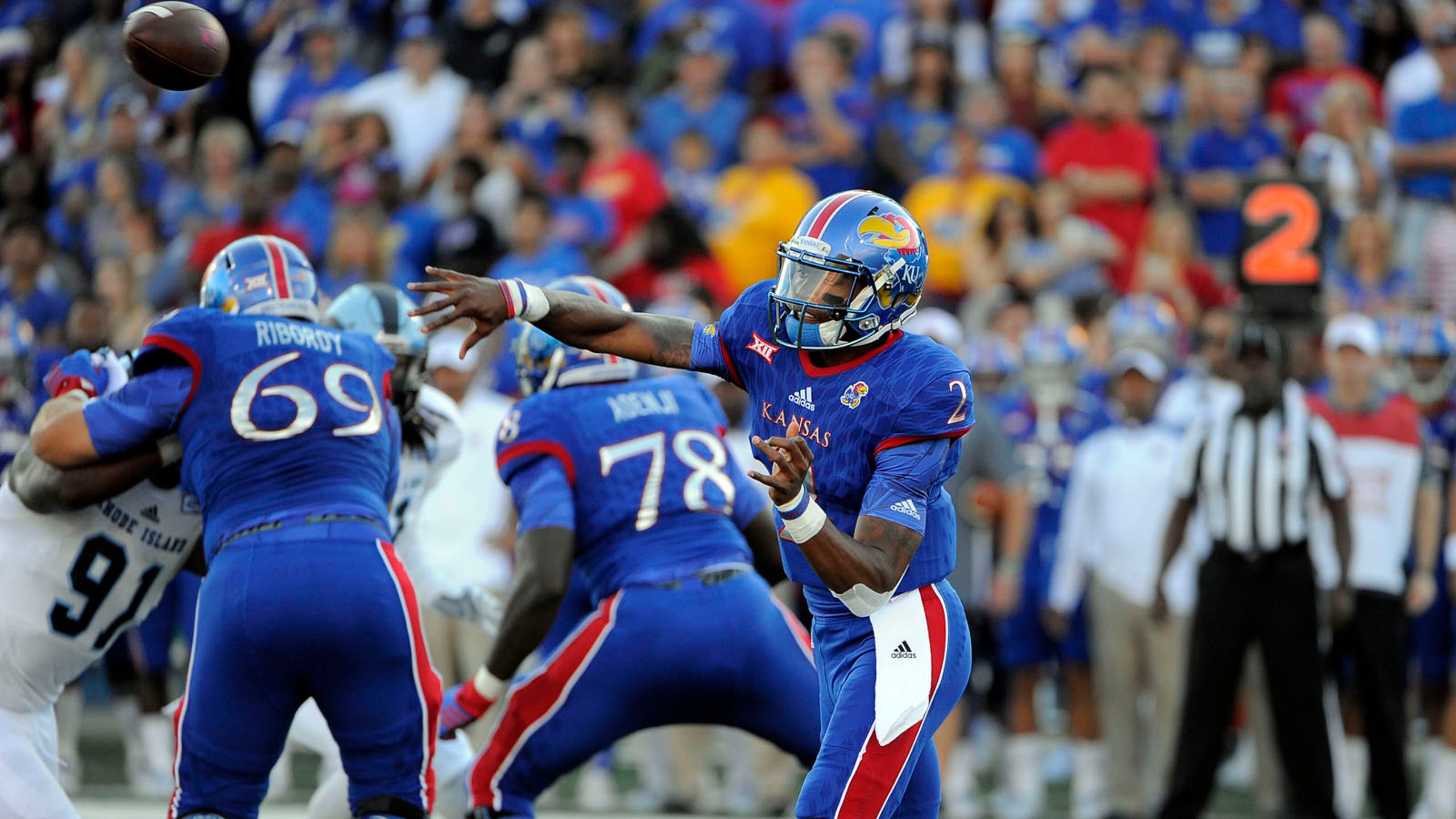 Kansas picks up first win in 665 days with 55-6 rout of Rhode Island
BY foxsports • September 3, 2016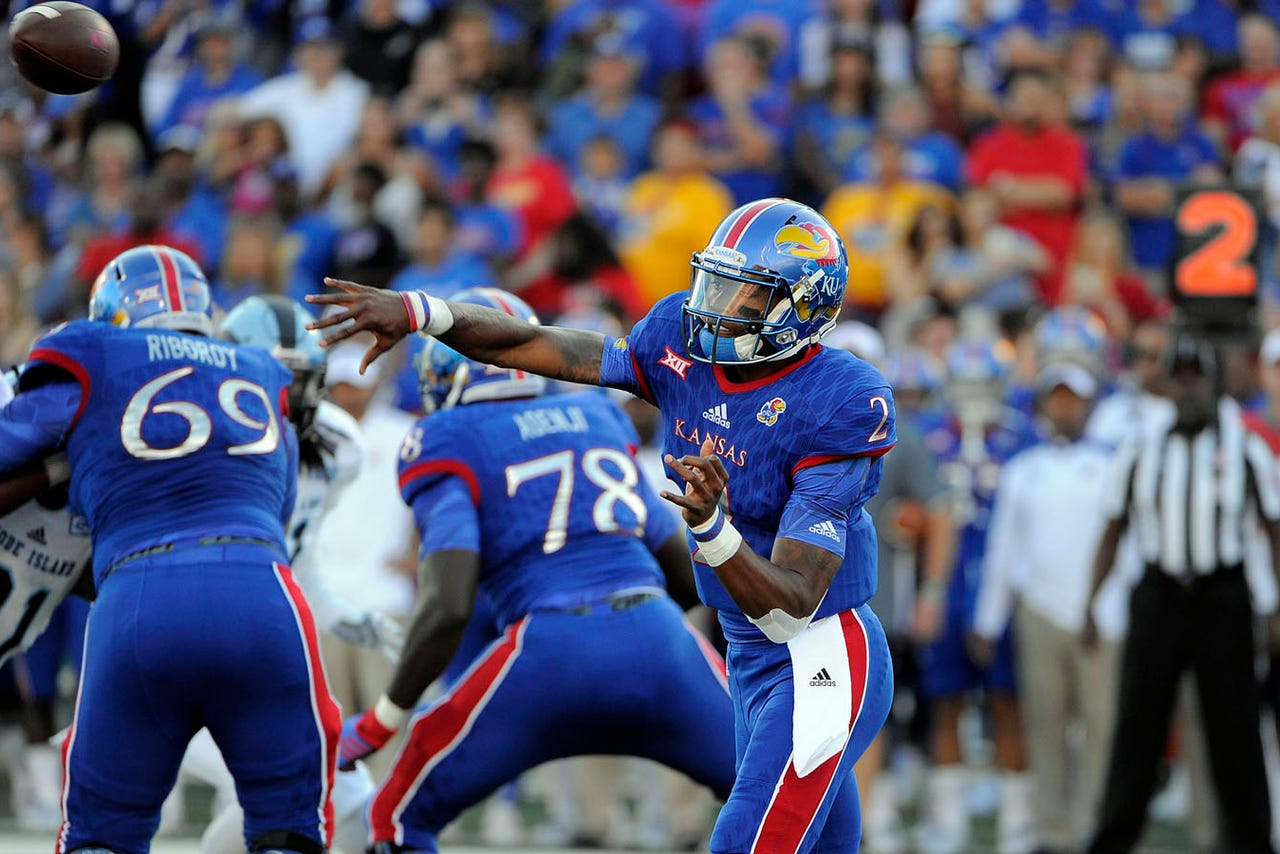 LAWRENCE, Kan. -- David Beaty had to stop for a moment, lower the microphone from his face and wipe away a tear.
His first win at Kansas meant that much to him.
"I've never been through what we went through last year," the second-year coach said shortly after a 55-6 victory over Rhode Island on Saturday night. "Personally it was very difficult. I got emotional with those guys. It's just so hard, so obviously I'm overjoyed for them."
Montell Cozart threw three touchdown passes, Ryan Willis had two more and third-string quarterback Carter Stanley also tossed one as the Jayhawks (1-0) won for the first time since beating Iowa State on Nov. 8, 2014 -- a span of 665 days that included the program's first 0-12 record a year ago.
"Last year, everybody knows the story," said Cozart, who learned he would start at QB just before the kickoff. "It's special for all of us and we know it's special to our coach."
The Rams (0-1) were held to 219 yards of offense by a Kansas defense that gave up at least 40 points eight times last season. Wes McKoy was 6 of 29 for 43 yards with a touchdown and an interception.
Rhode Island has never beaten a school from the Football Bowl Subdivision in 14 tries.
"There were some ugly things that happened out there and we'll try to find the positives out of it and see where it goes from here," Rhode Island coach Jim Fleming said. "We played very poorly for what we're capable of and as a result, we got spanked a little bit."
Beaty has been slowing trying to rebuild the downtrodden Jayhawks, and there was little evidence of progress last season. But an infusion of touted freshmen and high-profile transfers -- LaQuvionte Gonzalez came from Texas A&M, for example -- gave a decent opening crowd reason to be optimistic.
So did the scoreboard: Kansas piled up its most points since routing Nebraska 76-39 on Nov. 3, 2007, when Mark Mangino was still on the sideline. The Jayhawks are on their fourth head coach since then.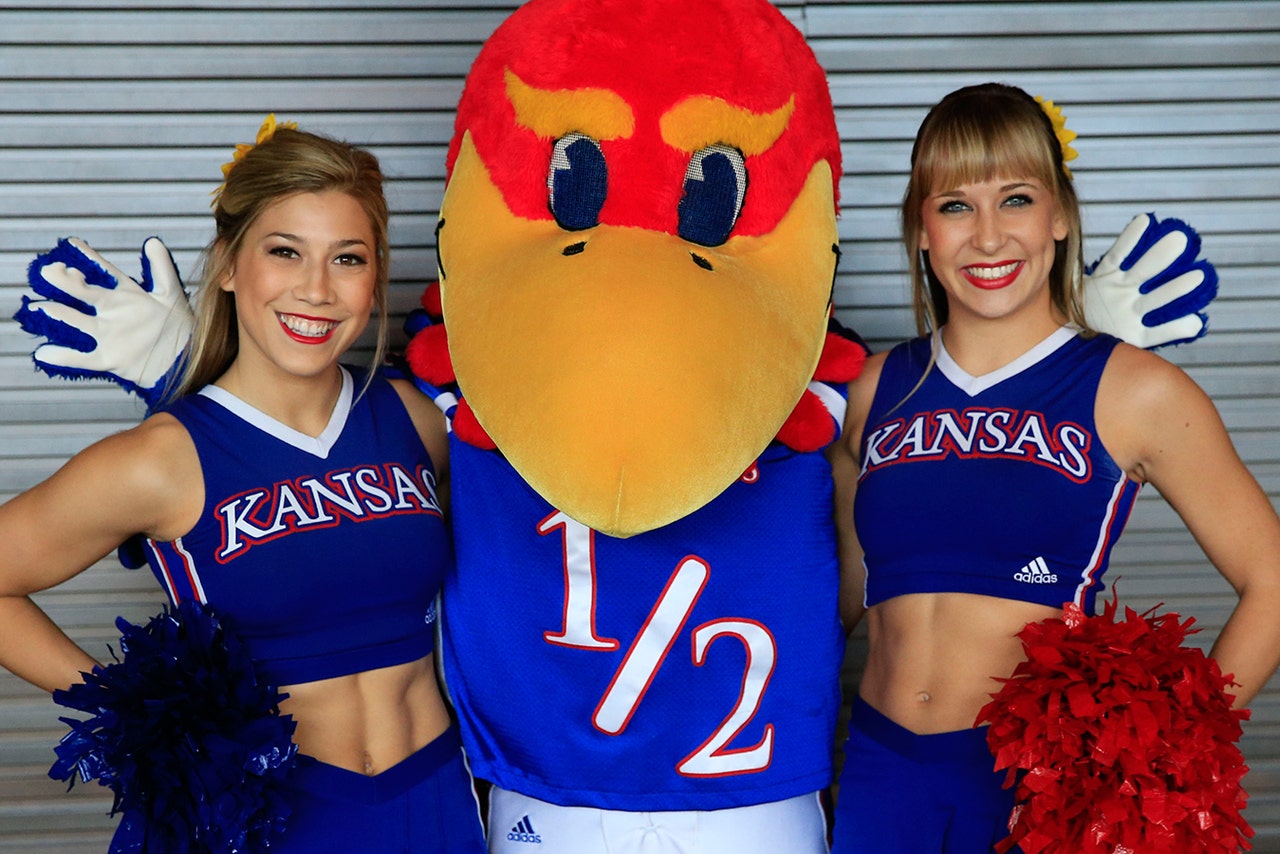 Check out our gallery of Big 12 football cheerleaders.
"It's our first win in my time here," Beaty said, "but man, there's been so many victories we've shared leading up to this. It's just the first time it's come to fruition on the scoreboard."
Gonzalez caught seven passes for 78 yards and a touchdown. Steven Sims Jr. hauled in a couple of touchdown grabs. Taylor Martin and Ke'aun Kinner also ran for scores.
But the big question surrounding Kansas on Saturday night was who would be under center.
Cozart was the starter before a season-ending injury a year ago, and Willis took over the rest of the way. The two battled until the final week of training camp and Cozart won the right to take the first snaps of the game, though both played a significant amount of time.
Cozart wound up going 18 of 25 for 199 yards, while Willis was 7 of 9 for 144 yards.
"We just knew all week if we trusted out coaches everything would fall into place," Cozart said. "We just had to handle the routine plays and everything would take care of itself."
Still, there were times they looked like the same old Jayhawks.
Late in the first half, Kansas failed to convert third down, got called for illegal substitution and missed a field-goal attempt. Cozart threw a pick in the end zone midway through the third quarter, while Derrick Neal botched a punt return midway through the fourth quarter.
But for the most part, it was easy to look good against the Rams.
The Football Championship Subdivision bottom-dweller also muffed a punt that led to the Jayhawks' first touchdown, then had their only extra-point attempt blocked in the second quarter.
"We were looking to come in and win. We were looking to come in and execute and play cleanly," Fleming said, "and we did none of the above."
TRAINER'S ROOM
Rhode Island running back Harold Cooper, arguably their biggest playmaker, hurt his ankle early in the game and never had a carry. T.J. Anderson carried 16 times for 59 yards in his place.
THE TAKEAWAY
Rhode Island: The Rams' chances were ruined in part by three turnovers, including a pair of fumbles that were recovered by the Jayhawks. Both of them turned into eventual touchdowns.
Kansas: Gonzalez has star potential. The speedy wide receiver had to sit out last season under NCAA transfer rules, so he was playing in his first game since Dec. 29, 2014. "He had an awesome night," Willis said. "I felt like of all the guys he had the best night."
UP NEXT
Rhode Island: The Rams play their home opener against Albany next Saturday.
Kansas: Ohio visits Memorial Stadium next Saturday.
---
---