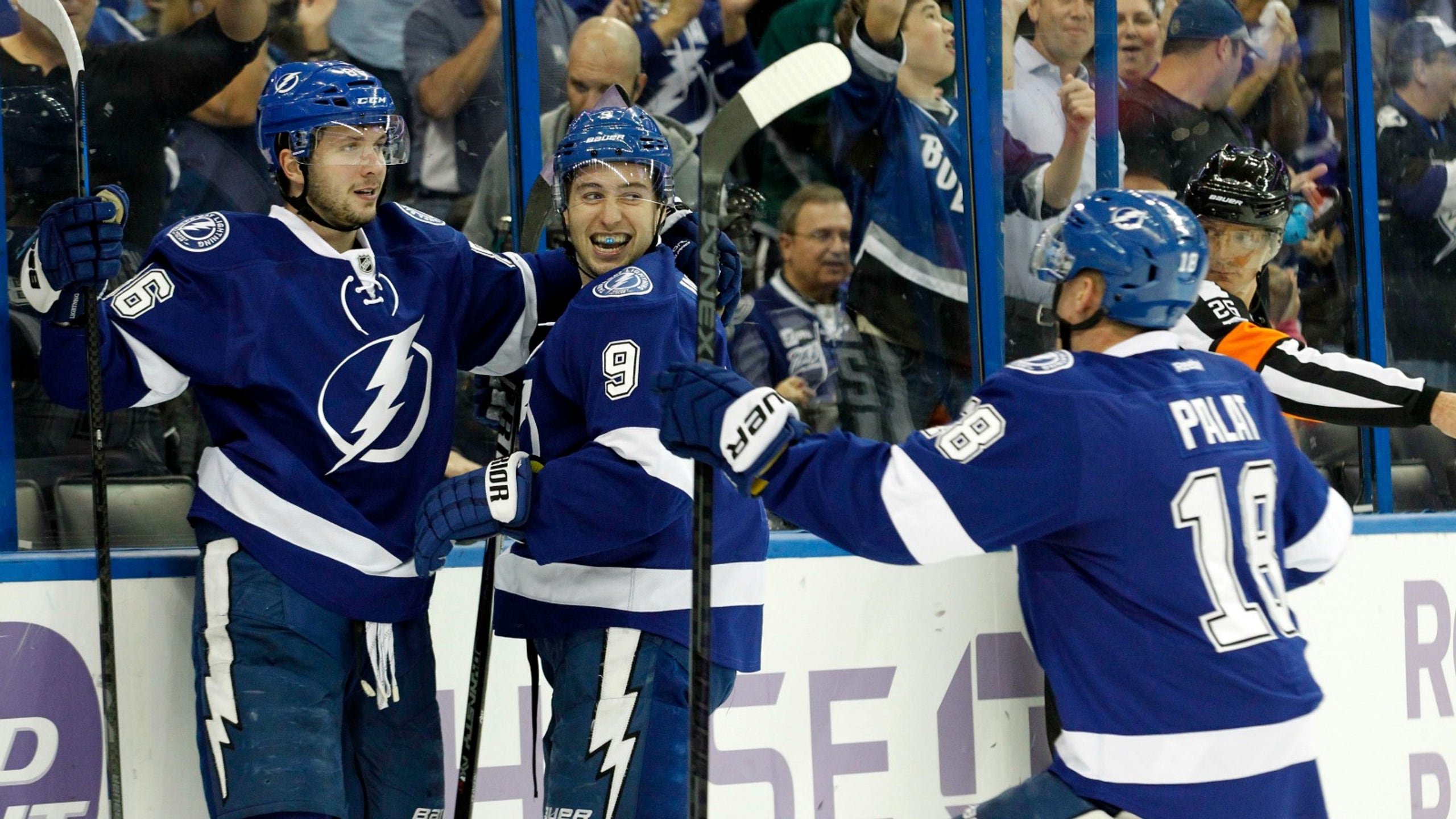 Johnson-Kucherov-Palat line gives Lightning depth to remain a contender
BY foxsports • November 2, 2014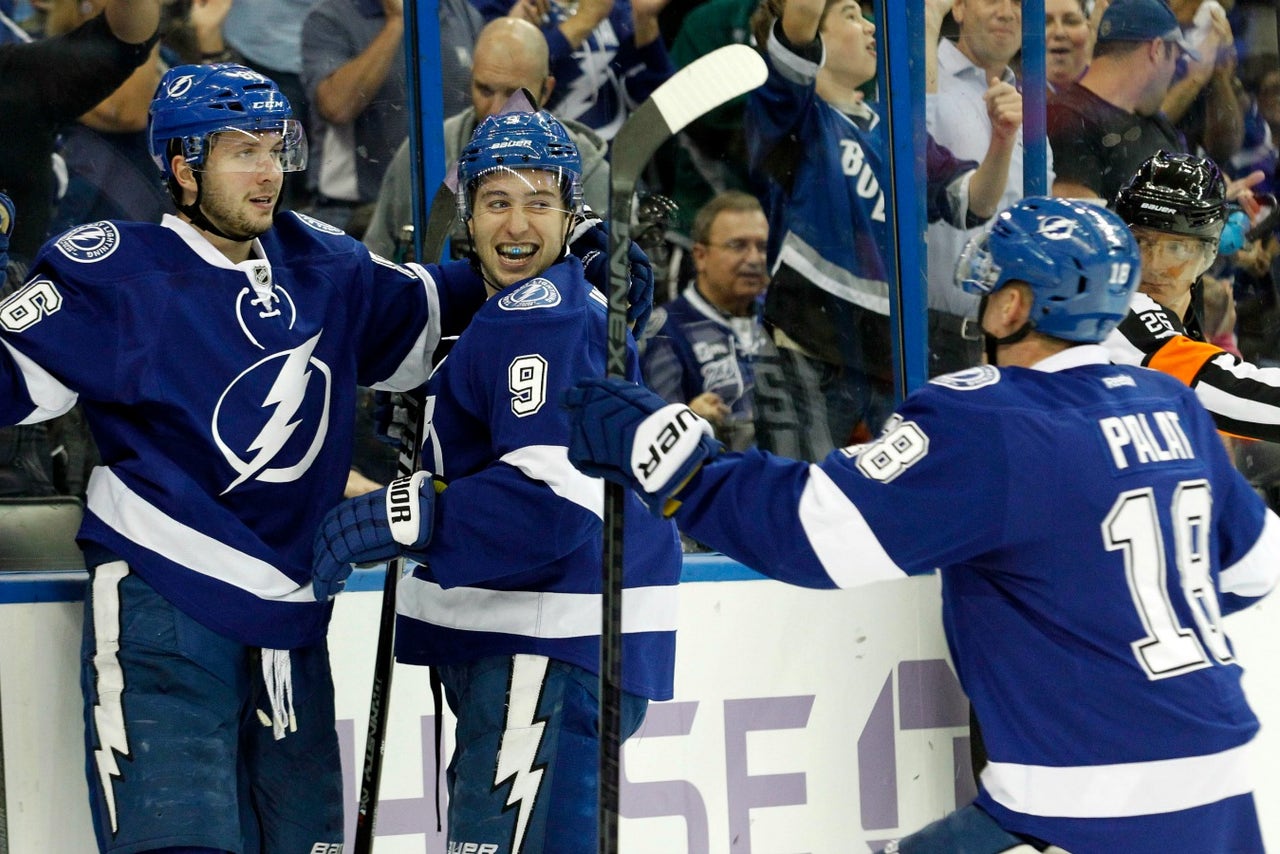 TAMPA, Fla. -- These days, this early, the line of Tyler Johnson, Nikita Kucherov and Ondrej Palat has given what the Tampa Bay Lightning need in their quest to form an identity as one of the Eastern Conference's most promising contenders.  
Johnson leads the Lightning with 14 points, a total that includes two earned in a 4-3 victory over the Washington Capitals on Saturday at Amalie Arena. Kucherov follows with 11, which includes five goals, second on the team to Steven Stamkos' eight. Palat has produced eight points, and given his comfortable history with Johnson that dates back to their days with the American Hockey League's Syracuse Crunch, more will be on the way.
Through 12 games, with Tampa Bay tied with the Montreal Canadiens for an Eastern Conference-best 17 points, the Johnson-Kucherov-Palat line has emerged as one of the Lightning's most effective and exciting in the season's opening weeks. Each member plays with an acquired chemistry, a street-basketball-like flair that has made them memorable in Tampa Bay's early sprint.
A large benefit of their production: They have given the Lightning the secondary scoring required to remain a sustainable threat.
So how far can they go?
"That's a pretty tough question to answer," Johnson said, when asked that very thing. "But I think we're getting better every game. So as long as we keep working hard, as long as we keep doing the right things, keep playing the game the right way, I don't know why we would stop."
The more all three develop, the higher the Lightning's ceiling will be, the depth they provide important as Tampa Bay continues to form an identity. Opponents know what the Lightning can achieve with stalwarts like Steven Stamkos, Ryan Callahan and Valtteri Filppula.
Still, if the Johnson-Kucherov-Palat line continues to excite, the Lightning will give foes more to consider. There will be versatility, not an excessive reliance on their brightest of stars.
"Those guys have played together before quite a bit," Callahan said. "I know Johnny and (Palat) seem to play together quite a bit. Throw Kuch in there, who has tons of skill and can read off guys -- they seem to mesh good, and that's what we need."
The line isn't flawless, of course. There's a higher risk for careless turnovers because of their aggressive style of play, and since none of the members are older than Johnson's 24 years, all are still maturing within the game.
They know it. Coach Jon Cooper knows it. They are like young attack dogs learning when and how to bite.
Yet the youth is what makes them fascinating. Players like Stamkos have elite individual skill, and it's likely that talent will shine no matter the complementary figures around it. But a line with distinct, effective chemistry is valuable because of its ability to elevate all the players involved.
As the season progresses, if the Johnson-Kucherov-Palat line continues to evolve into one of the Lightning's most consistent scoring threats, then Tampa Bay won't have to rely on its top-line stars to produce victory after victory.
"It's great when you can have that kind of chemistry," Cooper said. "We need other lines going. Pretty much every night, Stammer's line gets a lot of attention, and you're going to need secondary scoring. Those guys have been giving it to us."
That's a positive, of course, especially this early. There was curiosity about how Johnson and Palat would fare after producing seasons that made them Calder Trophy finalists, and both deserved to be recognized for their contributions that made them among the NHL's best rookies.
But following a breakout season is no easy task. As a young player, it can be difficult to manage the greater pressure, the increased attention and the heightened expectations that come with following a successful opening act with something more. Mental maturity is required to thrive.
But if Johnson and Palat not only elevate their production this season but lift Kucherov to greater heights as well, then their value to the Lightning will become more complex. They can become part-student, part-mentor, and Tampa Bay's overall roster will be the largest benefactor.
Certainly, there's possible danger in reading too much into fast starts. There's the chance all three players can suffer a prolonged slump. There are no guarantees that their fast-flying, free-flowing, confidence-driven attack will continue.
But what if it does? What if this is just a start?
"We're playing pretty well right now," Johnson said. "Obviously, I've had some chemistry with (Palat) before. We've played together for three years now. Kuch just steps in, and it feels like another three years with him. So we're just trying to build off that, trying to get better every game. And I think we've done that so far."
Oh sure, they have done that and more so far. Now their responsibility is continuing the momentum -- for their sake, for the sake of making the Lightning a deeper and more dangerous contender throughout the winter.
What they have accomplished to this point is impressive. The work never ends, though. 
Always, the growth can continue.  
You can follow Andrew Astleford on Twitter @aastleford or email him at aastleford@gmail.com.
---
---