National Hockey League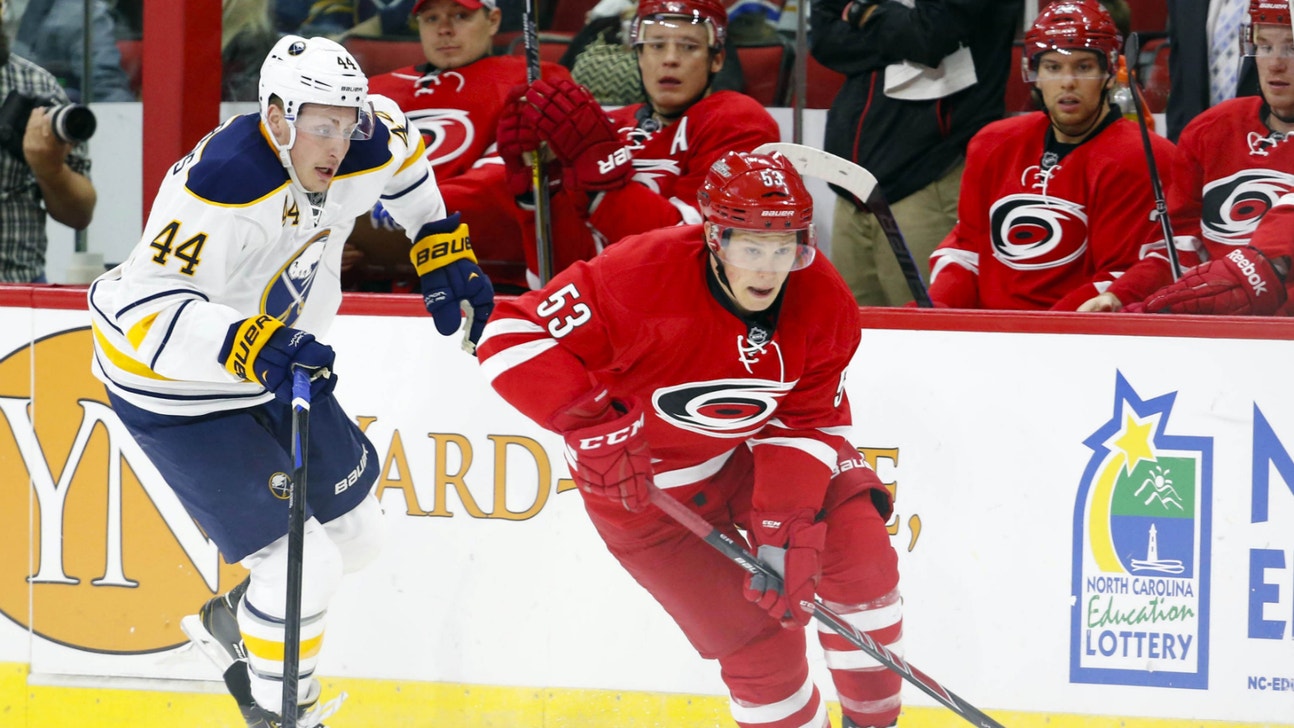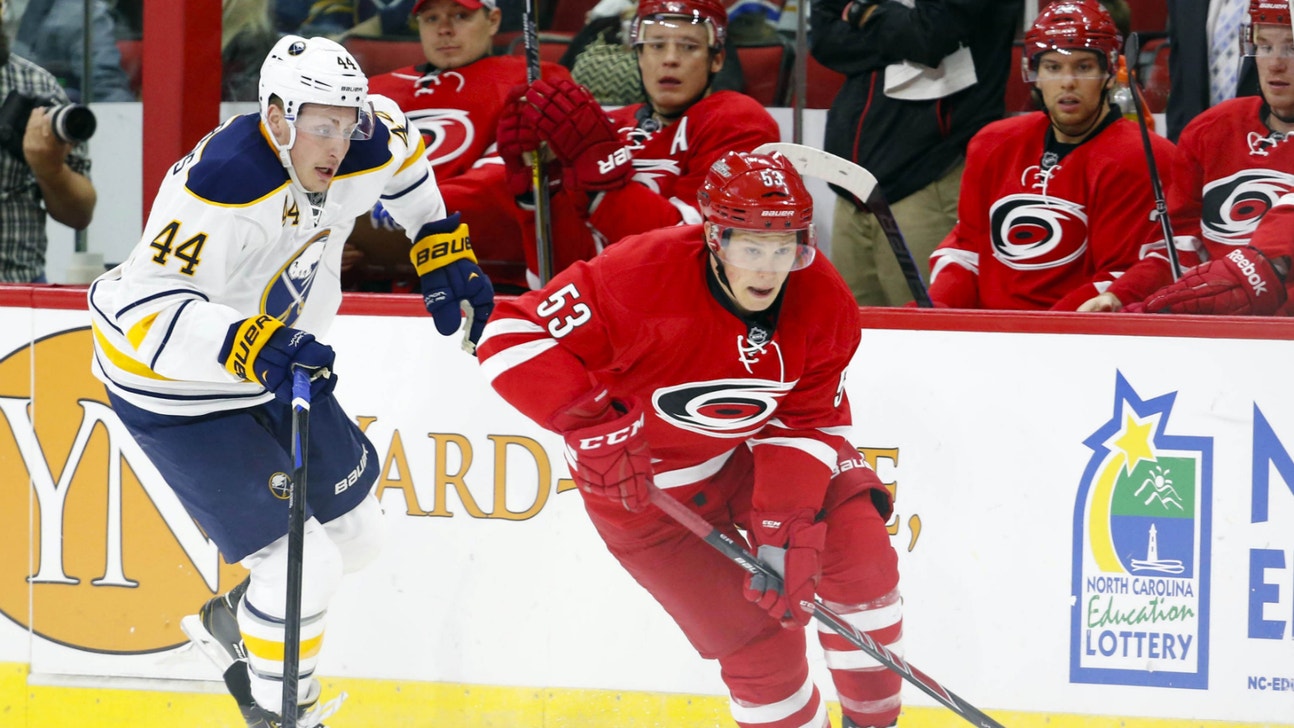 National Hockey League
Jeff Skinner rounding into form after coming back from third concussion
Published
Oct. 31, 2014 11:41 a.m. ET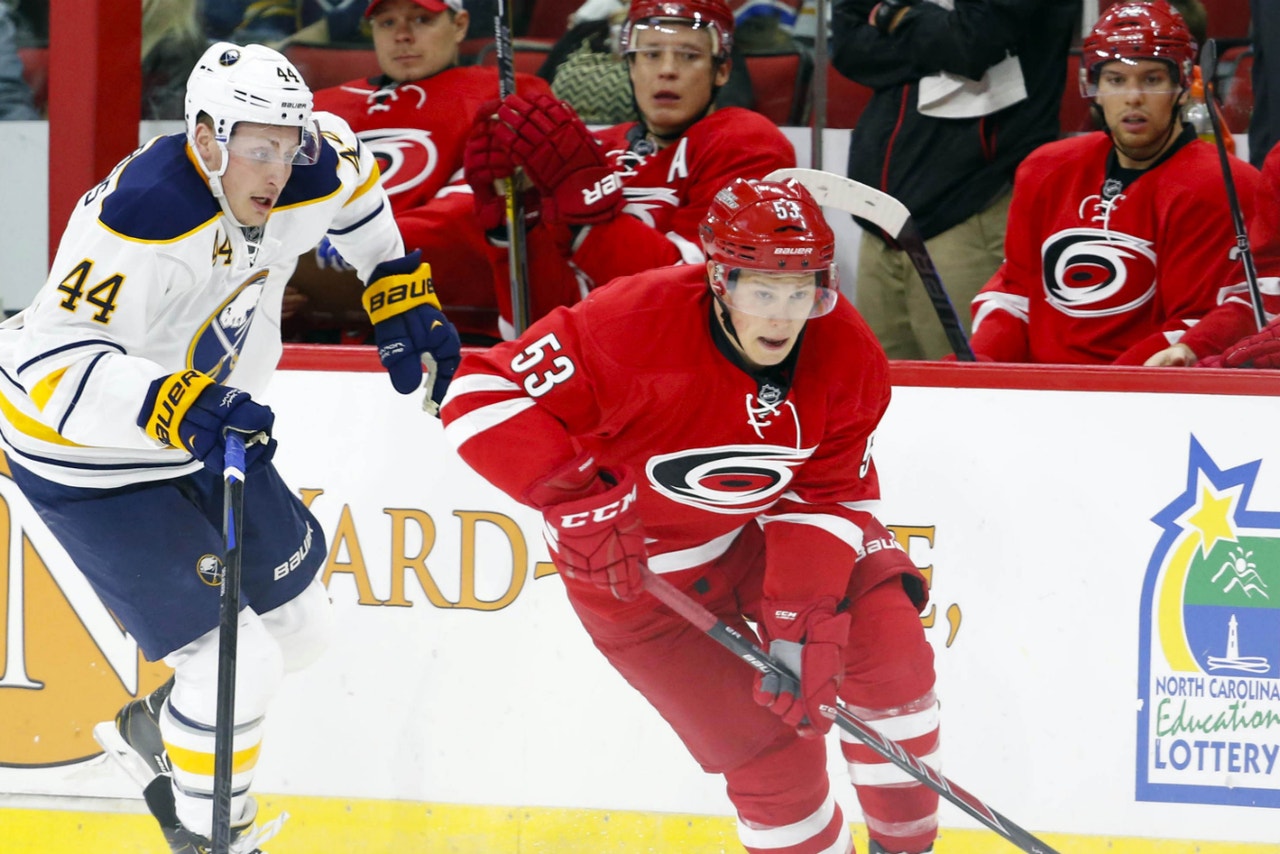 At just 22 years old, Jeff Skinner has had nearly as many concussions (three) as he has seasons played in the NHL (four). He's at the point now where he finds himself relieved that his most recent concussion, suffered in the preseason back in October -- his third in three years -- was not as serious as his first two.
But with his history, any concussion is and should be scary.
His rookie season in 2010-11 was concussion-free, and he won the Calder Trophy as the NHL's top rookie, scoring 31 goals.
His first concussion came in December 2011, his sophomore campaign. After taking an open-ice hit against Edmonton on Dec. 7, he would miss over a month of action. The Hurricanes were 9-17-4 when he left and would finish the year 33-33-16 after firing their head coach and hiring Kirk Muller, who was subsequently fired before this season began. His concussion came in Muller's first win as head coach.
But the head coach was the least of Skinner's worries after he sustained that first concussion.
"The symptoms, they were just a little bit more severe and they didn't settle down quite as fast," Skinner said. "It wasn't like they kept coming and going. With anything, as you get better, you have good days and bad days. But it was something where symptoms were a lot more severe and they lasted a little bit longer."
His second concussion came in February 2013, when he took a hit against Toronto that sent him flying headfirst into the boards. He played through it, but was diagnosed with a concussion afterward and missed two weeks. He took a scary hit in April and missed one game, but the team said he wasn't diagnosed with a concussion.
And this most recent one came at the worst possible time -- at the end of the preseason on Oct. 6, right before the regular season was beginning and with the Canes already down a number of significant players.
Skinner, though, knows by now that he has to worry about following proper protocol above all else.
"Compared to my first two, they've all been here and I've always had the same doctor, been through the same protocols. It's always a little bit different based on symptoms and how you react," he said. "For me this time, fortunately symptoms didn't really linger so I was able to come back a little bit quicker than my first one. Having the same doctor, having the same protocols for the past couple gave me confidence and I feel good now."
Concussion protocols at the NHL level are often a lengthy process, as they should be, since so much of what happens to the brain after a concussion remains a mystery. This most recent one was no different.
Well, there was one difference, Skinner said. As soon as he took the hit in the Capitals game -- a forearm/elbow to the face -- he knew something was wrong.
"As soon as I got hit, I felt a little bit dizzy. That hadn't happened before. I think from there, for me I was fortunate that it settled down really quick after that," Skinner said. "You never know really how it's going to react. That's what I've learned from the last two. You go through it and there's so many areas that are unknown and there's so many little things going on in there that it's tough to pinpoint what's going on. Sometimes, you just need to rest. That eases my mind, just having gone through it, having experience and knowing what to expect."
The first few days after, Skinner said, were all about resting.
"That's pretty big-time for you to sort of calm everything down, because everything sort of seems to be going in overdrive. After that, I have a little bit of a headache or whatever symptoms you have, whether it's sensitivity to light or sensitivity to noise," Skinner said. "The doctors here do a good job of testing, trying to figure out if you have any sort of imbalances, an eye exam.
"For me, I have a bit of baseline here so we can go off of that and see if I have anything that's a little bit off and maybe causing some of that stuff that's creating those symptoms."
The first few days were tough, though. He had to avoid all the modern conveniences we all enjoy like cell phones or computers, or at least avoid reading on them -- or reading anything -- too much. Television? Very limited.
Skinner said that his roommate, teammate Elias Lindholm, did what he could to keep him entertained.
Once he was symptom-free, it was back to getting in game shape.
"That's a step-by-step (process) -- work out by yourself, work out a little bit harder, skate by yourself and then skate with the team with everyone moving around around you and then skate with contact," Skinner said. "So there's a lot of little steps you have to check off the checklist, but it's good. As a player, you want to be confident coming back and it's nice to have that thorough protocol I guess."
In all, he missed 15 days this time around as he returned to the ice in time for four of the Hurricanes' five road games starting in mid-October while the state fair was in town.
The deliberateness and length of the protocols can be frustrating, Skinner said, but he also knows that it's necessary.
"Obviously, you want to be 100-percent healthy all the time but that's just not the reality," Skinner said. "It's a little bit frustrating but it's something I have experience with, so that sort of eases the frustration a little bit and you get to sort of know what to expect. Each time you go through it, you know how your body's going to react to coming back and how you can sort of come back as efficiently and quickly as possible without putting yourself in danger.
"I feel good. Obviously, a little bit of an adjustment coming back but personally, I think I feel good. On the long road trip, I felt pretty good, especially towards the end. I felt like I was feeling a little bit better as each game went on, so that's a good sign."
And the Hurricanes need him. They return home for a two-game homestand on Saturday and Sunday, remaining the only winless team in the NHL.
The defense is as much of an issue as a lack of offense, but they sure could use a goal-scorer.
Skinner is confident that he can contribute to that now that he's back. He said that not having to take as much time off didn't affect his timing nearly as much as the first concussion did, when he missed over a month, and he's had to come back off of one before so he's almost used to it by now, scarily enough.
All he can do going forward, he said, is what he's learned from all three concussions, particularly the first two which were open-ice hits -- don't put yourself in a bad position.
"I think that I've done a good job over the last couple years of not taking as many big hits and not putting myself in vulnerable positions," he said. "Sometimes, injuries are going to happen and it's just the nature of the sport. But it's something you've got to be aware of, I think, especially a player that plays the way I do. I think you need to be aware of where you are on the ice and positions you don't want to find yourself in."
In spite of that awareness, Skinner said that he doesn't play the game worried about concussions.
"It's not something you want to experience, but you can't really play the game thinking about it. You have too many things going on and you have to react. I think though at the end of the day, pretty much everyone that's at this level has had some injuries and you don't really have time to think about them on the ice."
---
---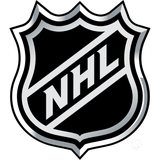 Get more from National Hockey League
Follow your favorites to get information about games, news and more
---