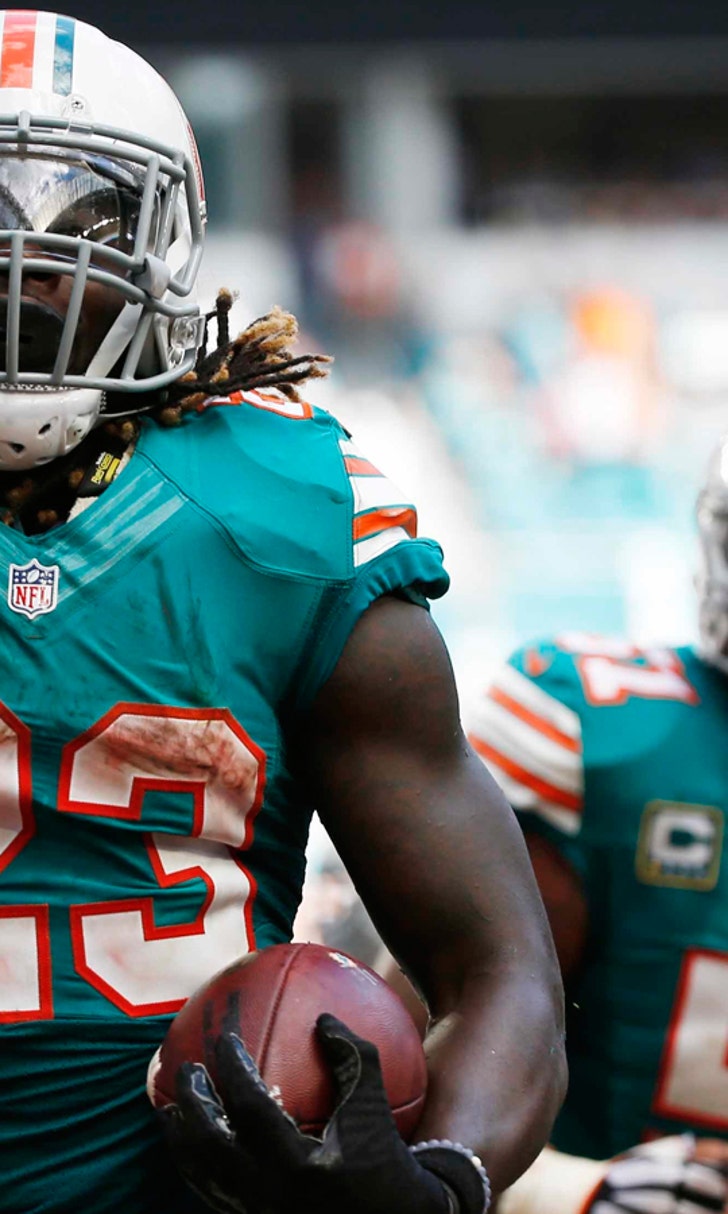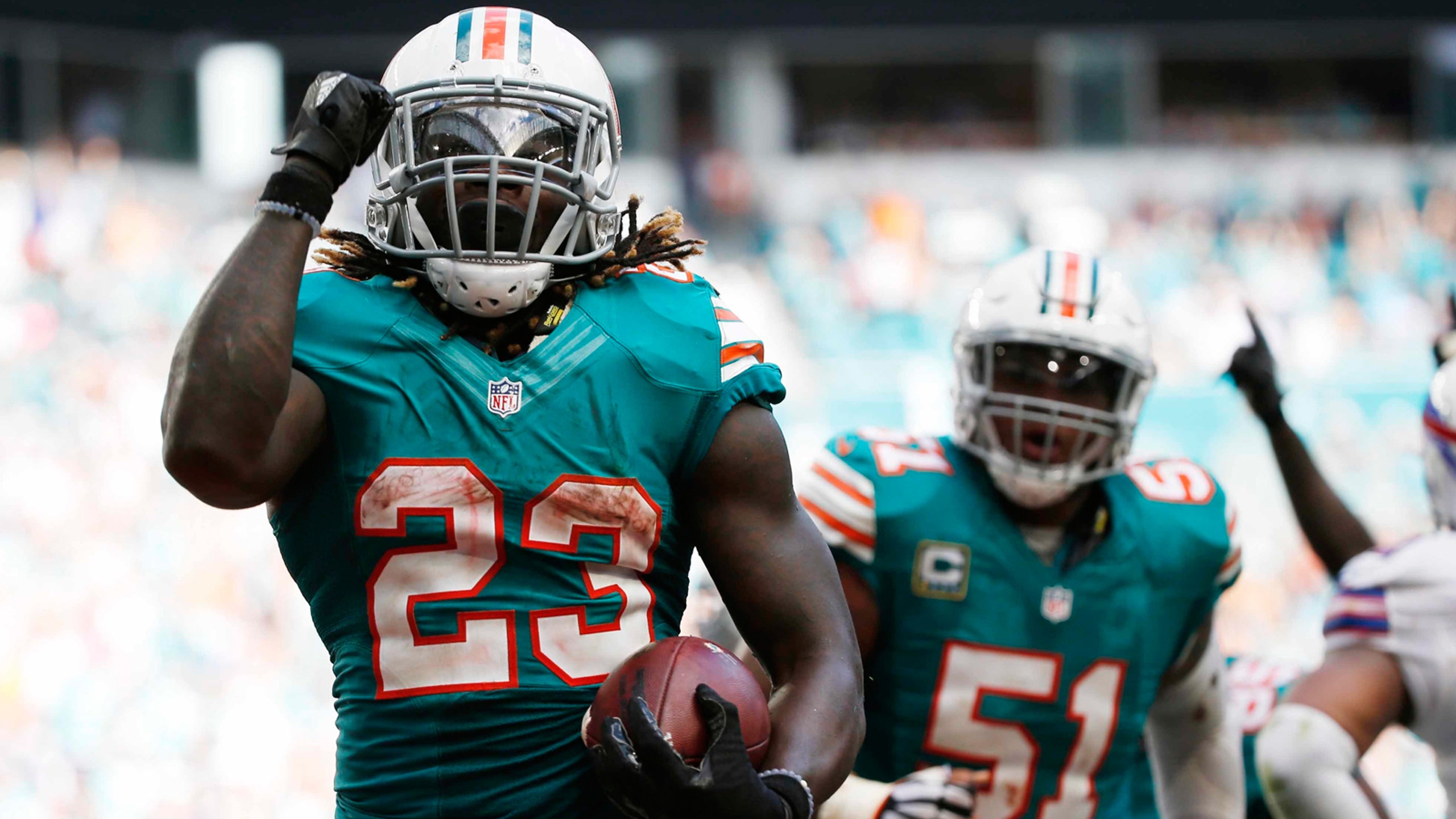 Jay Ajayi tops 200 yards again, Dolphins rally to beat Bills
BY foxsports • October 23, 2016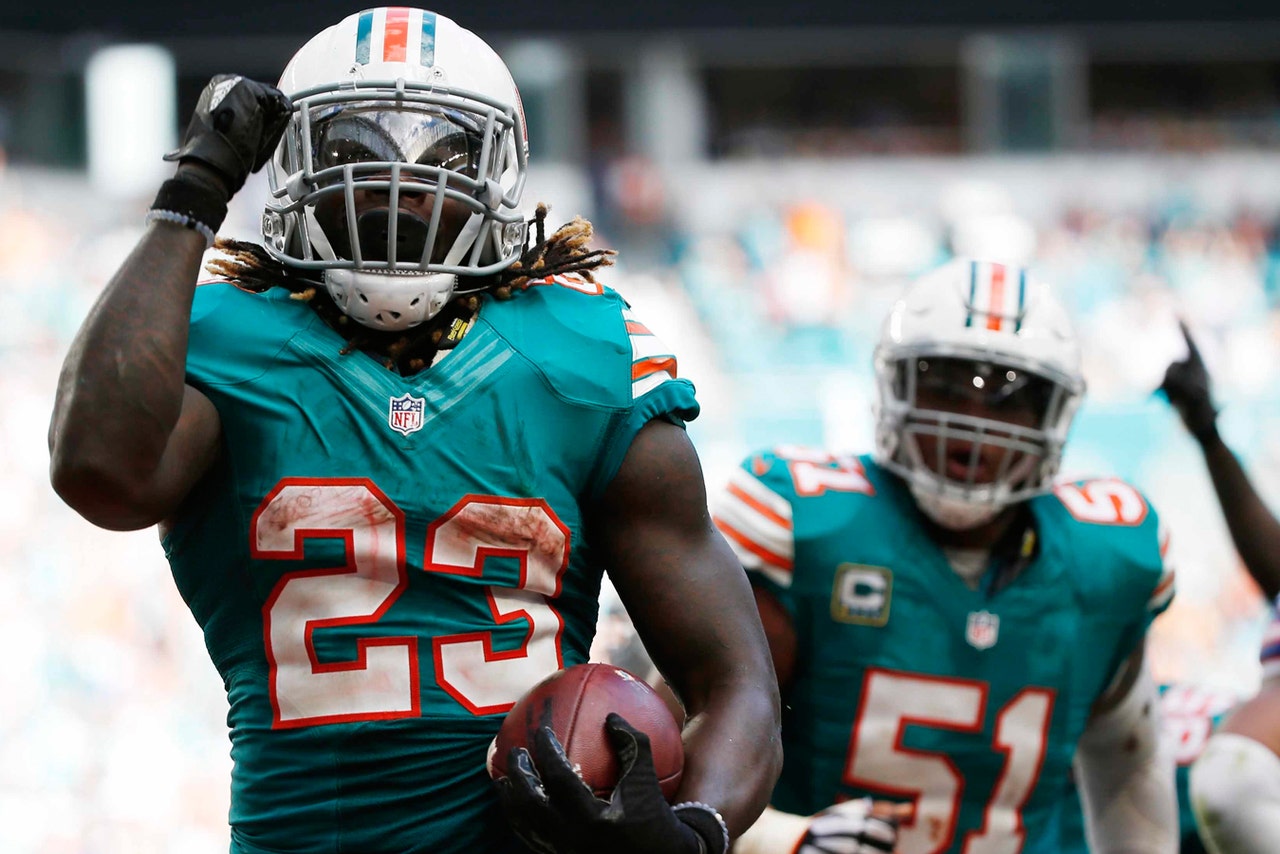 MIAMI GARDENS, Fla. (AP) -- An hour after the game, Jay Ajayi returned to the field, basking in a newfound spotlight even as he stood in gathering shadows. There were handshakes, hugs, interviews and photos with fans, and his grin grew wider when he took a selfie, capturing a moment he could not quite believe.
"It's crazy to imagine it's happening so fast like this," Ajayi said.
He's becoming a household name even before fans learn how to pronounce it. Ajayi (uh-JYE') tied a league record by surpassing 200 yards rushing for the second game in a row Sunday, helping the Miami Dolphins rally past the Buffalo Bills 28-25.
Led by Ajayi, the Dolphins (3-4) have run their way back to relevance with consecutive wins they can savor during an upcoming bye week. The Bills (4-3) must regroup from their first loss in five games, and injuries to three top players.
Here are things to know about the twist in the AFC East race:
NEW WEAPON
Ajayi rushed for 214 yards in 29 carries after totaling 204 yards a week earlier in a win over Pittsburgh, giving Miami's long-sputtering offense welcome spark.
Adam Gase came to the Dolphins with a reputation as a quarterback guru, but the first-year coach is learning he can win with the run -- and Ajayi.
"I keep reminding myself to stay with him, because he seems to find the right hole and pops it, and it becomes a 10- or 12-yard gain," Gase said. "That's my biggest challenge -- just staying with it. Sometimes it's easier to start throwing it around, because the yards come quicker, but staying with him and letting him get into a rhythm is really critical for us."
Ajayi tied the record for consecutive 200-yard games held by O.J. Simpson, Earl Campbell and Ricky Williams. It's a remarkable breakout by the second-year pro from Boise State, who ran for 187 yards as a rookie and totaled 117 in Miami's first five games this year.
DIRTY HIT?
Aaron Williams was hurt and Jarvis Landry's reputation took a hit as a result of the day's most violent collision .
A block by Dolphins receiver Landry caused Williams to miss the second half with a head and neck injury. The Bills safety went to a hospital for an MRI before flying back to Buffalo with the team.
Williams missed most of last season because of a neck injury that required surgery and threatened his career. Landry said he apologized to Williams and wished he could take the block back.
Was it dirty?
"Call it what you want," Landry said. "It's football."
OTHER INJURIES
Bills running back LeSean McCoy left in the third quarter after he aggravated a left hamstring injury, and he totaled only 11 yards in eight carries.
The injury is especially worrisome because McCoy was plagued by trouble with the same hamstring last season. But he's optimistic he won't miss any more playing time.
"It's not one of those major issues like last year when I was in deep, deep pain," McCoy said. "This is something that just takes time. I think a full week of practicing and taking my steps, and it should be fine."
Receiver Marquise Goodwin was hurt on an incompletion late in the game and went into the concussion protocol. The Bills were already without injured wideouts Sammy Watkins and Robert Woods.
Dolphins safety Isa Abdul-Quddus suffered an ankle injury in the fourth quarter.
SELF-INFLICTED
The Dolphins outgained Buffalo 454 yards to 267 but didn't take the lead for good until less than four minutes remained. One reason: 13 penalties for 116 yards.
"Dumb," Gase said. "The things we're doing right now are absolutely dumb."
UP NEXT
The Dolphins have bye before facing the Jets on Nov. 6. It will be Miami's fourth consecutive home game, wrapping up an NFL-record 44-day homestand.
The Bills play host to division leader New England on Sunday.
---
---