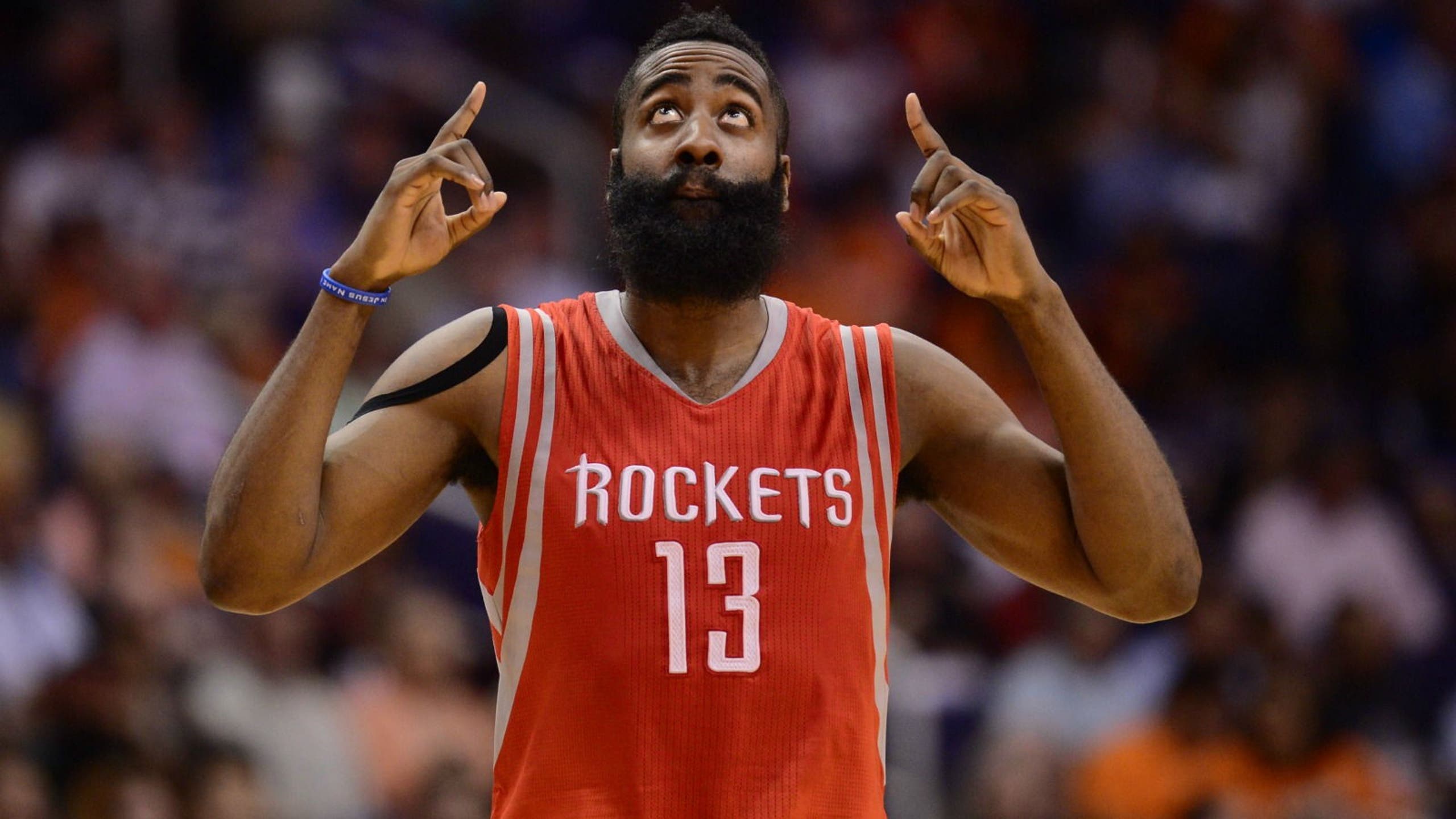 James Harden adds to MVP résumé by pouring 40 points on Suns
BY foxsports • February 11, 2015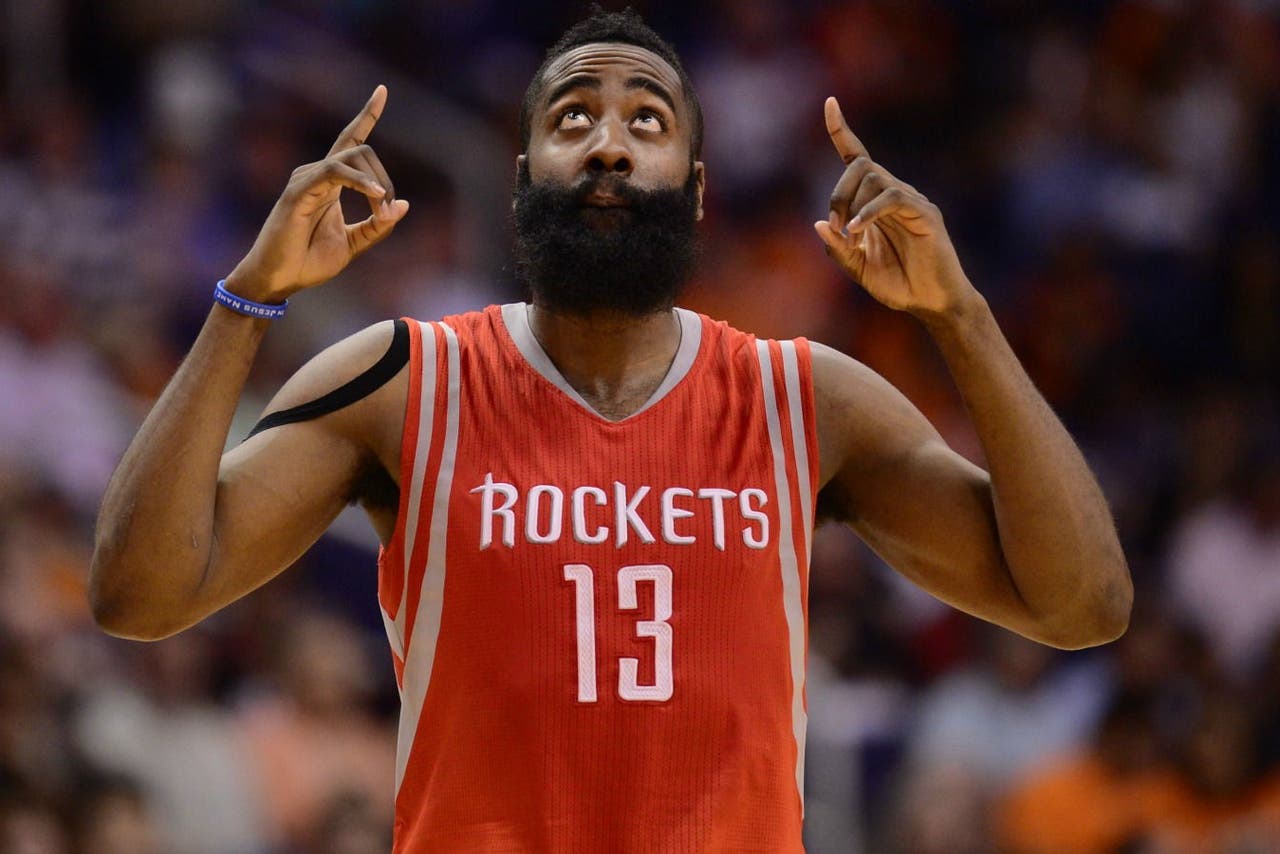 PHOENIX -- Life is good for James Harden.
He leads the NBA in scoring at 27.5 points per game. His Houston Rockets, who beat the Phoenix Suns 127-118 on Tuesday, head into the All-Star break in the top half of the Western Conference playoff picture despite fighting injuries and roster tweaks. Next Wednesday, Harden will have his Arizona State jersey retired when the Sun Devils host UCLA.
"It's a great individual accomplishment," Harden said after pouring in 40 points against the Suns. "That was one of the reasons I chose ASU out of high school, to build my own legacy."
No offense to Sun Devil Nation, but Harden eventually could add a much greater honor to that legacy. How does NBA Most Valuable Player sound?
Harden's MVP candidacy grew bigger Tuesday. In the Rockets' win against the Suns, Harden scored 20 of his 40 points in the fourth quarter and finished with 12 rebounds and nine assists.
Harden hasn't exactly been a self-promoter throughout this season, but he's got his teammates vouching for him.
"He is the head of our snake and we just have to be able to follow him when he leads," said Rockets forward Josh Smith, who says this having been a member of the Rockets for only the past two months.
"I don't think they give him enough credit for what he does for this ballclub and this organization. The growth, and the maturity level, and the hard work and the effort he's put in to be able to get to this point ... I think they're putting guys (in the MVP conversation) that shouldn't be there. Hopefully, the people on the committee wake up a little bit and kind of focus their attention on him the second half of the season."
After Harden's near triple-double against Phoenix, which marked his second 40-point game in a row, Harden was modest about his night.
"Credit to my teammates," he said. "They're doing a good job of setting screens, getting me open."
Not much of that credit was relevant during Harden's most impactful stretch of the Rockets' win. In other words, it was all Harden.
Jump to the fourth quarter, when Houston began putting the 6-foot-5 Harden in the post against the 6-1 Eric Bledsoe. On the first go-round, Suns forward P.J. Tucker came to double-team Harden, but the Suns didn't rotate to Tucker's man, Kostas Papanikolaou, whom Harden found for an open layup. The next time down, Phoenix was jumping the gun. Suns guard Isaiah Thomas, acting as weakside help, began sinking into the paint prematurely to prevent what happened the prior play. That left Jason Terry open. Harden found him for a 3-pointer to put the Rockets ahead 114-104.
"Harden, it's tough because he does such a good job of drawing guys to you and then he throws the pass right out there," Suns coach Jeff Hornacek said. "In the third quarter, they were missing their shots and then in the fourth quarter, they made almost every three it seemed like. He creates those."
Phoenix reacted after the two Harden post-ups by putting Tucker on Harden, but that only led to Harden dribbling out two clock-eating possessions in the final three minutes of the game. Both ended with Harden isolation scores.
Harden was always a step ahead.
He found a rhythm when it counted but started the game by missing his first four shots. Houston led 41-23 after the first quarter, yet the crafty Harden still had seven points despite the shooting struggles.
The Harden Effect, whether he was scoring well or not, was doing good things for coach Kevin McHale's team. And the lack of it was apparent in the first three minutes of the second quarter, when the Suns sliced 11 points off the Houston lead with Harden on the bench.
This season, Harden's production is more impressive in the context of the bad luck that's gone the Rockets' way. Houston has needed to lean on him even more with center Dwight Howard missing 20 of its 53 games.
On top of carrying the offensive load, Harden has even stripped away at the narrative that criticized his defense. On Tuesday, a block on Bledsoe with 1:09 to play signified Harden's improvement on that end.
"He's had to do this all year long," McHale said. "James is playing at a level most guys can't get to. As I said all year long, believe me, we don't have our record that we have if James isn't playing."
The Suns certainly have found that out. They've lost three times to Houston this year and fell in the Jan. 23 overtime matchup when Harden's 20-foot jumper drew net at the buzzer. Tuesday, the problems he caused Phoenix were plenty.
"It's really frustrating," Suns guard Goran Dragic said. "We need to stay in front of those guys, and I mean, it's so hard because James Harden is a difference-maker. You cannot put only one guy to guard him, you need to double-team him or something."
That's the ultimate compliment, reserved for players in the MVP conversation.
Follow Kevin Zimmerman on Twitter
---