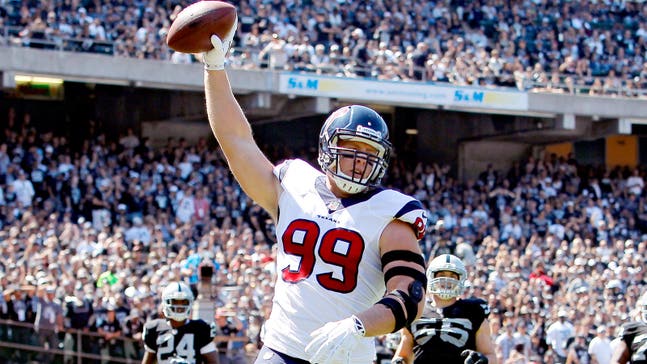 J.J. Watt hosts third annual charity softball classic
Updated
Mar. 4, 2020 2:44 p.m. ET

Houston Texans defensive end J.J. Watt hosted his third annual J.J. Watt Charity Classic Friday at Sugar Land, Texas' Constellation Field. The classic included a home run derby and softball game.



"I think it's extremely important for me because it's an opportunity to use the platform we're given as athletes to help change the world," Watt said at a press conference before the game. "I mean, we have so many eyes on us, so many cameras on us, so many people watching every step that we take."



Watt started the Justin J. Watt Foundation in 2010 while in his final year at the University of Wisconsin. The foundation has raised nearly $1 million since its inception to provide after-school opportunities for children in Texas and Wisconsin communities to become involved in sports.



"Who am I to waste all these eyes and all these cameras? It's not about me. It's about helping change other people's lives. It's so cool."



The tickets to Watt's charity softball classic went on sale in early February and sold out within four hours with all the proceeds going towards Watt's foundation. 7,500 fans decked out in Texans red and blue filled the minor league park, and lined up as early as 8:30 a.m. to just get a chance to meet the 2014 NFL Defensive Player of the Year.



"I've gotten everything I could possibly ever want. I got a great contract, a great team, and get to play the game I love every single day. It's about giving kids the opportunity to accomplish their dreams, accomplish their goals. That's why this is so special."



Both teams were comprised of current Texans players, including linebacker Brian Cushing, safety D.J. Swearinger, running back Alfred Blue, and free agent additions receiver Cecil Shorts III and quarterback Brian Hoyer.
---