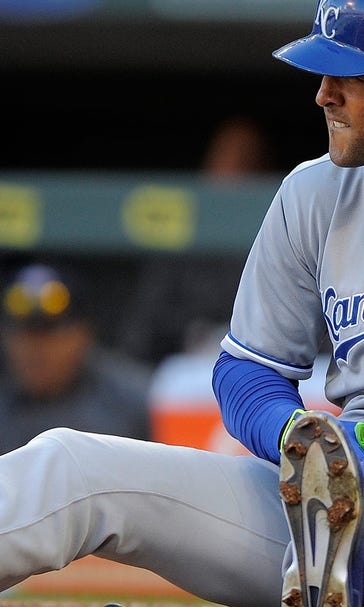 Is veteran Rios right in questioning Twins' front office?
April 16, 2015

Alex Rios will miss upwards of a month with the Kansas City Royals because of a fastball that fractured a bone in his pinky. Rios, frustrated by the errant pitch, had an interesting quote to Andy McCullough of the Kansas City Star regarding the incident:
"It's very frustrating when you get inexperienced pitchers coming to the mound and showing a lot of energy, and not being able to control their emotions...that's a recipe for disaster when you have guys like that. Then you put them in high-pressure situations, and they just don't know what to do. So it's very frustrating. They have to understand if somebody is ready to be in these kind of situations, or even here."
"They" meaning the Minnesota Twins front office, "here" meaning the big leagues.
Rios was hit by J.R. Graham, a 25-year-old rookie who was pitching in just his fourth major-league game. He has been predominately a starter in his minor-league career, making just 13 relief appearances in his four seasons in the minors, none above Double-A.
Graham entered the game trailing 5-3 in the eighth inning with the bases loaded and no outs. Rios is right, it was a pressure situation, especially for a young man who has never been there before.
The worst part for Rios was that Graham was trying to throw a fastball down and away but he missed up and way in. It was Graham's first pitch of the game and the result was likely the case of being too hyped and overwhelmed with the intensity of the moment.
Is he ready for high pressure situations? Can he pitch inside? Fair questions that team's probably don't ask themselves before they put inexperienced players on major-league rosters. 
This has long been the frustration of many major-league hitters. I remember one teammate years ago saying that pitchers aren't taught how to pitch inside properly anymore, and if they can't do it, they shouldn't be in the major leagues. Careers are at stake.
Hit by pitches happen. They are part of the game. But if delivered by an inexperienced pitcher who either can't pitch inside effectively, or hasn't shown that he is emotionally ready for the major-league stage, then maybe teams and player development personnel are partially to blame when injuries happen. Certainly Alex Rios feels so.
---
---