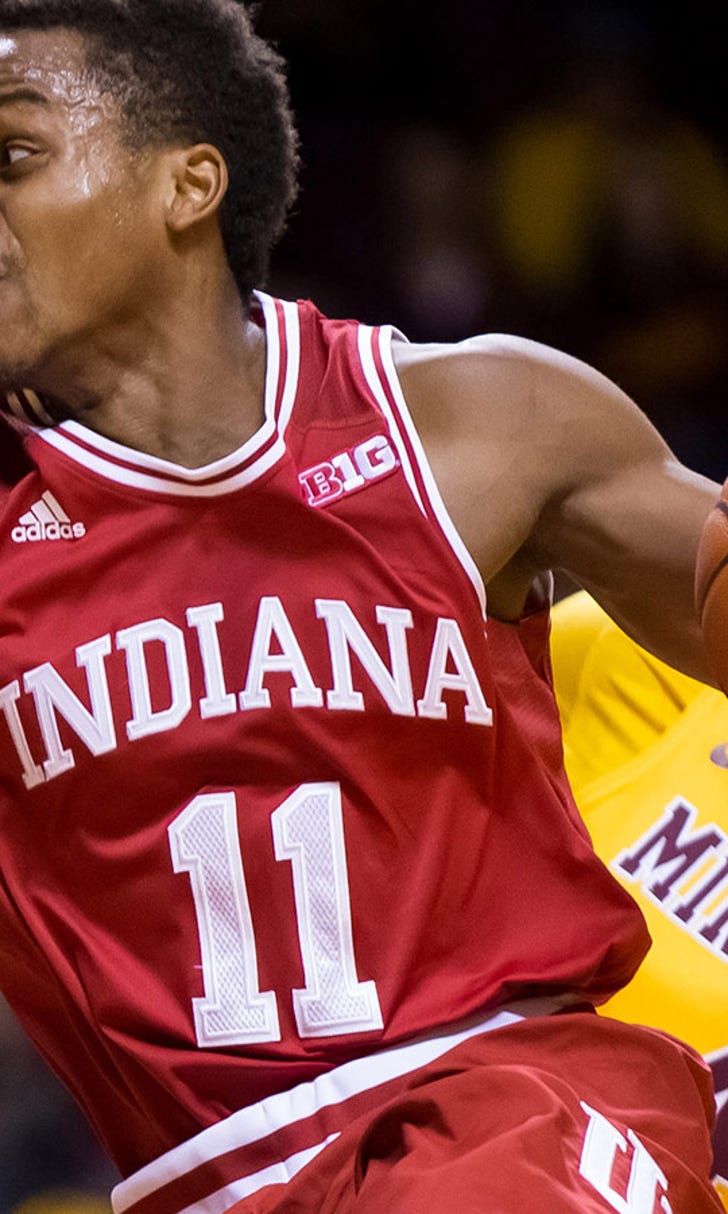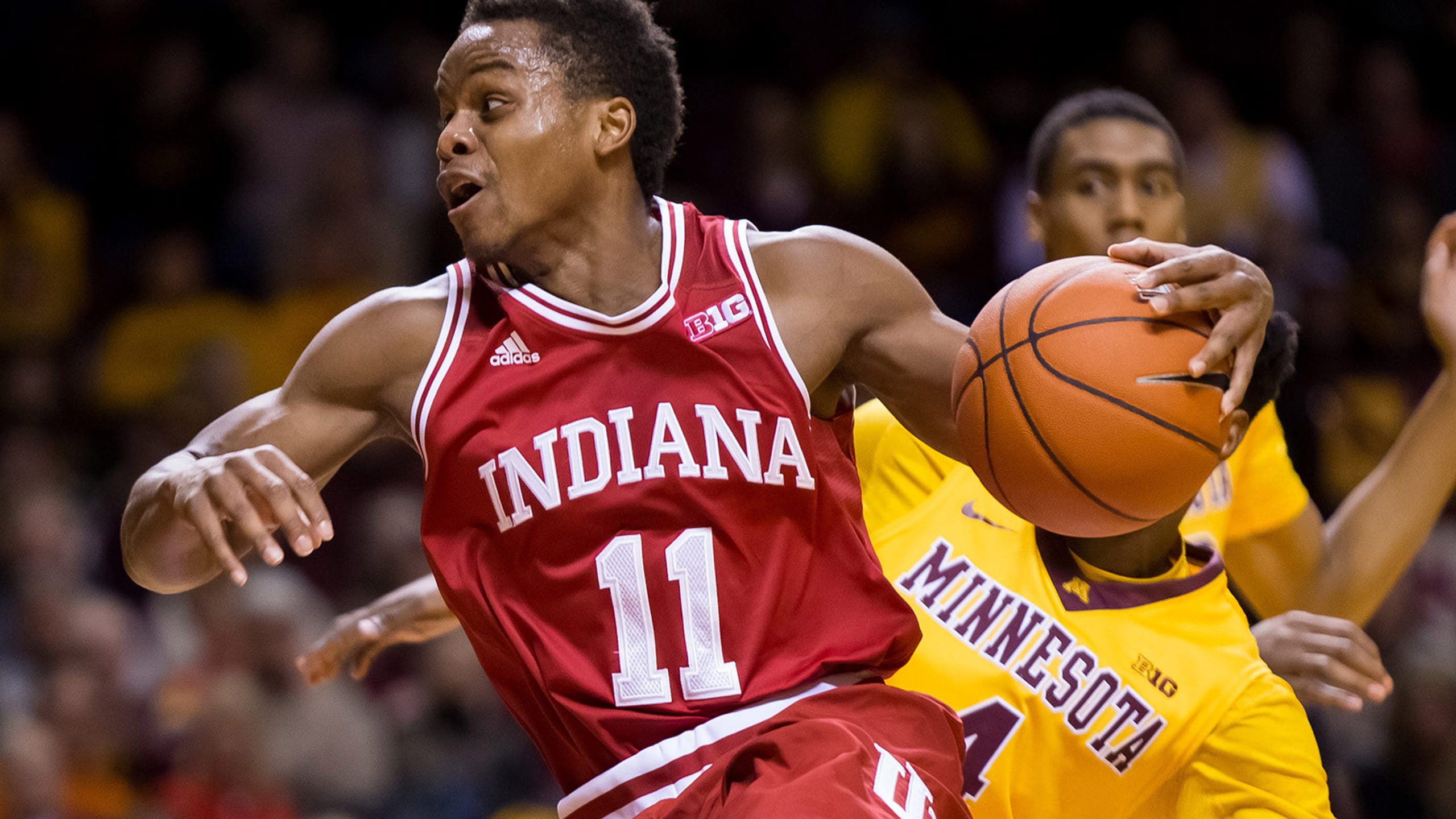 Hoosiers run streak to 10 with 70-63 win over Gophers
BY foxsports • January 16, 2016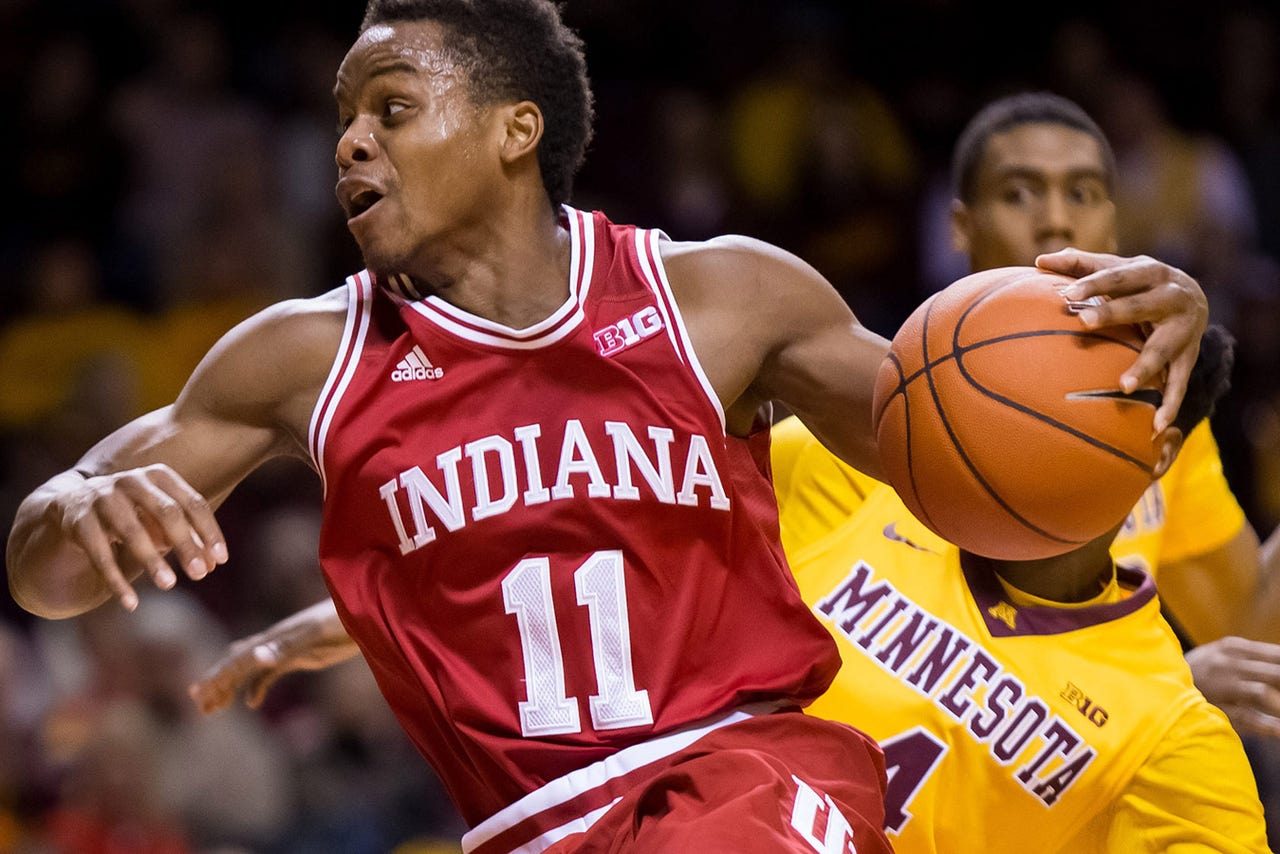 MINNEAPOLIS -- Indiana's high-octane offense seemed to be hitting the snooze button for an early tip-off against lowly Minnesota, so Yogi Ferrell took matters into his own hands to keep the Hoosiers rolling.
Ferrell had 20 points, seven assists and six rebounds to help sluggish Indiana win its 10th straight game with a 70-63 victory over Minnesota on Saturday.
Nick Zeisloft scored 15 points and the Hoosiers (15-3, 5-0 Big Ten) made 8 of 25 3-pointers to outlast Minnesota. Zeisloft went 5 for 8 from deep and Thomas Bryant added 10 points and seven rebounds for Indiana.
"They could've played better, but they couldn't have led better," Indiana coach Tom Crean said of seniors Ferrell, Zeisloft and Max Biefeldt.
Joey King scored 18 points and hit 4 of 5 3s for the young Golden Gophers (6-12, 0-6), who have lost seven in a row and nine of their last 10. Minnesota held a nine-point lead early in the game, but 11 missed free throws and a 39-31 rebounding deficit were costly.
"We've got to be as close to perfect to beat a team like that," Minnesota coach Richard Pitino said. "And we were not."
Whether the Hoosiers were taking the Gophers lightly after seeing them lose their previous two games -- to Northwestern and Nebraska -- by 25 points each or if they were a little sleepy at the start for an 11:30 a.m. Central tip, they were extremely flat at the start of the game.
They came in leading the Big Ten in scoring, field goal percentage and 3-point percentage, but managed just 34 points in the first 20 minutes.
Indiana missed its first six shots and 10 of its first 14, including the first six 3s to fall behind 17-8.
Zeisloft entered the game with four 3-pointers in 25 attempts, an ugly 16 percent conversion rate. After missing his first two of the game, he hit four straight to pull Indiana within 21-20 and the Hoosiers closed the first half with a 13-3 run to tie it up.
"I shoot everyday so I wasn't too worried about the misses," Zeisloft said. "It was fine with me. "I knew they were going to fall. You just got to stay in the gym and stay with it."
Ferrell started to take over in the second half, keying a 6-0 burst with a steal and two assists to put Indiana up 62-54 with 5:37 to play.
"That's what's so special about our team, everybody can be cold and that one guy steps up for us in the game," Ferrell said. "I felt like Nick did that for us."
And in the closing minute, the inexperienced Gophers were a mess offensively and Ferrell took advantage. Down 64-60, the Gophers couldn't get into a set and played hot potato with the ball until Ferrell swiped it away and went the length of the court for a layup and six-point lead.
"We should've been on the same page a little bit more," King said. "In that situation we've got to get a shot up, be a little bit more efficient with clock management. ... The more maturity these guys get, they'll learn we've got to get shots up quicker to create more possessions at the end of a game."
TIP-INS
Indiana: Biefeldt finished with 10 points and four rebounds. ... Ferrell needed 17 shots to get his 20 points. ... The Hoosiers turned the ball over only three times in the second half.
Minnesota: Pitino said Ahmad Gilbert will have surgery on a dislocated finger on Sunday. There is no timetable for his return. ... King entered the game fifth in the nation in free throw shooting percentage at .929. He had missed four all season, but went 4 for 7 on Saturday. ... Jordan Murphy was the only other Gopher in double figures with 10 points and eight rebounds.
FERRELL'S CLIMB
Ferrell's seven assists moved him past Quinn Buckner for second place on Indiana's career list with 544, one behind record holder Michael Lewis.
"It's a great honor, but with a lot of great teammates all four years at Indiana, guys like Nick, Rob (Johnson), James (Blackmon), who basically get my assists for me," he said. "I'm going to keep up with that."
PAPA PITINO
Pitino's father, Louisville coach Rick Pitino, attended the game and spoke to the team beforehand.
"He was the one who talked to them about free throw shooting," Richard Pitino deadpanned.
UP NEXT
Indiana visits Illinois on Tuesday.
Minnesota is at Michigan on Wednesday.
---
---